How a
Crime Victims' Compensation Board
Works
Violent crime affects over a million people in the U.S. every year, and victims don't only suffer from physical and psychological trauma from the injuries they receive. They also face expenses to recover from the crime.
We understand this and are here to help secure compensation for crime victims. DoNotPay can help explain the workings of a crime victims' compensation board and how you can benefit from it.
What Is a
Crime Victims' Compensation Board
?
Each state has a crime victims' compensation board that oversees and adjudicates claims for victim compensation.
The state boards are all members of a federal umbrella organization, the National Association of Crime Victims Compensation Boards (NACVCB). The NACVCB's mission is to provide leadership, professional development, and opportunities for collaboration to state boards to help them deliver a better service.
The board in each state receives federal financial support through the Victims of Crime Act (VOCA) fund—known as the Crime Victims Fund—and many states supplement this with their own victim funds for violent crimes.
The revenue needed for victims' compensation does not come from taxes but rather from penalties and fines issued to people convicted of crimes, as well as donations. The income sources can include:
Fines for criminal convictions

Forfeited bail bonds

Penalties
Each state's crime victims' compensation board is responsible for reviewing applications for compensation and disbursing funds as necessary.
Am I Eligible To Apply for Victims' Compensation?
You may be eligible for compensation from your local compensation board if you:
Have been injured in a violent crime

Are a dependent of a homicide victim

Sustained injuries while trying to stop a crime

Were injured in a car accident caused by DUI

Have suffered severe mental trauma from witnessing a crime

Are the victim of domestic violence and depend financially on the perpetrator

Have incurred crime-related costs even though you are not the victim
Each state has different criteria, but most follow these guidelines.
In most states, you need to:
Report the crime within 48 hours (72 in some states or even more)

Cooperate fully with the police throughout their investigations

Have not been involved in the crime yourself

Have no insurance coverage to pay for the costs you are claiming compensation for
How Much Compensation Can I Get?
Your state's compensation amounts will vary, but the average maximum compensation amount across the nation is around $25,000.
You can generally get compensation for the following:
Area of Compensation

Explanation

Medical expenses

These can include:

Hospital care

Dental work to repair injuries caused in the crime

Post-hospital care and rehab

Mental welfare counseling

Financial losses

Compensation for financial losses can include:

Loss of earnings as a result of crime-related injuries

Loss of financial support for the dependents of a homicide victim

Direct expenses

Compensation may be available for funeral and burial costs or

relocation costs

and

emergency funds

for the victims of domestic violence
You generally won't receive compensation for the following:
| | |
| --- | --- |
| Type of Loss | Explanation |
| Property | You can normally not get compensation for items of personal property that have been lost, stolen, or damaged as a result of a crime |
| Expenses covered by other sources | You cannot claim compensation for expenses that are covered by your medical insurance, car insurance, disability insurance, or workers' compensation |
Your state compensation board usually pays either directly to providers if you present an unpaid bill or to you if the expenses have already been paid. The board pays the loss of earnings or loss of support compensation directly to you.
Can DoNotPay Help Me File for Compensation?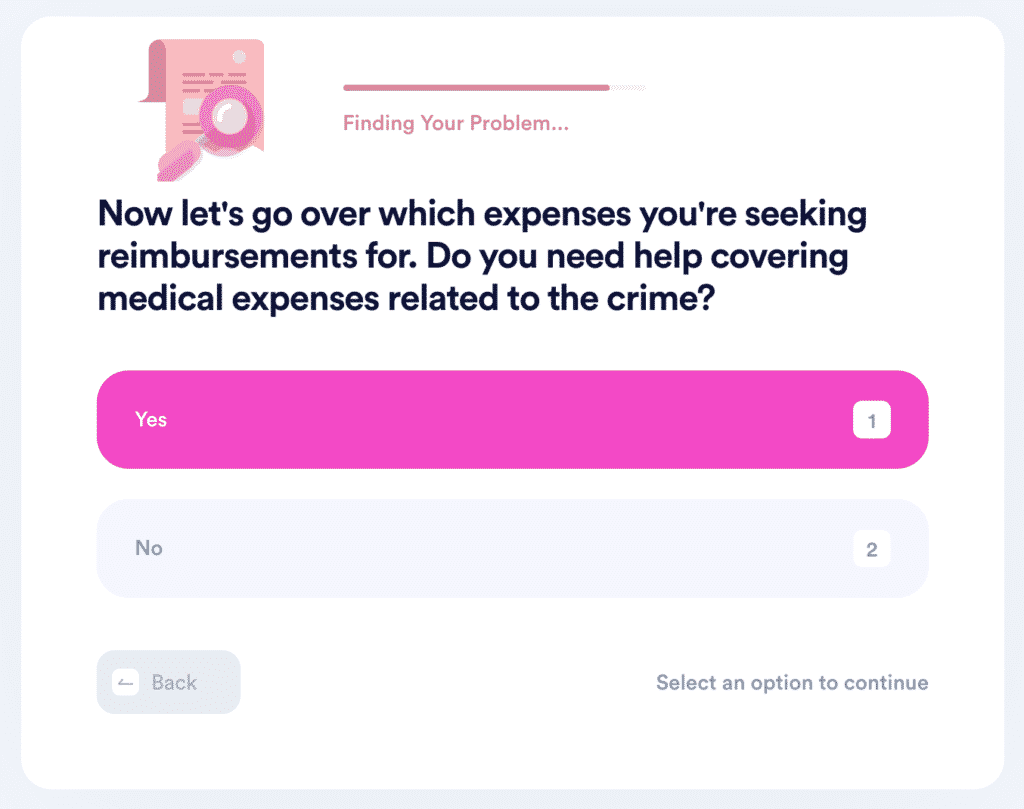 As a crime victim, you have enough to deal with without having to go through lengthy claims processes for compensation.
If you have been the direct or indirect victim of violent crime, DoNotPay can help you claim compensation.
We are here to help anybody affected by violent crime—from 9/11 victims to assault victims, victims of domestic abuse, or homicide victims' families.
We have developed a Compensation for Crime Victims feature that can help you apply for compensation with just a few clicks.
To start your application, follow these steps:
Go to DoNotPay in your web browser and

sign up

Look for the

Compensation for Crime Victims

feature

Tell us whether you're the victim or another claimant

Give us the information about the crime we ask you for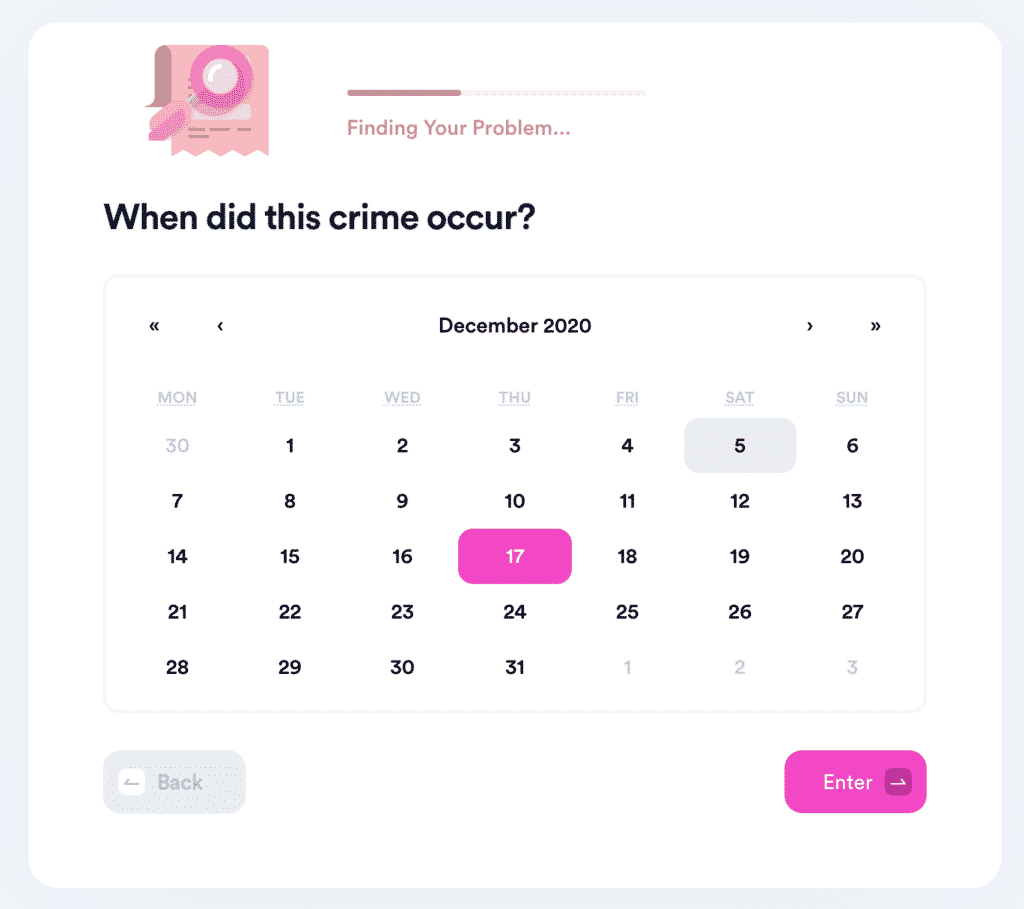 What Happens With My Claim?
Once the crime victims' compensation board has received your claim, it will assess and adjudicate it as quickly as possible.
Whether or not you receive compensation is not dependent on whether the perpetrator of the crime is caught, so you don't have to wait for justice to take its course.
Most states aim to deal with your claim within 90 days at most, but there are many systems in place to help you with emergency funding if your situation is desperate.
Falling for Scams Is Less Likely With DoNotPay
Thanks to AI technology, DoNotPay is a great resource for protecting your privacy and finances from potential scammers. Our bots can help you report robocalls, keep your inbox clean from spam email and shady text messages, or even deal with stalking and harassment, if it comes to that. 
In case the issues escalate, skip the expensive lawyers and sue the offenders in small claims court with ease. 
Another great way to increase your online security is to use our virtual credit cards and sign up for any free trial without risking unwanted charges. You can even avoid sharing your contact info with our Burner Phone feature. 
The Solution to Your Driving Woes
DoNotPay provides invaluable help to future and current drivers. By helping you ace that driver's license test, scheduling a DMV appointment the easy way, or contesting parking tickets, our app saves you money and time. 
If you need to file a car warranty or an insurance claim, we will help you deal with the necessary paperwork within minutes. Trying to get out of a car wash membership? DoNotPay can cancel it in an instant. 
Our platform works above ground as well. You can use DoNotPay to secure refunds from airline companies or compensation for delayed and canceled flights.