All You Need To Know About the Crime Victims Compensation Board in Maryland
Being a victim of a violent crime in Maryland comes with enough pain and trauma. The last thing you want is to suffer financially on top of the physical and mental hurt you have endured.
We understand your plight and are here to help you claim compensation as the victim of crime. DoNotPay has everything you need to know about the crime victims compensation board in Maryland.
What Is the Maryland Crime Victims Compensation Board?
The Maryland crime victims compensation board's official title is the Criminal Injuries Compensation Board (CICB). It adjudicates claims, offers assistance, and oversees the disbursement of victims compensation to those people affected by violent crime in Maryland.
Its services are as follows:
Claims examination

Victim advocacy
Claims Examination
The CICB receives claims for compensation and processes them as quickly as possible. On top of day-to-day claim management, the board also offers interpretation services for non-native English speakers and emergency payment awards for crime victims in serious need.
Victim Advocacy
The board sees its role as being a supportive one, and it places great emphasis on:
Treating victims with compassion

Helping with applications

Keeping victims updated on their application status

Referring support workers

Facilitating collaboration between stakeholders

Accompanying victims to hearings

Working in the community to advocate for victims causes
Once it has adjudicated your case, the board can award compensation to you to help ease your financial plight. The compensation amounts are not funded by taxpayers but taken from the Maryland Crime Victims Compensation Fund.
The fund receives federal money from the Victims of Crime Act (VOCA) fund and supplements this with income from:
Fines for criminal convictions

Forfeited bail bonds

Voluntary donations
The CICB is a member of the National Association of Crime Victims Compensation Boards and—as such—has to adhere to all the association's guidelines.
Who Can Get Crime Victim Compensation in Maryland?
If you are the victim of violent crime in Maryland, you may be able to claim compensation if you have:
Suffered physical injury as a result of a crime

Lost a spouse or parent in a homicide

Taken responsibility for the funeral or burial expenses of a homicide victim

Lost your primary financial supporter through homicide

Lost your financial support as a result of your spouse or parent being incarcerated for abuse

Suffered psychological injury as a result of a crime
Some factors will mean you cannot receive compensation from the CICB, as follows:
If there is evidence to suggest you may have caused, provoked, or been involved in the crime that caused your injuries

If you don't cooperate fully with the police department in their investigation of the crime that caused your injuries
What Does the CICB in Maryland Compensate You For?
Each case is looked at on its own merits, but the CIBC's guidelines offer compensation for the following:
Compensation

Explanation

Medical expenses

Medical expenses related to physical injury caused by a crime

Medical expenses for psychological injuries caused by a crime

Total or partial, permanent or temporary disability

Loss of earnings

Loss of earnings directly related to your inability to work as a result of a crime

Bereavement leave of up to $2,000 or two weeks

Up to 30 days of lost earnings as a parent or guardian caring for a child crime victim

Loss of support after a homicide

Other expenses

Funeral expenses after a homicide

Other expenses at the board's discretion
The amount of compensation the CIBC grants you will be dependent on the validity of your claim and the scale of your injuries.
How Can DoNotPay Help You Claim From the
Crime Victims Compensation Fund in Maryland
?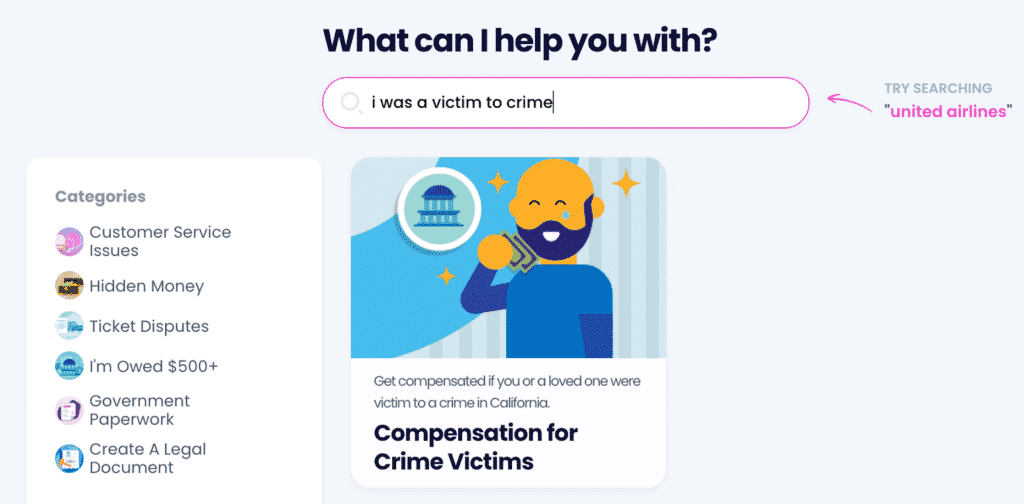 Claiming compensation is a complicated process, and victims of violent crime need all the freedom they can find to recover from their ordeal.
This is why DoNotPay is committed to helping you in Maryland and across the U.S.—whether you are a 9/11 victim, a victim of domestic abuse, a car accident victim, or the bereaved child of a homicide victim. Whatever your case, DoNotPay is here to help.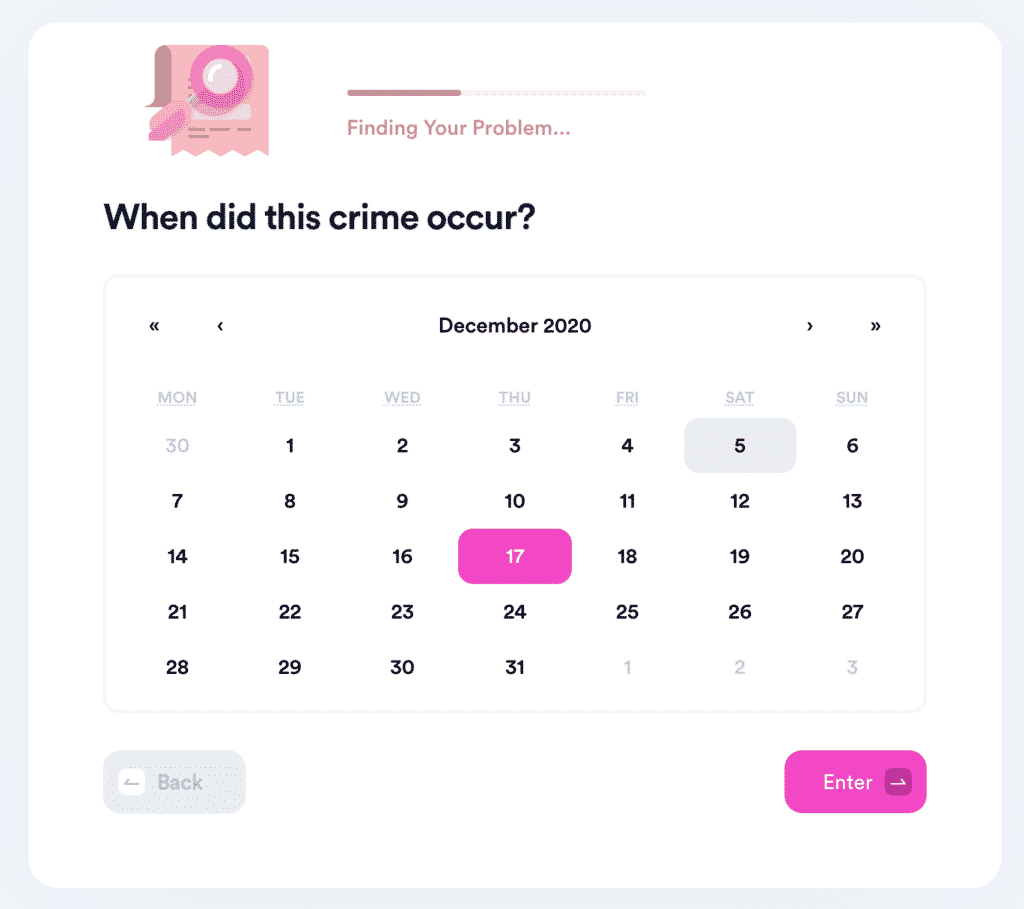 We have created a feature that makes your compensation claim achievable with a few clicks.
All you have to do is follow these steps:
Navigate to DoNotPay and

Search for the

Compensation for Crime Victims

feature

Let us know whether you are the victim or another claimant

Answer our questions about the crime that has affected you and verify your signature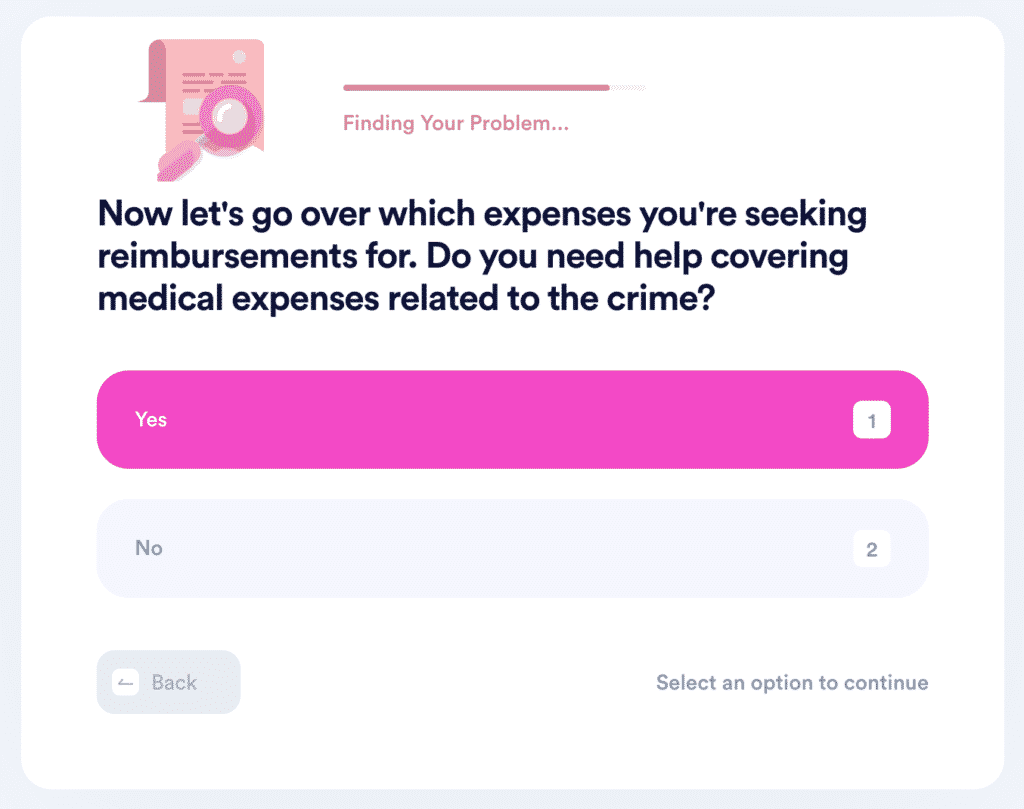 What Happens Next?
The CIBC assesses your claim and commits to keeping you updated regularly on its status.
Once you receive your adjudication, any money you have been granted is paid out as follows:
Directly to providers—if you have presented unpaid bills for things like medical services

To you—if you have claimed for loss of earnings or the reimbursement of out-of-pocket expenses
If you are unhappy with the outcome of your claim, you can lodge an appeal with the CIBC within 30 days of receiving your verdict from them.
DoNotPay—The Easy Way To Save Money
If it looks like your wallet has a hole and the money keeps pouring out for unnecessary expenses, it might be time to come up with a better saving strategy.
DoNotPay uses AI-powered technology to identify the best opportunities for some serious penny-pinching or earning a few extra bucks:
Do You Need Help With All That Paperwork?
Saving money is great, but cutting the time wasted on bureaucracy sometimes sounds even better. DoNotPay joins the best of both worlds and helps you avoid boring paperwork while preventing future unnecessary charges and expenses.
With our help, you can enjoy free trials without any risk, file insurance claims, or handle issues with credit cards.
You won't have to waste time on researching the right procedures or pay for help if you need to stop stalkers and harassers or put together all sorts of legal documents.