File for the HI Crime Victim Compensation Commission Program in a Snap
The Victims of Crime Act (VOCA) Fund provides financial support to compensation programs dedicated to violent crime victims in all U.S. states, including Hawaii. These programs help victims and their family members bear numerous costs that are a result of violent crimes.
Are you a victim of a crime that happened in Hawaii? If crime-related costs impose a burden on you and your loved ones, consider filing your compensation application with the Crime Victim Compensation Commission.
DoNotPay is here to help you apply for victim compensation as effortlessly as possible. With us, you can recover from crime-related injuries and trauma without worrying about the money.
What's the Purpose of the Crime Victim Compensation Commission in Hawaii?
The State of Hawaii created the Crime Victim Compensation Commission to help victims of violent crimes deal with traumatic events by covering their crime-related costs.
The Crime Victim Compensation Commission grants up to $10,000 per claim. If a victim suffered catastrophic injuries that left him or her totally disabled, the highest compensable amount is $20,000 in most cases. This limit can be exceeded if necessary, but only for medical expenses.
Besides receiving funding for violent crime victims from the VOCA grant, the Commission also obtains the money from inmate wages (10%) and offender fees, including:
$25 per petty misdemeanor

$50 per misdemeanor

$100–$500 per felony
Before you file your Crime Victim Compensation Commission application, you need to make sure you've used all other collateral sources, such as restitution, insurance, donations, and similar. As a payer of last resort, the CVC Commission will provide financial assistance only for the costs that your other sources fail to cover. Should you receive money from collateral sources for the expenses that the program already covered, you have to reimburse the Commission.
Who Can File for Crime Victim Compensation in Hawaii?
The Commission provides financial aid to:
Victims who suffered physical and psychological trauma due to violent crimes, such as:

Homicide

International terrorism

Kidnapping

Manslaughter

Dependents of homicide victims or victims who can't go to work due to crime-related injuries

Relatives responsible for medical or funeral expenses of the victim

Individuals who tried to stop the crime or help the victim and got injured because of it
Are You Eligible To Apply for Crime Victim Compensation in Hawaii?
To get reimbursement for your crime-related costs from the Crime Victim Compensation Commission in Hawaii, you have to satisfy certain criteria. You need to:
Be injured in one of the compensable crimes or another eligible claimant (listed above)

File a police report in a timely matter

Cooperate with law enforcement both during the investigation and the prosecution

Apply for the victim compensation program no later than 18 months from the crime. The Commission will accept applications even after the 18th month if your physician or therapist write a good cause letter

Provide the required bills and documents with your application
Do you think you're eligible to receive reimbursement for your crime-related costs? and apply for compensation in a few clicks!
DoNotPay—A Hassle-Free Way To File for the Crime Victim Compensation Program in HI
While the Crime Victim Compensation Commission enables victims to apply both via email and over the phone, their application process can be rather complicated. Instead of completing numerous pages of the application and authorization forms by yourself, you should and let us handle your application.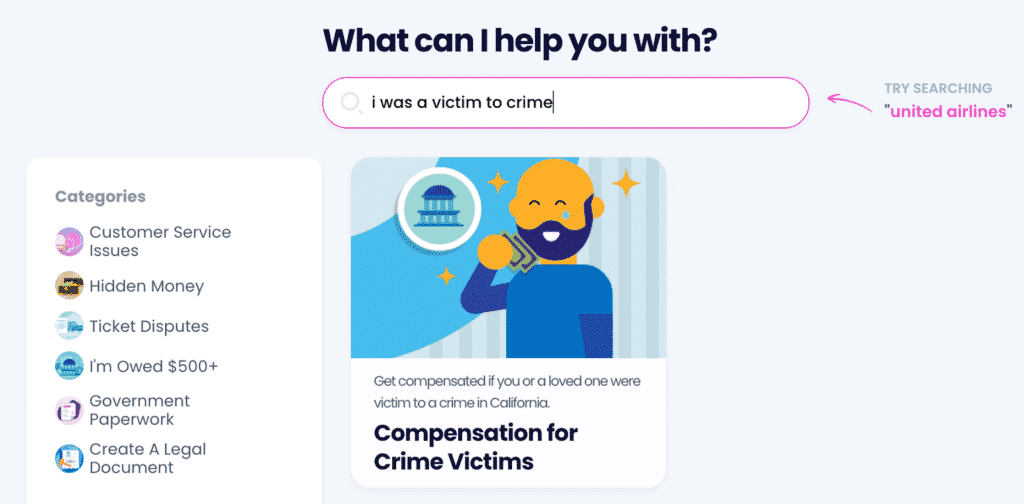 These are the steps you need to follow once you log in to DoNotPay:
Open our

Compensation for Crime Victims

product

Let us know whether you're the victim or another claimant

Answer our questions

Verify your signature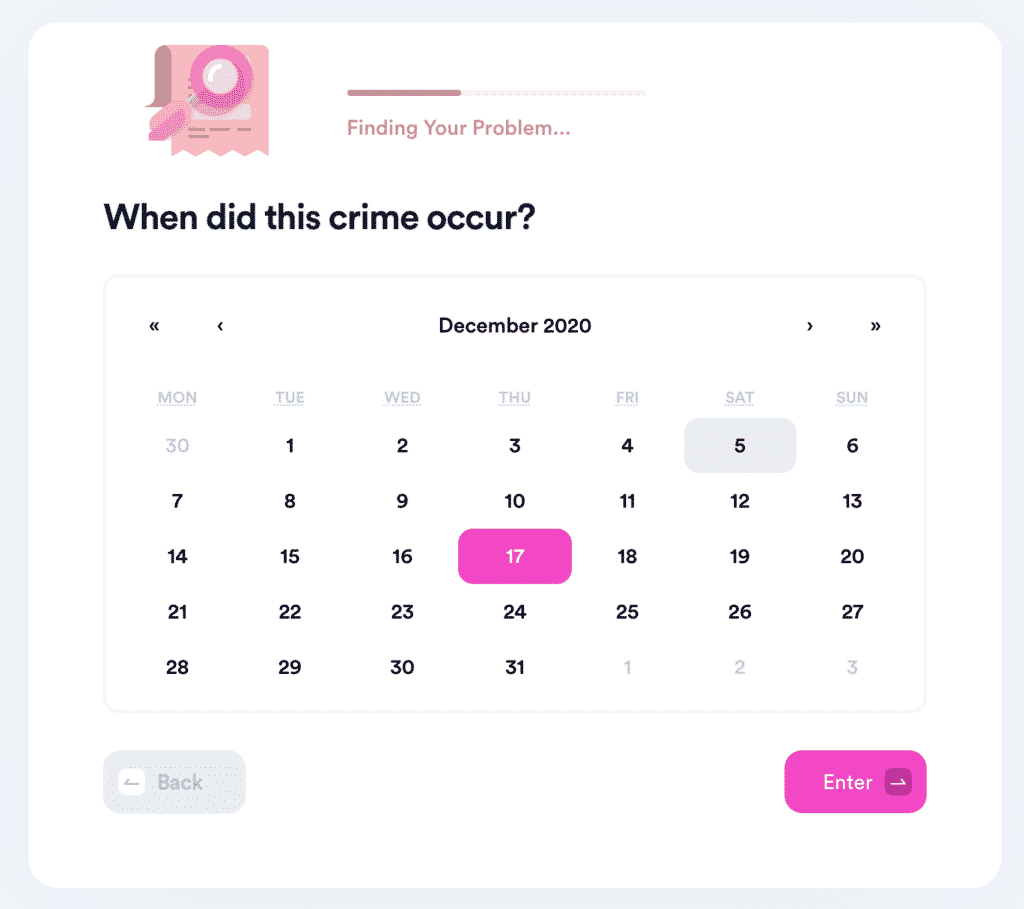 We will complete the required forms and send them to the Commission's office. Besides helping you apply for crime victim compensation in Hawaii, DoNotPay also provides valuable info about various funds for violent crime victims, such as:
By following our simple steps, you can apply for crime victims compensation in any other state, including:
Hawaii Crime Victim Compensation Commission—Compensable Costs
The program covers various crime-related expenses, including:
Compensable Costs
Explanation

Medical expenses

Violent crime victims that require medical assistance because of crime-related injuries will get reimbursement for the following medical costs:

Hospitalization

Plastic surgery

Ambulance service

Prescriptions

Eyeglasses, dentures, hearing aids, and other medical devices that got damaged during the crime

Rehabilitation

Emergency room treatment

Chiropractic treatment

Other reasonable medical expenses

Mental health counseling

Victims and their family members usually suffer emotional injuries due to crime. The Commission covers the expenses of mental health therapies with licensed professionals

Funeral and burial expenses

Reasonable funeral and burial costs include:

Funeral services

Use of facilities

Flowers, vases, and other reception costs

Clothing for deceased

Transportation of the victim's body to a different location

The Commission doesn't cover the costs of transportation and housing for family members of the deceased victim

Lost wages

Victims who can't work because of trauma caused by a crime will get compensation for lost salaries

Lost support

Dependents of victims will get compensation if the victim passed away or can't work because of crime-related injuries

Other costs

The Commission will provide compensation for other reasonable costs, including:

Crime scene cleanup

Replacement or rental expenses for items kept as evidence (clothing, car, and similar)

Child or dependent care

Home or vehicle modifications for victims who stayed disabled due to injuries suffered in the crime
DoNotPay Can Do Your Paperwork for You!
Feeling like you're in bureaucratic hell? Our app will draft the paperwork you need and get you out of any hurdle before you know it!
We can compose most of the documents that you require for any administrative purpose in your jurisdiction, most notably:
More of What We Can Do for You
Our multifaceted app can call and record the conversation with the customer service of the company that just won't let you go! If you are having trouble canceling an unwanted service via the traditional channels, use DoNotPay to get it over and done with!
We can help you stop the persistent robocalls and robo texts from the nagging company and request a refund for unused services in a matter of minutes.
We'll also lend a helping hand in stopping spam mail—whether it's electronic or paper. Our Spam Collector product unsubscribes you from unwanted emails and cleans up your physical mailbox too!