The Ultimate Guide to a Credit Union Small Business Loan
Usually, small and medium scale businesses turn to banks when applying for small business loans to cover their expenses. Now, more and more business owners are gravitating towards credit unions for their financing needs. What are credit unions, and how do they help with funding? DoNotPay has all the info.
This article provides the ultimate guide to the requirements and application process of taking out a credit union small business loan. If you need help writing a loan request letter, look no further! Subscribe to our app and get a mistake-free letter in less than five minutes!
How Do Credit Unions Work?
A credit union is a financial organization that provides banking services to its members.
As opposed to banks, credit unions are:
Created and operated by its participants
Exempt from paying corporate income tax because they are considered not-for-profit enterprises
Mostly comprised of members who are working in the same industry or living in the same community
In a typical credit union, all members add to the union's financial capital. This capital is then used to offer loans and financial services to other members of the union. If the credit union generates any income, it is either used to fund the organization or pay for services that will benefit the credit union community.
Benefits of Getting Small Business Loans From a Credit Union
Many people prefer taking out loans from credit unions because of the variety of benefits they offer, as follows:
Since credit unions are exclusively not-for-profit organizations, they provide lower interest rates and fees
Transactions fees are often lower compared to banks
Credit unions offer smaller loans which result in a faster approval process
The loan officers give more personal attention and time to loan-seeking members
Credit unions do not charge tax on commercial mortgage loans
The Basics of Credit Union Small Business Loans
Similar to banks and other traditional lenders, credit unions offer a variety of small business loan options. Members applying for a loan need to prove that they have a profitable business and a good credit score and that they've been in business for at least two years.
Credit Union Loan Types
Before selecting which type of loan you need to take out, you need to be fully acquainted with its terms and conditions. Some of the common small business loans are listed in the table below:
Types of Business Loans
Description
Term loans
Credit unions offer a lump sum that you can pay back in regular monthly installments. A term loan is beneficial for buying long-term assets, such as cars or real estate.

Small loans are paid off within months while returning larger loans can take up to 20 years. For larger loans, the lender requires collateral from the borrower

Business lines of credit
With a business line of credit, you can spend borrowed money until you reach a predetermined limit. You will

pay interest

on the amount that you used and not on the entire limit
Small Business Administration (SBA) loans
The federal government offers SBA loans for long-term expenses. They are not provided directly from the SBA—usually, a bank or credit union becomes the middleman.

You need to have a good credit score to apply for a Small Business Administration (SBA) loan. These loans are popular because of lower interest rates and favorable repayment terms

Startup loans
These loans are available to business owners who need funds to cover their startup costs but are having trouble getting a loan due to their insufficient credit ratings or incomplete documentation
Commercial mortgages
Credit unions offer commercial mortgages to help business owners buy real estate
Business credit cards
You can get a business credit card to use for your daily operational expenses. The card has a maximum credit limit, and you only have to pay interest on the amount you spend
How To Apply for a Credit Union Small Business Loan
Follow these instructions to apply for a small business loan through a credit union:
Meet the requirements for joining a credit union
Get in touch with the loan office of the credit union in question to start the small business loan application process
Collect all the required paperwork, including your financial statements and credit ratings
Prepare a loan request letter
Present the paperwork and the letter to the loan officer
DoNotPay Can Assist You in Getting a Small Business Loan From a Credit Union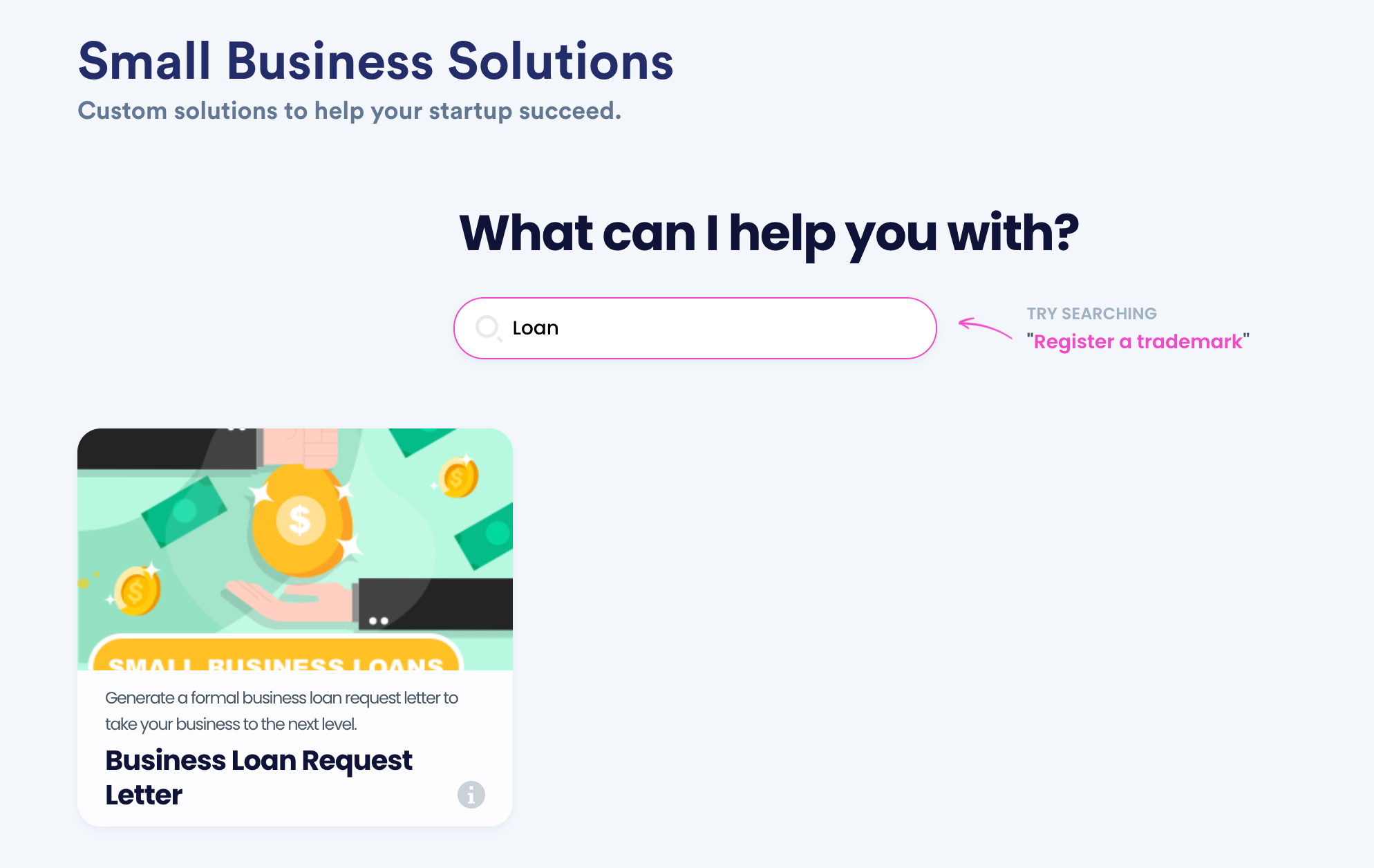 Regardless of whether the loan you need to take out is a short- or long-term one, getting funds from banks or credit unions is no easy feat. You need to prove that you qualify for the loan and ensure that you have the budget to pay it back.
To do so, you need to write an airtight loan request letter to accompany your financial documents. If your letter is not professional or convincing enough, you risk getting your loan application rejected. Why take the chance when you can use DoNotPay to meet the necessary standard?
With our app, you can create a formal loan request letter with all the required information. Here is what you need to do:
Select the Loan Request Letter product
Provide details about your business, credit scores, and financial statements
Upload all the necessary documents
Didn't find the perfect lender yet? Not a problem—our Find an Online Business Loan Lender tool will help you in no time..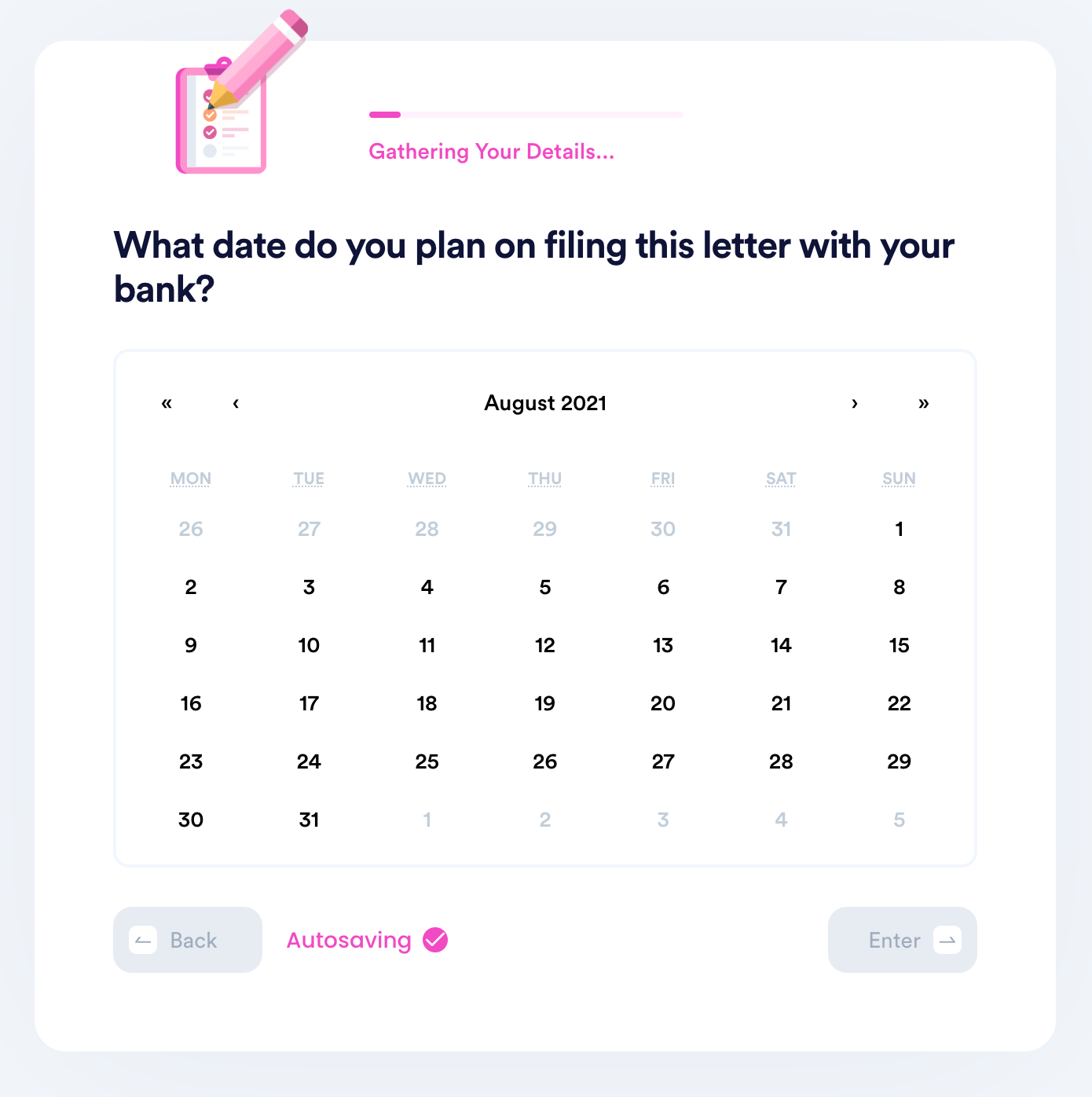 DoNotPay Has Everything You Need for Your Small Business
Navigating numerous business procedures can be overwhelming, especially if you don't have much experience. DoNotPay strives to make the situation easier for business owners, which is why we offer a number of simple-to-use products that can help you take care of various processes, including DMCA agent and Employer Identification Number registration, Privacy Shield program self-certification, and trademark registration and protection.
If you are not sure how to manage the filing of 83(b) election forms, DoNotPay has a solution that will automate the entire process and help you save time. Our app can even generate a convincing small business loan request letter for you. Don't feel like walking or driving to the post office to send the letter? Use DoNotPay to fax or mail any document in a matter of clicks!
DoNotPay Helps You Deal With Bad Clients
If you need help handling unpleasant situations with your clients, you can rely on DoNotPay. We have created various products to assist you in:
Making sure your business is free of negative, illegitimate online reviews—DoNotPay will analyze the review in question, estimate the best reason for reporting it, and report the review until it is deleted
Dealing with clients who breach the contract and refuse to pay—We will generate and send a demand letter requesting what's rightfully yours
Fighting unjustified chargebacks—Our app will create a personalized chargeback rebuttal document to help you keep your revenue
Resolve various business issues without wasting time or money—DoNotPay has got your back!