What Is the Credit Score Needed for a Small Business Loan? DoNotPay Answers
An essential requirement to get a small business loan is to have a good credit score. If you have a high credit rating, you can get a more suitable business loan to cover your costs. What is the minimum credit score needed for a small business loan? We have all the info you need.
In this article, DoNotPay explains what a credit score is and how you can build your credit rating to take out a loan for your small business expenses. In case you need help writing a loan request letter, sign up for DoNotPay, and get a tailor-made letter without a hassle!
What Is a Credit Score?
A credit score is used by a lender to decide on whether they should offer a loan to a borrower or not. Each borrower's score is based on the following factors:
Borrower's total debt
Number of late payments
Account age
If you have a high credit score, you pose less risk of defaulting on your monthly payments. In case your credit score is low, lenders, especially banks, will hesitate to give you a loan.
Your credit score does not only help you qualify for a small business loan, but it also determines the amount, interest rate, and repayment schedule of the loan. You can get a higher loan amount and more favorable loan terms if you are considered a low-risk client.
Your credit score, as well as your budget, determine what type of loan you can apply for.
The most popular loan options are:
What Is the Credit Scoring System for Small Business Loans?
Every lender has different requirements and scoring systems, but most of them determine the creditworthiness of borrowers in the following way:
| Risk Factor | Business Credit Score | Person Credit Score |
| --- | --- | --- |
| Low | 80–100 | 720+ |
| Medium | 50–79 | 620–719 |
| High | 1–49 | Less than 620 |
Is There a Minimum Credit Score Required To Get a Loan?
While this is not a universal rule, most lenders consider the score of 620 as the minimum credit score they will accept. Any borrower with a lower credit score is usually not considered unless they find a lender who specializes in offering bad credit loans.
Can You Secure a Loan With a Credit Score Lower Than 620?
Although it is tricky for most lenders to give funds to high-risk borrowers, some specialize in providing loans to startup businesses or companies and individuals with bad credit scores.
The main characteristics of these loans are:
Strict repayment terms
High interest rates
Low loan amounts
If you need more funds than what these lenders offer, but your credit score is bad, you can work on improving it so you are not considered a high-risk borrower.
How To Improve Your Credit Rating
If you would like to improve your credit score, you can try doing the following:
Build your credit profile—Open new accounts in your name that can be reported to credit bureaus
Pay your bills on time—Your payment history is the most crucial factor determining your credit rating, which is why you must not be late with your bills or monthly loan repayments
Catch up on late payments—If you have overdue bills, try paying them as soon as possible
Other Requirements for Taking Out a Small Business Loan
A good credit score alone will not ensure you qualify for a loan. You also need to be aware of the following:
Terms and conditions—Every lender has a specific set of requirements that you need to meet (besides a good credit score), such as:

Certain number of years in business
Business revenue

Authentic financial documents—You need to file the following documentation:

Bank statements (personal and business)
Tax returns (personal and business)
Sales forecasting
Cash flow statement
Balance sheet
Income statement

A business plan—Your business plan needs to outline the following:

The purpose of your business
Description of your goods and services
Marketplace analysis

Collateral—Some lenders request collateral as security for the loan. This can be any tangible asset, such as equipment, machinery, or real estate. In case you default on the loan, the lender will take the collateral instead
Loan request letter—Your loan application must include a professional loan request letter that has all the relevant information, such as the amount you want to borrow and the way you plan to pay it back
Your loan application, including the loan request letter, needs to be flawless if you want to make sure you get a loan. If you need help writing an air-tight letter, DoNotPay is here to assist you.
DoNotPay Can Help You Get a Loan Without Breaking a Sweat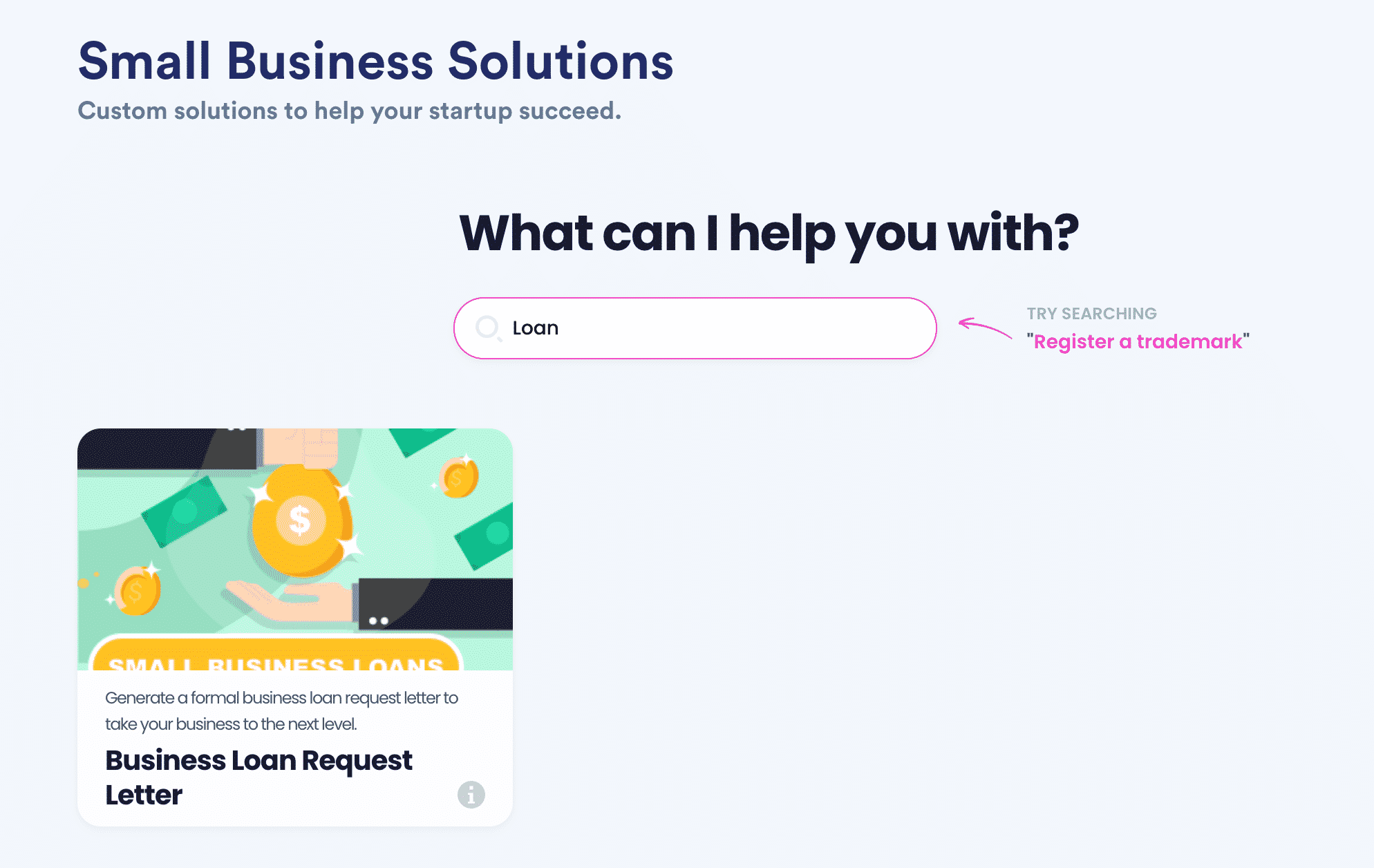 Do you want to make the loan application process easier? Subscribe to DoNotPay to understand how small business loans work and get a customized loan request letter in no time! All you have to do is follow these instructions:
Search for the Business Loan Request Letter tool
Gather your credit scores and financial documentation
Answer our brief questionnaire about your business and loan request
Upload your financial paperwork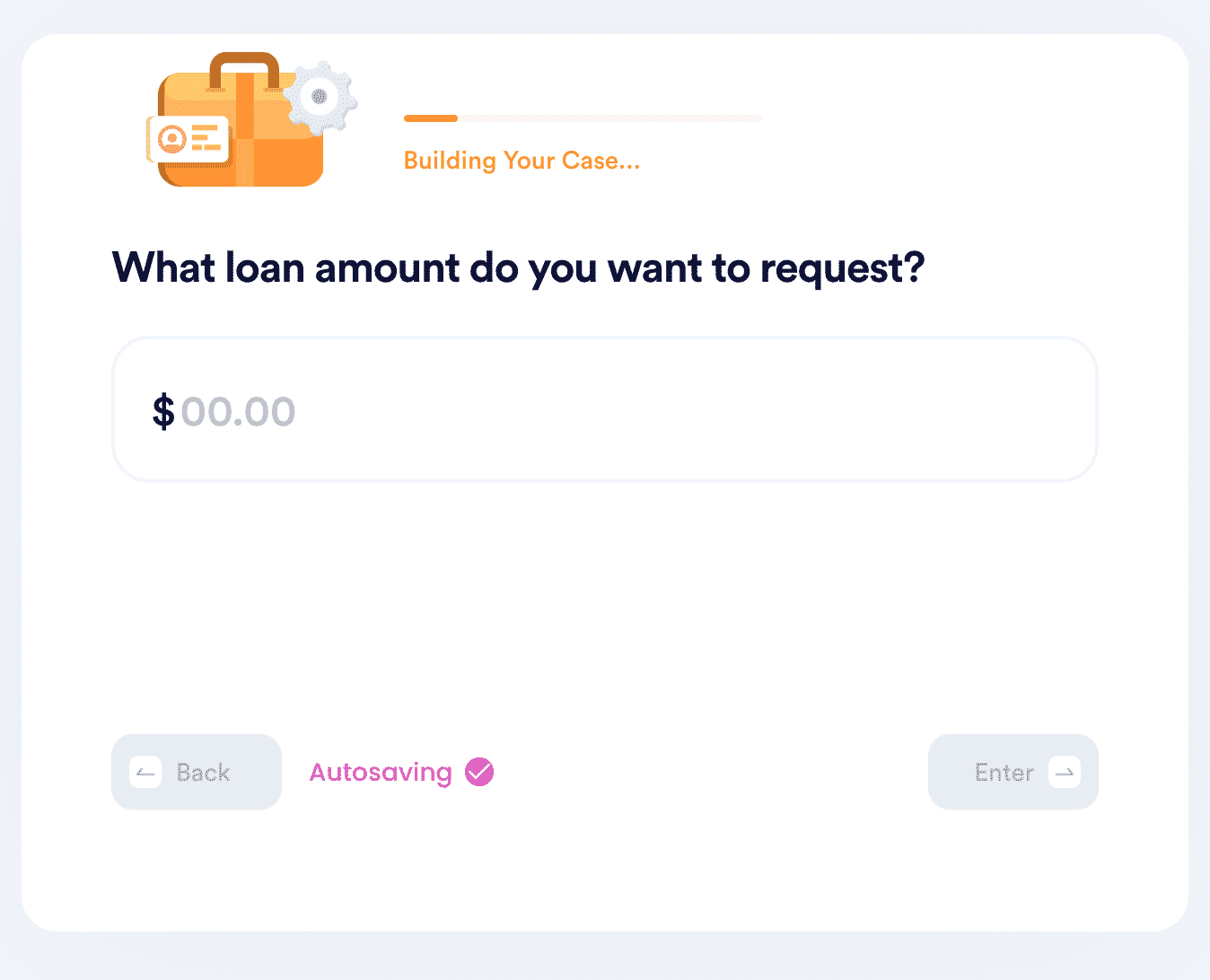 In case you need help in finding a suitable lender, turn to DoNotPay's Find Online Business Loan Lender feature to get the top recommendations based on your loan requirements.
Build Your Business From the Ground up With Your Reliable Pocket Assistant!
To make the running of your business less stressful, DoNotPay has created numerous handy products that can help you deal with any issue right from the start. With our assistance, you can:
Get the perfect letter requesting a loan for your business
Handle the Employer Identification Number and DMCA agent registration procedures in a few clicks
Manage Privacy Shield program self-certification to make sure your clients' privacy is protected while on your website
If you are considering completing trademark registration, DoNotPay will be your trusty companion and help you finish the whole process in no time! We can even make sure no one uses your trademark as their own by performing routine checks and sending cease and desist letters to the offenders instead of you.
Resolve Pesky Business Issues With DoNotPay
Our app boasts many other useful and easy-to-use products that will help you resolve an array of business-related problems. Whether you need help filing 83(b) election forms as effortlessly as possible or wish to communicate with your clients and business partners without heading over to the post office, we have got you covered!
DoNotPay can also help you remove bad, fake online reviews that could harm your business reputation, deal with clients who avoid paying for your services, and contest unjustified chargeback requests.
Rely on our app and stay on top of your work while we deal with business issues on your behalf!