Best Ways To Build Credit for a Small Business
Building a good credit score is of utmost importance for small to medium-scale businesses. Not only will it help solidify your place in the economy, but it can also open doors for funding opportunities.
In this article, we explain how to:
Establish good credit for a small business
Use your credit score to obtain resources for your entrepreneurial venture
Qualify for a loan and start the application process using DoNotPay
What Does Building Small Business Credit Mean?
Business credit signifies the level of goodwill your company has earned since its establishment. It is an underlying promise that you will be able to reimburse any borrowed resources you acquire.
A company with good credit is more appealing to potential lenders since it is more likely to repay the loan according to the interest rates.
When you request a loan from an individual or institution, they are entitled to check your business credit history and perform an evaluation. Your personal credit score is not a viable substitute and can even work to your detriment if it is below average.
How To Build Credit for Small Businesses
The table below contains guidelines on how to establish credit for your small business:
| Steps to Establishing Credit | Brief Explanation |
| --- | --- |
| Register your small business | Incorporating your business will separate your personal assets (tangible and intangible) from the company. Your personal credit history will be rendered irrelevant, regardless of the score |
| Acquire an EIN | An Employer Identification Number (EIN) is a form of tax identification. If you want to open a business bank account, apply for a loan, or get a business credit card, you will need to enclose an EIN. You can request your federal tax ID numbers from the IRS |
| Open a separate bank account for your business | Apart from seeming unprofessional, using your personal bank account for business is a gateway to accounting issues. If you open a separate account for your company, potential investors can review the cash flow more easily |
| Establish a business phone number | Similarly, having a dedicated number for your small business adds a layer of credibility. It can also help you organize your affairs better |
Other Small Business Loans Requirements
If you plan on applying for funding, you need to know how small business loans work. You cannot demand resources based on good faith alone—you need to meet certain criteria. In addition to building credit for your small business, loan requirements also include:
Lender's terms and conditions—You must adhere to the specific qualifications your chosen lender requires. The prerequisites typically revolve around revenue, company history, and marketplace value, but it depends on the institution
Legal and financial documentation—Before you apply for a loan, you need to gather all the necessary paperwork:
Income tax returns
Balance sheet
Income statement
Bank statements (personal and business account)
Business license
A photo of your driver's license
Your resume
Estimated earning potential
Developed business plan—Work on your business strategy since lenders will want to know how you intend on spending their money. Pay close attention to the:
Description of your goods and services
Management
Marketplace analysis
Operations plan and sales strategy
Strengths, weaknesses, opportunities, and threats (SWOT) analysis
Collateral—Depending on the type of loan, you may be asked to back it with a company asset. It can be anything, from equipment and inventory to real estate. If the business ends up failing, lenders will confiscate the collateral as reimbursement for the borrowed sum
Where To Apply for a Small Business Loan
You can get a small business loan from various sources, including government and private institutions and individual lenders. The most common funding solutions include:
Banks—Both community and commercial banks offer funding for small businesses
SBA loans—The Small Business Administration (SBA) agency can connect you with bank lenders and non-profit organizations willing to provide resources
Online lenders—You can ask for funding online from individual lenders
Peer-to-peer (P2P) websites—Websites such as Peerform and Upstart provide public funding opportunities
DoNotPay Can Help You Secure a Loan for Your Small Business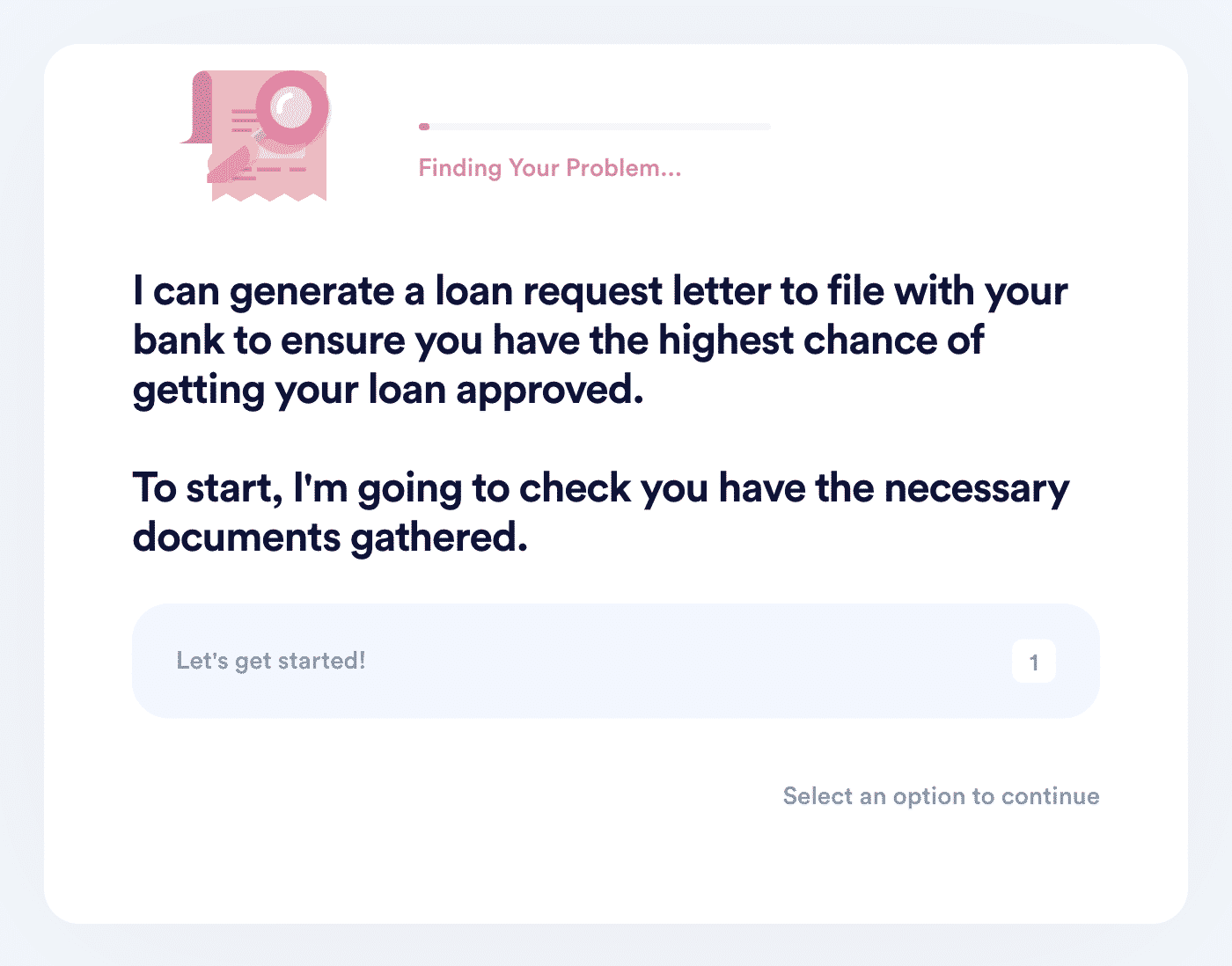 Acquiring working capital for your small business is no small feat. You need to come up with a reason why you are applying and the budget you are going for.
For example, do you need to cover long-term expenses, or are you looking for a startup loan to cover the launching costs? Once you determine what the best loan for your venture is, you also need to pick a suitable lender and submit a formal application.
Our Small Business Loan Request Letter product can generate the necessary documentation in minutes and increase your chances of getting funded.
Here is what you should do to access the product:
Select the Small Business Loan Request Letter product
Give us the details about your loan and confirm you have gathered the right paperwork
Upload the legal and financial documentation
Once you complete these steps, our AI-operated platform will generate an impeccable loan request letter and forward it to the chosen lender.
Not sure how to find a lender on your own? Not to worry—our integrated Find Online Business Loan Lender feature will help you find your perfect match! Provide a few details to our chatbot, and we will suggest the three best lenders for your needs!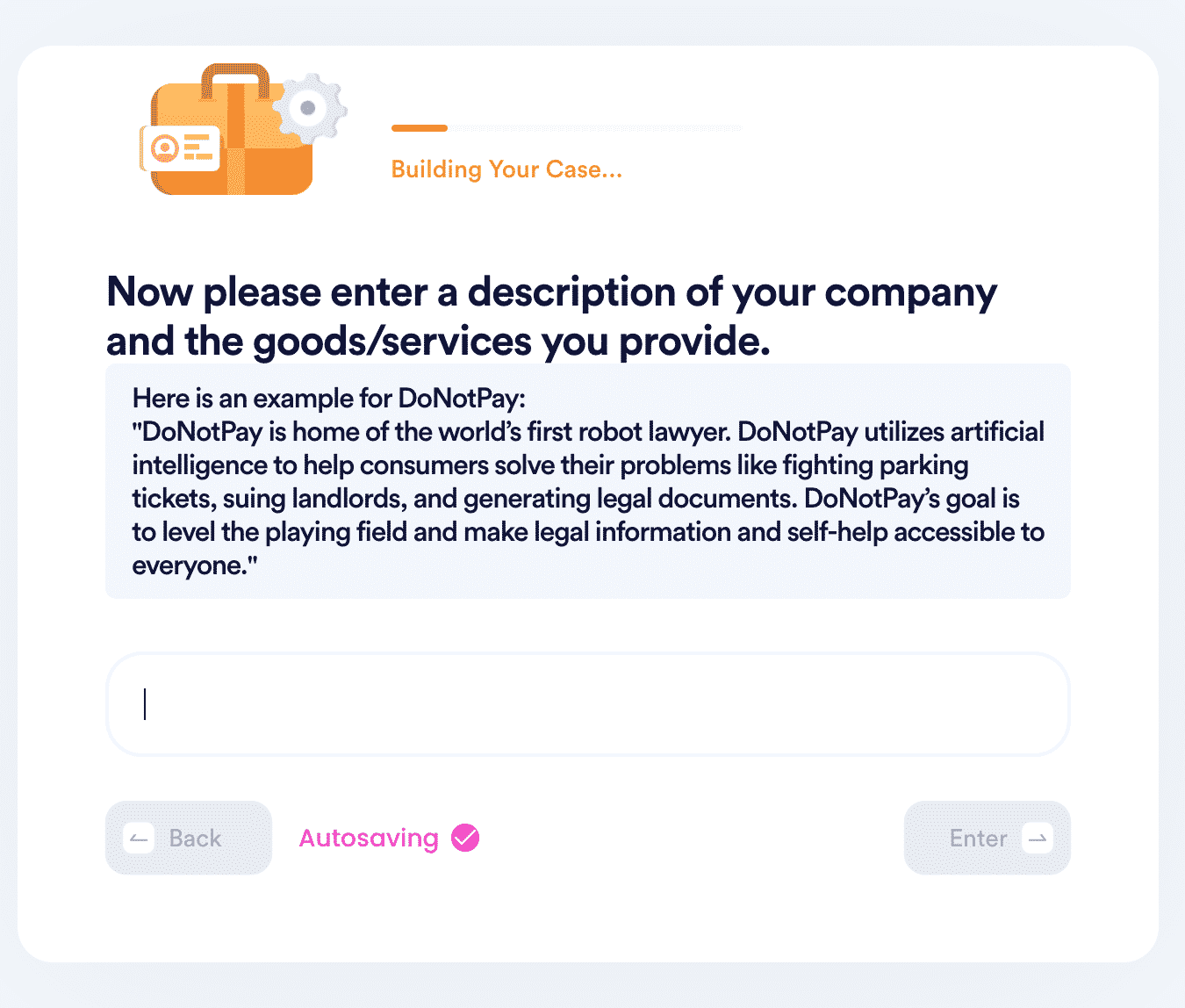 Resolve Various Business Problems With the Help of DoNotPay
Handling annoying administrative issues is the last thing you want to worry about while trying to build a business empire. The good news is that you do not have to! DoNotPay has developed many nifty products that make various pesky tasks easy to complete.
Some of the small-business-related matters we can help you with are:
Taking out business loans
Obtaining an Employer Identification Number (EIN)
Automating the filing of 83(b) election forms
Requesting your money from customers who won't pay
Registering a DMCA agent
DoNotPay can also make communication with your clients or business partners easier as we enable you to fax and mail your letters, forms, and other important documents without leaving your office.
Maintain a Good Business Reputation
It is no secret that building a trusting relationship with clients takes time and effort, so why have all that hard work ruined by negative online reviews that are fake? DoNotPay is here to help you remove illegitimate, fake reviews in a matter of clicks!
Want to dispute unfair chargeback requests but are not sure how to go about it? By using our Fight Chargebacks feature, you can have DoNotPay create a customized chargeback rebuttal document in a few minutes.
With our app, you can also protect your trademark from people trying to use it, file the self-certification request with the Privacy Shield program, and handle many other aspects of your business hassle-free!