Do I Need a Costa Rica Tourist Visa, and What Are the Entry Requirements?
Costa Rica is a tiny gem offering exceptional leisure and sightseeing opportunities for travelers. It features dozens of national parks, unique ecosystems, and access to the Caribbean Sea and the Pacific Ocean. Some popular tourist activities are:
Surfing, kayaking, and diving
Exploring lush forests for wildlife spotting
Seeing whales and dolphins from August until March in Drake Bay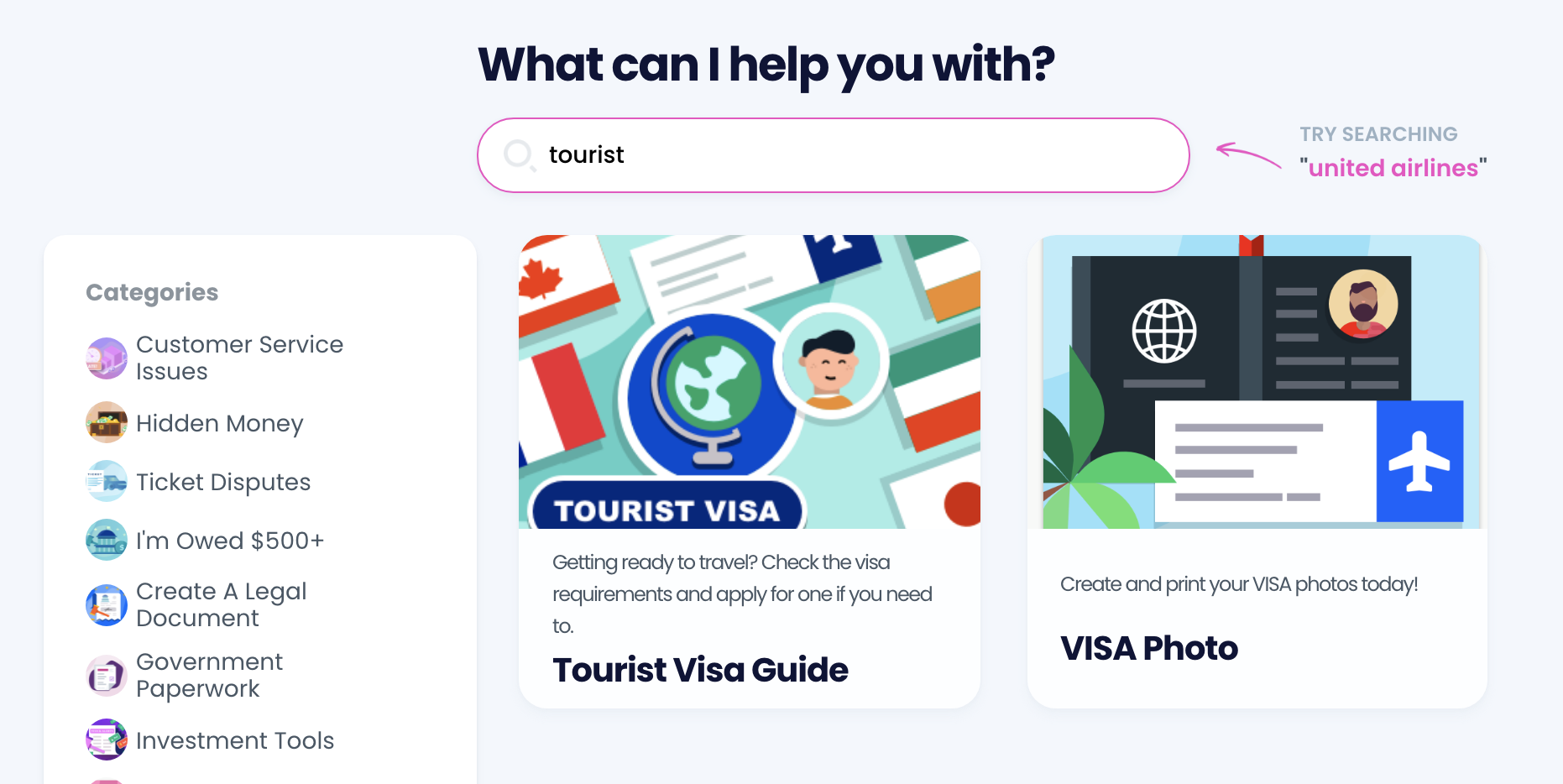 Before you go to this Central American natural wonderland, you should learn whether you need a Costa Rica tourist visa. The easiest way to do so is to use DoNotPay—your virtual travel advisor in all visa-related matters.
Costa Rica Tourist Visa—Do I Need the Travel Permit as a U.S. Citizen?
As a U.S. national, you don't need a tourist visa to enter Costa Rica for a short-term stay. Refer to the following table for details:
| Duration of Your Stay in Costa Rica | Do You Need a Visa? |
| --- | --- |
| Up to 90 days | No |
| More than 90 days | Yes |
While you don't need a tourist visa for less than three months, you must fulfill a few passport and vaccination requirements to enter the country.
What Are the Mandatory Requirements To Enter Costa Rica?
U.S. travelers visiting Costa Rica must have passports valid at least one day beyond the date of their return. One passport page must be empty for the entry stamp.
The Costa Rican authorities will ask you to show a return ticket from Costa Rica to prove the intended departure. It does not have to be a ticket back to the U.S.
What Is the Costa Rican COVID-19 Policy?
In light of the current COVID-19 pandemic, you must provide proof confirming you aren't a COVID-19 carrier. Required documents proving your health status are:
The vaccines recognized by the Costa Rican authorities are:
Moderna
AstraZeneca
BioNTech-Pfizer
Johnson & Johnson
The vaccination certificate must include the following information:
The vaccinated person's name
Date of each received dose
The name of the producer
U.S. passport holders can enclose the vaccination card instead of the certificate. You are eligible to enter Costa Rica 14 days after you get the shot.
Note that you must fill out your HEALTH PASS form within 72 hours after arriving in Costa Rica. Each person must complete the form for themselves, including minor visitors.
In case you haven't received the vaccine—or your documentation is incomplete—you must purchase insurance covering:
Medical costs
Lodging expenses during the quarantine period
How To Apply for a Visa if Staying Over 90 Days
There is no tourist visa for Costa Rica for stays exceeding 90 days. Temporary and permanent residencies are your only options for a prolonged stay in this Central American country. You can submit a residency request to the Costa Rican Immigration Office in various capacities, including:
Retiree
Rentier
Student
Spouse
Teacher
Researcher
Depending on the capacity, you may need to provide the following:
Request letter or affiliation form
Two passport-size photos
Payments ranging from a few to $200
Fingertip registration if you are over 12 years of age
Criminal Background Certificate
Letter from the volunteer program for internships and volunteer work
You cannot apply for Costa Rican residency if you overstay. Make sure to take action while legally in the country.
How Can DoNotPay Help Me With Visa Applications?
When traveling abroad, you should check the visa and other entry requirements to avoid unpleasant situations and unnecessary delays. The task can get tricky because the info is all over the place or hard to decipher.
To make the search process simple, quick, and affordable, as well as avoid confusion and inconveniences, turn to DoNotPay. We present the information in no time and in plain English.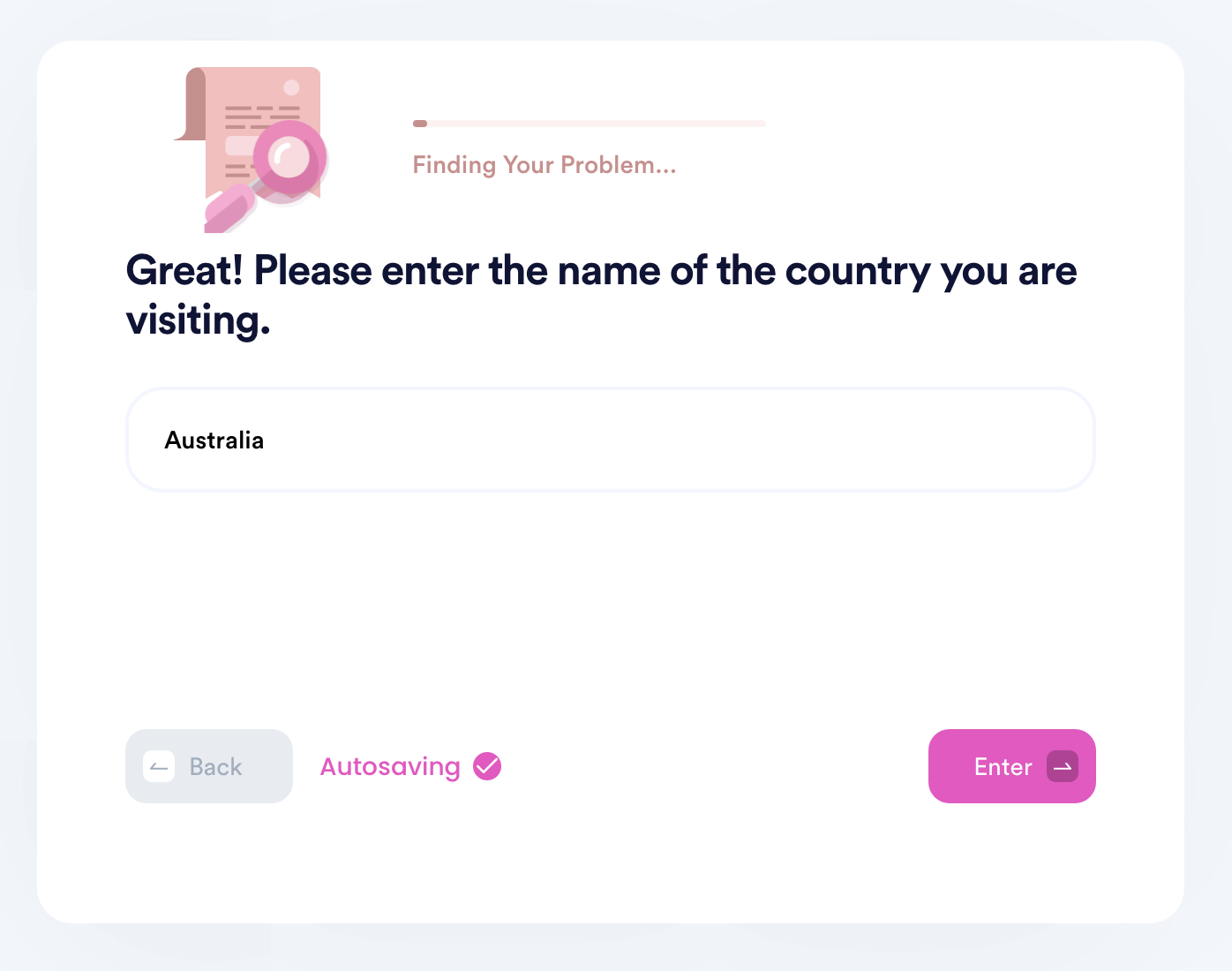 If you need a tourist visa for a particular country, DoNotPay will tell you what documents to provide. We can even contact the embassy to see if you can apply for the entry permit online. If so, you will receive a functional link to submit a request.
DoNotPay supplies a PDF application form for you to print and fill out if applying online isn't available. Note that you will get the PDF only if the country in question requires a visa for U.S. nationals.
To benefit from our service, do the following:
Log in to DoNotPay and choose Tourist Visa Guide
Confirm you have a valid U.S. passport
Select the destination country
You will know right away if you need a visa.
Exploring Other Neighboring Countries? Check Their Visa Policies With DoNotPay
In case you are visiting other North and Central American countries during your trip, check out their visa and passport requirements in the following table:
Use DoNotPay To Deal With a Plethora of Bureaucratic Tasks!
Tired of dealing with bureaucracy? We understand the struggle, and that is why our app makes handling administrative tasks a breeze!
Regardless of whether you need to compose a legal document, such as a power of attorney or a child travel consent form, appeal property taxes or your parking tickets, file a financial aid appeal and a FOIA request, or get a document notarized, DoNotPay has got you covered!
In case you also need to submit anonymous HR complaints, our app will provide you with the easiest way to do so!
Go on a Stress-Free Shopping Spree With DoNotPay
Do you like to shop until you drop? With DoNotPay, you won't have to worry about dropping! We'll make sure you can:
If you need more money to continue your shopping spree, let our app help you find any unclaimed funds under your name and enter numerous giveaways and sweepstakes!