A Rundown of the Cost to Trademark a Slogan
Brand protection, such as trademarks and copyrights, is necessary, especially for small businesses to protect their ideas and brand identity from being stolen.
Do you have a great slogan ready to be trademarked but do not know how much it will cost? Look no further because DoNotPay is here to help! We have all the information you need to know about the cost to trademark a slogan.
If you want to avoid the hassle, to file a trademark in no time!
Can You Trademark a Slogan?
Trademarks are marks, words, or phrases that identify what a business does and what it sells. Keep in mind that service marks are a type of trademarks, but they are only applicable to services, not products.
Trademarks are used to set apart one business from another and prevent other business owners from using another's identity for their advantage.
If you have a specific slogan in mind, you can file a trademark and get it registered.
Registering a trademark comes with many benefits:
You can seek legal protection in case of infringement
Your business will have a unique identity that customers can identify and associate with
Trademarks increase the earning potential of a business
You may want to trademark other items or aspects connected to your business. Aside from slogans, you can trademark almost anything, such as:
Examples of Trademarked Slogans
If you are not sure what constitutes a slogan, some famous ones are mentioned in the table below:
| Company/Brand Name | Slogan |
| --- | --- |
| Nike | Just Do It! |
| Kellog's Rice Krispies | Snap! Crackle! Pop! |
| Allstate | You're in good hands |
| KFC | Finger lickin' good |
| Walmart | Save money. Live better |
I Need To Trademark a Slogan—What Costs Do I Need To Consider?
There are various costs that you should keep in mind when you plan to register a slogan, such as:
Basis of use—There are two choices to register for a trademark:

Use in commerce basis—For businesses who have already been using the trademark but want to get it federally registered
Intent-to-use basis—Applicable for a trademark that you have not used yet but plan to once you have registered it

Filing options—You have two options to file a trademark electronically:

Trademark Electronic Application System (TEAS) Plus
Trademark Electronic Application System (TEAS) Standard

The number of trademarks—Each trademark has to be filed and paid for separately
Which trademark class(es) to choose—You have 45 trademark classes under which you can categorize your goods. You have the option to choose multiple classes for a single trademark, but you need to pay separately for each class
Attorney fees—If you decide to hire an attorney to file your application or help you out, their charges can range from a few hundred to a few thousand dollars, depending on their hourly rate
Cost To File for a Trademark Application
Depending on the trademark application option, you will need to pay a different filing fee, as mentioned in the table below:
| Application Method | Cost per Chosen Class |
| --- | --- |
| TEAS Plus (classes have to be specified) | $250 |
| TEAS Standard (classes do not have to be specified) | $350 |
Do You Have To Pay Anything Else After Registration?
Within five years of registration, there are two major expenses that you need to consider:
Filing a Declaration of Use to verify that you are using the trademark for commercial purposes. This costs $225 per trademark class
Applying for a Declaration of Incontestability to get incontestable rights for using the trademark. This will cost you $200 per trademark class
Are There Any Costs Associated With Renewing a Trademark?
Trademarks usually last up to ten years. If you are nearing the expiration date, you will need to file for a renewal. You should also submit a statement of use.
You need to pay $525 for the renewal of every trademark class. In case your trademark expires, you might have to repeat the whole application process.
DoNotPay Makes It Easier for You To Trademark a Slogan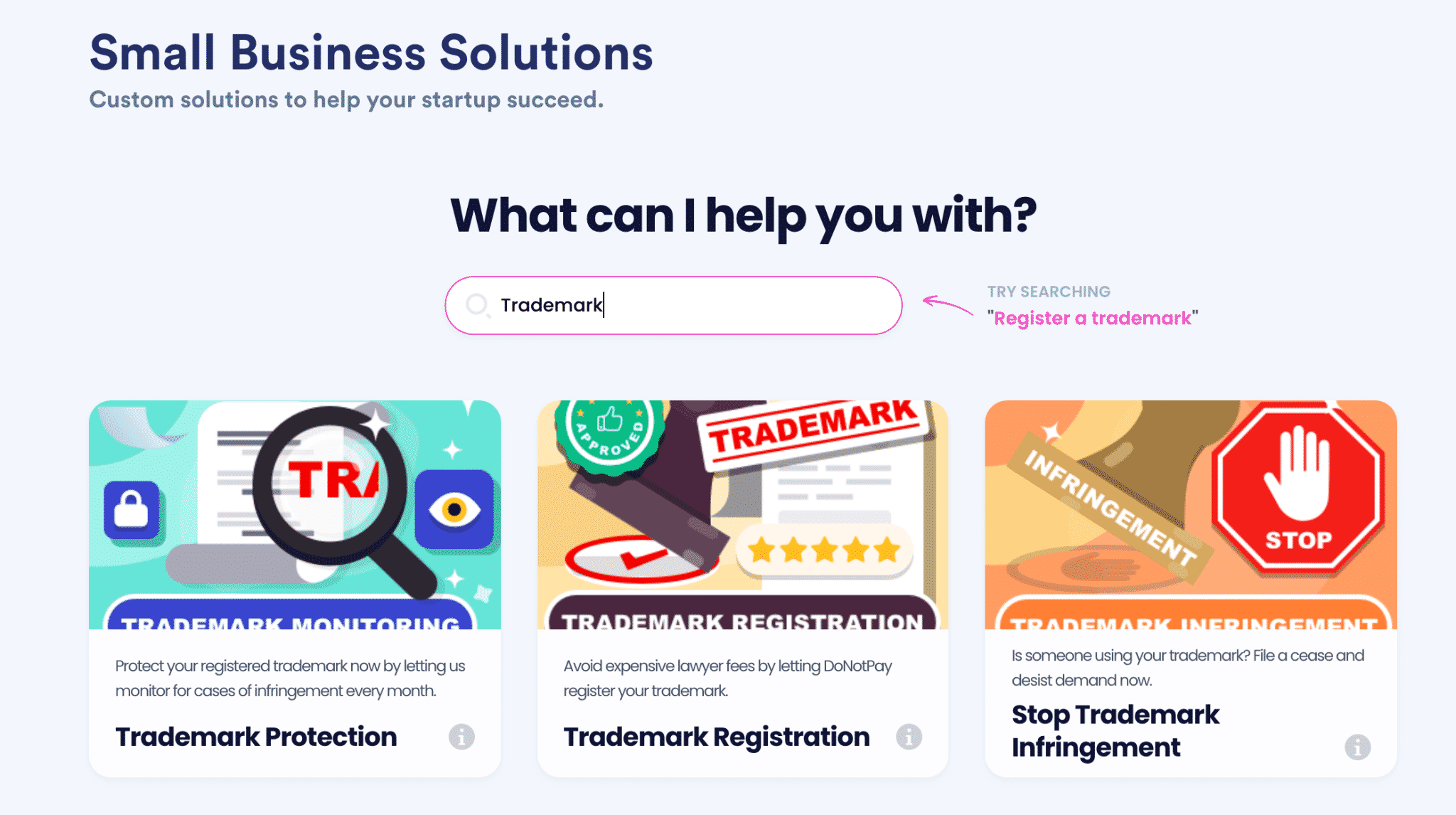 The trademark registration process can be quite challenging, and there are a lot of costs to consider. You can always hire an attorney to do the hard work for you, but attorney fees can be well out of your budget. What alternative do you have? Use DoNotPay!
Our AI-powered app provides an easy and affordable solution to assist you in filing your trademark by carrying out the following tasks:
All you need to do is follow these straightforward steps:
Navigate to the Trademark Registration tool
Answer questions about your slogan
Pay the USPTO filing fee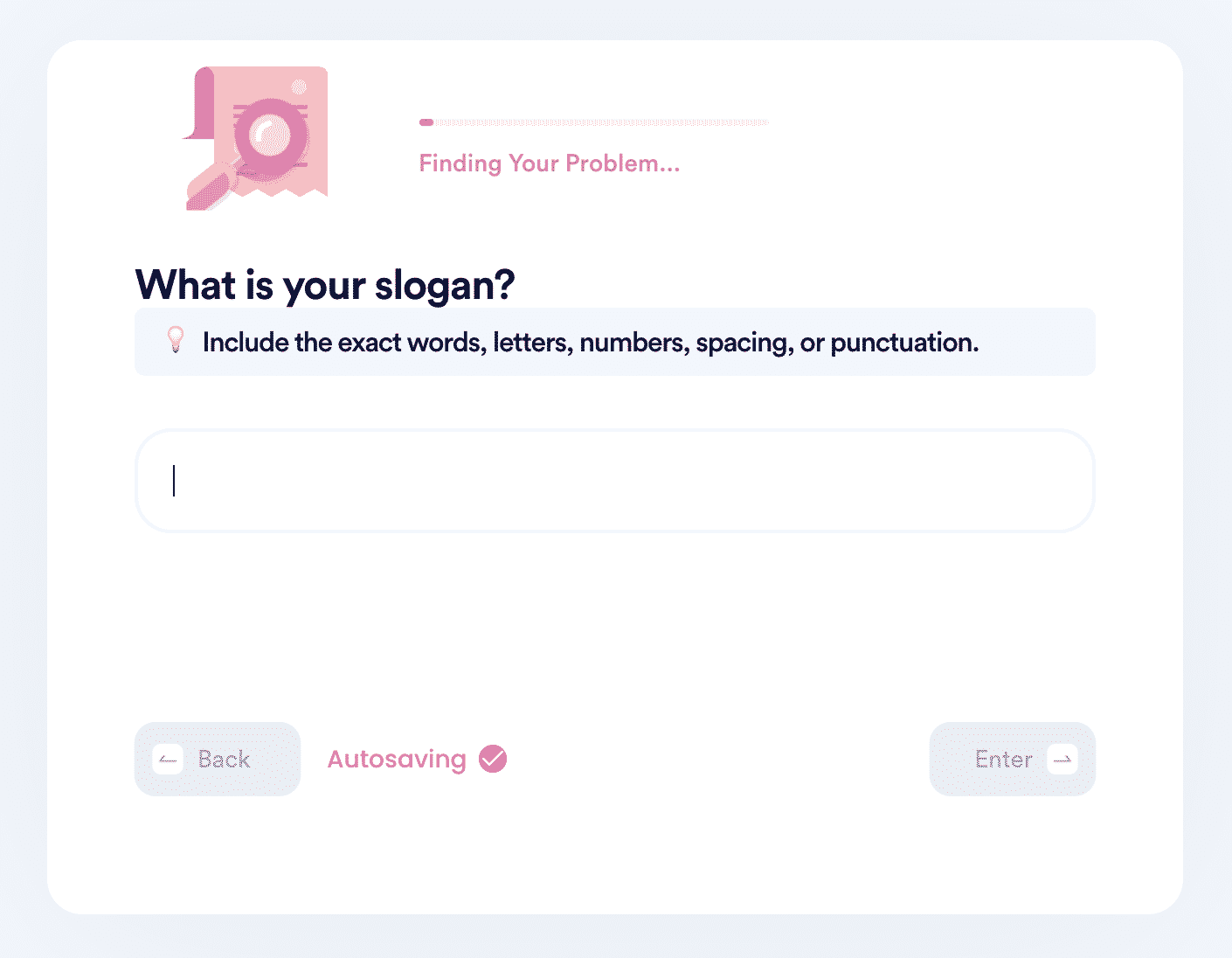 DoNotPay Helps You Do Everything by the Book!
Are you confused by the numerous business-related laws and procedures? If you cannot seem to get the hang of all of the processes, you should rely on DoNotPay. Allow your robot lawyer to help you take care of Employer Identification Number (EIN) and DMCA agent registration in a matter of minutes!
Once you handle those tasks, you should consider using DoNotPay to register your business slogan, name, or logo as a trademark and protect your brand by allowing us to check for trademark violations regularly.
Not sure how to handle 83(b) election forms? Automate the entire process and have your employees fill out and submit the forms in a few clicks! We can even help you protect the privacy of your clients by filing a self-certification request with the Privacy Shield program on your behalf so your website complies with data protection requirements.
Running a Business Is Smooth Sailing With DoNotPay
DoNotPay has a solution for any business issue. We can help you:
Draw up a professional and convincing small business loan request letter and get the necessary funds for your business
Report unjustified negative reviews that could damage your brand until they are taken down
Request payment from clients who break the contract
Dispute chargeback requests when they are unfair
Send letters or paperwork without going to the post office