What Is the Cost of a Small Business License? DoNotPay Has the Answers
If you are starting a new business, you need to register your company and acquire a business license. The cost of a small business license depends on multiple factors, and our article will break them down for you! You will learn all about various license types, how to apply for one, and more! We will also show you how to cover business-related expenses by taking out a small business loan.
What Is a Small Business License?
Every small business owner is legally required to register with an appropriate local and federal government to obtain a small business license. This license allows them to operate within their jurisdiction and industry.
How Much Does a Small Business License Cost?
The cost of a small business license depends on the federal, state, and local licensing board's regulations and the type of license you need. For example, getting a state business license in Nevada will cost you $500 per year, whereas in Chicago, the costs can skyrocket to up to $6,000.
Besides the registration prices, you will also have to pay renewal fees every year (required by the Small Business Administration).
Business License Types
For more details about different license types, consult the table below:
License Type
Explanation
Federal
This license is required if your business activities are regulated by federal agencies. For example, you will need this license if you deal with:

Maritime transportation
Agriculture
Alcoholic beverage manufacturing
Firearm and explosives sales

State
A state business license is required for the following occupations:

Accountants
Physicians
Barbers
Private investigators
Building contractors

It is also needed if you sell certain goods, such as:

Lottery tickets
Gasoline
Alcohol
Firearms

Local
All business owners are required to get a license from the local government, either their city or county, to be able to lawfully operate within their jurisdictions
How To Apply for a Small Business License
To get a small business license, you can either contact a third-party filing service or hire an attorney who can help you prepare your application. Keep in mind that these solutions can be costly, as both filing services and lawyer fees are high.
If you want to apply for a small business license on your own, you need to:
Determine which license type you need
Compile the required documentation, including:

A description of your business
Copies of corporate records
Proof of state or local tax status
List of ownership and management
A filing fee to the government
How Long Does It Take To Get a Small Business License?
Getting a small business license can take anywhere between a couple of days and a few months, depending on the jurisdiction. The industry you are in also determines how long you have to wait.
How To Cover the Costs of Getting a Small Business License
If you do not have enough money to cover the cost of the license, you should consider getting a business loan. Depending on your budget and credit score, you can apply for a loan from a bank, credit union, or online lender.
Getting a loan can also help you cover other startup costs hassle-free. Small business and startup loans help by lending you money that you can use to purchase equipment, get real estate, or solve any other financial issue.
When you get approved and borrow the money, you will have to repay it according to specific terms that you have agreed on with the lender. These terms usually specify the interest rate, repayment schedule, purpose of the loan, potential collateral, and similar.
Applying for a loan can be tricky as it requires you to gather various paperwork and send it to the lender. If you subscribe to DoNotPay, we will turn this process into a breeze by providing you with a checklist of required documentation and generating a superb loan request letter to maximize your chances of getting a loan.
Get a Small Business Loan Effortlessly With DoNotPay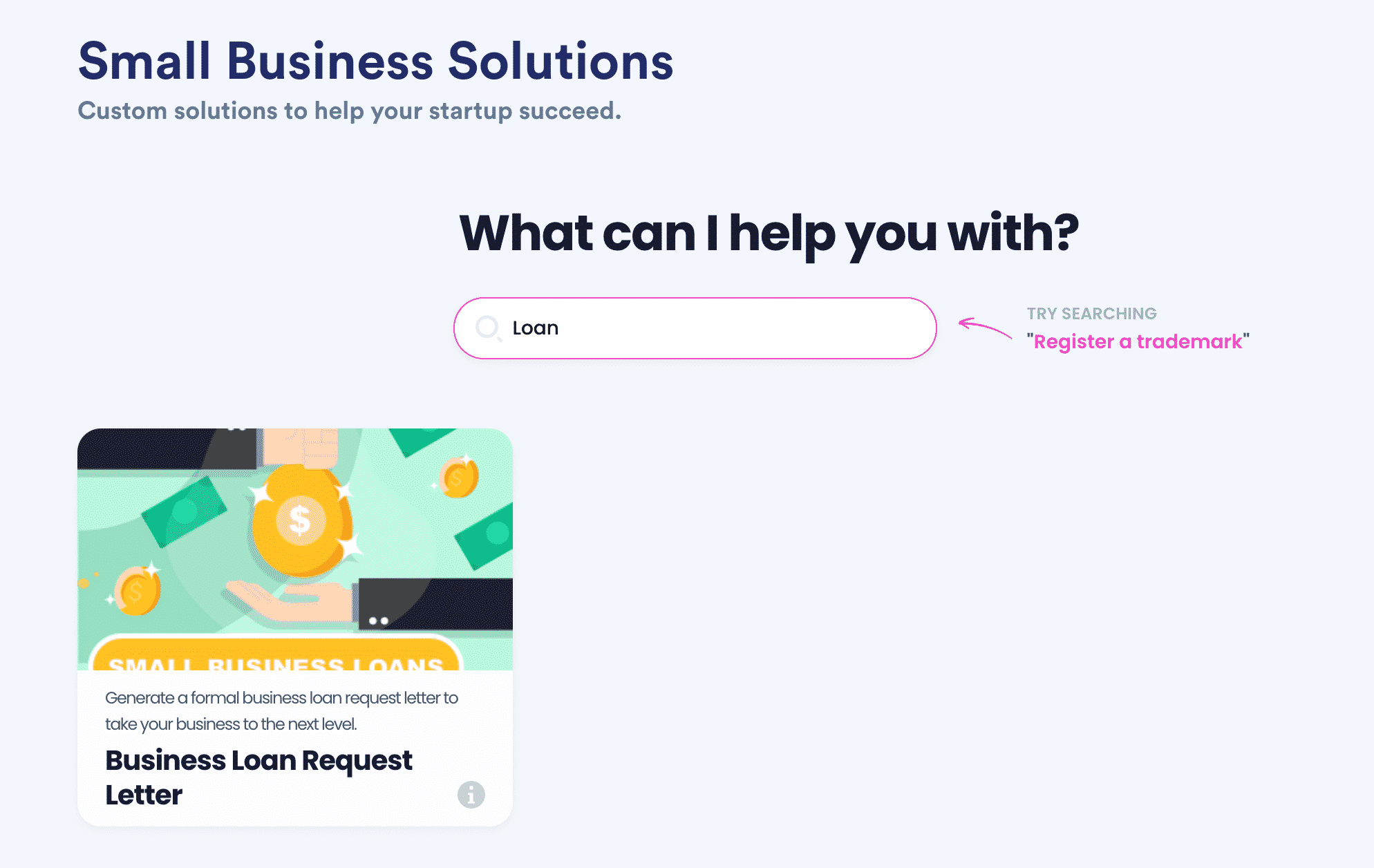 Once you determine the type of small business loan you want to apply for and make sure you meet the requirements, you should prepare a loan request letter to demonstrate you are a reliable borrower. This document will provide your lender with details about your business and yourself. A properly written loan request letter can increase your chances of obtaining a loan.
If you need help writing one, subscribe to DoNotPay! Our AI-powered app will generate this crucial letter tailored to your needs in no time! To use it, you have to:
Find our Business Loan Request Letter tool
Gather your personal and business credit scores
Prepare financial statements, such as cash flow and balance
Answer our chatbot's questions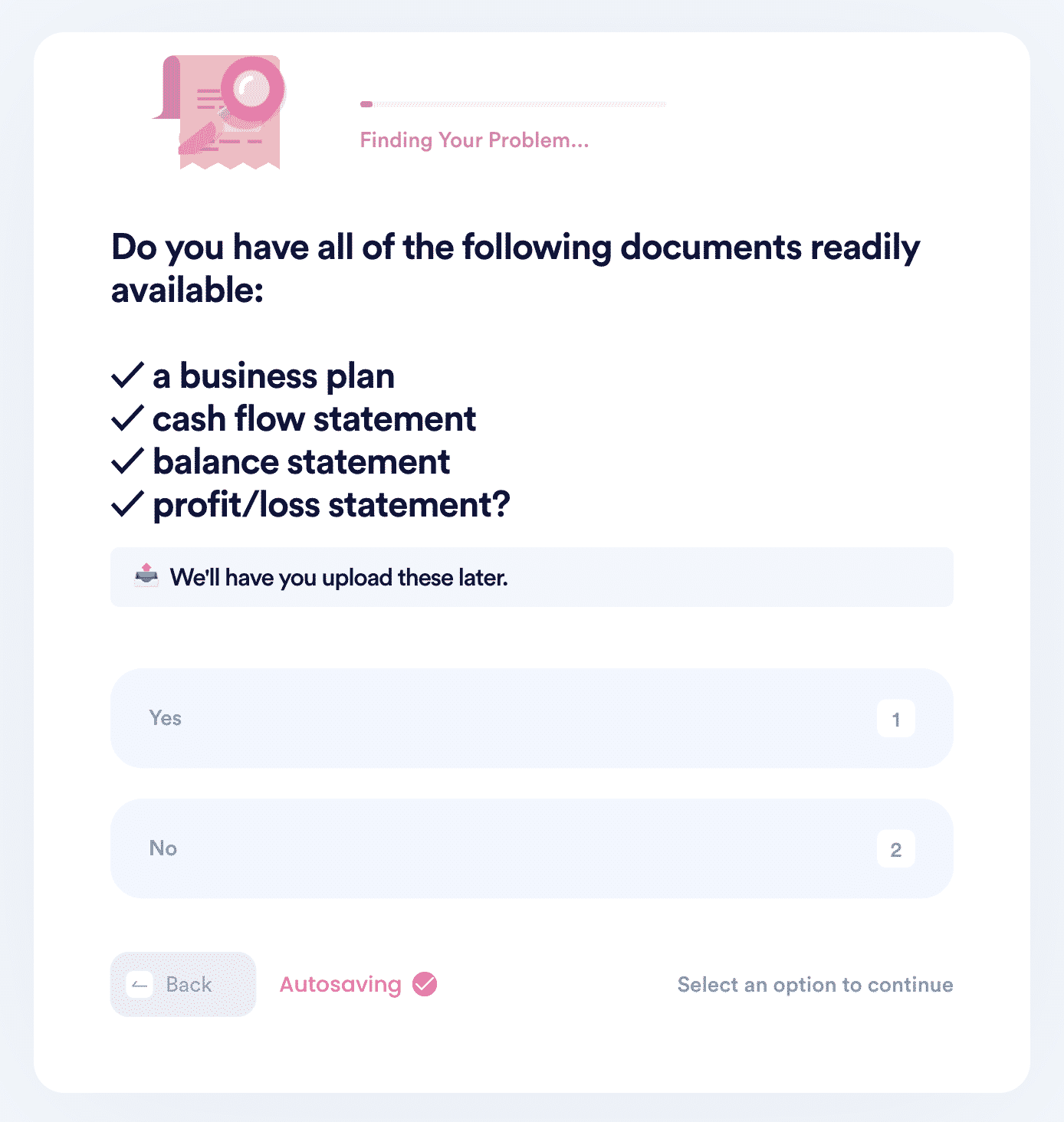 If you haven't figured out which lender to turn to, we can narrow down the search for you by giving you a list of the best lenders through our Find Small Business Lenders tool.
Run Your Business Worry-Free!
Every beginning is challenging, which is why DoNotPay has everything you need to start running your business stress-free! We have created numerous easy-to-use products that will make boring administrative tasks easier to manage.
To help you get started, DoNotPay will assist you in taking care of trademark, Employer Identification Number (EIN), and DMCA agent registration, Privacy Shield self-certification, and business loan requests.
We can even help you maintain a good business reputation by:
Monitoring your trademark and filing a cease and desist letter in case someone tries to use it
Reporting fake negative reviews that could harm your business
Disputing illegitimate chargeback requests in a matter of minutes
DoNotPay Helps You Create and File a Number of Legal Documents
Why waste time worrying about how to draw up and file various legal documents when you can have the world's first robot lawyer do that in your stead? You do not have to waste thousands of dollars on lawyer's fees—our extensive database has a myriad of documents on offer.
DoNotPay will help you automate the procedure of completing and filing 83(b) election forms, write a formal demand letter requesting payment from clients who try to avoid it, and deal with other important paperwork.
Don't want to waste time going to the post office to mail a contract? Now you do not have to! With DoNotPay, you can fax and mail any document in a matter of clicks!