Find Out What the Cost of Divorce in VA Is and How To Reduce It
Getting divorced can be a burden. You should pay attention to all relevant information about the filing procedures, divorce papers, and other requirements to protect yourself and go through a smooth and quick divorce.
What about the cost of divorce in VA? This guide shows you how to keep your expenses in check while DoNotPay provides efficient assistance with divorce papers!
How Much Is a Divorce in VA?
To file for divorce in Virginia, you need to plan your budget to avoid any surprises and delays.
The cost of a divorce depends on various criteria, including what type of divorce you go for and whether you decide to hire a lawyer, mediator, or some other expert.
Check out the following table for more information:
What Would You Like To Do?
What You Should Consider
Average Cost
Hire an attorney
While this might seem like the smoothest ride, it would definitely:

Be an expensive option
Increase your total divorce costs significantly

To reduce the cost of services, you could:

Deal with all paperwork and other aspects of the divorce process by yourself
Consult a lawyer on necessary matters instead of providing a considerable retainer fee for an attorney to handle your whole case

On average, VA divorce lawyers:

Charge an hourly rate of $280–$330
Might end up costing you between $11,000 and $14,000

Go to mediation
You can hire a mediator in Virginia if you and your spouse need help resolving certain problems
$100–$350 per session (shared between you and your spouse)
Choose a low-cost divorce
If you and your spouse go through a friendly, no-fault, and uncontested divorce, you will finalize the whole process quickly, affordably, and with less stress
Depending on the county where you file for divorce—e.g., Fairfax, Virginia Beach, or some other—the average cost includes:

$82–$86 for the court filing fee
$10–$12 for having the sheriff's office serve the papers to your spouse
The Average Cost of Divorce in Virginia
The average cost of divorce in Virginia is $11,500 if you decide to go through the process with an attorney. This amount can be higher if you:
Go for a complex contested divorce
Want to prove your spouse's fault, and they don't want to admit it
Keep in mind that the cost of your divorce could also be a lot lower in case you and your spouse:
Reach an out-of-court settlement on all divorce aspects, such as:

Child support, visitation, and custody

File for an uncontested divorce so that you can complete and file the required forms alone, i.e., without hiring a pricey attorney
Learn How To Get a Divorce in Virginia Without a Lawyer
To file for a VA divorce, you need to fulfill the following requirements:
Residential requirements—You or your spouse must have lived in the Old Dominion for a minimum of six months before filing the papers
Separation requirements—Depending on whether you have children or not, you need to live separately between six and twelve months
If you meet the above-listed criteria, you may proceed to the following uncontested divorce steps without a lawyer's help:
Steps to an Uncontested Divorce
Additional Information
Create a divorce settlement agreement
You should:

Cover all matters that you've agreed on with your spouse and file the document with the court for review
to prepare a rock-solid divorce settlement agreement

File the uncontested divorce papers
You should file a bill of complaint and other necessary forms with the local circuit court
Serve the papers
You could have the sheriff's office serve the divorce papers to your spouse
Wait for your spouse's response
Your spouse can file a response with the court in 21 days after the date they received the papers
Go to the court hearing
If you don't want to attend the hearing, you can complete and file a deposition or affidavit
DoNotPay Is an Efficient Generator of Divorce Settlement Agreements
A divorce settlement agreement outlines all the important terms of your post-divorce life and comes into effect as soon as the judge approves it. That's why you should be extra careful about how you prepare the document.
You don't have to pay hefty sums to lawyers or use unreliable online templates. Our AI-powered app creates a divorce settlement agreement according to current state laws and your specific situation.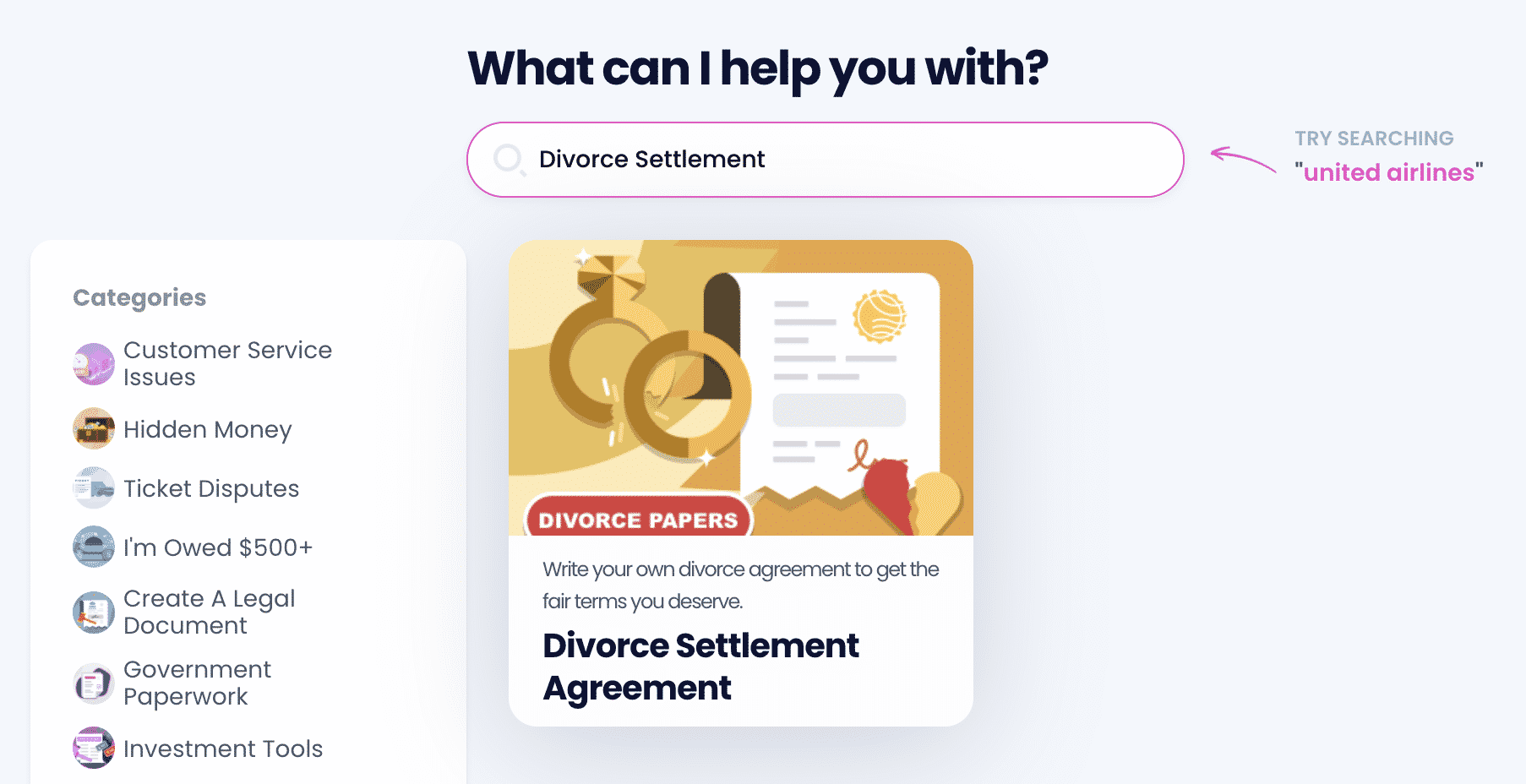 and take these simple steps:
Use our Divorce Settlement Agreement product
Answer the chatbot's questions about, e.g., your assets, income, and children
Select if you'd like to have the document notarized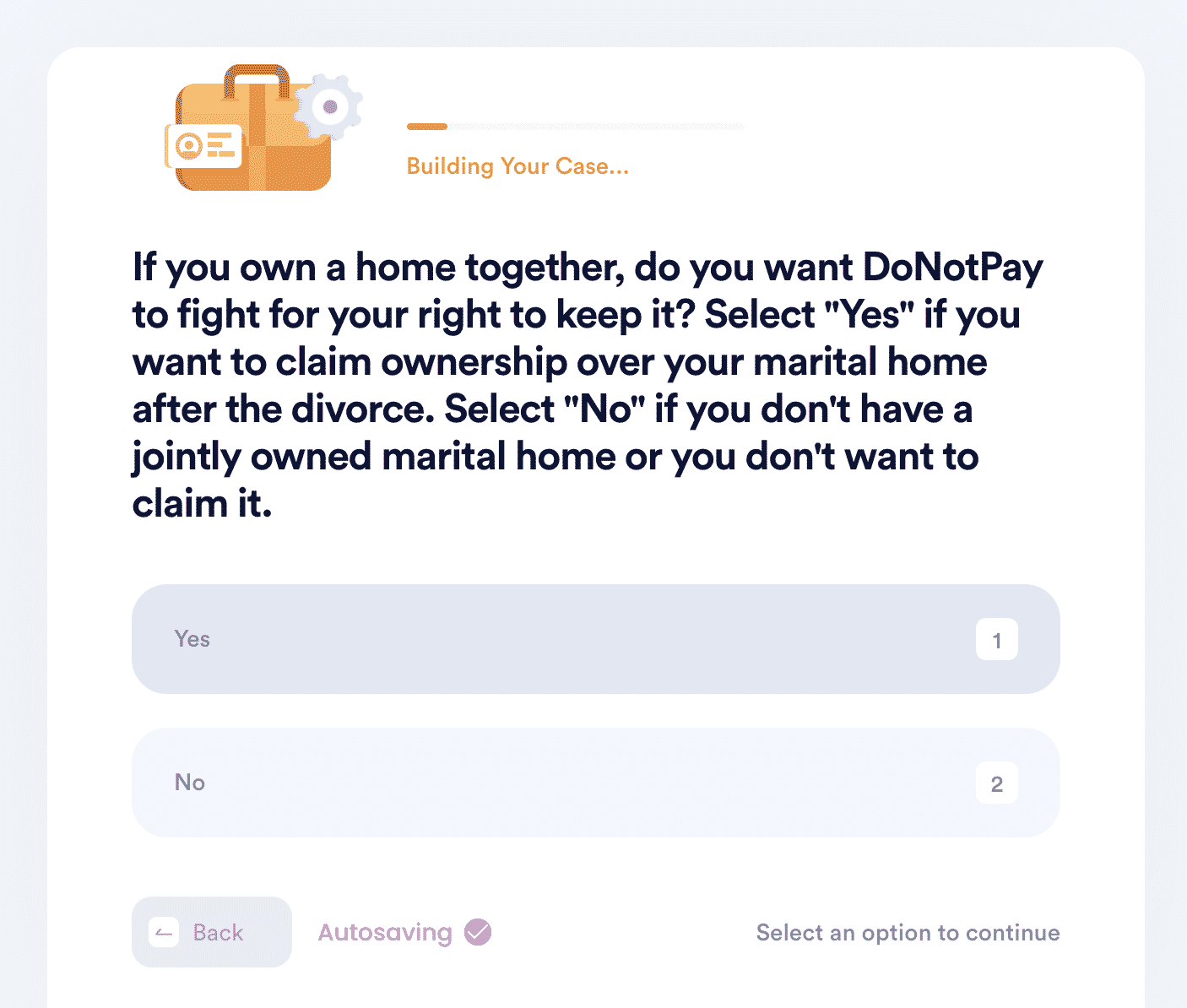 Learn About Divorce Procedures To Avoid Any Glitches
To go through a divorce smoothly, you should use our extensive knowledge base to get familiar with different divorce-related topics, such as:
DoNotPay Goes the Extra Mile for You
We are dedicated to providing solutions to difficult and time-consuming tasks you may have on your to-do list. If you are struggling to reduce your monthly bills, contest parking tickets, or set DMV appointments, DoNotPay will help you do it in no time!
We have also created numerous easy-to-use features that can make the following procedures run smoothly:
Get Justice From Companies That Wronged You
Do you feel like you have been played by a company? Instead of wasting your time writing requests, demand a chargeback or refund or claim a warranty via DoNotPay! If the company doesn't seem too cooperative and keeps refusing to return your money, our app can assist you in suing it in small claims court.
To help you save some coins or regain what's yours, DoNotPay will also help you locate unclaimed funds, submit insurance claims, lower your property taxes, and cash out gift cards.