Find Out What the Cost of Divorce in PA Is With DoNotPay's Help
How much is the cost of divorce in PA?
DoNotPay can tell you how much money you'll need to cash out to terminate your marriage in Pennsylvania. We will also inform you about the low-cost divorce options and help you create a marital settlement agreement.
PA Divorce Cost—Expenses To Count On
When filing for divorce in PA, you should familiarize yourself with all possible expenses that come with the process. The table below will provide some additional information:
Type of Fee
Brief Explanation
Court filing fees
You need to pay the filing fees when filing the divorce forms. The exact amount will depend on the county you live in.

Check out the different divorce costs and regulations for these PA counties:

Fees for the service of divorce papers
Pennsylvania requires you to hire a sheriff or process server to deliver the divorce papers to your partner. This service comes with a county-specific cost
Attorney fees
Divorce lawyers in Pennsylvania charge an average fee of $250 per hour. Note that hiring a lawyer for an uncontested divorce is not mandatory
Mediation fees
Mediation is another optional step. Mediation is necessary when you don't agree on every aspect of your divorce settlement with your spouse. If you choose to have a mediator, count on paying at least $1,000 per day for mediation services
Parent education fees
Sometimes spouses who have minor children are required to take a parent education program that costs between $25 and $85, depending on the number of hours in the course
Who Pays for a Divorce in Pennsylvania?
Under regular circumstances, each spouse is in charge of paying their own attorney fees. In cases when the income gap between the spouses is too big, the court can order one of the partners to pay for the other's attorney fees.
Factors That Influence the Divorce Cost in PA
The amount you need to spend on a divorce in Pennsylvania will depend on multiple factors, such as:
What county you live in
Whether you and your partner have children
What amount of debt you have
Whether you own real estate and vehicles
How willing you and your spouse are to compromise to reach an agreement and keep the costs down
The last item on the list refers to the type of divorce you and your spouse are aiming to have:
Contested—you don't agree on any of the important issues
Uncontested—you see eye to eye and want a friendly divorce
The cost of an average contested divorce can be between $15,000 and $20,000. An uncontested divorce is a cheaper option because of its duration and the lack of need to hire a lawyer.
How Much Does an Uncontested Divorce Cost in PA?
The low-cost divorce option in PA is called a "no-fault and mutual consent divorce," also known as an uncontested divorce. If you don't hire a lawyer, you will only need to pay for the filing fees, which are around $300.
An uncontested divorce is a quick divorce—you will not be dragged through numerous court hearings.
The staple of any uncontested divorce is a divorce settlement agreement. This document will let you and your spouse agree on how to resolve important issues, such as alimony and division of property and debt.
Thinking of hiring a lawyer to draft this document for you? We offer a better solution!
DoNotPay Creates a Divorce Settlement Agreement in No Time
If you are looking for a fast and simple way of creating a divorce settlement agreement, look no further than DoNotPay! Our app will make sure the legal document is airtight and that it covers all the relevant issues. You only need to heed these instructions:
Choose our Divorce Settlement Agreement product
Answer a few questions about your spouse and children (if you have any)
Provide some information about your income
You can also choose to get your divorce settlement agreement notarized with our help when completing the short questionnaire!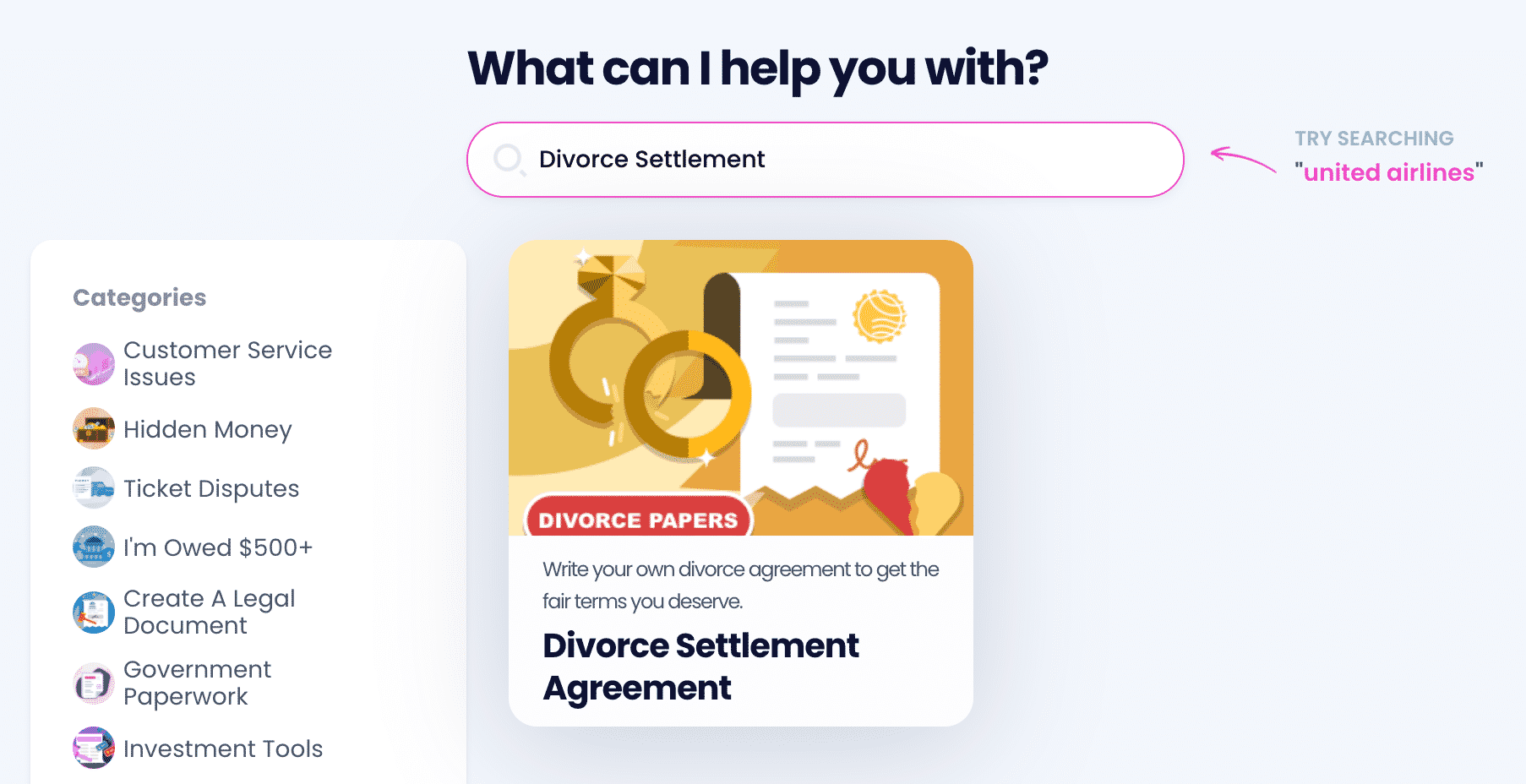 DoNotPay Is Here To Answer All of Your Divorce-Related Questions
If you are going through a divorce and would like to know more about the process, check out some of the most popular questions people have when ending a marriage:
Do More With DoNotPay's Useful Features
DoNotPay offers a unique service when it comes to filing for divorce or drafting a divorce settlement agreement, but we don't stop there! Our app can also help you draft, fax, and get other legal documents notarized in a flash! From powers of attorney to child travel consent forms—we assist you every step of the way!
If you need to file an insurance claim, fight workplace discrimination, or sue a company in small claims court, you can use our app to get it done with ease.
Deal With Companies Stress-Free
If you like to shop and you often make purchases, you know that companies can cause all kinds of issues along the way. DoNotPay has a trick up its sleeve that helps you deal with any issue a company causes like a pro!
Wasting hours waiting for a customer support rep to pick up becomes a thing of the past once we get involved. We'll show you how to request a refund, cancel a subscription, apply for free trials, use a virtual credit card, and claim a warranty easy-peasy!
If your package is damaged or missing, we'll show you how to track it and file a missing package claim.