The Cost of a Divorce in Colorado Revealed
Thinking about divorce causes a headache to anyone. Where to start from? What papers to gather? Do you need a lawyer? What about the expenses?
What's the cost of a divorce in Colorado? The emotional toll is unmeasurable, but when it comes to financial expenses, DoNotPay has definitive answers and a few additional tips to help you handle the situation better.
How To File for Divorce in Colorado
To file for divorce in Colorado, you'll need to take the following steps:
Meet the residency requirements—At least one spouse must be a Colorado resident for at least 90 days before the filing date
Determine where to file for divorce—You need to file your case with the district court of the county where you or your spouse live
Decide whether to file for divorce:

Together—As co-petitioners
On your own—As the petitioner and respondent
How Much Does a Divorce Cost in Colorado?
The divorce costs in Colorado depend on the complexity of your case, i.e., if you and your spouse:
Have underage children together
Must deal with complicated property, business, or financial issues
Cannot agree on all divorce matters, such as:

The division of property
Child custody and support

Want to:
While the average divorce expenses can mount up to $14,500, the cost of an uncontested divorce can be significantly lower. A friendly divorce will save you money, time, and nerves since you and your spouse negotiate and agree on all divorce matters alone or with the help of a mediator.
If you reach an out-of-court settlement, you don't even have to hire a lawyer because you can complete the necessary forms and file for divorce alone.
Keep in mind that you might end up paying $30,000 or more for a litigated divorce since you need to hire a lawyer, attend numerous court hearings, or even go to trial.
Colorado Divorce Filing Fee
To file a petition for dissolution of marriage in the Centennial State, you'll need to pay $230.
Depending on your case, you might need to settle additional fees, including the ones listed in the following table:
Fees
Amounts
Serving the papers
$50–$70
Petition for allocation of parental responsibilities
$222
Petition to prevent removal of a child
$235
Response to a petition
$116
Foreign decree/judgment
$201
Registration of:

Child custody determination
Enforcement child custody
Support order

$166
Motion to modify, amend, or alter decree or order (after 60 days of entering the decree)
$105
If you cannot afford to pay the required fees, you should request a court fee waiver.
How Much Is a Divorce in Colorado With a Lawyer?
If your divorce is complicated and you and your spouse cannot reach an agreement, you might need to hire an experienced attorney. In this case, the duration and cost of a divorce will increase.
The average attorney fees are around $11,400 in Colorado, but the total sum might vary depending on:
Which law firm you choose
Whether you want to hire a lawyer to consult, prepare all the paperwork from scratch, file for divorce, and represent you
You should schedule an initial consultation with an attorney—free of charge in some firms—and ask for a breakdown of all expenses to make sure you can afford their services.
Keep in mind that you don't need a lawyer to prepare the required papers and get an uncontested divorce in Colorado, so it is the quickest and cheapest option. If you manage to arrange for an amicable separation, to get a divorce settlement agreement tailored to your specific needs.
DoNotPay Provides Reliable Divorce Settlement Agreements
When going through an uncontested divorce, you'll need to discuss and agree on lots of different issues with your soon-to-be ex-spouse. To reduce the cost of your divorce, you can collect the required forms and fill them out yourselves.
One of the key documents is a divorce settlement agreement that you must present to the court. As this agreement will become legally binding, you need to make sure you:
Have followed your state and local requirements
Haven't left out any important parts and provisions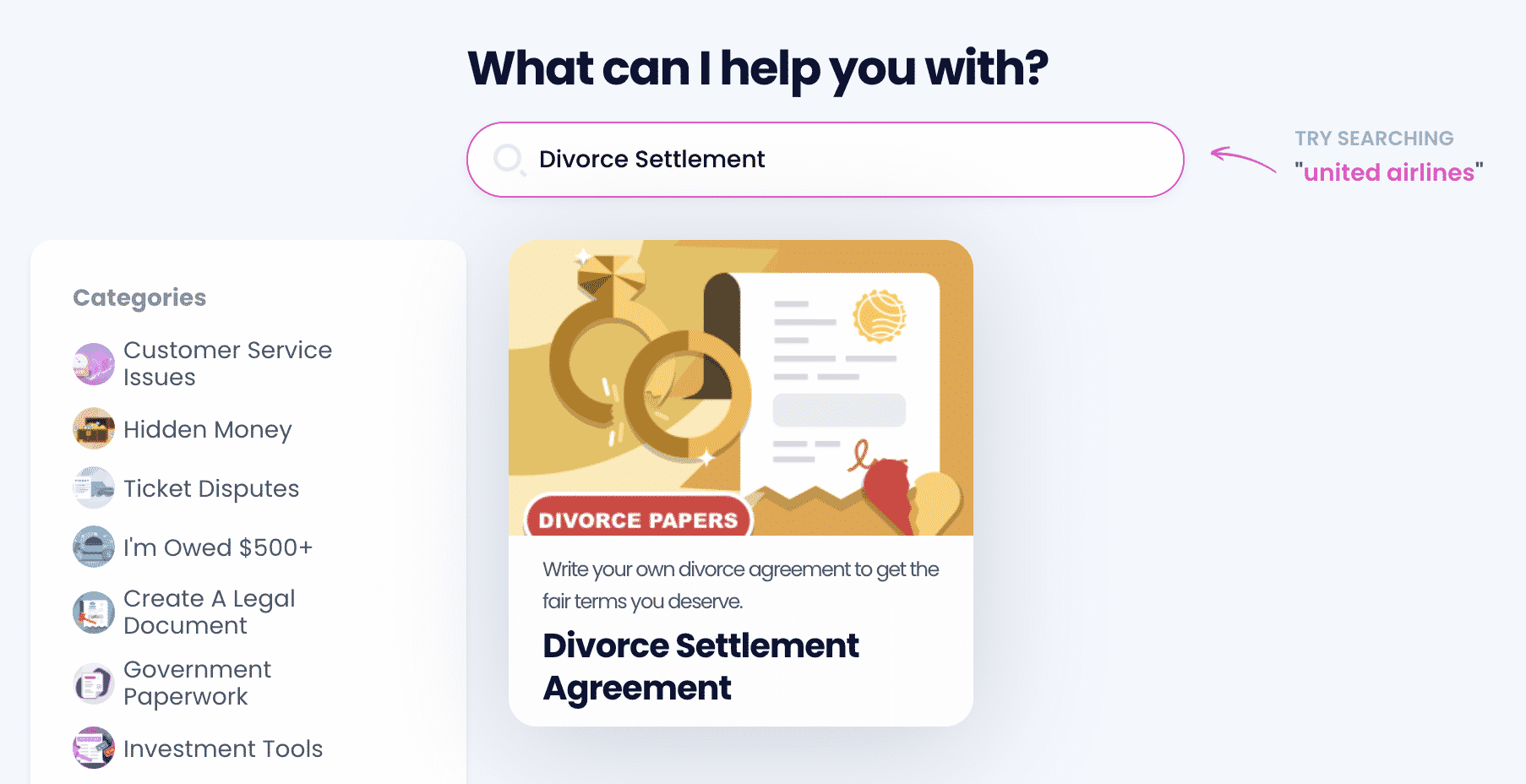 To spare yourself the headache of drafting this complex document, and take these steps:
Enter the Divorce Settlement Agreement in the search box
Answer the chatbot's questions
Provide information about your financial situation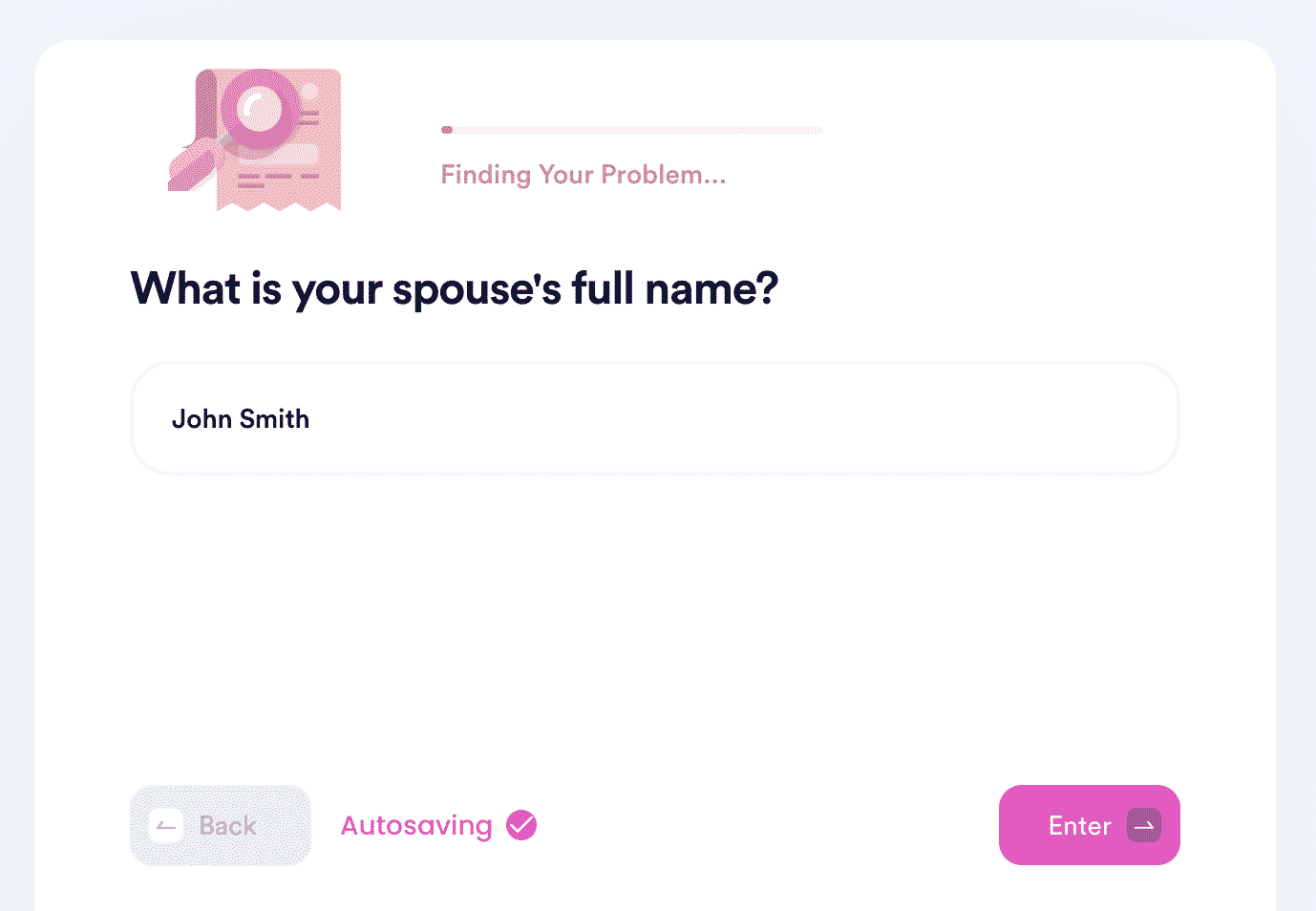 Our AI-powered app scans your state law and regulations and takes your provided information into account to generate a document customized to your specific case.
You can have this and any other document notarized in no time using DoNotPay's Notarize Any Document tool. We connect you with an online notary who is available 24/7!
Get Additional Divorce-Related Information
Access DoNotPay whenever in doubt about sensitive divorce issues. We offer loads of helpful guides, including the following:
Would you like to compare the divorce costs across the USA? DoNotPay provides information on different states, including the following:
Do More With DoNotPay's Useful Features
DoNotPay offers a unique service when it comes to filing for divorce or drafting a divorce settlement agreement, but we don't stop there! Our app can also help you draft, fax, and get other legal documents notarized in a flash! From powers of attorney to child travel consent forms—we assist you every step of the way!
If you need to file an insurance claim, fight workplace discrimination, or sue a company in small claims court, you can use our app to get it done with ease.
Deal With Companies Stress-Free
If you like to shop and you often make purchases, you know that companies can cause all kinds of issues along the way. DoNotPay has a trick up its sleeve that helps you deal with any issue a company causes like a pro!
Wasting hours waiting for a customer support rep to pick up becomes a thing of the past once we get involved. We'll show you how to request a refund, cancel a subscription, apply for free trials, use a virtual credit card, and claim a warranty easy-peasy!
If your package is damaged or missing, we'll show you how to track it and file a missing package claim.