All You Need To Know About the Cost of Collaborative Divorce
If you and your spouse have decided to file for a divorce and want to end your marriage on good terms, getting a collaborative divorce is one of the viable options.
If the term "collaborative divorce" leaves you with more questions than answers, you're in the right place! We will address all aspects—including the cost of a collaborative divorce—in this article.
DoNotPay can also tell you how to reduce the cost of your divorce even further—learn how to complete the procedure without hiring a lawyer or attending court hearings!
What Is a Collaborative Divorce?
A collaborative divorce is a process during which the couple works together to reach an out-of-court divorce settlement. During this type of divorce, a team of professionals will help the spouses define the terms of their divorce and reach a mutually acceptable agreement. Some of the specialists a couple typically needs in a collaborative divorce are:
Collaborative lawyers
Financial neutrals
Communication specialists
Child specialists (if the couple has children)
The main purpose of a collaborative divorce is to avoid court and have a friendly divorce that won't cause a lot of emotional distress for the couple.
The Average Collaborative Divorce Cost
The average price of a collaborative divorce is typically anywhere between $7,500 and $50,000, but the exact amount differs on a case-to-case basis.
Every specialist on the collaborative team will set their own fee. They will either charge by the hour or impose a flat fee. With a flat-fee model, determining the cost upfront is much easier.
How Can You Lower the Cost of Your Divorce?
The only way to have a low-cost divorce is to file for an uncontested one. It will significantly reduce the costs that may come with hiring a team of collaborative divorce specialists.
If you and your spouse already agree on every term of your divorce, you may not need a lawyer to guide you through the process.
To reiterate the differences between a collaborative and uncontested divorce even further, we have presented them in the table below:
Collaborative Divorce—Key Aspects
Uncontested Divorce—Key Aspects
In a collaborative divorce, you need to:

Work out the terms of your divorce with a lawyer
Hire a team of collaborative specialists to lead your case
Sign a collaborative law agreement, which implies that the lawyers can leave the case if the case proceeds to trial
Pay the fees

An uncontested divorce requires you to:

Work only with your spouse to reach a compromise, instead of a whole team
Spend a minimum amount of money—typically only on fees for filing the divorce papers
Settle the terms of your divorce with your partner, including:
Not having all terms of an uncontested divorce figured out is not an issue since you can always settle your differences in a few mediation sessions. Mediation will cost you significantly less than a collaborative divorce.
Who Qualifies for an Uncontested Divorce?
To meet the qualifying criteria for an uncontested divorce, you and your spouse must:
Be on the same page about getting a divorce
Resolve all your financial disagreements
Meet the state and county residency requirements
File for divorce on no-fault grounds
After you fulfill the requirements, you should follow the instructions below to file for an uncontested divorce:
Create a marital settlement agreement to spell out all the divorce terms
Collect and file all the uncontested divorce papers
Pay any incurring fees
Attend a final court hearing
Where To Obtain a Divorce Settlement Agreement
You have a few options for getting a divorce settlement agreement, which is one of the essential divorce papers:
Hire a lawyer—Having a lawyer draft the agreement can be too costly for most people
Use online divorce services—Templates online services offer are generic and may not comply with the state-specific divorce laws
Register for DoNotPay—You can subscribe to DoNotPay and have your document drawn up in record time and for an affordable price
How To Acquire a Marital Settlement Agreement With DoNotPay
We'll use our knowledge of the state-specific divorce laws and the information you provide us to draw up a fully customized divorce settlement agreement in a few minutes.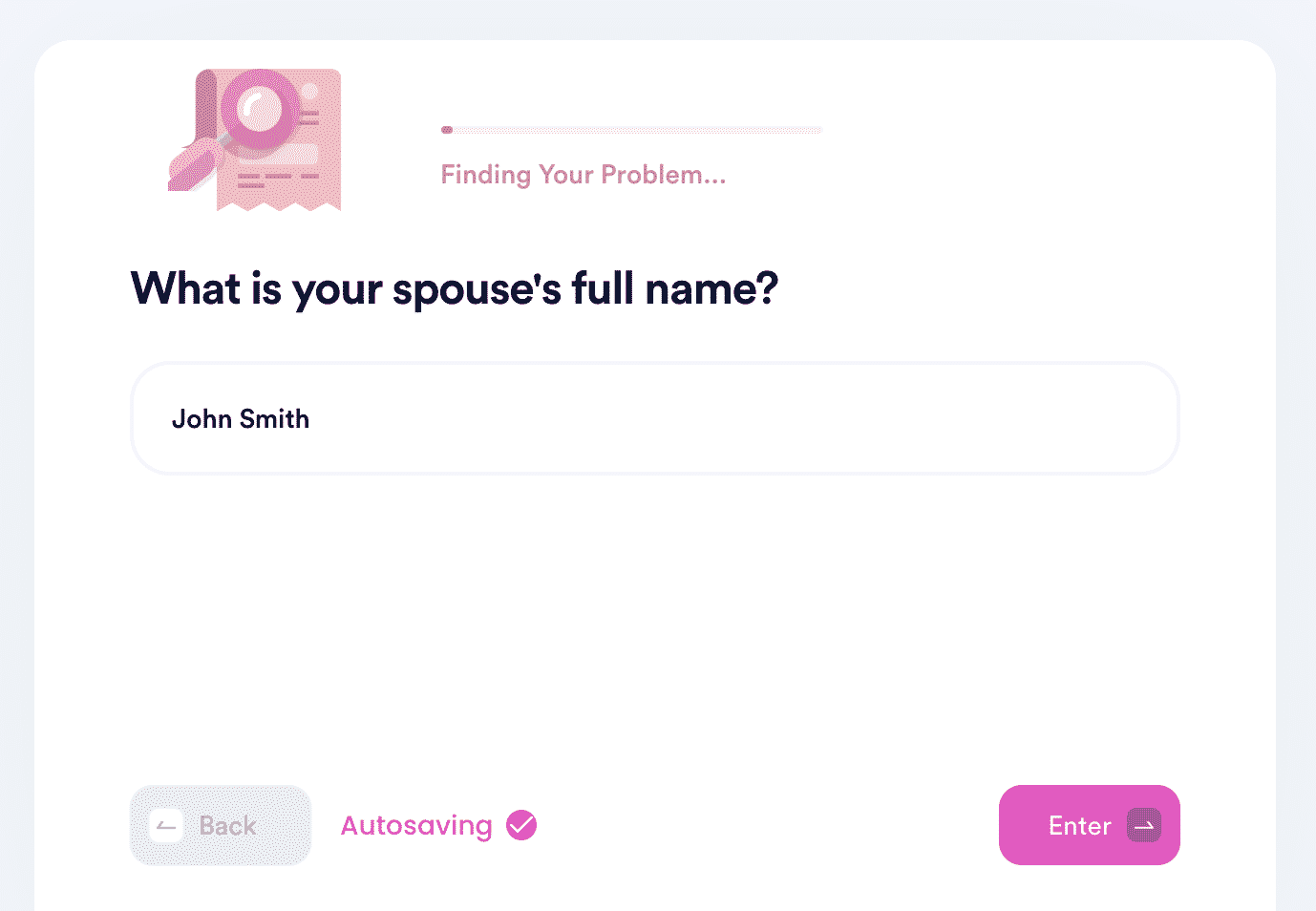 Register for DoNotPay and follow the steps below to create your divorce settlement agreement fast:
Find the Divorce Settlement Agreement product and open it
Answer a few questions about your marriage and how you wish to allocate your marital assets
Indicate whether you need an online notary
After completing the steps, you'll need to download and sign the document with your spouse. If you choose to get your document notarized with DoNotPay, we'll set up an online meeting with a notary who will witness the signing over a live video call.
Save Time With DoNotPay
DoNotPay is not done helping you! We offer you assistance in completing a variety of tasks quickly and efficiently, such as:
Canceling Subscriptions Has Never Been Easier!
If you keep getting charged a monthly subscription fee even though you no longer want to use a certain service, don't let your money go to waste! Some companies tend to renew your subscription automatically, but that doesn't mean you have to put up with it—use our app to terminate your membership or subscription in a few clicks!
Do you want to sign up for free trials and create a virtual credit card or a burner phone number to protect your sensitive info? Once you subscribe to DoNotPay, we will walk you through the process of doing all of the above in no time!
You can also count on our assistance if you need to get rid of spam or robocalls.