Understanding the Corporate Integrity Agreement
If your organization wants to make a deal with the Office of the Inspector General (OIG), you must learn more about the corporate integrity agreements. Establishing collaboration rights by writing a valid contract is the most secure way to achieve a transparent deal with OIG. The problem arises when it comes to drawing up this legal document since most people don't have enough expertise to do it themselves.
Our manual offers a rundown on the corporate integrity contracts, explaining their purpose and propositions. Find out more about signing this agreement and get practical advice on composing any legal document fast and with zero sweat!
Corporate Integrity Agreements in a Nutshell
A corporate integrity agreement (CIA) is a legal document regulating the relationship between:
OIG of the

Department of Health and Human Resources

Pharmaceutical companies, providers, or other healthcare-related entities
By signing this contract, a  particular company agrees to take over certain responsibilities in exchange for entering specific federal healthcare programs. The document addresses various corporate integrity-related problems and works on fortifying compliance with local health laws. These agreements last for five years and impose many duties on the healthcare company in question.
What Does a Corporate Integrity Agreement Cover?
Here are some common CIA-proposed requirements a particular company must meet:
Hiring a compliance officer

Appointing a compliance committee

Establishing specific written terms and policies

Defining the details of its confidential disclosure program

Introducing an all-in-one employee training plan

Making sure the independent review organizations handle the regular annual reviews 

Preventing its managers from hiring ineligible candidates

Recording each overpayment

Reporting current investigation and ongoing legal procedures
What Happens if the Provider Breaches the Rules From the Corporate Integrity Agreement?
Since this contract is legally binding, each mistake or failure to comply with the proposed rules entails specific penalty fees. Below is the table showing what happens in case the provider violates OIG regulations:
Rule Violation
Penalty

Breaching the compliance program regulations

Failing to engage in using an Independent Review Organization (IRO)

Submitting incomplete or inaccurate reports or certifications

Not submitting the required claims review reports

Daily penalties—$1,000 per day for each compliance breach

False certifications for:

Implementation and annual records

Other supporting documentation the IRO requires

$50,000 per certification

Failing to respond to a letter from OIG

Failing to report reportable events

Not putting an effort to correct the existing rule violation

Making imprecise overpayment refunds

Failing to react to stipulated penalty payment requests

The provider gets banned from taking part in federal healthcare plans
Take Advantage of the Best Legal Templates With DoNotPay
Whether you are trying to draft a lease, rental, settlement, or any other contract, making a concise and valid legal document is never simple. Besides complying with local regulations, a proper agreement must meet other general criteria. It should:
Contain approved disclosures

Include appropriate legal terms and phrases

Be easily understandable and comprehensive

Exclude outdated or incorrect information
DoNotPay ticks off all the requirements from the list! Our user-friendly app helps you get a well-composed contract without pricey professional services or generic online samples. What makes our service unique is a vast collection of modifiable legal documents. Drawing up your agreement from scratch remains in the distant past. All it takes is to edit the chosen template by responding to our chatbot's brief questionnaire!
How Can DoNotPay Help You Generate a Legal Document Stress-Free?
To generate a personalized contract in less than five minutes, follow these instructions:
Visit DoNotPay

in any preferred web browser

Look for a suitable template by inputting the keywords in the search box

Provide more contract details by answering a few simple questions
The last step is to download the document and sign it together with the other entity to make it enforceable. Our database currently offers 15 customizable templates, including:
Quitclaim Deed

Promissory Note

Child Care Authorization Agreement

General Business Contract

Residential Lease Agreement

General Affidavit

Estoppel Certificate

Intent to Purchase Real Estate
Depending on your state laws and contract type, you may also need to have your document notarized. All you have to do is upload it to our platform and leave your contact details. We will send you a link to schedule online notarization, meaning the notary will validate your signature in a virtual environment.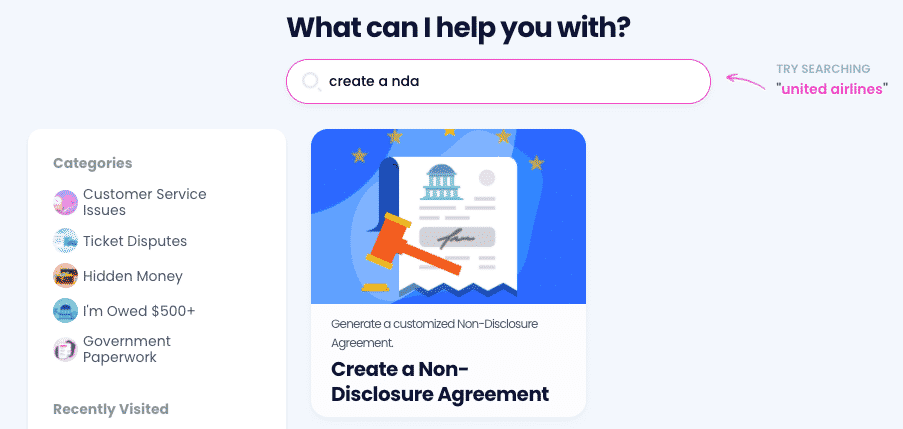 Get Familiar With Various Agreements Through Our Knowledge Base
Did you find our tips on the corporate integrity agreement useful? Check out DoNotPay's knowledge base and find some valuable advice on other contracts, such as the:
| | |
| --- | --- |
| Business Agreements | Other Agreements |
| | |
Discovering DoNotPay Will Make Your Day
If you feel overwhelmed by tons of paperwork flooding every area of your life, you can finally breathe out and let go of that stress. DoNotPay is the world's first robot lawyer that handles your bureaucratic chores for you. 
Some of the benefits that come with our service include:
Why Get a Lawyer When You Have DoNotPay?
Our agenda has one major goal—provide easy legal access to anyone who needs it. Every new feature we come up with relies on AI technology that simplifies bureaucratic procedures and saves you time and money. 
If you're wondering how to navigate tasks like contacting imprisoned friends and family members or reducing your property taxes, DoNotPay has the answers. Our service cuts through the red tape even if you need to deal with stalking and harassment, claim forgotten assets the proper way, or secure compensation for crime victims.