A Guide to Understanding and Creating Copyright Licensing Agreements
Understanding how legal documents work is crucial for anyone who wants to write them without the help of a lawyer. We have a knowledge base that is an ideal starting ground for that. DoNotPay can help you understand copyright licensing agreements and give you tips for drawing up a plethora of other contracts on your own.
What Are Copyright Licensing Agreements?
A copyright licensing agreement is a contract that protects creative property. It allows the owner of the copyrighted material to decide how, when, and where the material can be used by others.
This agreement is also known as a license, copyright license, or copyright license contract. It shouldn't be confused with a copyright assignment, which is a transfer of ownership of creative property. Besides copyright agreements, there are licensing agreements for:
Brands
Patents
Trade secrets
When Are Copyright Licensing Agreements Needed?
Copyright licensing agreements are used by people who want to:
Protect their copyright to intellectual property and let other parties use it for a limited time with proper compensation
Acquire the right to use the intellectual property copyrighted by someone else for a limited amount of time
If you need a licensing agreement sample, we've got you covered. There are also specific licensing agreement guides on our site:
Copyright Licensing Fees Explained
You shouldn't confuse copyright licensing fees with royalty fees. When someone wants to buy a license from the intellectual property owner, they pay fixed license fees for the duration of the contract. Royalty fees are percentage-based earnings from the used copyrighted material. Royalties are usually time-, location-, and usage-based.
The Crucial Aspects of Copyright Licensing Agreements
If you want a document to be legally binding, you need to learn how to draft it well. Downloading a contract template online from a random website isn't going to cut it as most of the free templates are generic and not applicable for all situations and business needs. They are also not in compliance with individual state contract laws.
The following table lists out the most important elements of a copyright licensing agreement that you shouldn't fail to include in your document:
| | |
| --- | --- |
| Copyright Licensing Agreement Element | Description |
| The where | The address, city, and ZIP code of both parties, as well as the state whose laws shall govern the agreement |
| The when | The effective date and the termination date of the agreement |
| The rights of the owner | A provision stating that the copyright owners keep the rights to their work and retain the ownership, only temporarily allowing the user to use their work |
| The rights of the user | A provision granting the licensee to use the work of the owner in exchange for a licensing fee |
| Modifications | The user may not alter the property in any way or use it unlawfully |
| Breaches | If the user breaches the agreement or doesn't pay the licensing fee in time, the owner may cancel the agreement via written notice to the user |
| Transfer of rights | Neither of the parties can assign their interests of the agreement without the written consent of the other party |
| Termination | The agreement can be terminated on the expiration of the agreement or by informing the other party in writing |
| Severability | This agreement supersedes any other oral or written agreements between the parties |
| Signatures with the date of signing | The signatures from both parties make the agreement effective on the aforementioned starting date |
The signing of the copyright licensing agreement doesn't have to be witnessed by a notary public, but a notary signature won't do any harm. You can use our app for the easiest and fastest remote notarization process.
How To Create Legal Documents With DoNotPay
DoNotPay can help you create many documents with our Standardized Legal Documents product. Here is how you can create a document in three steps:
Type in the name of the document in the search field
Take a moment to answer the questions of our chatbot to help personalize your doc
After that, you will be able to obtain and print out your document.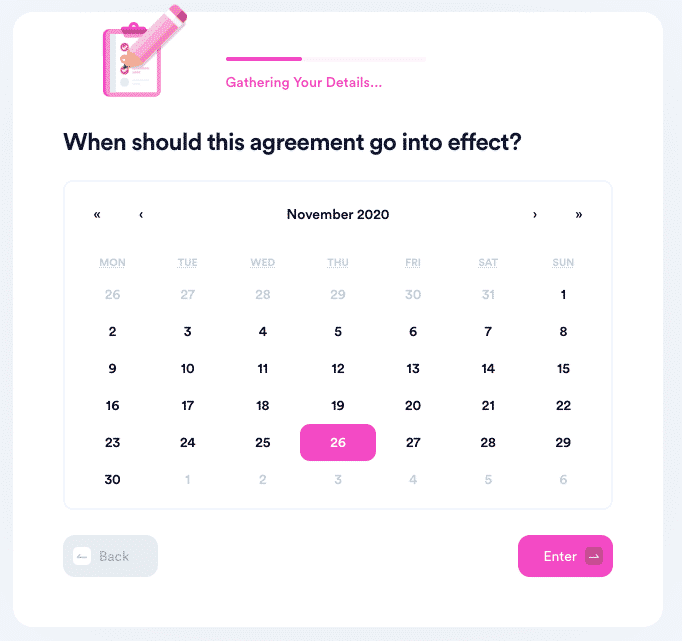 DoNotPay Has Many Other Legal Documents for You
DoNotPay is a one-stop shop for all of your bureaucratic needs. We provide advice and guidelines and draft documents from scratch for you. Take a look at some of the documents we can help you create:
Child care authorization form
Quitclaim deed
Intent to purchase real estate
Promissory note
General business contract
General affidavit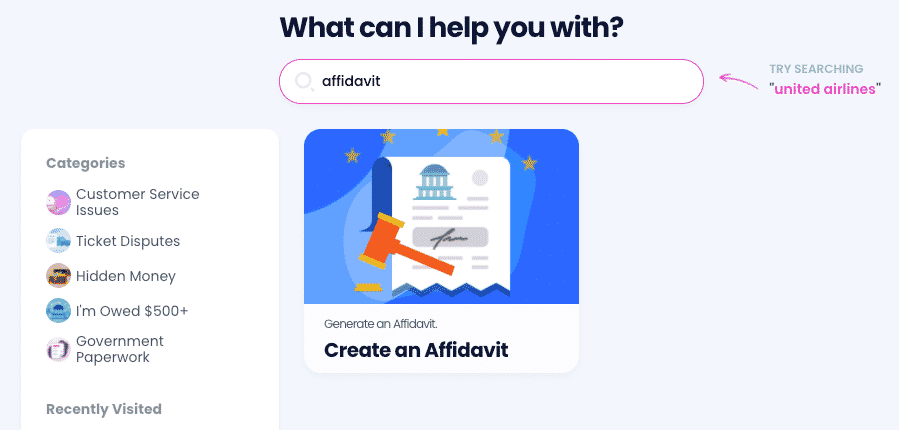 If you are interested in learning more about copyright, we have some useful reading material for you here:
DoNotPay Can Help You Solve Pesky Issues Stress-Free
Dealing with everyday issues can become overwhelming, especially if they include bureaucracy. DoNotPay can help you handle numerous problems in a few minutes. With us, you can schedule your DMV appointments, get documents notarized remotely, and create various legal documents—including child travel consent statements and demand letters for neighbor complaints—in a snap.
Do you need help paying your bills, disputing parking tickets, or getting cash back for your gift cards? Once you register for DoNotPay, you'll be able to manage all of these and many more issues in no time.
What Else Can You Use Our App For?
Besides helping you handle tedious administrative hurdles, DoNotPay can do much more for you! You can use DoNotPay to:
With us, you can send online faxes or mail letters from the comfort of your home. Do you have friends or family members who are serving time? We can help you connect with inmates in a flash by enabling you to locate them and send them letters.