What To Do if You Need a Copyright Assignment Agreement
If you want to transfer the rights of copyrighted intellectual property, a copyright assignment agreement may be the solution you're looking for. But what if you don't know how to write a contract?
DoNotPay is here to help you understand what needs to be in a copyright assignment agreement and to draft other legal documents on your behalf in no time!
What Is a Copyright Assignment Agreement?
The copyright assignment is a legal document that transfers the property rights of creative work to a new owner. Both the creator and the new owner should sign the document and get some sort of compensation from it.
The copyright holder is usually the person who created the work (the author or assignor) and wants to transfer it to a different person or organization with this agreement. The transferee usually has better resources than the author to distribute the work to a wider audience.
In the United States, copyright assignments must be presented in written form to be valid.
What Is Being Exchanged With the Copyright Assignment Agreement?
Intellectual property is any kind of intangible creation that the author or creator can copyright. That copyright can be transferred partially or entirely with a copyright assignment agreement:
Level of Assignment
Meaning
Full

Giving up all control over the author's intellectual property
Letting the new owners do whatever they want with it
Not being able to reclaim profits in case the property is more profitable than the author thought it would be

Partial

Giving different permission levels for the use of the author's work, depending on the specific case
Assigning separate copyrights to different media versions of the author's work, such as a book and a movie version
Having separate rights to any translations of the author's work for foreign consumption
Keep in mind that acquiring intellectual property isn't the same as acquiring its physical versions. For example, buying the rights to a novel doesn't mean you own the copies that are already on the market.
The assignor can't get their copyright back without signing a new contract, but it's possible to include a clause to limit the period for which the copyright assignment is valid.
What To Include in Your Copyright Assignment Agreement
Your copyright assignment agreement should include the following:
Name of the intellectual property
Declaration from the assignor that the work doesn't infringe on proprietary rights
Guarantee that the assignor has permission to use the portions of other copyrighted properties if they have quoted them in their work
Statement that the assignor won't create any derivative work from the present piece without consent from the assignee
Payment amount and dates
Penalties for not respecting the agreement
Tenure of the agreement
Territorial extent of the copyrights
Declaration that the assignor has not signed a similar contract with a different assignee
The agreement should contain a clause that spells out whether the author is still allowed to use or quote from their work even though they have transferred the copyright to someone else. The options are:
Clause Options
Explanation
No further use of works
This states that, after the signing of the document, the author will immediately stop using the works and not challenge the rights of the assignee
Non-exclusive license to the assignor
This allows the author to continue using their works. They can:

Quote from their work
Create derivatives
Write versions for different media

The author is not allowed to receive royalties from their work
Towards the end of the agreement, the author should list the exchanged intellectual properties in as much detail as necessary to avoid ambiguity.
Once your document is ready, you and the assignee can sign it and have it notarized to give it more legal muscle.
Should You Hire a Lawyer To Draft Your Copyright Assignment Agreement?
A copyright assignment agreement is a complex document, but the above guidelines should help you formulate one without the need to hire an expensive lawyer.
For many other legal requirements, DoNotPay is your one-stop resource for generating customized documents in a few clicks!
How Can DoNotPay Help With Legal Documents?
DoNotPay understands that writing legal documents and drafting agreements can be difficult, so we offer a range of contracts that you can tailor to your needs. You don't have to waste your precious time trying to find perfect contract templates—all you need to do to get your customized legal document is:
Sign up with DoNotPay in your web browser
Look for the document you need
Fill in the details you want included
In a few moments, DoNotPay will generate a document that you can sign and get notarized.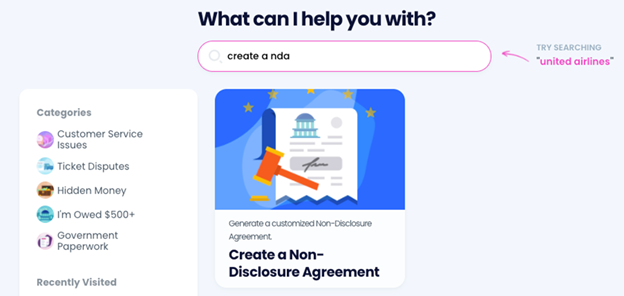 What Kind of Legal Documents Can DoNoPay Provide?
The range of customizable legal documents we offer is growing every week, and here are a few examples:
Personal:

Child care authorization form
General affidavit
Promissory note

Business:

General business contract

Property:

Quitclaim deed
Intent to purchase real estate
DoNotPay Helps You Deal With Various Problems Worry-Free
DoNotPay has developed a wide variety of products you can use to manage numerous tasks.
Do you want to get a refund from a company? Are you wondering whether you can request compensation from airlines for poor Wi-Fi or canceled flights? Is hiring a lawyer to draw up legal documents too expensive for you? Sign up for DoNotPay and solve your issues in a matter of minutes!
Use our AI-powered app to get rid of robocalls, spam emails, and text messages.
Need help to locate and cancel all your unused memberships? DoNotPay has a product for that too!
Prepare for your driving test using our Government Tests Prep feature and schedule a meeting with the DMV to take the test through the same app. We can even help you claim your car insurance or warranty and contest parking tickets in a flash!
Learn How To Protect Your Privacy With DoNotPay
Protecting your personal info online can be challenging, but not impossible. The next time you come across a service that requires phone verification, make sure to use our Burner Phone product and have us generate a fake phone number you can use.
Our virtual credit card can help you sign up for free trials without having to disclose your name, email address, or credit card info.
Are you thinking about connecting with an inmate pen pal? Make sure to keep your real address a secret by relying on DoNotPay. Besides helping you send letters to inmates, we can also receive mail from the prison on your behalf, scan each letter, and send it to your email address.