In Need of Copy and Fax Services?
In this golden age of technology, when you can fax from your phone or laptop, traditional faxing seems to be dying out. Still, some businesses, organizations, government agencies, and health care providers use fax machines in their everyday work. Stores offering copy and fax services wouldn't be able to work without a fax machine and a photocopier. 
In case you need to combine both copying and faxing, you may need to visit one such shop in person. 
This article will present you with some practical copy-and-fax solutions and show you the benefits of DoNotPay's Online Fax feature. 
Sign up for DoNotPay, and you'll get a fax number and be able to send faxes in under five minutes!
What Are Some Popular Fax and Copy Services?
Local shops providing copy and fax services in your area are great in theory, but they often require an in-person visit. This means that you need to head over to the store, likely wait in line, and pay up to $10 for a faxing service. You also need to consider the shop's working hours, since they rarely work 24/7.
The most popular fax services that offer copying and printing are listed in the table below:
Service

Features

UPS

Offers help from staff

Has an affordable price

FedEx

Enables sending local and international faxes

Prints legal-size documents

Provides a printed confirmation receipt

Prints fax letter files

Staples

Enables self-service

Allows access to documents on a flash drive

Can download files from the cloud, such as Dropbox or Google Drive

OfficeDepot

Enables self-service

Allows orders via email in advance

Sends domestic and international faxes

Charges $1.50 per page
Are There Any Copy and Fax Stores That Offer Online Services?
Some copy and fax stores offer their services online now. You can make an order via email or phone, and they'll prepare your documents for you. All the same, you'll need to pick up your photocopies in person.
The following faxing stores offer online services:
Staples

—You can send your files or documents to the Staples store near you via email, and they will have them ready for you when you come to pick them up

Print It!

—You can upload your files or photos, and Print It will deliver them to your doorstep

Vistaprint

—You can also use it for your business logo
This method only works with digitized documents. If your original document is not in digital format, you will need to visit the store to scan and fax it. 
With DoNotPay, You Can Have Your Private Fax Service
If you prefer not wasting your time in local shops and faxing from the comfort of your home, look no further. DoNotPay designed the ideal fax app—our Online Fax service. We are here to save your time and money.
With the help of our platform, you can:
Send faxes in three clicks

Send 100 pages per month

Fax from your computer or smartphone automatically

Upload your files or use the

Snap a Photo

option to fax them instantly (bills, checks, etc.)

Sync our fax feature with our

Legal Documents

product and send your signed contracts automatically to your business partners
Since you can fax from your own device, you get a digital copy of your document. An additional benefit is that your data is safely stored on your device, which makes this type of faxing more secure than the traditional method. 
The best part about our online faxing tool is that it's affordable, while a subscription to other fax services will cost you an arm and a leg. All you need to do to access it is sign up for our platform.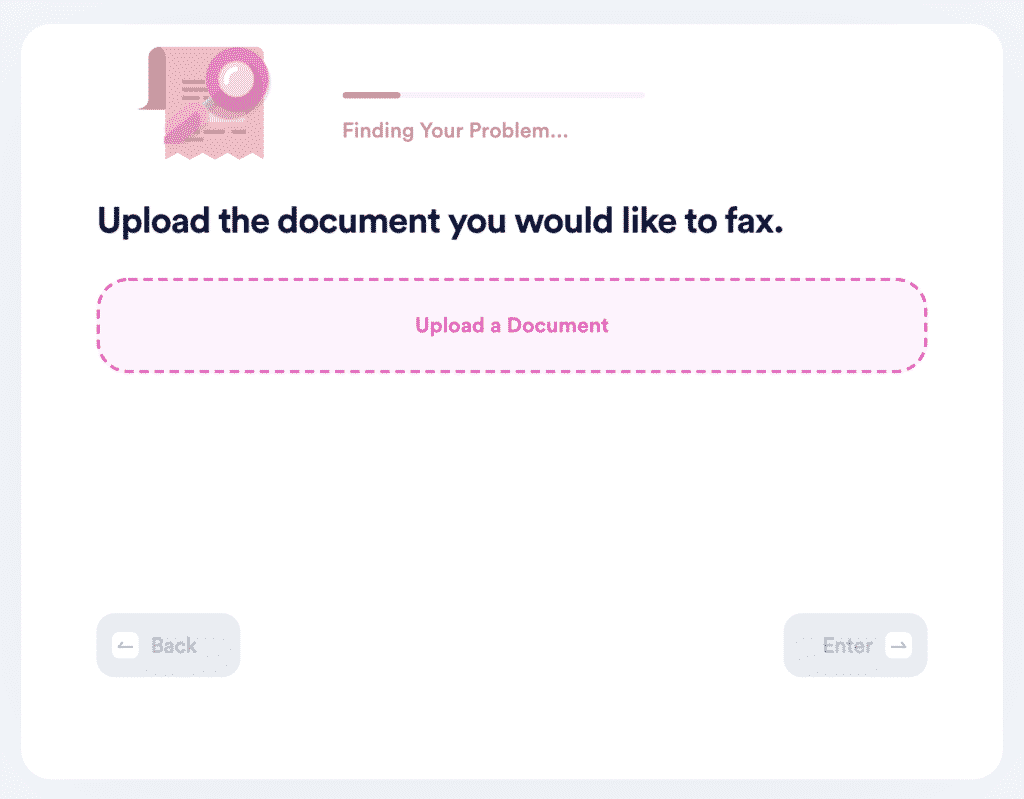 What Are the Steps To Fax Fast With DoNotPay?
To access DoNotPay's Online Fax feature, you need to open DoNotPay in any web browser. 
After you sign up, you can type in the keyword—Online Fax—in our search box and send a fax easily.
When you click on the Send a Fax button, follow these steps:
Upload your file or a photo (you can use our

Snap a Photo

option)

Enter the fax number of the person you're sending your documents to

Send your fax
Our platform will take care of the rest—we'll fax the file automatically and provide you with a confirmation receipt.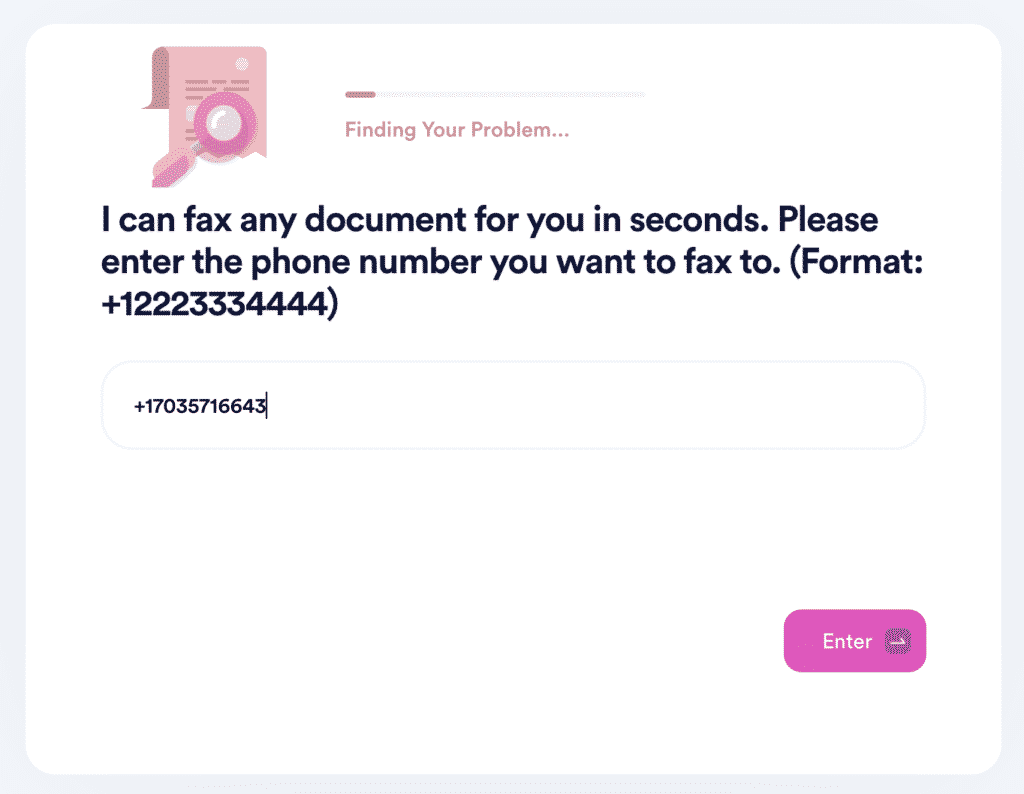 Do You Need a Legal Document Fast? DoNotPay Can Help!
In case you have trouble drafting your legal document, we have great news! Our Online Fax product is integrated with our Standardized Legal Documents feature—you can draft and fax your documents from the same app!
DoNotPay can help you draw up the following documents easily:
Intent To Purchase Real Estate

General Business Contract

Quitclaim Deed
After you create your contract with us, we can fax it for you. We can also help you get your documents notarized.
Our App Makes Internet a Safer Place
DoNotPay understands how important it is to avoid dangers lurking on the web. We have come up with numerous easy-to-use features for fighting scam emails, shady SMS texts, and malevolent robocalls. 
With our Virtual Credit Card generator, you can sign up for any free trial without compromising your finances. The Burner Phone feature protects your privacy by hiding your real phone number on various websites. Scared of online stalking? Prevent it with DoNotPay!
When online shopping turns into a nightmare, we will help you get your money back, contact customer support without hassle, or cancel any subscription that didn't live up. 
All that browsing doesn't come for free. If you need help with your internet bill, check out what DoNotPay has in store. 
DoNotPay Is Here To Stay
Our platform offers a vast range of services where anyone struggling with bureaucracy can find a ready-made solution. 
DoNotPay's power is no child's play—with our help, you will be able to demand compensation for canceled or delayed flights, nail difficult government-issued tests, and sue people and companies in small claims court!
Our constantly growing portfolio includes features like finding the best clinical studies in your area or drafting all kinds of legal documents without hiring expensive lawyers!