Learn if You Qualify for a Cook County Property Tax Exemption
If you are like most homeowners, you are probably wondering how to lower your property taxes. One of the most efficient ways to achieve good results is looking for property tax exemptions. DoNotPay can help you see if you meet the criteria for a Cook County property tax exemption fast and easy.
What Cook County Property Tax Exemptions Are Available?
If you live and own property in Cook County, you should check out available property tax exemptions and see if you qualify for any. Take a look at the table below for more details on property tax exemptions for senior citizens and veterans:
Property Tax Exemption
Eligible Persons:
Does This Property Tax Exemption Renew Annually?

Senior Exemption

Are born in 1955 or before

Own the property or have a contract that states they are responsible for the real estate taxes

Live in the house as their primary residence

Yes

Senior Freeze Exemption

Are born in 1955 or earlier 

Have a total income of up to $65,000

Own the property or have a legal leasehold interest 

Live in the house as their principal residence

No (except in 2020 due to COVID-19)

Veterans With Disabilities Exemption

No (except in 2020 due to COVID-19)

Returning Veterans Exemption

Have served as a member of the Illinois National Guard, U.S. Armed Forces, or U.S. Reserve Forces

Are coming back from active duty in an armed conflict

Are responsible for the payment of property taxes

No
Cook County Property Tax Homeowners and Disability Exemptions
Homeowners and persons with disabilities have a few ways of reducing their property taxes in Cook County. See more in the table below:
Property Tax Exemption
Eligible Persons:
Does This Property Tax Exemption Renew Annually?

Homeowner Exemption

Own or have a lease or contract that makes them in charge of the real estate taxes of the residential property

Live in the house as their primary place of residence

Yes

Long-Time Homeowner Exemption

Own and occupy a residence for at least ten years

Have a total household income of $100,000 or less

Have a property assessment increase that exceeds the maximum amounts set by the state legislature

No

Persons With Disabilities Exemption

Have a disability

Have a legal or equitable interest in the property

Are in charge of paying property taxes

Live in the property as the principal residence

No (except in 2020 due to COVID-19)

Home Improvement Exemption

Occupies a house as their primary place of residence

Live in a property that must be a class 2 residence

Yes
Learn if You Meet the IL Property Tax Exemptions Eligibility Criteria With DoNotPay
Finding out whether you can use a property tax exemption in Cook County is not a simple task if you do the research on your own. The good news is that you don't have to struggle by yourself. DoNotPay is here to help you with the process. Follow these simple directions:
Access DoNotPay from a

web browser

Locate and open the

Property Tax

feature

Provide us with some info about yourself

Let us know more about the property you own
You can count on DoNotPay for advice on collecting forms and sending applications if you meet the criteria for any of the exemptions.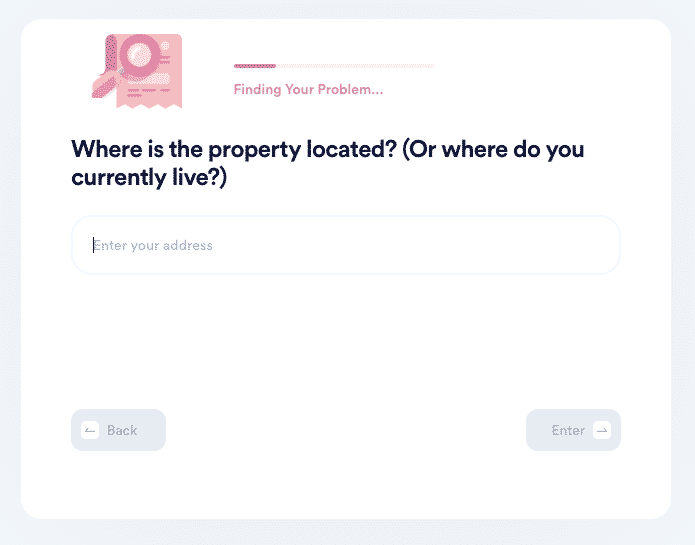 If you're interested in learning more about the states with lower property taxes, we have the info you are looking for. You may also check out the exemptions available for the following states:
DoNotPay Can Aid You With Appealing Property Tax Assessments!
In addition to property tax exemptions, you can appeal past assessments as a way of lowering your property taxes. You don't need to go through the process on your own—DoNotPay is at your service. 
Access our app from any web browser, and we will provide you with arguments you can use to negotiate with the property tax assessor. Your virtual assistant can also offer some advice on collecting evidence useful for reducing the assessed value of your home.
You can learn more about Cook County property tax appeals and check out the rules and regulations for property tax appeals in Illinois.
Alternative Tips for Lowering Your Property Taxes
Some additional techniques can help you pay less for your property taxes. If you tried using property tax exemptions and appeals, you may also:
Check your tax bill

—Sometimes inaccuracies can appear

Follow the tax assessor

—This way, you will ensure they are doing their job properly

Don't make improvements to your property

—Better-looking dwellings have higher assessment value, which also means higher taxes
Don't Let Companies Take Your Hard-Earned Money!
People love to subscribe to all sorts of services—especially if there are free trials involved. The problem is that most of them forget that they signed up for anything in the first place. Companies are aware of this, which is why they auto-renew memberships as soon as the free trials expire.
Don't let them get away with it—use DoNotPay to sign up for free trials and cancel subscriptions right before they renew. If you want to save even more money, use our platform to learn how to handle high bills, parking tickets, college application fees, canceled or delayed flights, or faulty services you should get refunded for.
Use DoNotPay To Stop Illegal Activities and Earn off Scammers!
Our AI-powered platform can assist you in dealing with all sorts of scammers. If you got any of the following, the world's first robot lawyer will help you seek justice:
Do you want to protect yourself and your loved ones from stalking and harassment as well? Use DoNotPay to learn how! If the situation with a stalker escalates, our app is going to help you take them to small claims court by preparing all the paperwork and your court statement.
Don't stop there—check out how you can bypass phone number verification, claim any type of warranty, or pass any government test with flying colors!