What They Don't Tell You About the
Cook County Property Tax Assessment
Dealing with property taxes can be a hellish experience. Understanding how property tax rates are calculated, how to lower taxes in your state, or file an appeal of your property tax assessment are not easy tasks. On top of that, preparing for your property tax assessment can be a nightmare.
You no longer have to struggle with these dull bureaucratic and time-consuming activities—we will simplify them for you.
Sign up for DoNotPay and get all the info on how the Cook County property tax assessment works and the best ways to reduce your property taxes!
Illinois Property Tax Assessment
—How It Works
In the state of Illinois, your property tax bill is calculated based on two factors:
The equalized assessed value of your property

The sum that your taxing district needs for the coming year
While most properties get assessed at one-third (33%) of their market value, Cook County has a different system. 
The assessment levels in Cook County vary depending on the class of the property that needs to be assessed. For example, residential properties get assessed at 16% of their market value, while commercial properties are assessed at 38%.
During the process, a local assessor will come to your property to evaluate it and check out the factors, such as:
Location of the property

Construction and quality of the property

Size of the property and the number of rooms

Neighborhood

Anything else that can affect the value of the property
Property Tax Assessment in Cook County
—Tips on Keeping Your Tax Bill in Check
The first fact to know is that you can't escape the assessment of your property. 
The revenue made from property taxes goes to funding road maintenance, education, and local projects, which means property taxes are one of the building blocks of the community. 
Still, making sure your assessment goes by the books and lowering your property tax bill is a way to make paying property taxes bearable. Here are some useful tips for handling the assessment and the tax bill
Before/During the Assessment
After the Assessment

Refrain from doing any home improvement projects

See if your tax bill contains any errors

Be present during the assessment

File an

assessment appeal

Find the applicable

property tax exemptions
Refraining From Home Improvement Projects
The logic behind avoiding home renovation projects is simple—the more you invest in your home or property, the higher the appraised value of it will be. By skipping on improvement projects, you will have better chances of your tax bill being as low as possible.
Checking Your Tax Bill
Double-check your tax bill for any mistakes to see whether the assessor did everything correctly. In case you find any errors, you can file an assessment appeal. 
Being Present During the Assessment
Make sure you are around while the assessor evaluates your property. You will be able to keep an eye on everything and answer any questions regarding the property if need be. An additional benefit is that you'll be able to notice any irregularities during the process.
Filing an Assessment Appeal
If you find any tax bill errors or conclude that the assessment wasn't done properly, use DoNotPay to file a property tax appeal easily!
Finding Property Tax Exemptions
Property tax relief and exemptions are the best methods of lowering your tax bill. You should check what exemptions you qualify for and apply for each. DoNotPay makes this super easy and cuts your work in half by finding all the exemptions based on the info you provide!
Lower Your Property Tax Bill With DoNotPay!
Finding and applying for property tax exemptions can be time-consuming! DoNotPay developed a feature that turns this process into a breeze! All you have to do to get help paying your taxes is provide us with info about your property. 
Our app will show you all the exemptions you're eligible for. You will also get a personalized guide so that you don't get lost in a sea of information! Here's how it works:
Choose the

Property Tax

feature

Give us a few short answers about you and your property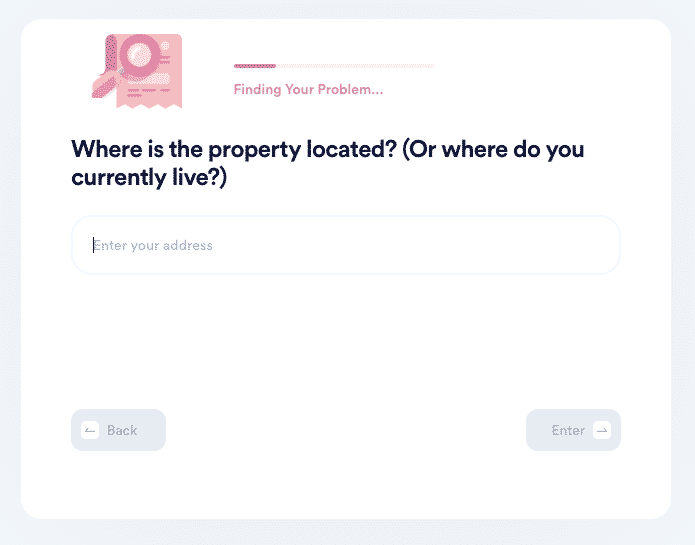 The Most Common Property Tax Exemptions in Illinois
Some of the property tax exemptions in Illinois that you may be eligible for are:
Exemption

How It Works

Homestead exemption

Owners of the home or property who occupy it as their main place of residence are able to apply for this exemption. The exemption works by removing a part of the value from taxation

Disabled veteran exemption

Veterans who provide proof of the disability resulting from their military service are eligible for a disabled veteran exemption

Senior citizen exemption

Seniors over the age of 65 who are the owners of their property and meet income limitation requirements can apply for senior citizen exemption or

property tax freeze

Disability exemption

People with proof of their disability and who meet income limitation guidelines set in Illinois can qualify for a disability exemption
DoNotPay Helps You Claim Your Money
Our virtual assistant app makes sure you get back funds that are rightfully yours.
Whether you need to claim insurance, warranties, or your property held by the state, we will help you do it in minutes.
DoNotPay can also help you initiate a chargeback on any transaction you disagree with. We can help you secure compensation from airlines, robocall and text scammers, or in case you've been a victim of a crime.
In case you are dealing with an unfair company regarding your subscription cancellation or any other matter, we can help you get your money back by suing them in small claims court.
Bypass the Administration With DoNotPay
There's no more need for extensive research, abundant paperwork, or endless phone calls with customer service reps.
DoNotPay brings the administrative nonsense to a minimum.
Book DMV appointments fast and easy, appeal your parking citations, sign up for free trials without disclosing your credit card info or phone number, or reach your loved ones in jail—all in less than five minutes.
We also generate any legal document, provide full access to public records, offer DMCA protection, and reduce your property taxes with a few clicks.