The Easiest Way To Convert XPS to PDF
XPS stands for XML Paper Specification, and it is a document with a fixed layout, similar to PDF, but saved in Microsoft's proprietary XPS format. This file format is not so popular and can't be opened in most programs. So, if you bump into it, it's best if you convert it to PDF.
PDF stands for Portable Document Format, and it is a universal format that can be opened by any operating system because they come with pre-installed apps that open PDFs with ease.
If you want to convert XPS to PDF the easy way, we got your back! DoNotPay's powerful File Converter is exactly what you need—it is quick, reliable, and 100% safe. To get access to it, make sure you sign up for our service.
How To Convert XPS to PDF
Using a free online converter to convert a file is the most convenient choice. Although it does the work, you should be cautious about which one you choose because not all of them are safe. If you can't decide on which online XPS to PDF converter to use, take a look at the table below. It shows the most popular used XPS to PDF converters:
| Converters | Description |
| --- | --- |
| Online2pdf | Online2pdf is a free online PDF converter that converts most of the popular file formats to PDF. It's an easy, fast and secure way of converting files to PDF with no installation required |
| Xps2pdf | Xps2pdf is a free online converter that converts XPS files to PDF. It has a simple interface and works on both Windows and Mac operating systems |
| Zamzar | Zamzar is a free file converter that lets you convert between any format in seconds. It is user-friendly and doesn't require registration |
| Convertio | Convertio is a website that lets you convert nearly any file type to PDF, JPG, PNG, or BMP |
| FreeConvert | FreeConvert is a website that enables you to convert files from one format to another for free |
To convert your XPS file using one of the converters listed above, upload the file, select PDF as the output format, and hit the Convert button.
Other than online converters, you can also use desktop ones if you don't mind downloading and installing them on your computer. Such converters will produce higher-quality output than the online ones but require too much effort.
What Are the Disadvantages of Using an Online XPS to PDF Converter?
Although using an online file converter is the most convenient way to convert XPS to PDF, it has a number of disadvantages:
Some online converters have a file conversion limit per day
There is a risk of downloading malware with the converted files
Annoying ads can drive you crazy
The converted files are not of great quality
You don't have any control over the final output formatting
The option to make changes to the file content (e.g., correcting spelling errors or editing graphics) is non-existent
How To Check if an Online XPS to PDF Converter Is Safe
First of all, when looking for an online file converter, you should check if it's secure by looking at the website's URL. If it uses HTTPS instead of HTTP in the address URL bar, you can assume this site is secure. You should also avoid using so-called free online file converters that ask you to download programs or use browser extensions to convert files. You could download malware without even knowing it.
You should also learn about the company behind the converter before using it to convert your files. Enter its name into a search engine and see what comes up. Also, look for reviews from previous users on different forums and social networks.
Why Use DoNotPay To Convert XPS to PDF?
To prevent security concerns and other possible issues discussed above, opt for our File Converter product. We will make sure that your files are protected during the conversion process and delete them from our database after 24 hours to protect your privacy.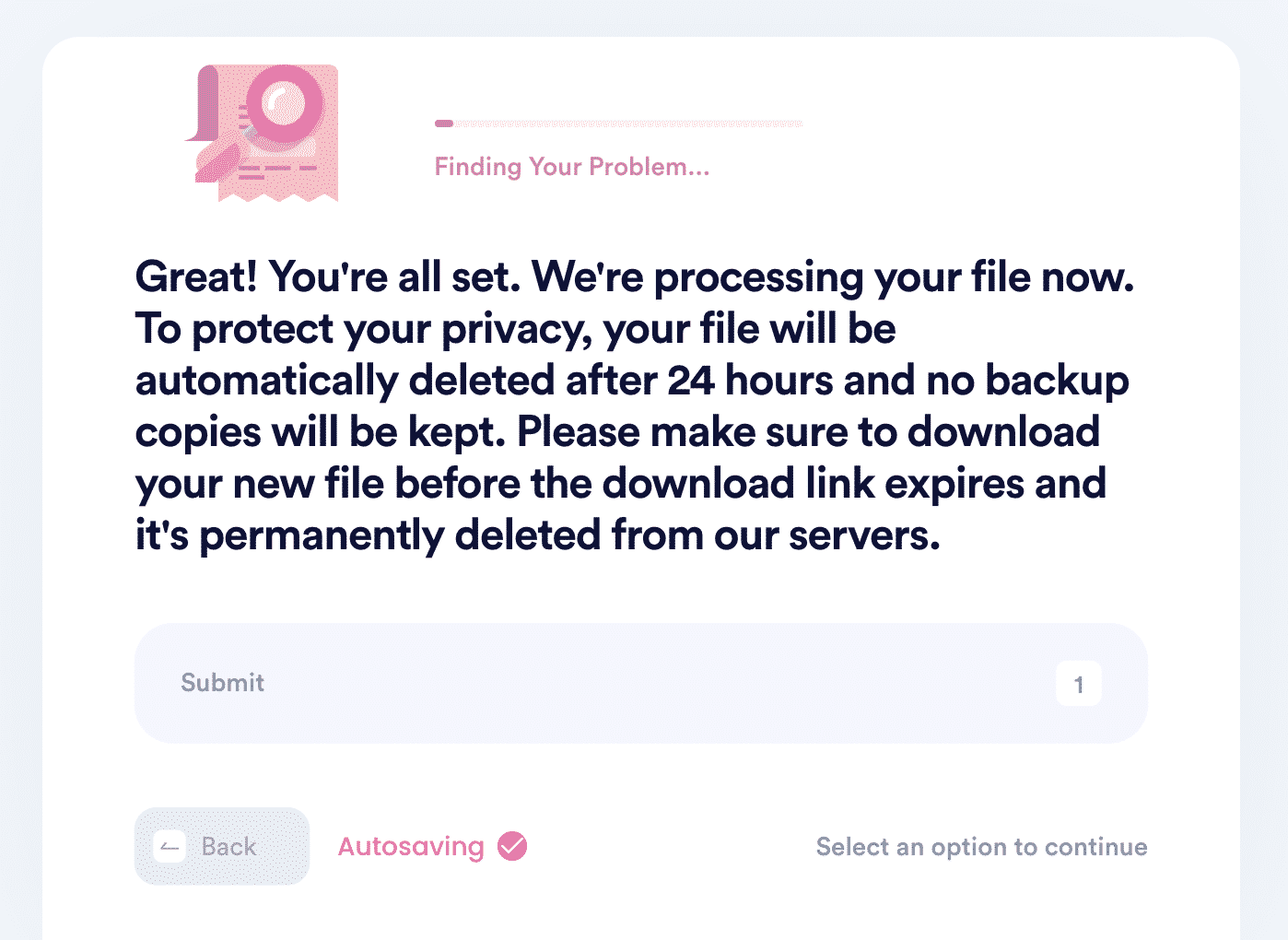 The conversion procedure is straightforward—all you have to do is log in to your DoNotPay account and take the following steps:
Open the File Converter product
Upload the XPS file you want to convert
Pick PDF as the format you want to convert it to
Your file will be ready in just a few seconds! To download it, go to the My Disputes page.
You should also keep in mind that there is no limit to the number of files you can convert using our award-winning app. DoNotPay is browser-based, so you'll be able to convert any file regardless of which system you're using.
What Other Files Can DoNotPay Convert?
You can use DoNotPay to convert 100+ different file types. Take a look at the following table to find out what these are:
Have All Your Files in One Place
DoNotPay is designed to help you do more with less work. Apart from converting hundreds of different file types, you can also leverage DoNotPay to compress your files to take up less space on your device.
Found a video online that you'd like to save as an MP3 to play it on the go? Whether it's a music video, a guide, a lecture, or a podcast, DoNotPay can convert all manner of online videos to MP3 files with ease! You can also use our award-winning app to download videos from social media and the web so you can enjoy them even when you don't have access to the internet.
DoNotPay Helps You Tackle All Manner of Different Tasks With Ease
Streamlining complex processes and saving you a ton of time and money in the process is what DoNotPay does best!
For instance, we can help you skip the phone queue of any company by waiting on hold in your stead. We can also help you cancel any unwanted subscription or service with a single click, as well as request a chargeback, return an unwanted item, and get a late delivery refund.
You can also use DoNotPay to find unclaimed funds in your name, lower your bills, reduce property taxes, appeal parking tickets, and dispute seatbelt tickets. Apart from saving you a ton of money each month, DoNotPay can also give you that much-needed peace of mind by helping you get rid of annoying robocalls and email spam for good!