Convert XML to PDF Without a Hitch
XML is an abbreviation of Extensible Markup Language. It is a markup language file that defines a set of rules for encoding documents in a format that allows computer data to be shared and formatted uniformly. However, the XML itself does not specify the document structure or any element types.
PDF stands for Portable Document Format and it is used for storing and printing electronic documents. It is one of the most popular file formats nowadays because it's widely supported and easy to share, and it can be encrypted, watermarked, and time-stamped.
Some people you want to share your XML files with may not be able to open them without installing third-party software. This is why converting them into PDF is the best move. If you need help with this task, you've come to the right place. DoNotPay can convert XML to PDF with zero effort on your part. All you need to do is sign up for our service!
How To Convert XML to PDF
There are two methods you can choose from to convert XML to PDF:
Using downloadable software—if you don't mind installing third-party software on your computer, downloadable apps may prove to be a great choice. Aside from being able to convert your files without an internet connection, you'll have total control over the conversion process. What's more, you'll be able to edit the converted files. That said, these apps do require a bit of technical knowledge and a monthly subscription, in most cases
Using online converters—This is the quickest way to convert your files since additional software downloads and setups are not required. It is also super easy—all you'll need to do is upload the file you want to convert, select the output format, and hit the Convert button
You can find some commonly used offline and online XML to PDF converters in the table below:
Offline Converters
Online Converters

firstobject XML Editor
Editra
XPontus XML Editor
Notepad X

Aconvert
FreeConvert
PDF Candy
Online2pdf
Why Using an Online XML to PDF Converter May Prove Problematic?
Even though online file converters are pretty convenient, they aren't always the best choice. They can be problematic for several reasons:
Poor-quality output—Using a free online XML to PDF converter, you can't expect the converted files to be of amazing quality. If quality is of utmost importance to you, use another method to convert your files
Inability to convert multiple files in one go—If you need to convert a bunch of files in as little time as possible, avoid free online converters. They don't allow batch conversion
Privacy issues—Make sure you read the Privacy Policy of the converter you chose because some of them may sell your data to third parties
Inability to convert files larger than 10 or 20 MB
Malware and viruses—Don't use sketchy file converters because you may download malware or viruses together with the converted file
Use DoNotPay To Convert XML to PDF in a Snap!
You won't have to worry about the safety or quality of your files with DoNotPay's file conversion tool. Our software ensures that both your files and personal information are completely safe during the conversion process. To protect your privacy, we will delete them from our servers after 24 hours!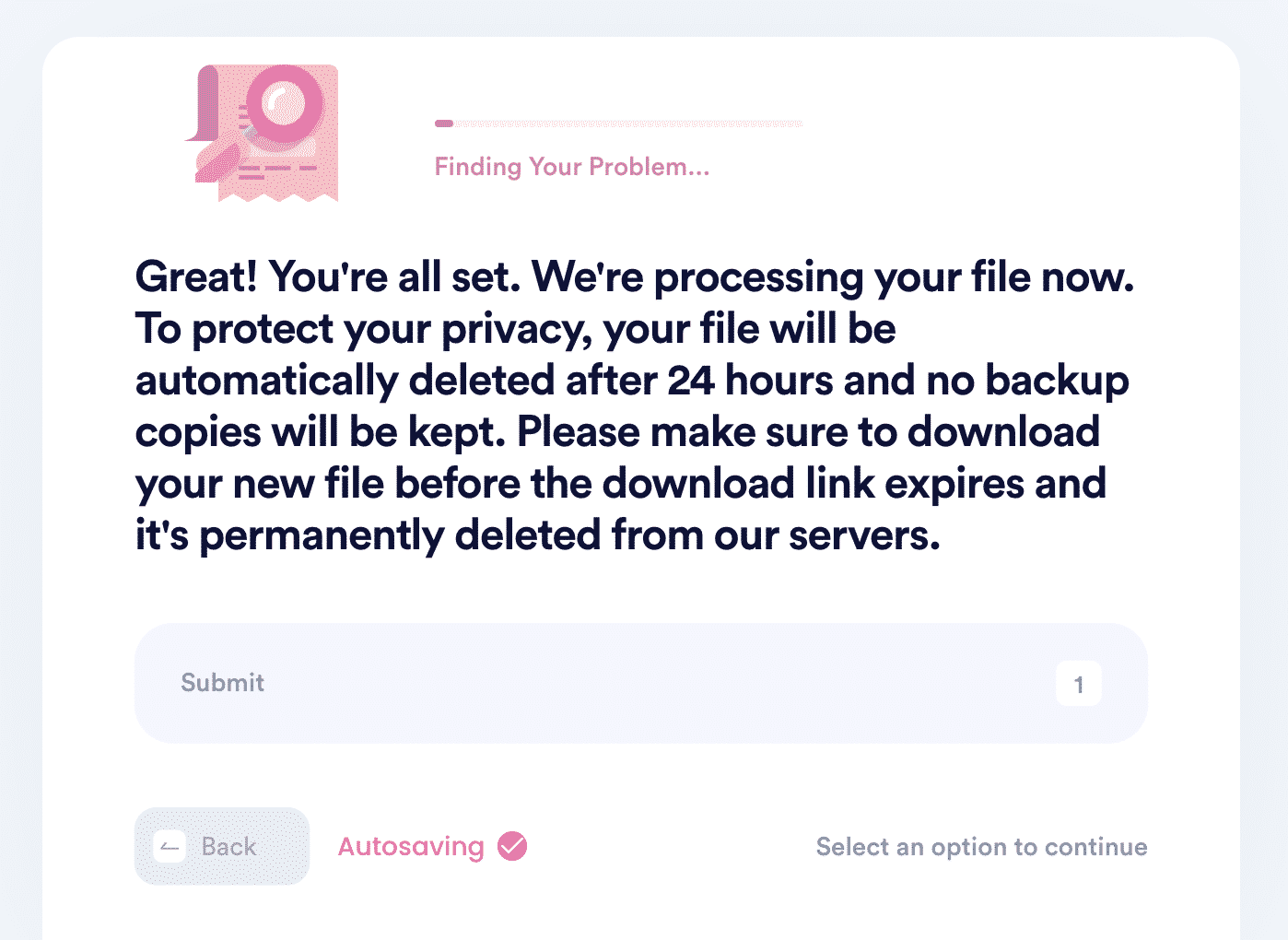 Here's how to use DoNotPay to convert your file quickly and hassle-free:
Log in to your DoNotPay account and open the File Converter product
Upload your XML file
Select PDF as the output format
And you're done! All that's left to do is go to the My Disputes page and download your new file.
Keep in mind that there are no restrictions on the number of files you may convert, no hidden fees, and no annoying ads.
What Other Files Can DoNotPay Convert?
Using our award-winning app, you can convert 100+ different files without breaking a sweat. If you need help along the way, check out our guides listed in the table below:
Have All Your Files in One Place
DoNotPay is designed to help you do more with less work. Apart from converting hundreds of different file types, you can also leverage DoNotPay to compress your files to take up less space on your device.
Found a video online that you'd like to save as an MP3 to play it on the go? Whether it's a music video, a guide, a lecture, or a podcast, DoNotPay can convert all manner of online videos to MP3 files with ease! You can also use our award-winning app to download videos from social media and the web so you can enjoy them even when you don't have access to the internet.
DoNotPay Helps You Tackle All Manner of Different Tasks With Ease
Streamlining complex processes and saving you a ton of time and money in the process is what DoNotPay does best!
For instance, we can help you skip the phone queue of any company by waiting on hold in your stead. We can also help you cancel any unwanted subscription or service with a single click, as well as request a chargeback, return an unwanted item, and get a late delivery refund.
You can also use DoNotPay to find unclaimed funds in your name, lower your bills, reduce property taxes, appeal parking tickets, and dispute seatbelt tickets. Apart from saving you a ton of money each month, DoNotPay can also give you that much-needed peace of mind by helping you get rid of annoying robocalls and email spam for good!