Find Out How To Convert WordPad to PDF in a Flash
WordPad is a text file created in Microsoft WordPad. This program's interface resembles the one in MS Word, but it does not have all of the features required to create templates, so the formats are different. The WordPad file is typically saved with a .txt or .rtf extension.
PDF is a compressed file that can contain text, graphics, or both. It was created by Adobe Systems and is the most popular format for storing and sharing documents.
By converting WordPad files to PDF, you can make them compatible with a wide range of devices and prevent accidental edits. Don't risk downloading malware or having your data stolen using shady online converters to convert WordPad to PDF! By signing up for DoNotPay, you'll get access to our nifty File Converter product, which is reliable, fast, and 100% safe.
How To Convert WordPad to PDF
There are two groups of tools you can use to convert WordPad to PDF:
Offline file converters
Online file converters
Using an Offline Converter To Convert WordPad to PDF
Offline converters are tools that allow you to have complete control over the conversion process. The output is of higher quality when compared to online converters. Keep in mind that you need to have some technical knowledge to be able to use such software properly.
Using an Online Converter To Convert WordPad to PDF
Online converters will work for most people because they're convenient. There's no need to install additional software on your computer, and online converters are easy to use, even if you have no previous experience with file conversion.
They all work pretty much the same way—to initiate the conversion, all you need to do is:
Upload the file you want to convert
Select the output format
Click on the Convert button
Some commonly used WordPad to PDF converters can be found in the table below:
| Converters | Description |
| --- | --- |
| Online2pdf | Online2pdf is a tool that you can use to convert any file type to PDF, including images, documents, and office files |
| Zamzar | Zamzar is a free online file conversion service. You can use it to convert between dozens of different file types |
| Convertio | Convertio is a website that enables you to convert various file types |
The Downsides of Using an Online WordPad to PDF Converter
One major downside of using online file converters is that they can lead to data security issues. While they might make your life easier, you should be aware that some online converters may sell your data to third parties without your knowledge or permission.
If the converter has malicious software on it and you download it together with the converted file, you could get your personal data stolen and the operating system damaged.
Besides security and privacy issues, consider these disadvantages of online WordPad to PDF converters before choosing one to convert your files:
Poor-quality output
Inability to convert files larger than 10 or 20 MB
Lack of batch conversion feature
A limit on the daily number of conversions
Use DoNotPay To Convert Wordpad to PDF Quickly and Safely
Using our award-winning app, you won't have to worry about the safety of your files. Besides being 100% secure, conversions done within our app are fast and result in high-quality output. Initiating the conversion process is easy—all you need to do is:
Log in to your DoNotPay account and open the File Converter product
Upload your WordPad file
Choose PDF as the output format
Your file will be ready for download in only a couple of seconds. To download it, go to the My Disputes page. We will remove the file from our database 24 hours after the conversion to protect your privacy.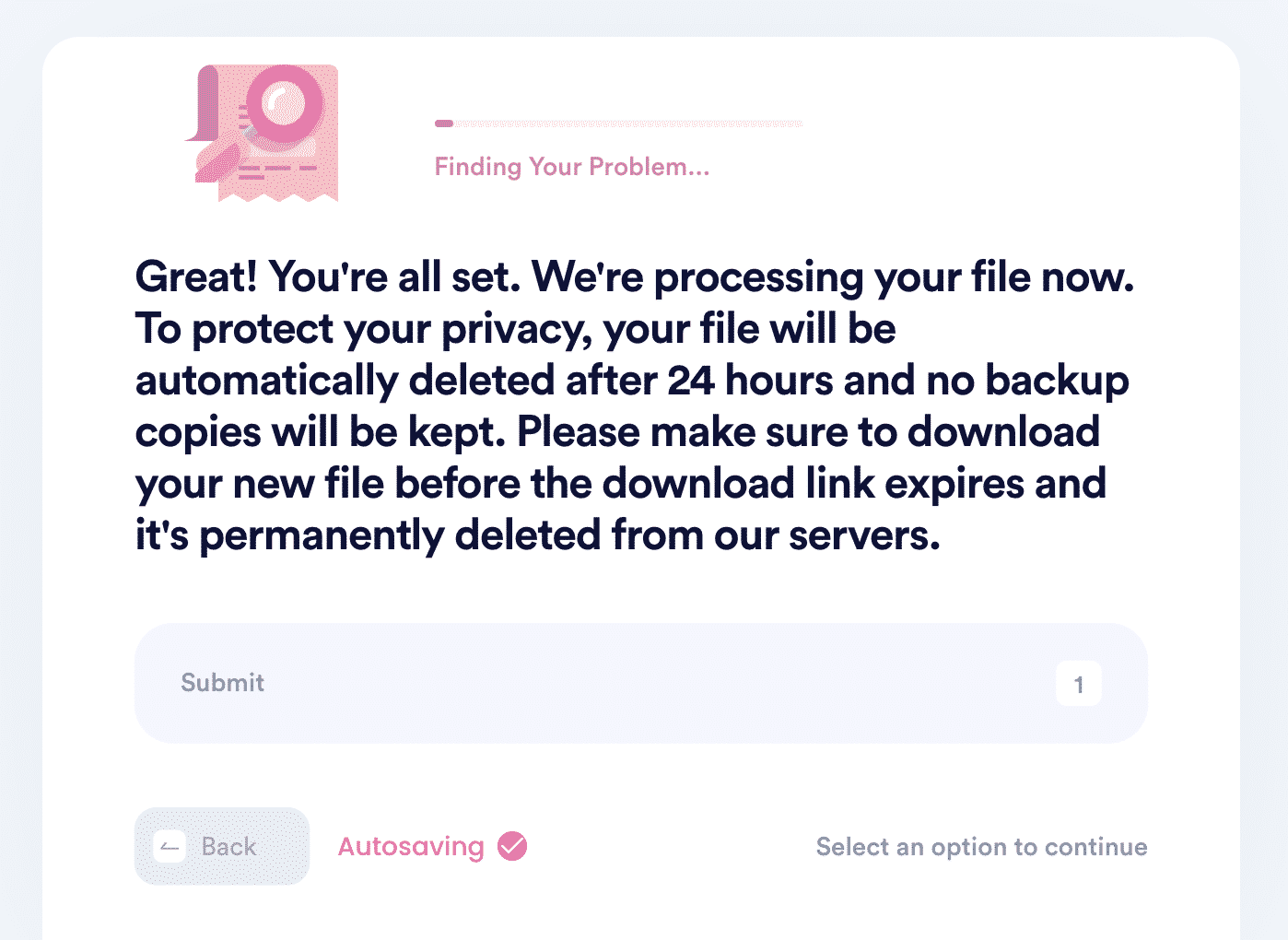 For a low monthly fee, you can convert an unlimited number of files with DoNotPay. Since our File Converter product is browser-based, you'll be able to convert any file regardless of which operating system you're using.
What Other Files Can DoNotPay Convert?
Do you need to convert a few other files? We've got you covered! Check out the table below to find out what other files you can convert using our nifty app:
Hundreds of Useful Features at Your Fingertips
What makes DoNotPay stand out from regular file conversion tools is the array of other features you get access to once you start using our app.
On top of converting hundreds of file types, you can also use DoNotPay to:
Compress your files

so they don't take up too much space
Download videos from social media and the web

Convert all manner of online videos to MP3 files

with a click
DoNotPay isn't just a converter—it's an app designed to make your life easier by automating tedious and complicated tasks. You'll find hundreds of different products inside our award-winning app that will help you save time and money!
Create Legal Documents, Cancel Subscriptions, Appeal Parking Tickets—All With One App!
There's no shortage of tasks DoNotPay can assist you with. For example, the world's first robot lawyer can help you with all manner of legal processes, including:
You can also have DoNotPay handle tedious, time-consuming tasks, like filing complaints, requesting refunds and chargebacks, canceling subscriptions, contesting parking and seatbelt tickets, and fighting email spam for you.
DoNotPay can also save you hundreds of dollars each month by helping you reduce property taxes, lower your bills, and find unclaimed money in your name.