How To Convert Word to PDF Without a Hitch
Word or DOCX is a file format created using Microsoft Word.
PDF stands for Portable Document Format. This type of file was created by the Adobe Acrobat program and is used for viewing and printing documents, eBooks, and other digital media. A PDF document can be viewed using a web browser or once you install the official Adobe Reader software.
One of the major reasons why people convert Word to PDF is that MS Word reformats documents when accessed on a different computer. By converting Word to PDF, you can keep the document's formatting intact. To do it, you'll need a reliable file converter. Opt for DoNotPay and convert an unlimited number of Word files to PDF without a hitch!
How To Convert Word to PDF
There are three ways in which you can convert your Word files to PDF—using:
Microsoft Word
Downloadable file conversion app
Online file converter
How To Convert Word to PDF in Microsoft Word
If you have MS Word installed on your computer, you can use it to convert Word to PDF.
Open your Word file and click on Save As. In the dialog box, go to Save as type and select PDF. Click on Save, and you're done!
How To Convert Word to PDF Using a Downloadable App
There are a bunch of desktop apps that can convert Word to PDF available for download on the internet, and most of them are free. You can opt for apps such as:
Nitro PDF
TalkHelper PDF Converter
Adobe Acrobat Pro DC
How To Convert Word to PDF Online
You don't need to be a tech wizard to be able to convert your files online. Online converters are quick and easy to use—all you need to do is upload the Word file you want to convert, choose PDF as the output format, and hit the Convert button. Here are some commonly used Word to PDF online converters:
Smallpdf
iLovePDF
Soda PDF
Zamzar
The Disadvantages of Using an Online Word to PDF Converter
Online file converters are convenient because they allow you to convert your files without having to download anything. However, there are some disadvantages you should be aware of before using them. The main issue with this method is the poor quality of the converted files. Other disadvantages are:
The inability to control the conversion process
Bulk conversion is not possible
A limited number of daily conversions
Annoying ads—Many free online converters use advertising as a way of making money off their site
Privacy concerns—Your data could be sold to third parties
Malware—The converted file may be infected with malware that could damage your operating system
Use DoNotPay To Convert Word to PDF Safely and in No Time!
DoNotPay is a safe way to convert your files because—unlike with many online converters—there aren't any ads or malware to worry about. Our main priority is to provide you with quality output in no time while protecting your privacy. This is why we'll delete your data from our servers 24 hours after the conversion is done.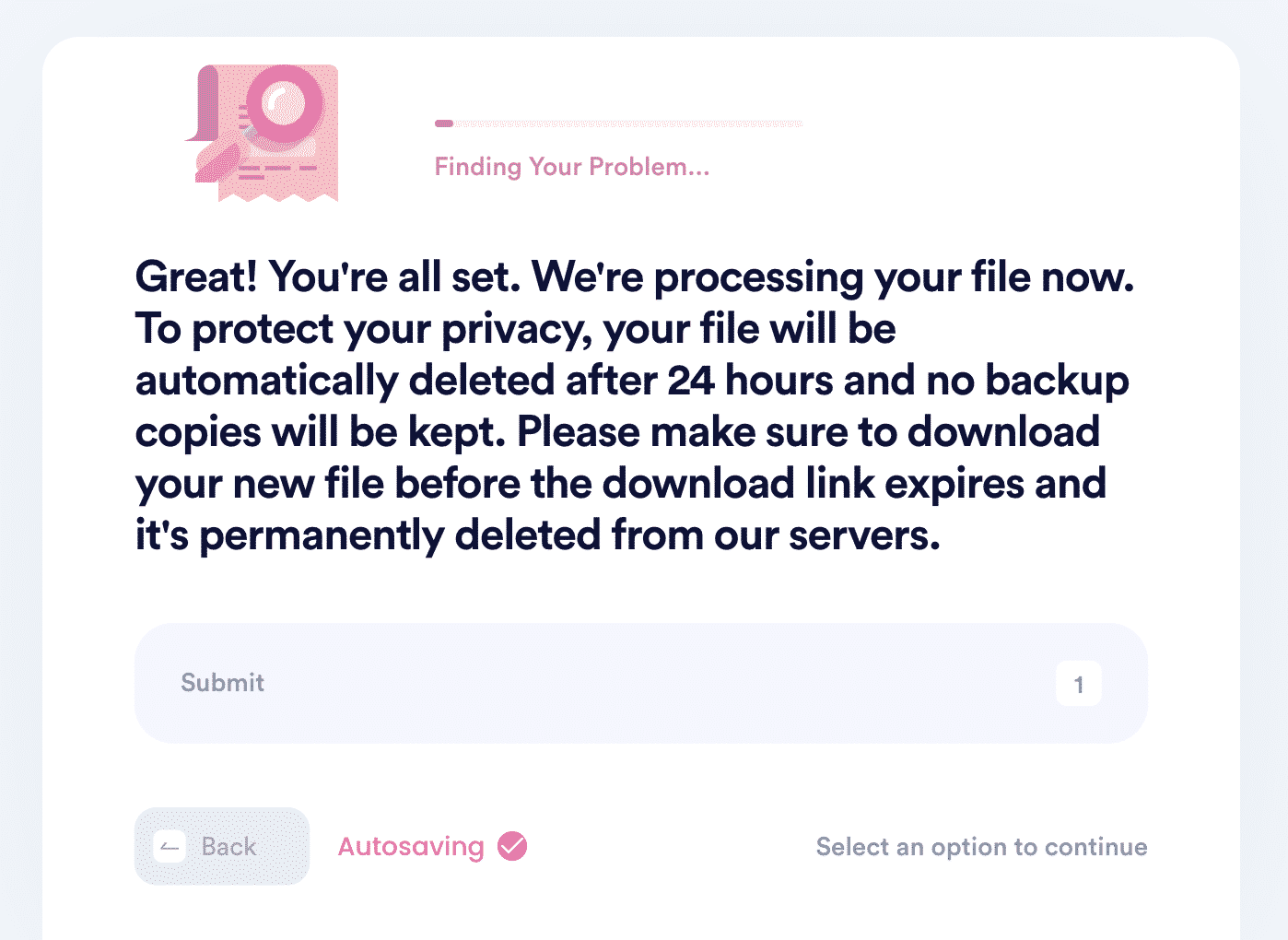 Our award-winning app is easy to use and requires minimum effort on your part. All you need to do is:
Log in to your DoNotPay account and open our File Converter product
Upload your Word file
Select PDF as the output format
Go to the My Disputes page and download your new PDF file
What Other Files Can DoNotPay Convert?
Other than PDF and Word, you can convert many other files using DoNotPay. Some of them are shown in the table below:
Convert, Compress, and Download Anything With DoNotPay
Technology is advancing at a rapid pace, and it can be rather difficult to keep up. But there's no need to worry if you're not particularly tech-savvy—DoNotPay got you covered!
With our easy-to-use app, you can compress any file, download videos from the web, and convert online videos to MP3 files, all with a few clicks. There's absolutely no experience needed. Your files are 100% safe, and your privacy is ensured because we delete the converted and compressed files after 24 hours.
Save Time and Money With DoNotPay
On top of file conversion, DoNotPay has hundreds of different products that automate boring tasks and streamline complex processes. And the best part is—you get access to all of them, so you can use our award-winning app to save a ton of time and money.
Here are just a few examples of what DoNotPay can help you with: