Wondering How To Convert WebP to JPG Safely? We Got You Covered!
WebP is an image format that employs both lossy and lossless compression, and it was developed by the Google design team. WebP was created in 2010 to overcome some of the shortcomings of the JPG format. Since Google implemented this new image format, it has been adopted by numerous companies, including Mozilla, Opera Software, Network Box, and others.
While it's not as widespread as JPG or PNG, it has been relatively well received by the developer community.
Converting WebP to JPG can be a slow process that requires too much effort if you're not used to doing it often. This article will explain the advantages and drawbacks of converting WebP files to JPG online. It will also provide you with easier and less time-consuming conversion options, such as using DoNotPay to convert WebP to JPG, PNG, or GIF safely and in record time.
Why bother following confusing online instructions when you have our app at your disposal?
How To Convert Webp to JPG
There are numerous websites and apps that let you convert different types of files. You can use one of the following programs to convert your WebP file to JPG:
ImageMagick
GIMP
ImageMagick
ImageMagick is free software that can be used on multiple operating systems, including Windows, Linux, or UNIX-like systems. It supports many file formats, so it's possible to convert your WebP images to JPG files at any time. You need to have the right version of ImageMagick installed to convert a WebP file to a JPG one, though.
GIMP
GIMP is a free, open-source photo editing software that is available for Windows and Linux platforms. Although you can use GIMP to convert your WebP file to JPG, the number of features is often overwhelming for beginners and can result in not knowing how to navigate it. There are various other websites, programs, and apps you can find online and use to convert your files, but you have to be careful with what you choose. Not every online converter is safe and reliable.
The Problem With Free Online WebP to JPG Converters
There's a plethora of free online WebP to JPG converters. Before you start uploading your files to a website in the hopes of getting the results you desire, know that these converters may not be as helpful as they first seem.
Trying to get consistent results converting from WebP to JPG can often prove difficult if you are using a free web-based converter. Since the quality of the image depends heavily on how much effort the developer puts in, you can't always trust their algorithms.
Not only do these websites cause issues, like loading slowly, taking up too much space, or not producing great-looking images, but there is also an even bigger issue—privacy.
These websites usually don't guarantee your privacy is protected, and some will even share your data with third parties.
How To Know if a WebP to JPG Converter Is Safe
As with any software, you should investigate the WebP to JPG converter before using it. That way, you can avoid using an unreliable converter and risk damaging your PC with viruses or malware. If you want to get a sense of whether or not a website is trustworthy, here's what you can do:
Check if the website offers a money-back guarantee. This is a sign that the creator believes in their product
See if the website has positive reviews. Both users and reviewers are an indication of trustworthiness
Browse the website and find the privacy policy. It should tell you whether the website is safe or not
Avoid using an online converter that requires you to download anything or install any programs
DoNotPay Converts WebP to JPG in Seconds!
Why waste time researching a ton of unreliable websites and online WebP to JPG converters when you can use our app to convert your files in mere seconds? You don't even have to worry about your privacy since we delete all of the data after 24 hours! Our award-winning app can help you convert any file type you need and provide you with high-quality documents. The process is also streamlined to a tee!
After you sign up for DoNotPay, follow our quick guide to converting your file and you're done:
Upload your WebP file
Choose JPG as the format you want to convert it to
Go to the My Disputes page and download your file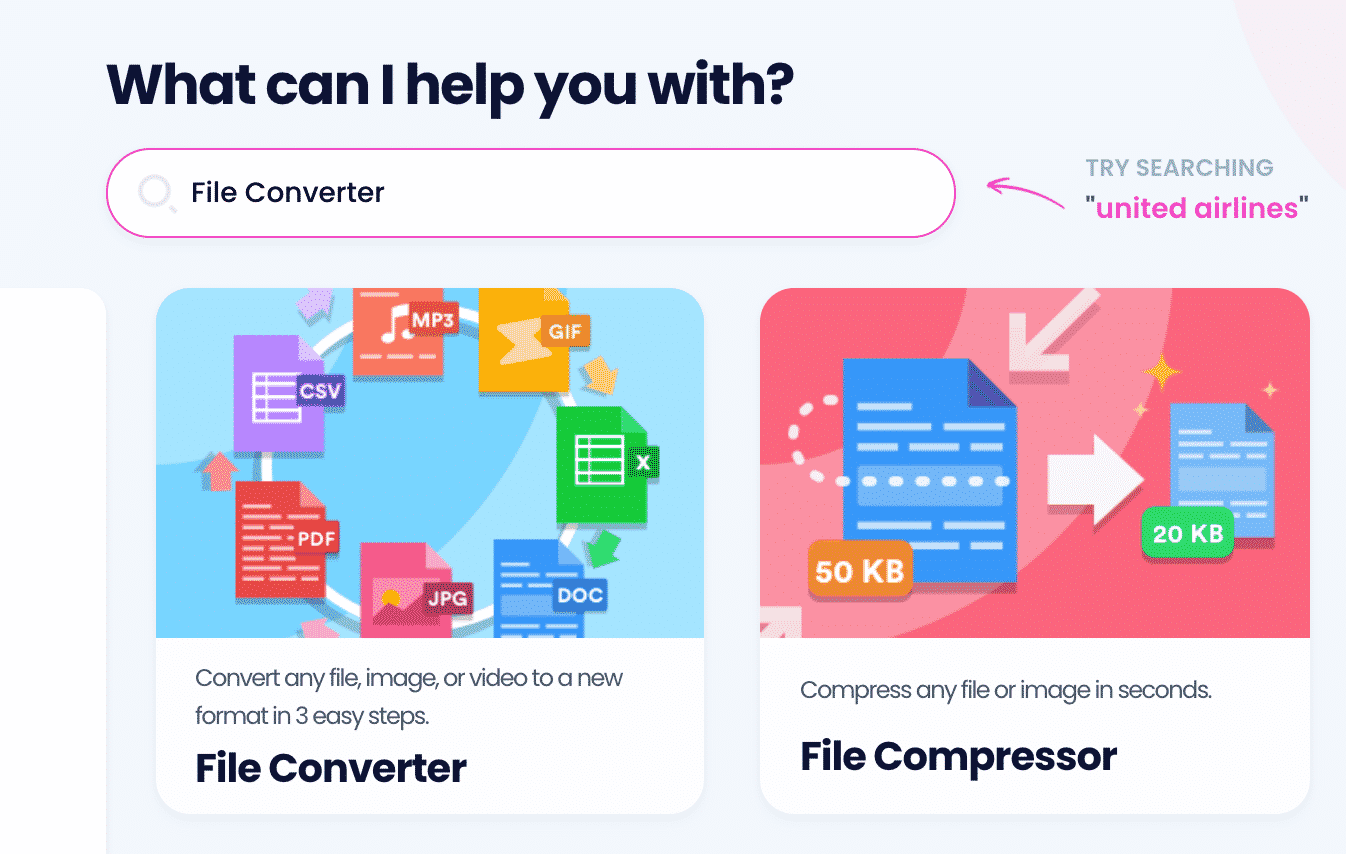 What Other Files Can DoNotPay Convert?
WebP is only one in a sea of files we can help you convert with ease! There are a lot more documents DoNotPay can convert for you! Consult the table below to see which ones:
DoNotPay Brings the Best Solution to Any Problem
If you want some help canceling subscriptions, requesting refunds, or signing up for free trials without being charged, our app is exactly what you need.
No task is too demanding for DoNotPay, and our product offer keeps on growing. With us, you can lower your property taxes, enter giveaways and sweepstakes, file insurance and warranty claims, and report copyright infringement. In case you also need to apply for scholarships, draft power of attorney documents, or appeal banned accounts, we'll come to the rescue.
In a few clicks, you'll get the assistance that you've been looking for!
Our App Helps You Protect Your Privacy
Keeping your privacy intact is no easy feat since more and more services request your email address, phone number, and other personal details. If you sign up for DoNotPay, that requirement will become a thing of the past!
With our Virtual Credit Card product, you'll get a randomly generated name, email address, and payment details and stay unknown. If a platform asks you to submit your phone number, you can select our Burner Phone feature and get a temporary number.
DoNotPay can also put a stop to spam emails, text messages, and bothersome robocalls. We can even help you conduct a sex offender search for your area, file anonymous HR complaints, generate child travel consent forms, and send demand letters to your noisy neighbors.