Tips on How To Convert WebP to GIF in Seconds!
Graphics Interchange Format (GIF) supports both animated and static images, as well as features such as transparency, color reduction, spatial redundancy reduction, and more.
WebP is a modern image file format that provides better quality than JPG or PNG with respect to file size. WebP typically achieves an average of 34% more compression than JPEG on photographic images. It also provides support for transparency, animation, and alpha channel.
WebP is not suitable for all types of images. Compared with the JPG format, WebP ends up with higher compression ratios for photographic images while maintaining similar perceived quality. The format may not be as well suited for line art and text-heavy visuals due to limitations in precision and encoding techniques that produce an observable difference compared with the visually lossless JPG format.
You can convert WebP to GIF, JPG, or PNG online using various different converters. To save you from the hassle of searching for one on your own, we'll provide you with all the info you need in this article. You can also avoid using online converters altogether and opt for an easier way to convert your files—DoNotPay. Our app does most of the work for you and protects your data while doing so, so sign up to use our nifty product!
How To Convert WebP to GIF
You can use any of the following online converters to convert your WebP file to GIF:
Convertio
CloudConvert
Zamzar
| WebP to GIF Converter | Description |
| --- | --- |
| Convertio | Convertio is a free web-based app that enables you to convert WebP to GIF. It supports converting animated GIF files in two resolutions—240p and 480p |
| CloudConvert | CloudConvert is an online file conversion service that lets you convert your images, videos, and audio files to different formats, and it does not require any installation |
| Zamzar | Zamzar is a site that allows you to convert files to a variety of formats. You can convert WebP images to GIF and vice versa using Zamzar's conversion tool, but keep in mind that the provided service won't always work perfectly, and it may take a long time for your files to be processed |
The Disadvantages of WebP to GIF Converters
Online WebP converters are becoming increasingly popular with the rise of social media, but they're also becoming more and more problematic. Not all online WebP converters are created equal, and some of them offer low-quality conversions. As a result, people who use these programs to save time may end up with images that contain multiple jagged lines instead of smooth curves or—worse yet—they may only save the original file's metadata without altering it at all.
Another problem with online WebP converters is their lack of ability to handle some image types. For instance, while some converters will save animated GIF images as WebP, some don't have the capability to convert animated GIFs to the WebP format.
Finding a Secure WebP to GIF Converter
The list below highlights what you need to know when searching for an online WebP converter that will work well for your needs:
Conversion time and speed—Getting the most conversion per minute is a good indicator of a WebP converter that will work well for you
Usability ratings—Aside from how well it works, its usability is something else that you want to pay attention to
Data usage—How much data does the WebP converter require? For instance, is it generally large, or does it only take a few MB per image? Do you generally need the converter to be able to handle a specific number of images at a time? Does it include features that will allow you to upload an image and convert others in the same way in just a few clicks?
Customer service—Look for a converter that has a large number of positive reviews, and ask about any issues that its users might have had. Get to know the company's policies on refunds and anything related to customer safety as well
Convert WebP to GIF With DoNotPay in a Few Clicks!
DoNotPay provides you with a 100% secure and streamlined way to convert your WebP file to GIF in a snap! We also ensure that your privacy is protected by removing your data from our app after 24 hours. You can also have peace of mind knowing no annoying ads will pop up, and you can finish the conversion process quickly and efficiently! Here's what to do once you subscribe to DoNotPay:
Upload your WebP file
Pick GIF as the format you want to convert it to
Go to the My Disputes page to download your file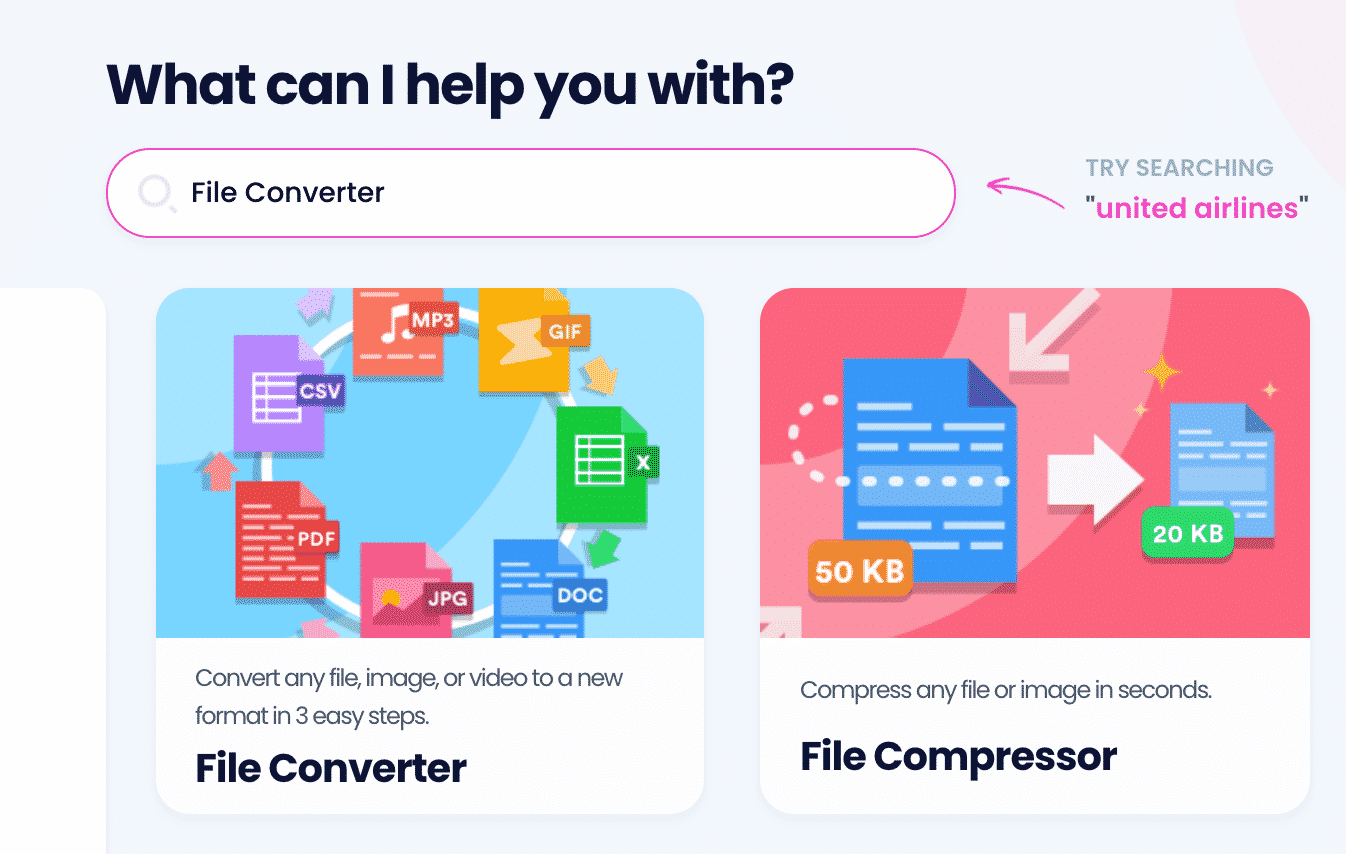 What Other Files Can DoNotPay Convert?
Converting your WebP to GIF is not everything we can do for you! With our help, you can convert any file type you want in a jiffy! The table below provides you with details:
Solve Many Annoying Issues Using Our App
Nobody likes dealing with bureaucracy. This is where our app comes in! We can help you complete the following tasks:
As soon as you sign up for DoNotPay, you will be able to handle all these chores and many more with ease.
What Else Can You Use DoNotPay For?
Aside from streamlining numerous tasks for you, our app can be of more assistance. You can rely on DoNotPay when you need to:
With our help, you can also connect with a loved one in jail, send online faxes, or create passport photos in the blink of an eye. Explore our learning center, and you'll see that there's not much DoNotPay can't do!