Find Out How To Convert WAV to MP4 in No Time
WAV or Waveform Audio File is a type of uncompressed audio file, developed by IBM and Microsoft. This format is supported by all Windows operating system versions, which is its main advantage. MP4 is a multimedia container format created by Apple Inc. It has been adopted as a standard format for the distribution and playback of digital multimedia. The MP4 format uses a high degree of compression, making them portable and video-friendly. While MP4 files can store video, audio, subtitles, and still images, it's important not to confuse them with M4A or MP3 formats, since the latter can only store audio.
Converting WAV files to MP4 is a popular activity because MP4 decoding is built into all modern cell phones and enables people to enjoy their favorite music on the go.
To convert WAV to MP4 without breaking a sweat, opt for DoNotPay. Our File Converter is safe, quick, reliable, and easy to use!
How To Convert WAV to MP4
You have two options to choose from when it comes to converting your files from WAV to MP4. The first is installing specialized software on your computer (for example, MiniTool Video Converter, Freemake Video Converter, or Movavi). The second option is to use an online file converter.
While downloadable programs enable you to convert multiple files in one go without an internet connection, they are not that easy to use. Online file converters are the better choice if you're in a hurry to convert your files. They are quick and easy to use, however, the quality of the converted files can be disappointing. In the table below, you can find some commonly used online WAV to MP4 converters:
| Converters | Description |
| --- | --- |
| FreeConvert | FreeConvert is an easy-to-use free online conversion tool that will allow you to convert your files into over 60 different formats, including text, image, video, and music |
| Zamzar | Zamzar is a file converter that enables you to convert any video, audio, document, image and more to various formats such as MP4 , MP3, GIF, PDF, and much more |
| AnyConv | AnyConv is a website that provides a simple and hassle-free solution for converting documents from one file format to another |
The Common Disadvantages of Using an Online WAV to MP4 Converter
Even though online converters may seem like a better choice at first glance, there are multiple disadvantages you should take into consideration before opting for one. Besides the fact that the audio quality will be lost to some extent, you need to be aware of some other issues:
You might end up with a corrupted audio file that won't play on your device
You won't be able to convert several files in one go
You will need a fast internet connection or you'll spend too much time converting the files
The biggest issue with using online converters is the risk of downloading malware or viruses together with the converted files. This is why you should be very careful about the converter you choose.
Many of these converters are hosted on sketchy websites that will ask you for personal data, such as email address or credit card information, and might end up charging your card after the free trial period or selling your data to third parties. Before you convert a single file, make sure you read the Privacy Policy and Terms and Conditions as well as user reviews.
Convert WAV to MP4 With Zero Effort Using DoNotPay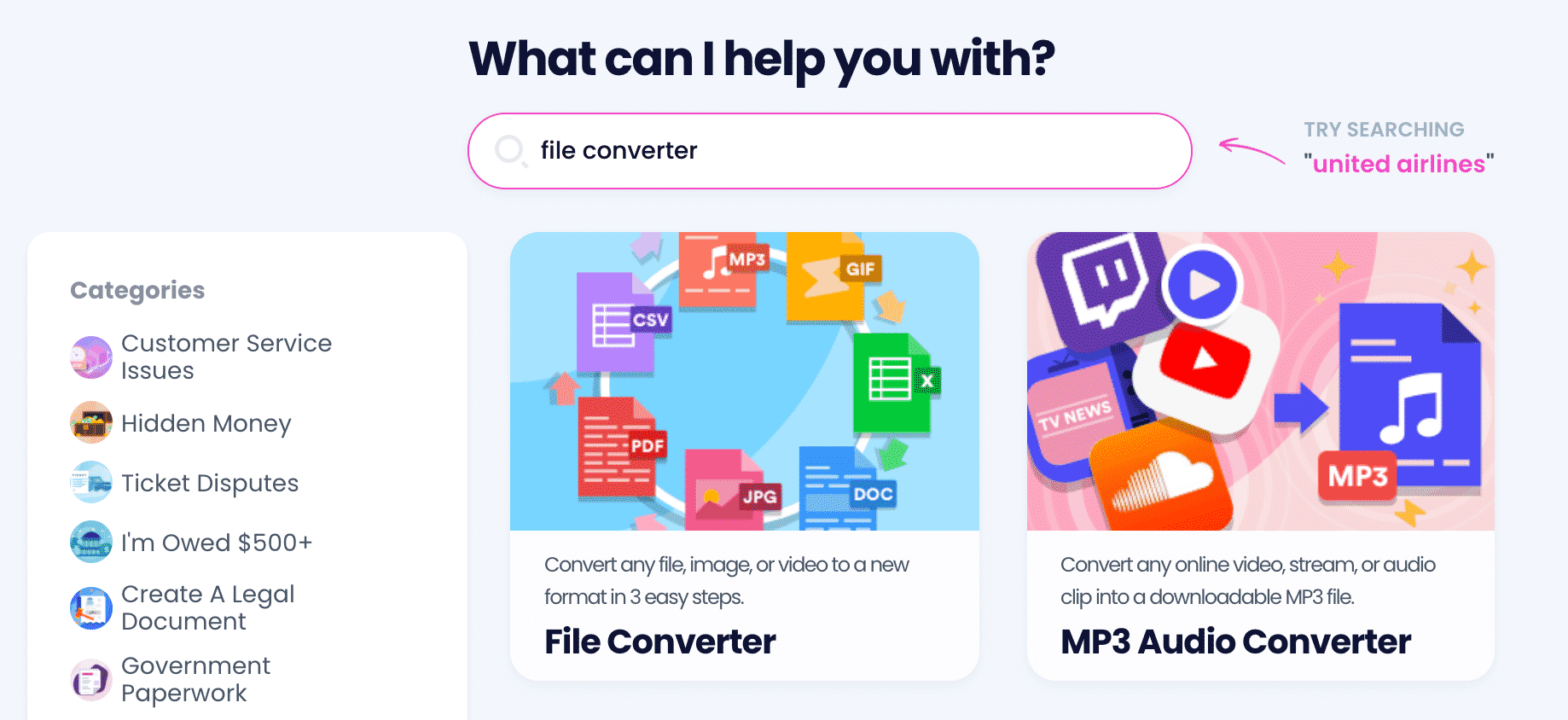 Converting WAV to MP4 using DoNotPay is as easy as pie! The whole process requires minimum effort on your side. All you need to do is:
Log in to your DoNotPay account and open the File Converter product
Upload your WAV file
Choose MP4 as the format you want to convert it to
The conversion process takes only a few seconds. Once it's done, go to the My Disputes page and download your new file.
Two things we care about the most are providing you with high-quality files and protecting your privacy. Your file will be automatically deleted from our server 24 hours after conversion.
What Other Files Can DoNotPay Convert?
Using our file converter, you can convert an unlimited number of files without annoying ads popping up every few seconds. But that's not all—you can convert 100+ different file types by opting for our service! Some of them are shown in the table below:
Download and Compress Anything With DoNotPay
Converting hundreds of different file types is just one of many DoNotPay's file-management capabilities. Once you start using our app, you'll also be able to compress files in seconds, convert online videos to MP3s so you can play your favorite tunes on your PC and phone, as well as download videos from the web with a single click.
Once you understand how convenient and easy to use DoNotPay is, and once you understand how much time and energy it saves you, you'll never do any of these tasks manually again!
What Else Can DoNotPay Do?
DoNotPay is an ever-expanding app. We're constantly adding new products and features that will save you time, money, and energy!
From simplifying complex legal processes like creating a power of attorney and drafting a will to suing companies in small claims court, DoNotPay does everything in its power to improve the quality of life of the average person.
Are you sick and tired of annoying robocalls and email spam? Let us take care of it and enjoy your peace of mind.
Don't want to spend hours waiting on hold or filling out dozens of forms? Use DoNotPay to jump the phone queue, schedule a DMV visit, or cancel an unwanted service or subscription in seconds.
This is just a fraction of what DoNotPay can do for you! Sign up today and see for yourself why over 150,000 people rely on our award-winning app each month.