Learn How To Convert WAV to FLAC the Easy Way!
A WAV file can be any uncompressed digital audio that has been encoded as a WAVE file. This is a lossless digital audio format, which means you don't lose any quality in the encoding process.
FLAC is a lossless audio codec commonly used to store music data, but it can also be employed for other types of data compression.
If you need to convert WAV to FLAC, MP3, or any other format, we're here to show you how. There are various audio converters online that can get the job done, and although it's the most common conversion method, it's not the only one.
Since online audio converters are not always super safe and reliable, we're here to provide you with a safer and simpler alternative—DoNotPay. Once you access our app, you can convert a variety of different file types, including WAV and FLAC, securely in seconds!
How To Convert WAV to FLAC Online
Want to convert your file online, but you aren't sure what converter to use? You can choose from several WAV to FLAC online converters, including:
Convertio
Zamzar
CloudConvert
They are known as web-based converters, which means that you don't need to install any software to use them. The conversion process with web-based converters looks like this:
Go to the website you want to use
Upload or attach the file that you need to convert
Decide what format you want the converted file to be
Click Convert
Download your converted file once it's ready
Despite the fact that these converters are easy to use and aren't demanding, they also come with several drawbacks that should be noted prior to using them. We'll break down each of these drawbacks so that you can be prepared and resolve the issues if you come across them.
The Major Drawbacks of Free WAV to FLAC Converters
There are many free online file converters, but not all of them are created equal. Let's take a look at the three major drawbacks that come with free file conversion services:
Security
Connection speed
Quality
Security is one of the most important aspects to consider when you're converting important files.
There is always a risk that something will go wrong and that all of your sensitive files will end up in the wrong hands. Being able to use a free converter is nice but not when security issues like these are involved.
The speed of the conversion is usually super slow on these websites, which can prove problematic when you need to convert more than one file—it will take forever.
Free online converters also tend to downsize the quality of your files. They will sometimes corrupt your file and render it unusable.
How To Convert WAV to FLAC With DoNotPay Instantly
With DoNotPay, you can convert a wide range of different file types without worrying about the risks we previously explained and in no time at all! Our app makes sure you get high-quality files in only a few seconds and that you are completely protected during the conversion process. You can also convert any number of files you want, and you can do it on both Mac and Windows.
To start converting your files with our nifty app, you need to register for DoNotPay and follow the next steps:
Open the File Converter product
Upload your WAV file
Choose to convert it to FLAC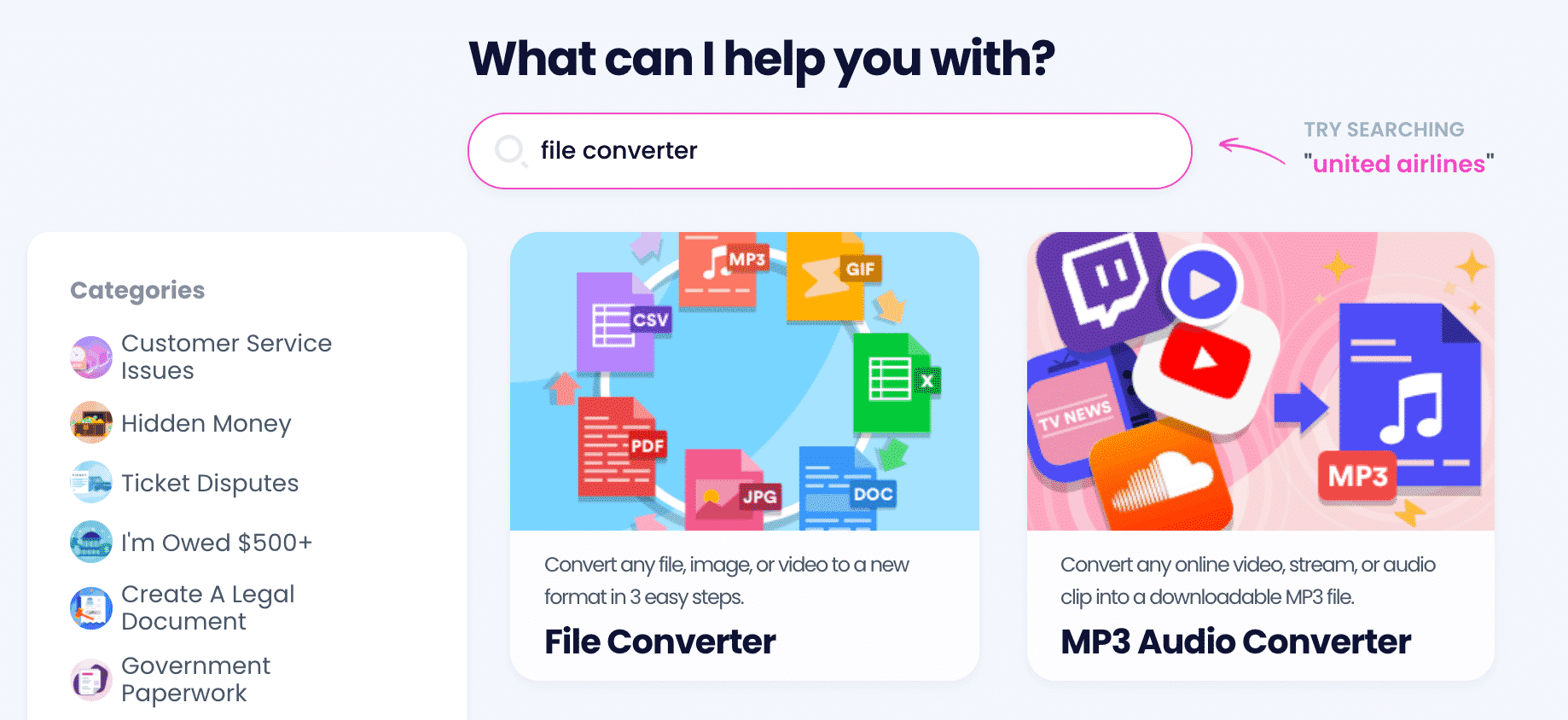 We'll convert your file instantly, and you can visit the My Disputes to download it.
What Other File Types Can DoNotPay Convert?
Converting WAVs to FLACs isn't all we can do for you! With DoNotPay, you can convert over 100 different file types, including the ones in the table below and more:
Convert, Compress, and Download Anything With DoNotPay
Technology is advancing at a rapid pace, and it can be rather difficult to keep up. But there's no need to worry if you're not particularly tech-savvy—DoNotPay got you covered!
With our easy-to-use app, you can compress any file, download videos from the web, and convert online videos to MP3 files, all with a few clicks. There's absolutely no experience needed. Your files are 100% safe, and your privacy is ensured because we delete the converted and compressed files after 24 hours.
Save Time and Money With DoNotPay
On top of file conversion, DoNotPay has hundreds of different products that automate boring tasks and streamline complex processes. And the best part is—you get access to all of them, so you can use our award-winning app to save a ton of time and money.
Here are just a few examples of what DoNotPay can help you with: