Learn How To Convert VOB to MP4 in Seconds!
VOB is a container file format contained in DVD-Video media. It's based on the MPEG-2 program stream format, but it has additional specifications and limitations in the private stream. If you have a VOB file but believe that MP4 would fit your needs better, you can convert it without much hassle.
The most common way to convert VOB to MP4, MOV, or any other format is by using free video converters online, but it's no secret that this method isn't the safest one. That's why we developed the File Converter product—a secure alternative that helps you convert over 100 file formats without breaking a sweat! Sign up for DoNotPay, and start using our product to convert your files safely and in record time!
How To Convert VOB to MP4 Online
If you decide to convert your files online using a free file converter, you should first get informed about the available converters out there and the way the conversion process works with them. There are several free VOB to MP4 converters you can use online, such as:
FreeMake
CloudConvert
FreeConvert
They are all web-based, which means that you don't have to download or install any additional programs to use them. What you need to do is:
Visit the website you want to use
Upload the file you want to convert
Decide what format you want to convert the file to
Wait for the converter to finalize the process
Download your converted file
You should also keep in mind that using free VOB to MP4 converters, although simple and convenient, isn't always safe—you can face a number of issues during and after the conversion.
The Issues You Could Face When Using Free VOB to MP4 Converters
There are major risks that come along with using any type of free VOB to MP4 converter.
Since conversion tools use the internet for communication, they may transmit your personal information along with the file. This includes info like your name, phone number, email address, credit card number, or other personal information.
Your computer is also not protected against viruses and malware. By using these converters, you might accidentally download a virus and unintentionally infect your computer with it.
How To Convert VOB to MP4 Safely With DoNotPay
Converting your VOB files to MP4s is a piece of cake with DoNotPay! We make sure all of your personal and sensitive info is protected and delete it from our database after 24 hours. That way, you don't have to worry about your data being used for malicious purposes.
We also provide you with high-quality converted files and offer you the option to convert your files on any operating system you want, including both Mac and Windows.
You also don't have to worry about annoying ads popping up and prolonging the conversion process, and you can convert any number of files you want—there are no limits!
Once you access DoNotPay, follow the next steps to convert your VOB file in seconds:
Open the File Converter product
Upload your VOB file
Select MP4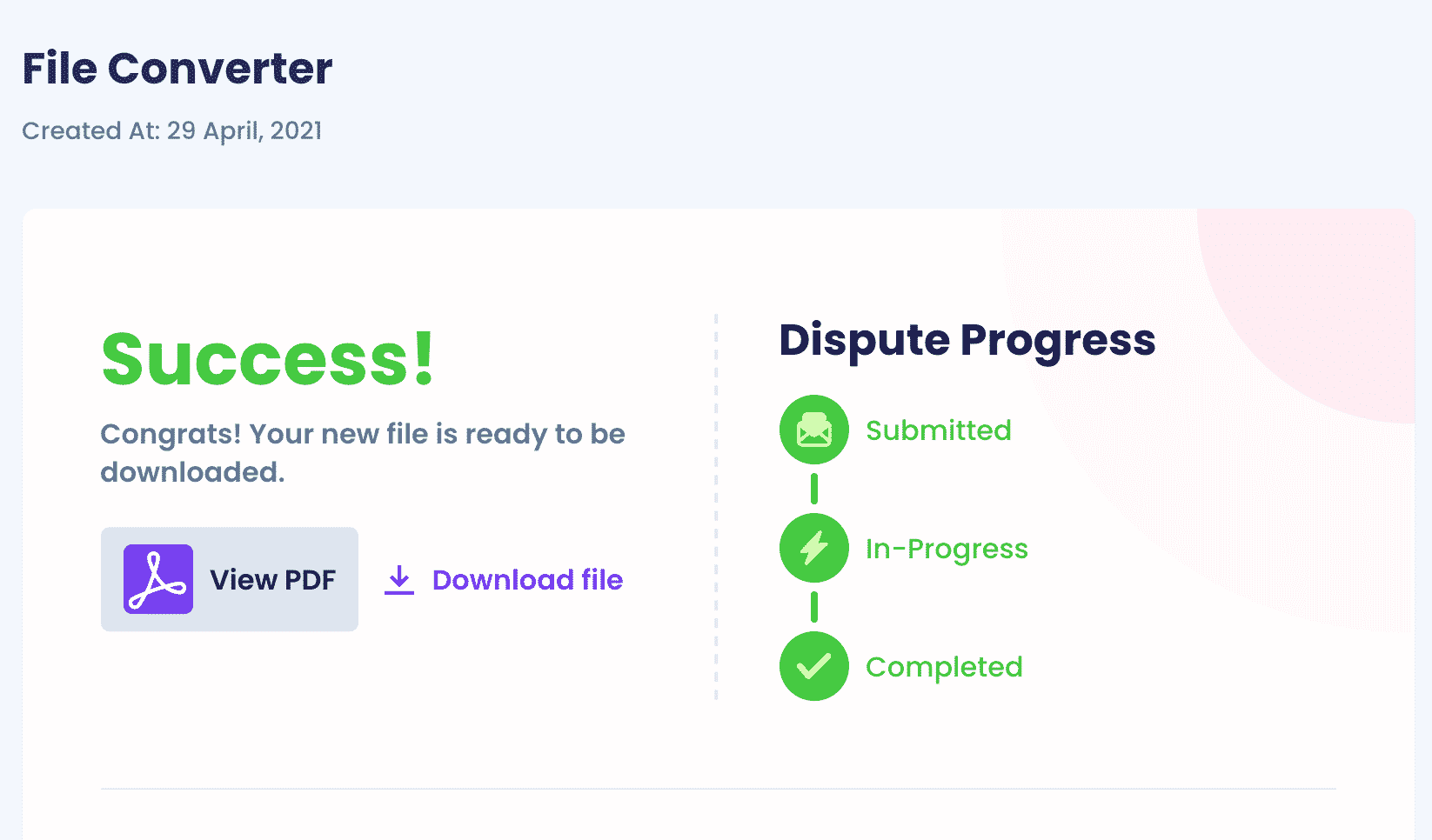 We'll convert your file right away, and you'll be able to download it from the My Disputes page instantly.
Another advantage of using DoNotPay's File Converter is that, by signing up, you will get access to all of our app's products and features for one low monthly fee!
What Other File Types Can DoNotPay Convert?
Need to convert more files? You came to the right place! DoNotPay can help you convert the file types listed in the table below and more:
Much More Than a Simple File Converter
When you're converting files, keep in mind you'll need hard disk space for both the original and the converted file. While the HDD space individual files take up is barely noticeable, if you're planning on converting multiple files, it can quickly add up.
Luckily, DoNotPay also lets you compress files to make them easier to store. You can also use our award-winning app to convert online videos to MP3s, as well as download videos from social media and the web and save them on your device.
DoNotPay Offers Unmatched Functionality
DoNotPay offers a lot more functionality than a regular file converter. On top of these file management features, you'll find hundreds of different products within the app that can facilitate, streamline, or automate a wide variety of tasks, saving you time, money, and nerves!
Here are just some of the areas in which you'll find DoNotPay's assistance invaluable:
| Legal | Time-Saving | Money-Saving |
| --- | --- | --- |
| | | |
The possibilities truly are endless with DoNotPay!