A Guide on How To Convert TXT to PDF in Seconds
TXT is a file extension for text files. It's a file that's structured as a sequence of lines of electronic text. A text file can be stored as data within a computer file system. You can convert your TXT files to various other formats, including PDF, Word, and more.
If you're not sure what the quickest and easiest way to convert TXT to PDF is, we're happy to help! By following our step-by-step guide, you'll be able to convert your files in the blink of an eye and with zero effort. You can also sign up for DoNotPay to gain access to our File Converter product that lets you convert any number of files you want in a flash!
How To Convert TXT to PDF Online
Converting files with free online converters is what most people choose to do since it takes the least time and isn't too difficult. However, you should be extra careful when choosing the online converter you want to use—a lot of them will cause issues during the process and prove quite problematic. If you can't decide what TXT to PDF converter to use, we can help narrow down the search by providing a few commonly used ones:
The converters we listed are web-based, and they all work in the same way—you upload the file you want to convert, say what output format you need, wait for the conversion to be complete, and download the converted file. Sounds simple enough, right? The truth is that the conversion process is that simple only in theory. In practice, you will probably run into various issues and spend hours figuring out how to resolve them.
What Issues Can I Run Into With Free TXT to PDF Converters Online?
Most of these free online converters work without downloading or installing any software, and they are convenient for converting your files quickly. However, there are a lot of downsides to this conversion method as well.
One downside is that many users upload copyrighted material without knowing it, which can lead to legal trouble. Other issues include the quality, speed, and accuracy of the conversion. You may come across some problems with your converted file's size, resolution, color depth, or audio.
The safety of your files is also at risk as some of these websites may allow the user to upload and download with no encryption, and this could enable hackers to steal your information and steal your identity.
Use DoNotPay To Convert TXT to PDF in Three Quick Steps!
DoNotPay's File Converter product can help you convert your files without running into any of the previously explained issues. We make sure your document is 100% secure during the conversion and delete it from our database after 24 hours.
The quality of your converted file will be high, and there are no limits to the number of files you can convert. We offer you the option to convert over 100 different file formats on any operating system, including Mac, Windows, and Linux. Once you register for DoNotPay, all you have to do to convert your TXT file with us is follow the next three steps:
Open the File Converter product
Upload your TXT file
Select PDF as the output format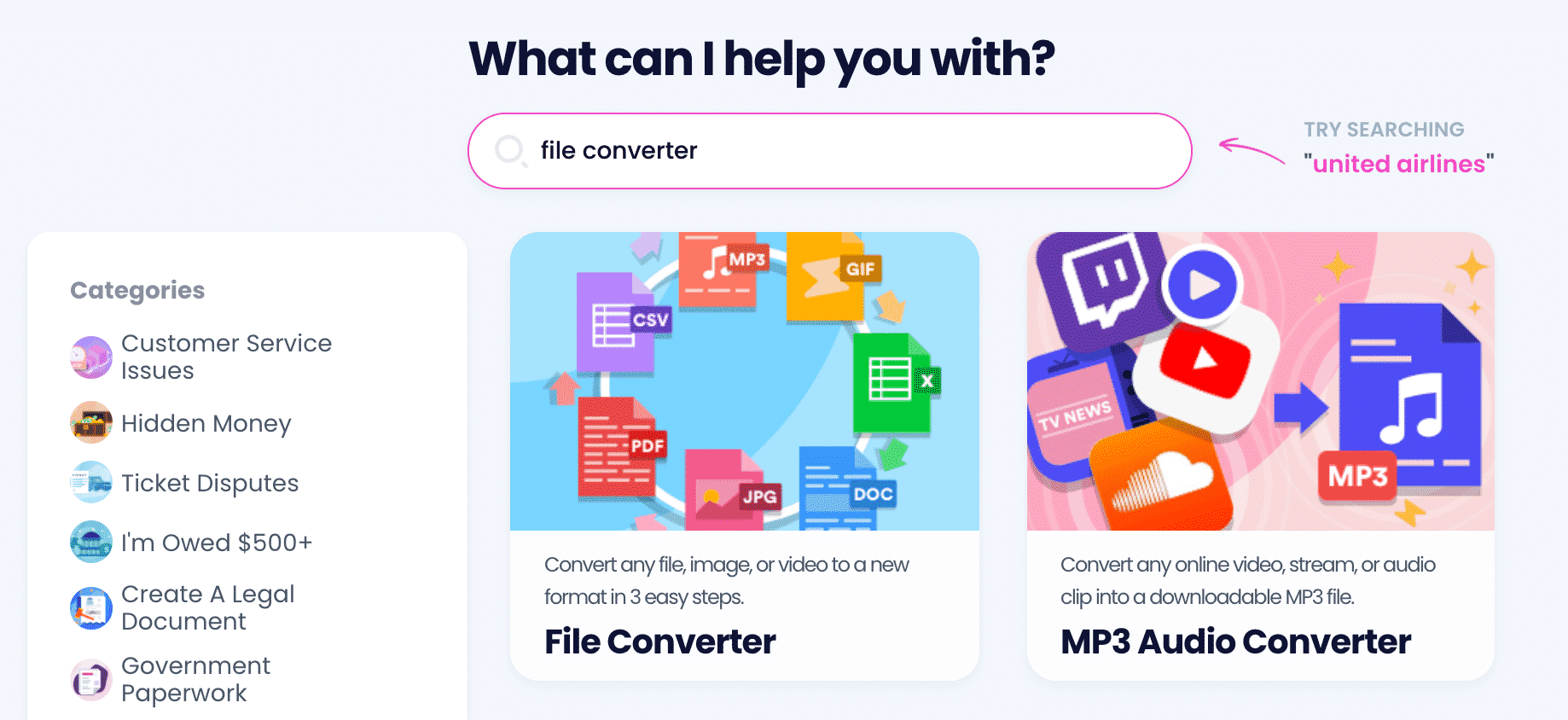 DoNotPay will convert your TXT file instantly, and you can go to the My Disputes page to download it promptly.
What Other File Types Can DoNotPay Convert?
If you want to convert more than your TXT files, you can do it easily with DoNotPay! Our app allows you to convert any of the files mentioned in the table below and more:
Much More Than a Simple File Converter
When you're converting files, keep in mind you'll need hard disk space for both the original and the converted file. While the HDD space individual files take up is barely noticeable, if you're planning on converting multiple files, it can quickly add up.
Luckily, DoNotPay also lets you compress files to make them easier to store. You can also use our award-winning app to convert online videos to MP3s, as well as download videos from social media and the web and save them on your device.
DoNotPay Offers Unmatched Functionality
DoNotPay offers a lot more functionality than a regular file converter. On top of these file management features, you'll find hundreds of different products within the app that can facilitate, streamline, or automate a wide variety of tasks, saving you time, money, and nerves!
Here are just some of the areas in which you'll find DoNotPay's assistance invaluable:
| Legal | Time-Saving | Money-Saving |
| --- | --- | --- |
| | | |
The possibilities truly are endless with DoNotPay!