Find Out How To Convert TIFF to PDF With Zero Effort!
Adobe's Portable Document Format (PDF) is a popular file format, commonly used to present larger documents that include both text and imagery. Unlike the other Word documents and Excel spreadsheets, a PDF is a universal file type that can be opened on any computer or mobile device. Compound this with its extreme portability—it takes only seconds to email or print a PDF—and you have an understandable favorite for many people looking to share their work with others.
But there are some types of files that are not compatible with the PDF format. Alongside the other common documents, PDFs are not capable of displaying certain image formats, such as Tag Image File Format (TIFF).
TIFF files are popular among graphic artists, so you might find yourself in a situation at work where you can't include a graphic provided by the design team in your PDF due to the file type. This can be extremely annoying if you have a non-text document that you want to share with others.
Fortunately, converting TIFF to PDF is not difficult, though it does require you to do a little bit of work. There are various programs that can handle the job for you, and we'll provide you with the basics of how this is done.
By using DoNotPay, you can convert TIFF to PDF or JPG in a few taps and with zero effort!
How To Convert TIFF to PDF
You can use various different online converters to convert your TIFF files to PDFs. Check out the table below to see some of the common ones:
Converters
Description
Smallpdf
Smallpdf allows you to convert both TIFF files and PDF ones. The conversion can take a long time though, so you can expect a bit of wait before you gain access to your converted files
SodaPDF
With SodaPDF, you can do the following to your PDF files:

View
Create
Convert
Edit
Secure
Share

Zamzar
Zamzar has a simple interface that allows you to use any type of TIFF images that you would like to convert into PDF files or vice versa
Although using online converters is the most common way to convert files, the option isn't completely risk-free. There are still some drawbacks that should be considered before using them.
The Common Drawbacks of TIFF to PDF Converters
The dangers that arise from converting a file into a PDF are many and include undetected metadata from the original image, as well as possible formatting errors appearing in the generated document. For example, an image may be converted using an online converter, but the size of the image may not change to fit the PDF document, causing unwanted distortion.
Another issue of concern regarding documents converted using online converters is the security of the documents. There are possible security flaws including identity theft, with private information being linked to documents that are not secure by default.
Additionally, these online converters are not considered trustworthy or reliable since they often don't provide protection against viruses or malware.
How To Find a Safe TIFF to PDF Converter
Since so many people use converters for their day-to-day work, it is important that they find one that is reliable and free of malware. It's incredibly difficult to find a safe file converter online. There are so many shady websites out there that it is hard to know which one you can trust. It may be helpful for you to read through these tips about how to find a safe online file converter:
Ensure that the file converter you choose is free and not a subscription-based website
Make sure that the service will allow you to download videos, pictures, documents, and other files across the web
Check how many conversions you are allowed to do within a given period of time. The more chances you have to convert files the better. If something is limited, there are most likely some hidden costs that will be deducted from your account
Look up the company's privacy policy and see what it says
Find online reviews that people who already used the converter wrote. If the reviews are good, chances are the converter can be trusted
Use DoNotPay To Convert TIFF to PDF Hassle-Free
You can forget about using unreliable online converters and wasting time trying to figure out how to navigate them! With DoNotPay, you can rest assured your TIFF files will be converted to PDF safely and in record time! We make sure the process is completely safe and protect your sensitive info by removing your data from our app after 24 hours. Why would you struggle with confusing online instructions when you can complete our quick three-step guide and convert your files like a pro? Here's how to start the process:
Upload the TIFF file you want to convert
Choose PDF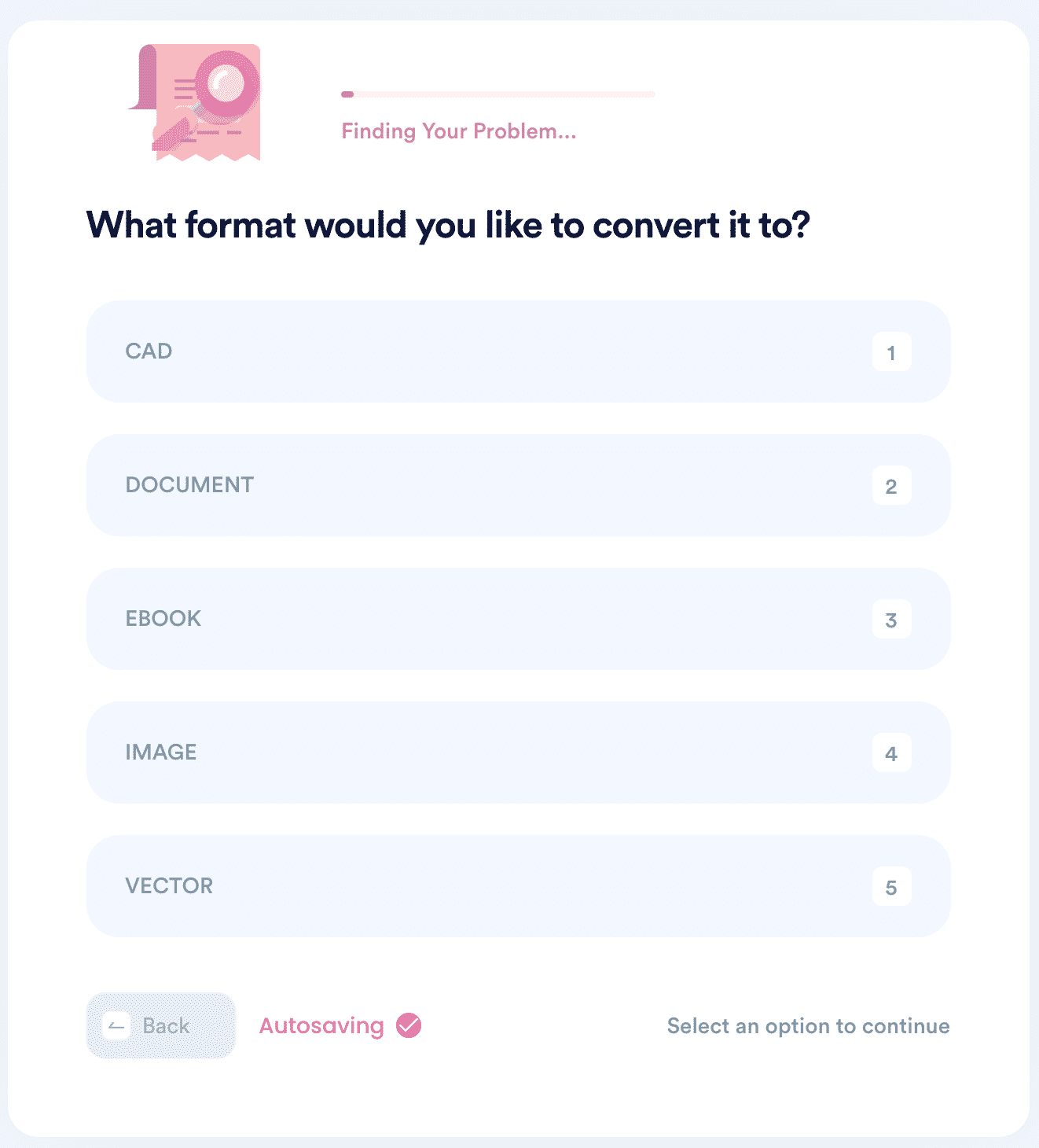 We'll convert your file right away! You'll be able to download it from the My Disputes page in no time.
What Other Files Can DoNotPay Convert?
You can achieve more than only converting your TIFF files to PDF! With our app, you can also convert a variety of other file types! Check out the table below for details:
Save Money With the Help of DoNotPay
Are you tired of losing money on useless memberships and forgotten subscriptions? Our app can help you cancel subscriptions or memberships in a snap. Have some questions for the customer service? Use DoNotPay to jump the phone queue.
If you want to sign up for a free trial but don't want to risk being charged, get our virtual credit card. Thanks to this card, you'll enjoy any free trial stress-free. It will also save you from receiving spam emails.
In case you're also struggling to claim a warranty or insurance, we can assist you with this too. Rely on DoNotPay to solve any issue regarding purchased products—whether you need to return an item, file a chargeback request, or get a late delivery refund.
If you're dealing with a serious problem, don't bother wasting your money on lawyers—our AI-powered app can help you file a complaint, appeal a banned account, sue anyone in small claims court, and draw up various legal documents!
DoNotPay Also Helps You Earn Money
Our app is an expert at saving money, but we can also assist you in earning some. You can use DoNotPay to find unclaimed funds under your name, sign up for paid clinical trials, and get victims' compensation. If you want to redeem your gift cards for cash, enter numerous sweepstakes, and get compensated for a delayed flight, count on our help!