Tips on How To Convert TIFF to JPG the Easy Way
A TIFF file is a type of image format that preserves the quality of images. The resulting TIFF files are larger than the JPG files, which means they take up more storage space on your computer. Converting a TIFF file to a JPG file can help manage your storage needs and make the file easier to share with others.
Converting a TIFF image to a JPEG image can be done manually, using tools like Photoshop, or automatically through a converter. A manual conversion will give you more control over how the image looks once it's complete. If you are converting several images at one time, an online converter can speed up the process.
We can help you avoid searching for appropriate software yourself and provide you with a few options to choose from. In case you want a simpler and more efficient way to convert TIFF to JPG or PDF, we'll show you how to use DoNotPay to convert your files safely in seconds!
How To Convert TIFF to JPG
You can always convert your TIFF files using online converters. Check out the table below to see some of the commonly used TIFF to JPG online converters:
| TIFF to JPG Online Converters | Description |
| --- | --- |
| CloudConvert | CloudConvert is a website that helps you convert any type of file, size it, and share it. It supports GIF, JPG, BMP, PNG, TIFF, and PDF files |
| Zamzar | Zamzar is a website that lets you convert TIFF documents to JPG documents. All you need to do is upload the TIFF document and click Convert Now, and your converted version will be ready for download, but keep in mind that the quality of your files may be downsized when using these online converters |
The quality of your files isn't the only issue you may run into when using free online converters. These websites aren't known for being super reliable and risk-free, so you should gather as much info about them as possible before using them.
The Issues You Can Run Into When Using Free Online TIFF to JPG Converters
All of these sites offer to convert TIFF files for free to whatever format you need. But it's not as simple as downloading and opening the file—there are some issues you may run into. Here are some of the issues you may encounter when converting TIFF files:
Size issues—The most common issue people run into when converting TIFF files is file size. Sometimes the images they download are extremely large files that cannot be uploaded to most websites
Poor quality files—Websites often convert your TIFF files quickly and easily, but the converted file can be a low-quality one and not worth much
Viruses and malware—These online converters are often not protected at all, and by using them, you risk getting your computer infected with viruses
How To Find a Secure TIFF to JPG Converter
Not sure whether the website you chose is a safe one? Here are some tips on finding a reliable online converter:
Check the supported formats—A reliable converter will be able to convert all kinds of image formats, including JPG, PNG, GIF, etc.
Look for the file size limit—You don't want to spend hours uploading a large picture only to find out that it is over the size limit and can't be converted. If you don't know how big your pictures will be, you should consider choosing a converter that offers unlimited file sizes
Find out what the supported operating systems are—A good converter will support a wide range of operating systems. The more operating systems a converter supports, the more likely it is that it can be used on any of your devices
Find info about the speed and quality of the conversion process—The speed and quality of a converter are both equally important for you to consider when looking for a safe online TIFF to JPG converter. A slow converter will not be able to meet your expectations if you need a large file size in a short time
Check the reliable security of the service provider—We recommend checking the reviews on the service provider's website and reading their privacy policy. You should also learn more about the security measures of this service on their website or in their privacy policy
How To Convert TIFF to JPG With DoNotPay in a Few Clicks
You don't have to bother using online converters for your TIFF files. Instead, use DoNotPay to convert any file type you want in a snap without worrying about the safety of your files or anything else! We offer you a completely secure and streamlined way to convert your documents whenever you need to! This is how it works:
Upload your TIFF file
Select JPG as the file type you want to convert it to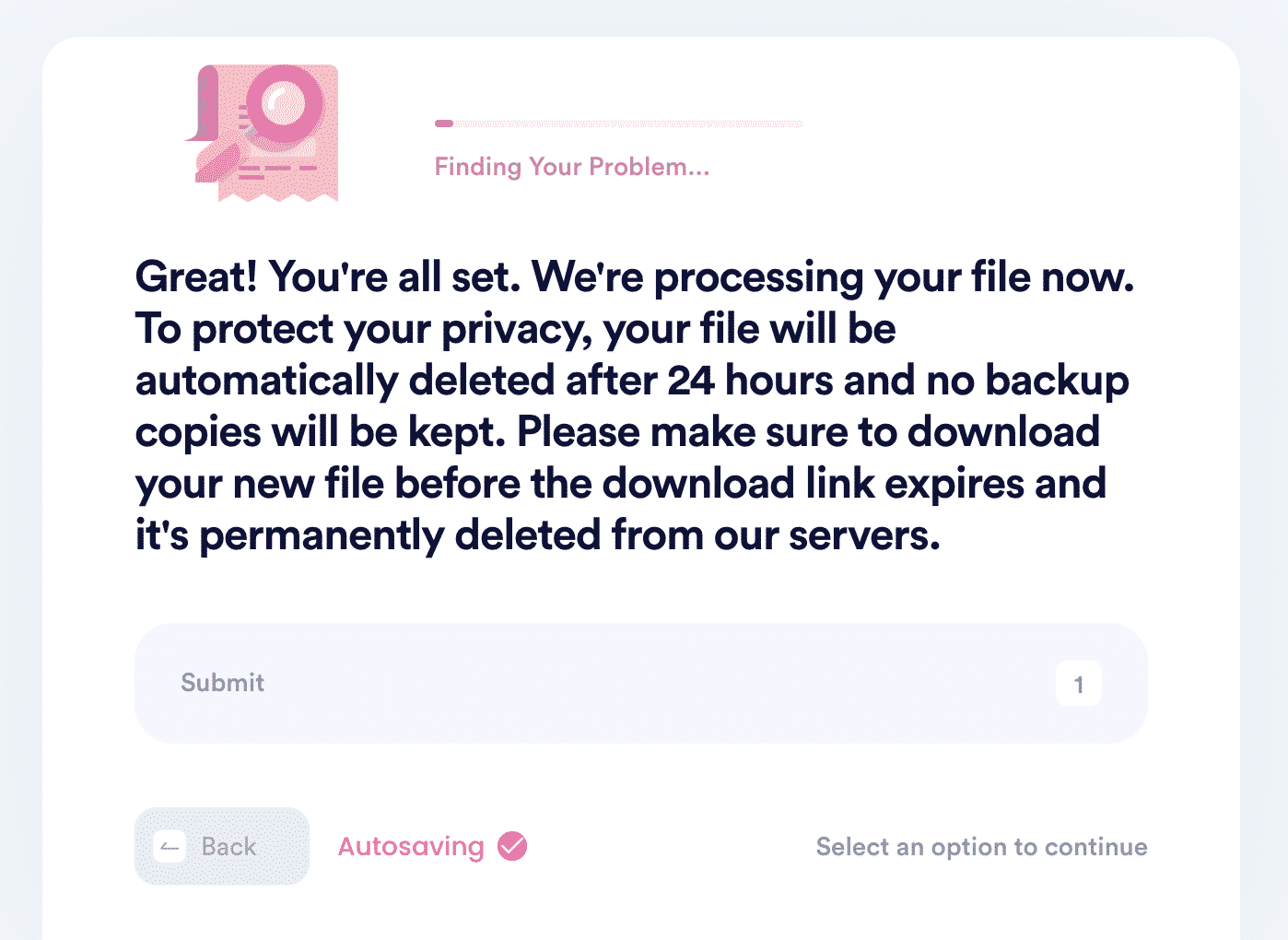 You can download your converted files from the My Disputes pages right away.
What Other Files Can DoNotPay Convert?
There is no shortage of files DoNotPay can help you convert besides TIFF! Look at the table below to see what you can convert with our app:
DoNotPay Brings the Best Solution to Any Problem
If you want some help canceling subscriptions, requesting refunds, or signing up for free trials without being charged, our app is exactly what you need.
No task is too demanding for DoNotPay, and our product offer keeps on growing. With us, you can lower your property taxes, enter giveaways and sweepstakes, file insurance and warranty claims, and report copyright infringement. In case you also need to apply for scholarships, draft power of attorney documents, or appeal banned accounts, we'll come to the rescue.
In a few clicks, you'll get the assistance that you've been looking for!
Our App Helps You Protect Your Privacy
Keeping your privacy intact is no easy feat since more and more services request your email address, phone number, and other personal details. If you sign up for DoNotPay, that requirement will become a thing of the past! With our Virtual Credit Card product, you'll get a randomly generated name, email address, and payment details and stay unknown. If a platform asks you to submit your phone number, you can select our Burner Phone feature and get a temporary number.
DoNotPay can also put a stop to spam emails, text messages, and bothersome robocalls. We can even help you conduct a sex offender search for your area, file anonymous HR complaints, generate child travel consent forms, and send demand letters to your noisy neighbors.