Convert Text File to Excel With Zero Effort
Text files are used for storing various text-based information, such as plain-text, source code, configuration files, and natural language. They contain zero formatting, meaning nothing is bold, italic, and there are no colors or fonts. An Excel file is a document that allows the user to arrange the data in rows and columns and leverage a wide variety of functions to manipulate that data. It enables users to format information with various colors and fonts to help distinguish one type of data from another or highlight specific content for further explanation.
Excel also makes reading and storing large amounts of data much easier.
To convert text files to Excel, you'll need to find a reliable converter—either offline or online. This is a time-consuming task that requires a lot of patience and knowledge about file conversion. Fortunately, you can rely on DoNotPay and let our award-winning app do all the work for you. Sign up for DoNotPay and convert 100+ different file types safely, quickly, and with zero effort.
How To Convert a Text File to Excel
You can convert a text file to excel online or by using a desktop file converter. Which method you'll use depends on what your priorities are. If you need to convert your files as quickly as possible, an online converter is the better choice. On the other hand, if you want to ensure the data is sorted in a particular way in your Excel file, you'll need to opt for a downloadable app that offers advanced customization options.
Most online converters are free and don't require downloading additional software. They are also easy to use and work very fast if you have a good internet connection. Some commonly used online text to excel converters can be found in the table below:
| Converters | Description |
| --- | --- |
| Convertio | Convertio is an online file converter that offers you the ability to convert and share your documents in a few clicks |
| OnlineConvertFree | OnlineConvertFree is a free web-based application that performs the conversion of one type of file to another with no need to install any software on your computer |
| AnyConv | AnyConv is a website dedicated to converting files into different formats. It is free and easy to use |
Desktop file converters are not as easy to use as online file converters. You'll need to have some technical knowledge about file conversion if you want your conversions to be successful. With these apps, you'll have much more control over the conversion process. The possibility of converting multiple files at once is another great feature of desktop converters.
What Are the Downsides of Text to Excel Online Converters?
Even though online tools are the most popular option when it comes to file conversion, you should be aware of their shortcomings:
Inability to convert multiple files in one go—Converting a bunch of files one by one will take hours
Questionable quality of the converted files—If the quality of the converted files is of utmost importance for you, avoid using online converters
The Possibility of downloading malware on your computer—You can download it either with the converted files or by clicking on ads
Privacy issues—Never use an online converter before reading its Privacy Policy—It may sell your data to third parties
DoNotPay Can Convert a Text File To Excel Safely and in No Time!
You won't have to worry about the safety of your data if you opt for DoNotPay because our award-winning app is 100% secure! To protect your privacy, we will delete your files from our servers 24 hours after the conversion. The conversion process is extremely fast, taking only a couple of seconds and resulting in high-quality files.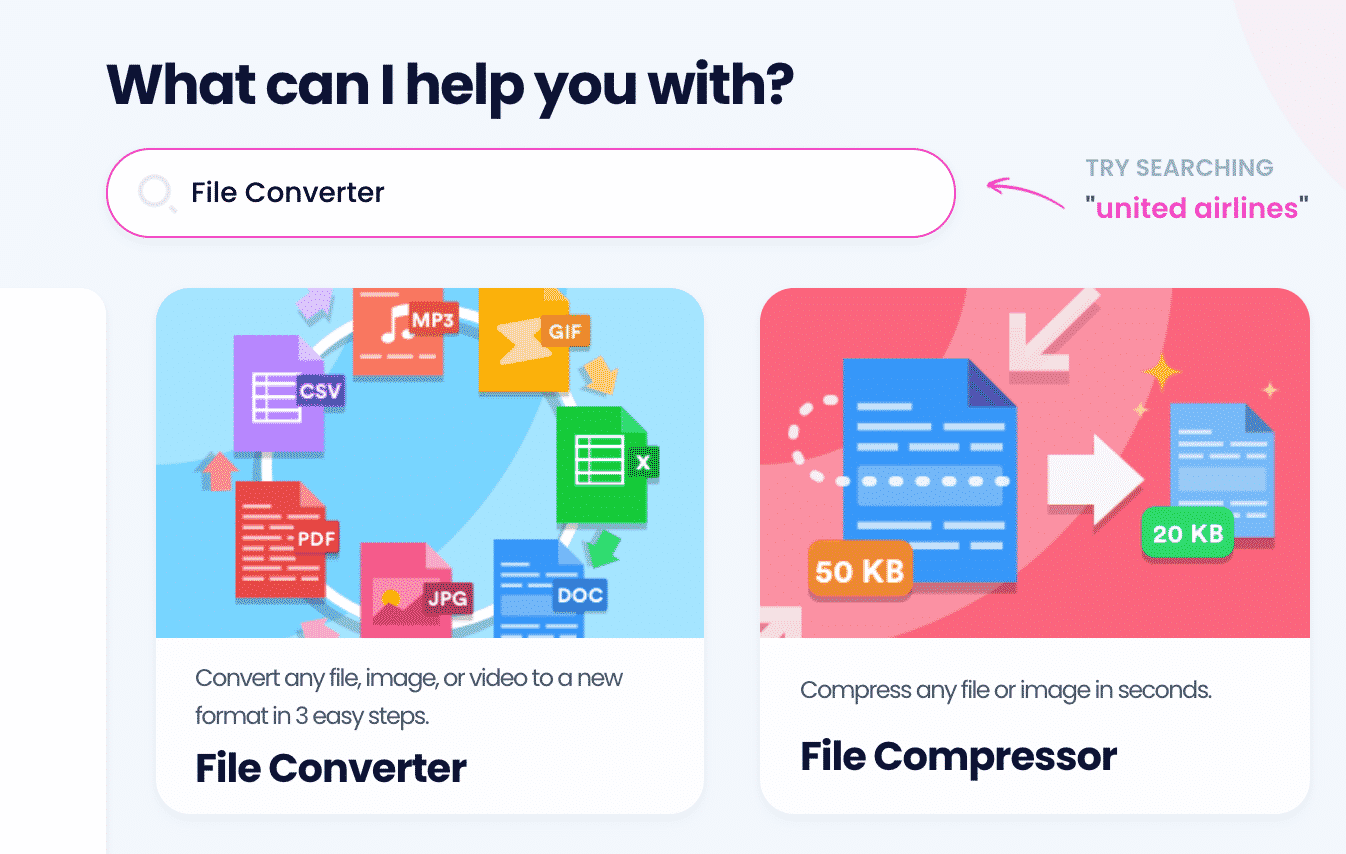 To get started, log in to your DoNotPay account and open the File Converter product. Once you've done that, follow the instructions below:
Upload your text file
Select Excel as the format you want to convert it to
Go to the My Disputes page to download the converted file
That's all—as easy as pie! This way, you can convert an unlimited number of files, for a low monthly charge.
What Other Files Can DoNotPay Convert?
Although you came here to convert a text file to Excel, that's not all we can do for you! If you ever need to convert another file, our nifty app will be able to assist you with that as well! Check out the table below for a list of files you can convert with DoNotPay:
Much More Than a Simple File Converter
When you're converting files, keep in mind you'll need hard disk space for both the original and the converted file. While the HDD space individual files take up is barely noticeable, if you're planning on converting multiple files, it can quickly add up.
Luckily, DoNotPay also lets you compress files to make them easier to store. You can also use our award-winning app to convert online videos to MP3s, as well as download videos from social media and the web and save them on your device.
DoNotPay Offers Unmatched Functionality
DoNotPay offers a lot more functionality than a regular file converter. On top of these file management features, you'll find hundreds of different products within the app that can facilitate, streamline, or automate a wide variety of tasks, saving you time, money, and nerves!
Here are just some of the areas in which you'll find DoNotPay's assistance invaluable:
| Legal | Time-Saving | Money-Saving |
| --- | --- | --- |
| | | |
The possibilities truly are endless with DoNotPay!