No More Struggling To Convert SWF to MP4!
The SWF format was created by Adobe Systems as a way of encoding vector and bitmap graphics, sound, video, and interactivity into a file that can be played on any computer with an Adobe Flash Player.
You can transform your SWF files into other file formats, such as MP3, MP4, and more. Since the process can often get confusing, especially if you're not familiar with or used to it, we're here to simplify it and show you how to convert your files. That's not all, though! Apart from showing you how to convert SWF to MP4, we'll also provide you with a safer alternative to converting any file type—DoNotPay. Once you access our app, you can convert various formats and avoid relying on sketchy online video and audio converters!
How To Convert SWF File to MP4
Converting your SWF files online may sound super simple and easy, and in most cases, it is, but that doesn't mean you won't run into several issues. Even some of the most commonly used SWF to MP4 converters can prove problematic, including:
CloudConvert
Zamzar
Convertio
The process is usually the same with all of them, and it requires you to upload the file you want to convert, choose the output formats, and download the converted file once the process is complete.
The converters we previously mentioned are a few of the most popularly used ones, but, like most of the web-based converters on the market, they too can cause problems during the conversion process. We're here to help you understand what these problems are in an attempt to keep you safe and give you an idea of what to do to avoid them.
The Problems You Can Run Into With Free Online SWF to MP4 Converters
There are several potential risks associated with downloading free file converters online. One of the most common problems is that certain converters use malware that could potentially harm your computer or devices, including mobile phones and tablets. If you're not careful, you could end up downloading a malware-laden converter that could take over your computer and/or steal sensitive information from your device. Malware-laden file converters could also be used to steal your credit card information, which could lead to identity theft.
Another risk you run when downloading file converters is that they could be corrupted or lost altogether. You could end up downloading a converter that doesn't work properly and may result in your file being corrupted. This can happen if the converter is damaged in any way, and it won't be able to complete the conversion process correctly.
DoNotPay Helps You Convert SWF to MP4 Safely and in No Time!
Since the security issues you can experience when using free online converters are no joke, you can avoid using them altogether! DoNotPay makes sure your files and your safety are completely protected during the conversion process. We delete your data from our database after 24 hours and provide you with high-quality converted files as well!
You can also convert any number of files you want on Windows and Mac, and you can choose from over 100 different file formats! All you need to do to get started is follow our quick three-step guide:
Register for DoNotPay and open the File Converter product
Upload your SWF file
Select MP4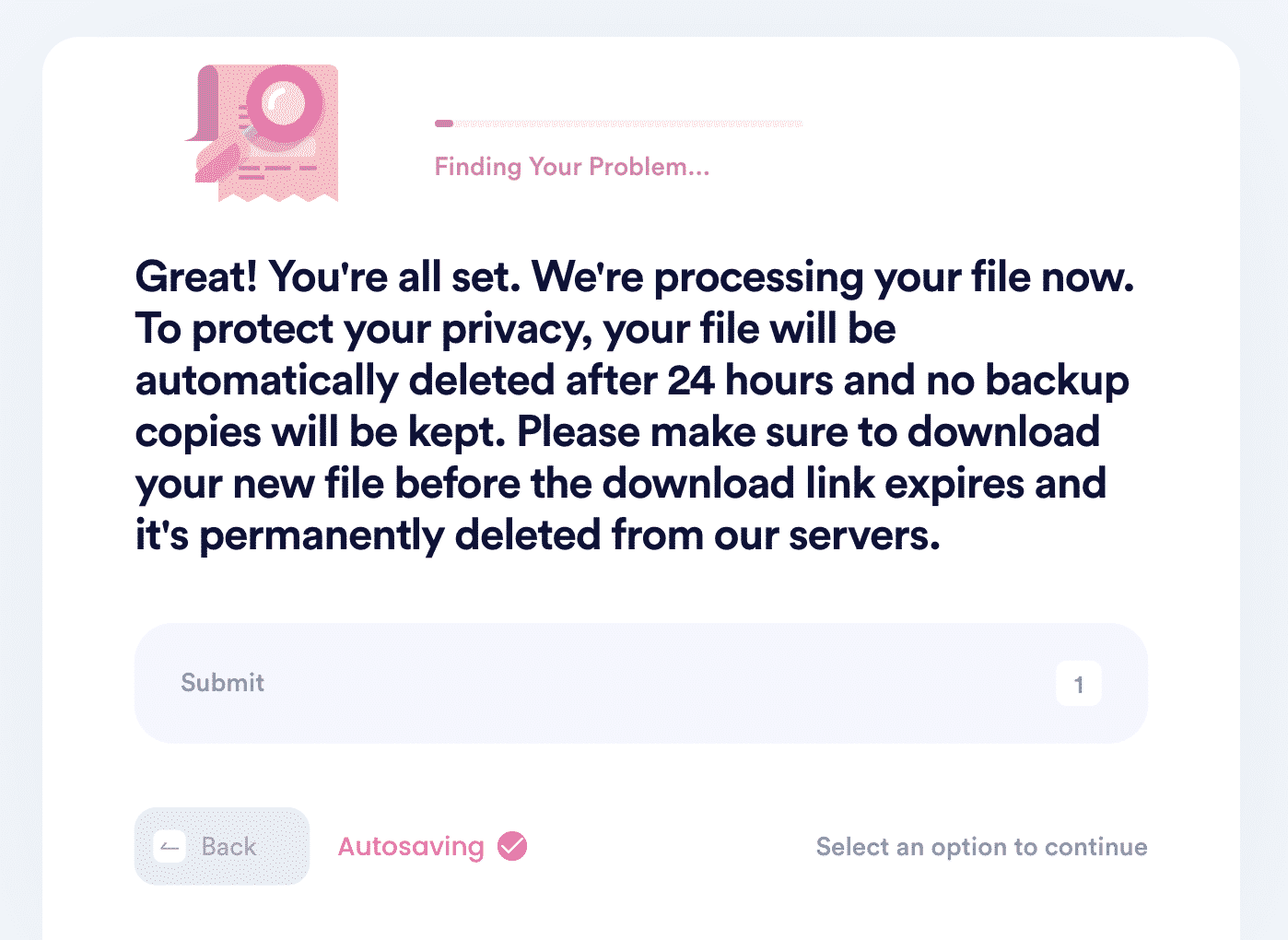 After we convert your file, you can download it from the My Disputes page in a few clicks!
What Other File Types Can DoNotPay Convert?
You can use DoNotPay to convert more than just your SWF files! Check out the table below to see what files you can convert with our app easily:
Convert, Compress, and Download Anything With DoNotPay
Technology is advancing at a rapid pace, and it can be rather difficult to keep up. But there's no need to worry if you're not particularly tech-savvy—DoNotPay got you covered!
With our easy-to-use app, you can compress any file, download videos from the web, and convert online videos to MP3 files, all with a few clicks. There's absolutely no experience needed. Your files are 100% safe, and your privacy is ensured because we delete the converted and compressed files after 24 hours.
Save Time and Money With DoNotPay
On top of file conversion, DoNotPay has hundreds of different products that automate boring tasks and streamline complex processes. And the best part is—you get access to all of them, so you can use our award-winning app to save a ton of time and money.
Here are just a few examples of what DoNotPay can help you with: