Learn How To Convert SVG to PNG With DoNotPay
Scalable Vector Graphics—or SVG—is a vector image format used primarily for two-dimensional graphics, such as logos, that need to scale well when enlarged. PNG, on the other hand, is typically used for bitmap images. Converting an SVG into a PNG is a common occurrence when you want to include the logo with a transparent background into other publications, such as a blog post.
In an SVG file, the image size is determined by a system of coordinates used in the SVG code, and it's possible to represent a rectangular area in a shape that is a circle or a polygon. In PNG files, there are no geometric shapes, but there are rectangular areas represented by blocks of pixels whose edges have no data because they have been deliberately left blank.
DoNotPay is here to help you convert SVG to PNG in no time! Sign up for DoNotPay today and convert virtually any type of file with a click of a button.
How To Convert SVG to PNG
You can convert SVG to PNG (or other formats such as JPG, PDF, DXF, etc.) by:
Using a free online SVG converter, for example:

SVG to PNG
CloudConvert
Convertio

Downloading a specialized converter or an open-source program
Applications that are particularly suited for this type of conversion are listed in the table below:
| SVG to PNG Converters | Description |
| --- | --- |
| ImageMagick | ImageMagick is an open-source collection of tools for manipulating and creating images |
| GraphicsMagick | GraphicsMagick is a fork of ImageMagick. Using it, you can convert SVG files to PNG format without having to install any software |
| GIMP | GIMP is an open-source image editor which is also used for manipulating images from other sources. To convert from SVG to PNG format in GIMP, you'll need to install a plug-in for the program |
| Inkscape | Inkscape is a vector graphics editor with a large community of users. It's an open source program which means it's free to use, forever. To convert an SVG file into PNG format using this program, you'll need to install a plug-in |
What Are the Drawbacks of Using an SVG to PNG Converter Online?
The main disadvantage of using online converters is the fact that they often produce unusable results because SVG files are complex and contain a lot of data in them. Other disadvantages to online SVG converters are:
Their inability to process more complex shapes
The fact that the resulting PNG files produced by them are usually not optimized
The most significant issue with online converters is the possibility of viruses and malware. Most of the websites that host free online converters are shady, so think twice before clicking a download link on any of them. Although you might not notice anything strange immediately, a virus or a malware may infect your device and hamper its functionality or.
On top of that, there are keyloggers that might be working in the background, remembering each of the strokes you make on the keyboard. If you log into your bank account, for example, cyber criminals will gain access to your username and password.
How To Know if the SVG to PNG Converter You Chose Is Safe
It's impossible to know that a file converter is completely safe, but there are a few reassuring measures that you can take to reduce the risk of downloading malicious software:
Examine the reputation of the converter you plan to use by reading user reviews—they will help you determine whether or not the converter is trustworthy
Check if the online converter has a clear privacy policy. If it doesn't, you shouldn't use use it
Look at the site's terms of service to see if there's any evidence of hidden or unexpected features and conditions
Check if the converter is compatible with all major browsers and devices
Keep in mind it's always best to stick with reputable websites that offer more than just free file converters.
Convert SVG to PNG in Seconds With DoNotPay!
You no longer have to struggle with converting SVG files! With DoNotPay's handy product, you can rest easy knowing that your information will be safely transformed and erased from our app after 24 hours!
Your data will not be shared with anyone else, and you will avoid annoying advertisements. What's most important, the quality of converted files won't disappoint you.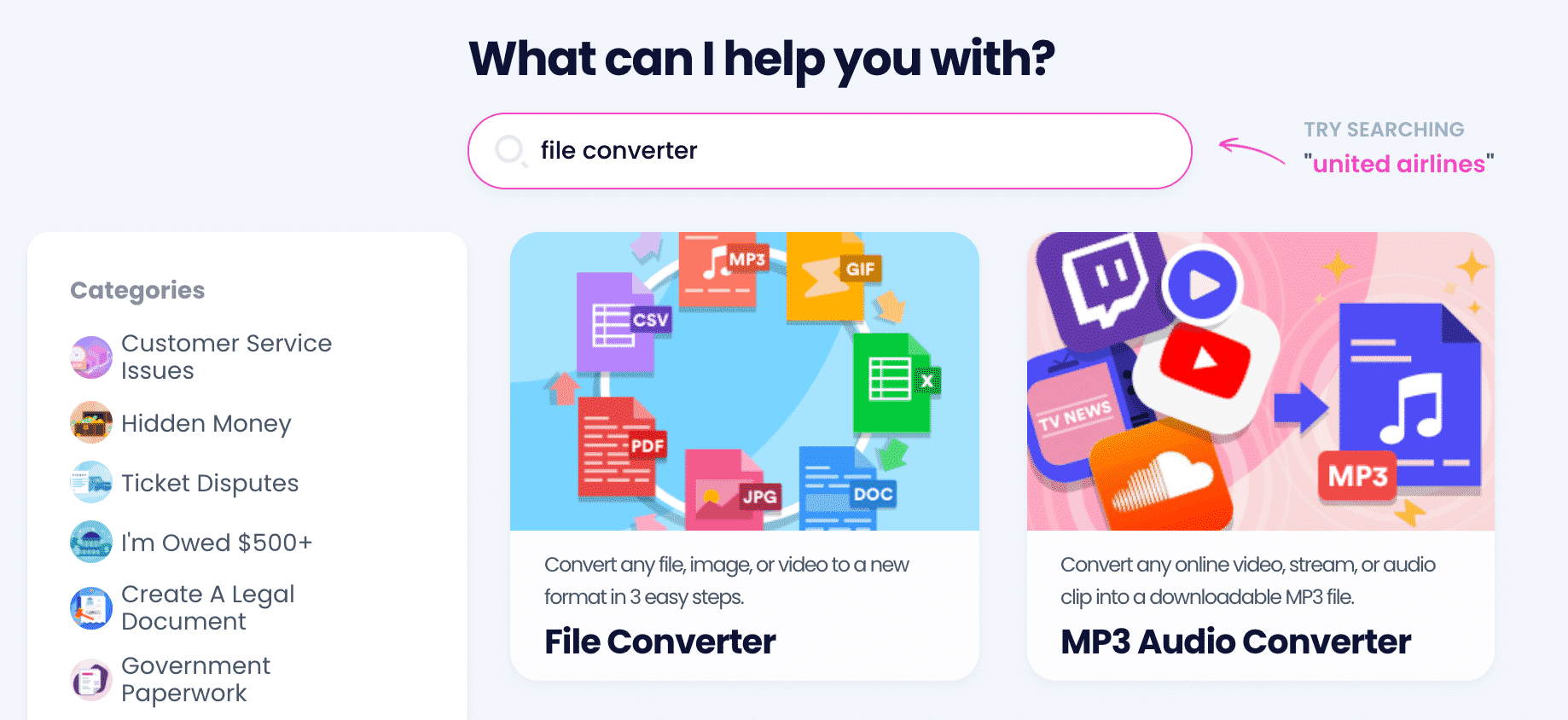 To convert your files from SVG to PNG, all you need to do is:
Open the File Converter product
Upload the SVG file you want to convert and select the format you want to convert it to
Download your file from the My Disputes page
DoNotPay Enables Converting Many Other Files
Converting your SVG file to PNG isn't all we can do. Check out the table below to see what other files you can convert using DoNotPay:
Struggling Financially? DoNotPay Can Help You Out!
If you're on a tight budget and have trouble covering your bills, there are a few things we can do for you. DoNotPay is a great tool to both earn and save money.
If you or a family member is a student, you can use our app to search and apply for scholarships and request a college fee waiver. In case your financial aid application is rejected or the university offers little, we can help you file an appeal. Education can be expensive on all levels, so you may consider homeschooling your child.
Is your property tax bill through the roof? Discover ways to lower your property taxes with DoNotPay.
When you're strapped for cash, you can enter sweepstakes, get gift card cash back, or sign up for clinical trials in your area.
What Else Can You Expect From DoNotPay?
DoNotPay is a versatile app, helping users handle tasks and issues while saving time and money.
With our help, you can prepare for various government tests, contact embassies and consulates, appeal banned accounts, and send online faxes within minutes.
Count on DoNotPay when you need to mail letters, apply for tourist visas, or file anonymous HR complaints.
Fighting workplace discrimination and dealing with annoying neighbors will also be much easier with the world's first robot lawyer by your side.