Convert SVG to JPG Hassle-Free
While JPG format files are raster images broken down into pixels, SVG (Scalable Vector Graphics) format files are vector images, which use points, lines, and shapes to create an image. These images contain path data that is essentially written in XML code, making them very easy to edit and alter in most programs.
Many people use SVG files because they are able to scale the image in a vector format—the image does not lose quality when it is made smaller or larger. JPG files will begin to blur and pixelate when they are made much smaller.
In this article, we'll explain how to utilize online file converters to convert SVG to JPG and, more importantly, how to ensure that they are safe so you don't end up harming your device by downloading malware or endangering your data or sensitive information.
If you sign up for DoNotPay, you can leverage our File Converter to safely convert virtually any file format in a few clicks! DoNotPay supports hundreds of file types and there's no limit to how many files you can convert.
How To Convert SVG to JPG
You can convert SVG to JPG in a few ways—it can be done by:
1. Uploading the SVG image into another program that creates the jpg file and then exporting the converted file
2. Using a web service to convert the SVG image into a JPG image online
Using A Program for Converting SVG to JPG
SVG files can be converted to JPG through Inkscape, Pixillion, and many other programs. The only significant difference between them is the price and the number of features they offer. If you already have software installed on your computer that creates JPG files you can simply open the SVG file, and save it as a JPG file.
Remember you might have to change the quality of the image depending on how much detail you have in the SVG file. The biggest problem people run into when converting SVG files to JPG is that there is no universal file format that all software can use.
Using a Web Service To Convert SVG to JPG
There are many free and paid online converters that can convert the SVG file into a JPG file. If you choose to convert SVG to JPG online you will need to upload the SVG file and then choose the format as JPG. Keep in mind that when SVG files are uploaded and converted they often change in size and quality.
Here are some of the most popular online SVG converters:
| Online Converters | Description |
| --- | --- |
| Cloudconvert.com | CloudConvert converts and rasterizes your vector files for free. SVG, PDF, and EPS are just a few of the formats supported by this online application. You can adjust the resolution, quality, and file size |
| Convertio.co | Convertio.co converts SVG files to JPG and PNG, and many other formats for free. It is ranked among the 1000 most visited sites in the world |
| Online-convert.com | This free online file converter allows you to convert media from one format to another quickly and easily. It supports conversions from a number of formats, including SVG |
Apart from JPG format, SVG files can be converted to other file types such as:
What Are the Downsides of Using Online SVG to JPG Converters?
When using an online converter, it often happens that the quality of the converted file isn't as good as if you were to use a program that allows you to convert SVG into JPG. What's more, the conversion process usually takes a while and your files might end up being corrupt for no apparent reason.
The risk of viruses and malware is the most serious concern with online converters. Most of the websites these tools are hosted on aren't exactly safe, and the malicious software you might accidentally download can harm your device or even get access to your data and sensitive information, such as passwords.
How To Make Sure the SVG to JPG Converter You Chose Is Safe
To make sure an online file converter is safe, you should always check for a valid SSL certificate—it ensures that data transferred between your computer and the converter website is encrypted.
If this isn't checked, it could result in all of your personal data being unprotected and copied by hackers. When you're converting SVG files to JPG files, this matters even more because SVG images often contain the user's password—if yours gets compromised, you might not be able to log back into your email account or other websites ever again!
Use DoNotPay To Convert SVG to JPG in a Flash!
Using DoNotPay, you won't have to worry about the safety of your files. We ensure your data stays protected by deleting anything you upload after 24 hours. With our software, you can convert your files in a matter of seconds and rest certain that the whole process is safe!
To initiate the conversion process, log in to your DoNotPay account and take the following steps:
Open the File Converter product
Upload the SVG file you want to convert
Choose the format you want to convert it to
Download your file from the My Disputes page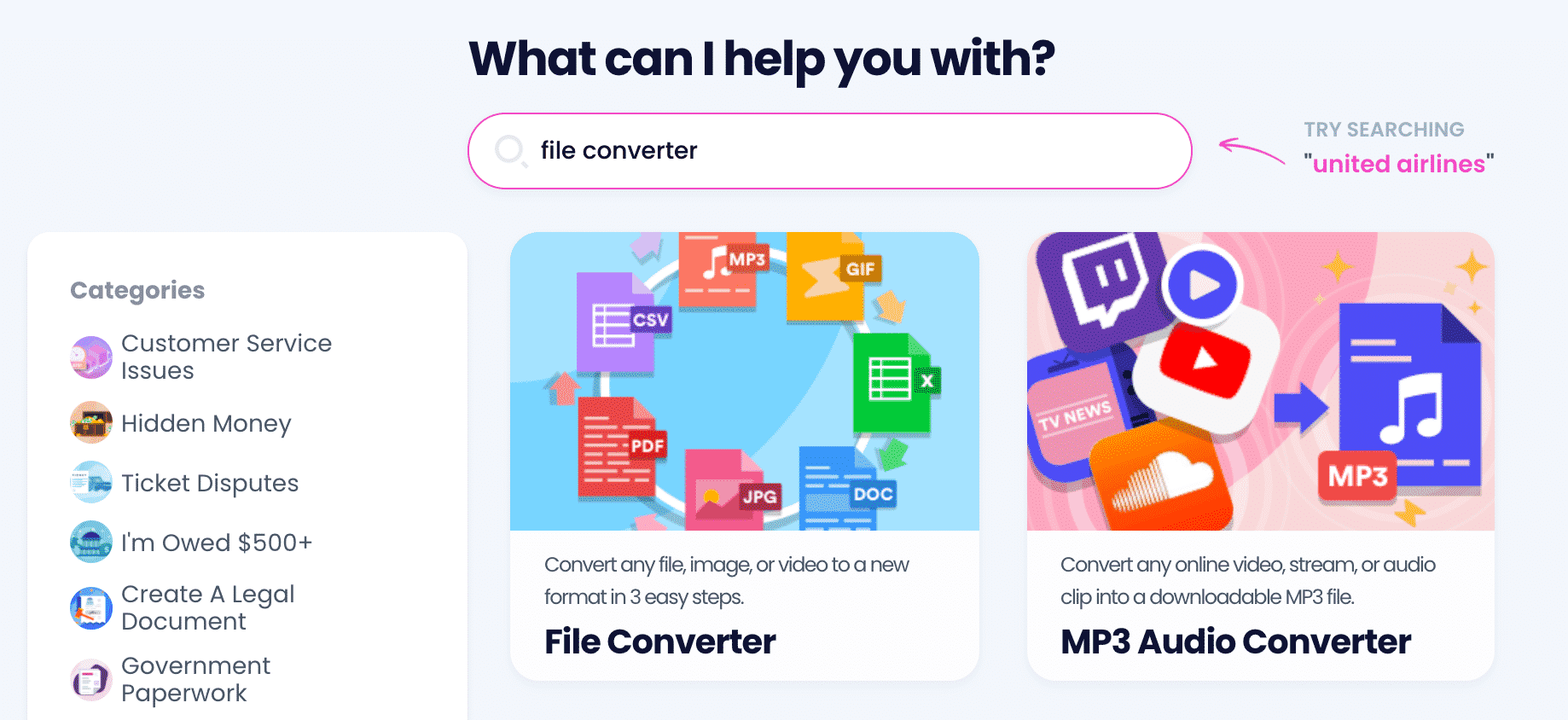 What Other Files Can You Convert Using DoNotPay?
Other than SVG to JPG, DoNotPay can convert a wide variety of formats! They are listed in the table below:
Fast-Track Different Tasks With DoNotPay
Are you trying to get a refund from a company and can't reach its customer service? Was your flight canceled or delayed, and you want to get compensated? Is hiring a lawyer out of the question because they're too expensive, but you have to draft some legal documents? Once you register for DoNotPay, we'll be able to help you with all of the above and more!
Rely on our app to finally put an end to text spam, annoying robocalls, and spam emails.
Do you need help canceling your forgotten subscriptions? We'll help you detect all your active memberships or subscriptions and get rid of the ones you no longer want.
In case you're studying for your driving test, you can use our Government Tests Prep product and ace this and many other exams. We can also schedule an appointment with the DMV on your behalf.
If you have to claim your car or any other insurance or warranty, rely on DoNotPay. Use our app to also contest parking tickets in a jiffy!