Find Out How To Convert Studio to SVG in a Snap!
Studio files are made in Silhouette Studio, a program for designing items that can be cut with a Silhouette electronic cutting machine. These files may contain images, shapes, lines, patterns, colors, gradients, effects, etc. They also store design page settings, cut settings, and registration marks.
You can't open a studio file in any program other than Silhouette Studio, which is why it needs to be converted into a different file type if you need the design for any other purpose. SVG files are the most common and versatile type of vector image format, and they can be used in many applications and across many different types of devices, including:
Web-based graphics
Text editors
Vector drawing programs
Adobe Systems' proprietary software such as Illustrator and Flash
If you want to convert studio to SVG but are not exactly sure what's the easiest way to do it, you've come to the right place. Aside from answering all your questions about converting studio files to SVG, we also offer you the option to convert your files with a single click, using our award-winning app.
How To Convert Silhouette Studio Files to SVG
You can convert studio or files to SVG using the Silhouette Studio Business Edition program, which allows you to save your design as an SVG, PDF, or JPG.
Another way to convert your files is an Ideas R Us software, which is one of the few free online converters that can be used for that purpose. What you need to do is upload a Silhouette Studio file, click on the Convert Studio to SVG button, and click the link to see your new SVG file.
If you don't have the Silhouette Studio program, your safest bet is to use the DoNotPay File Converter product that can get the job done fast, without endangering your data. Besides that, we will delete all your files after 24 hours to protect your privacy. No copies will be kept either.
Why Using an Online Studio to SVG Converter Might Be Problematic?
When you're thinking about using an online converter, you should always be aware of all the possible risks and issues. There are several downsides to using online studio to SVG converters. One of them is that it can take a long time for the files to be converted, especially for the larger ones. Another problem is that some online file converters are not very reliable and may produce a wrongly compressed or corrupted output. You should also be wary of file converters that ask you to pay for extra features.
The major downside of using online file converters is the risk of malware. If you were to download your newly converted SVG file from a sketchy website, it wouldn't be impossible for the site to secretly infect your computer with malware without your knowledge. This would allow hackers to access your personal data, such as your bank account number, passwords, credit card numbers, email address—while locking you out of your computer at the same time.
How To Ensure an Online Studio to SVG Converter You Chose Is Safe
First, you should make sure that the website is verified as genuine by a trusted Certificate Authority (CA). You can check the website's SSL certificate by:
Right-clicking the padlock icon to the left of the website's URL
Choose the option to view certificate—if the option isn't present, check website connections and look for a certificate button among those
Next, you should check the output files for any malicious content such as viruses, adware, or Trojans. This can be done by conducting a scan with an antivirus program and checking for malicious activity. Some antivirus software automatically check for these types of threats and will prevent users from downloading infected files if they detect any suspicious activity.
Another thing you should do is look at some of the reviews of other people who have used the converter before. You can also take a look at reviews of other similar services to see how they compare.
Finally, you should read the Privacy Policy and Terms and Conditions to check how information is stored and whether any personal details will be retained after using the converter.
Why Choose DoNotPay To Convert Studio Files to SVG?
Opt for DoNotPay because, with our file converter, you won't have to worry about the safety of your data. The conversion process is extremely fast, taking only a few seconds. To initiate it, all you have to do is:
Log in to your DoNotPay account using any web browser
Look for the File Converter product
Upload your studio file
Choose SVG as the format you want to convert it to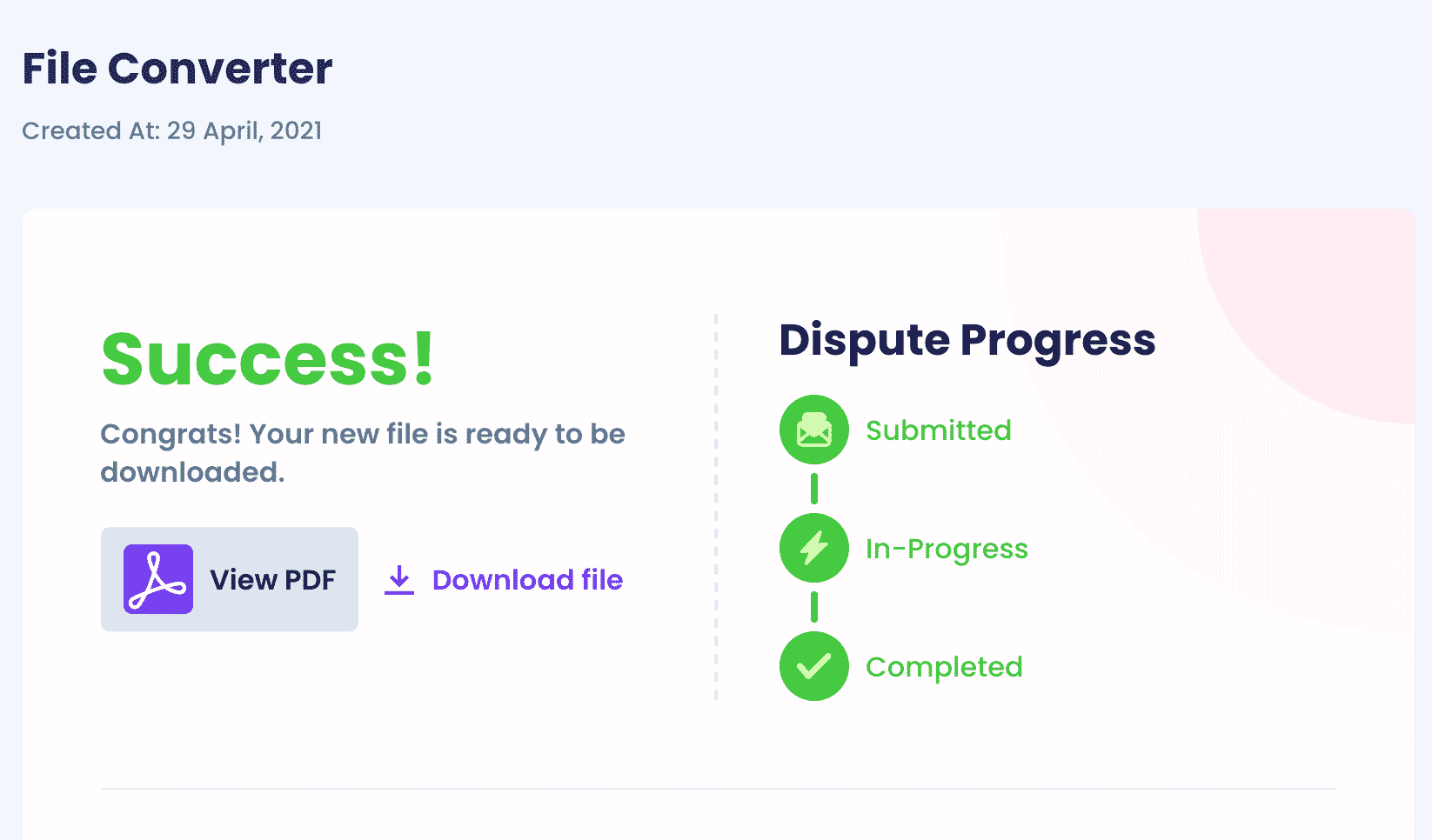 It is as simple as that! When you're done, go to the My Disputes page and download your new SVG file.
What Other Files Can You Convert Using DoNotPay?
Besides being able to convert an unlimited number of files, our file converter supports numerous file types. Some of them are listed in the table below:
Struggling Financially? DoNotPay Can Help You Out!
If you're on a tight budget and have trouble covering your bills, there are a few things we can do for you. DoNotPay is a great tool to both earn and save money.
If you or a family member is a student, you can use our app to search and apply for scholarships and request a college fee waiver. In case your financial aid application is rejected or the university offers little, we can help you file an appeal. Education can be expensive on all levels, so you may consider homeschooling your child.
Is your property tax bill through the roof? Discover ways to lower your property taxes with DoNotPay.
When you're strapped for cash, you can enter sweepstakes, get gift card cash back, or sign up for clinical trials in your area.
What Else Can You Expect From DoNotPay?
DoNotPay is a versatile app, helping users handle tasks and issues while saving time and money.
With our help, you can prepare for various government tests, contact embassies and consulates, appeal banned accounts, and send online faxes within minutes.
Count on DoNotPay when you need to mail letters, apply for tourist visas, or file anonymous HR complaints.
Fighting workplace discrimination and dealing with annoying neighbors will also be much easier with the world's first robot lawyer by your side.