Learn How To Convert Scanned PDF to Word in No Time
Scanned PDFs are made up of scanned images which means it is impossible to edit or search across the text. If you want to make some changes to the document, or find certain info quickly, without reading the whole file, converting a scanned PDF to Word is your best option. These days, most people rely on word files to work on their texts and documents because they are easy to edit. If you are one of them but can't figure out how to convert a scanned PDF to Word, rely on DoNotPay—we will show you how to do it in a few clicks. To get access to our nifty File Converter, all you need to do is sign up for our service.
How To Convert Scanned PDF to Word Online
The easiest way to convert a scanned PDF to Word is to use one of the file converters available online. They are quick and easy to use because you won't need to install additional software on your computer. The conversion process is pretty much the same for all online file converters. What you'll need to do is:
Upload the file you want to convert
Select the output format
Click a button to start the conversion
Download the file
Keep in mind that some converters will require you to sign up or provide your email address. Some online OCR PDF to Word converters you may consider trying are shown in the table below:
| Converters | Description |
| --- | --- |
| Smallpdf | Smallpdf is a website that allows you to convert PDF to a number of other file formats, including Word's DOCX |
| Scanned PDF To Word | Scanned PDF To Word is a website dedicated to converting PDFs to text documents |
| Soda PDF | Soda PDF is a free service that allows you to convert any PDF document to a different file format, such as Excel, Word, PowerPoint, or HTML |
What Are the Disadvantages of Using an Online OCR PDF to Word Converter?
There are many online OCR PDF to Word converters out there, but is it really a good idea to use them? Online services are convenient because you don't have to install any software, but the issue is that you'll probably end up with a poor-quality file with formatting issues. Also, if the scanned PDF is complex or uses an unusually large font size or typeface, the conversion might not work at all.
Sometimes, it makes a lot more sense to use a downloadable application to convert your scanned PDFs. It will give you much more control over the conversion process. For example, you will be able to set the font and even manually select individual letters if necessary. The quality is also much better than what you would get with an online service.
If you still prefer using an online service though, make sure that it supports automatic conversion and can handle scanned documents that are somewhat complex (for example, containing lots of pictures or charts).
Another disadvantage that needs to be mentioned is the risk of malware. Some online OCR PDF to Word converters are hosted on shady websites that may try to steal your data.
Use DoNotPay To Convert Scanned PDF to Word Quickly and Safely!
By opting for DoNotPay, you can rest assured that your files will be converted in only a couple of seconds. The conversion process is 100% safe and the output is of high quality. To protect your privacy, we will delete your files from our servers 24 hours after the conversion.
Keep in mind that our File Converter is browser-based, which means it works both on Mac and Windows.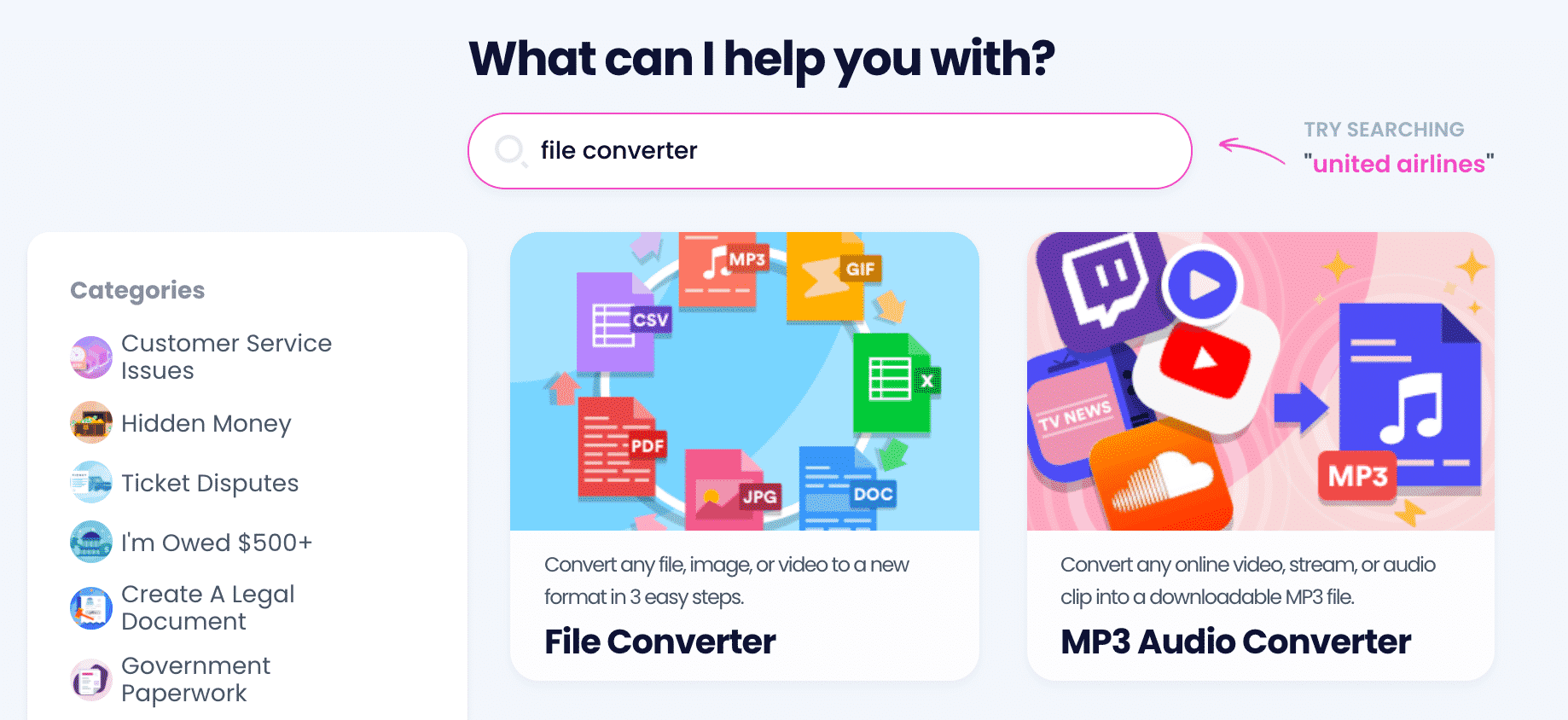 To get started, simply download log in to your DoNotPay account, and complete the following steps:
Open the File Converter product
Upload the scanned PDF
Select Word as the format you want to convert it to
After you've completed all the steps, proceed to the My Disputes page to download your new Word file.
What Other Files Can DoNotPay Convert?
PDF and Word are only file formats you can convert with DoNotPay. Using our award-winning app, you can convert 100+ files, some of which are listed in the table below:
Hundreds of Useful Features at Your Fingertips
What makes DoNotPay stand out from regular file conversion tools is the array of other features you get access to once you start using our app.
On top of converting hundreds of file types, you can also use DoNotPay to:
Compress your files

so they don't take up too much space
Download videos from social media and the web

Convert all manner of online videos to MP3 files

with a click
DoNotPay isn't just a converter—it's an app designed to make your life easier by automating tedious and complicated tasks. You'll find hundreds of different products inside our award-winning app that will help you save time and money!
Create Legal Documents, Cancel Subscriptions, Appeal Parking Tickets—All With One App!
There's no shortage of tasks DoNotPay can assist you with. For example, the world's first robot lawyer can help you with all manner of legal processes, including:
You can also have DoNotPay handle tedious, time-consuming tasks, like filing complaints, requesting refunds and chargebacks, canceling subscriptions, contesting parking and seatbelt tickets, and fighting email spam for you.
DoNotPay can also save you hundreds of dollars each month by helping you reduce property taxes, lower your bills, and find unclaimed money in your name.