How To Convert Publisher to PDF With Minimum Effort
Publisher (PUB) is a file created by Microsoft Publisher. It's used for different types of publications, like newsletters, flyers, brochures, postcards, etc. You can open Publisher files only with Microsoft Publisher, so if you want to share them with someone who may not have this program installed on their computer, then converting your PUB files to PDF is the best option.
PDF is a file type that has become popular for storing formatted documents like books, brochures, manuals, magazines, and even newspapers. Unlike PUB files, PDFs can be printed or read on devices like mobile phones and tablets.
Using DoNotPay, you can convert Publisher to PDF with no effort. Our File Converter product is browser-based, so you can convert any file regardless of which system you're using. To get access to it, sign up for our service!
How To Convert PUB to PDF
There are two ways to convert your PUB files to PDF files:
By using a downloadable file converter
By using an online file converter
Using a Downloadable File Converter To Convert Publisher to PDF
Downloadable file converters offer more features, such as batch conversion and the ability to edit converted files. However, they require some technical knowledge. If you're not familiar with file conversion, you may find using a downloadable file converter too difficult.
If you do not have a lot of time on your hands to learn how to use a certain file conversion program or don't want to install third-party software on your computer, opt for an online file converter.
Using an Online File Converter To Convert Publisher to PDF
Online file converters are the best option if you are in a hurry to convert your files and you have an internet connection available at all times. Here are some popular Publisher to PDF converters:
Publishertopdf
Pub2pdf
Zamzar
AnyConv
The Downsides of Using an Online PUB to PDF Converter
Even though online converters are convenient, using them comes with several downsides.
Many free online PUB to PDF converters don't allow you to modify the layout of your documents, including font size and color. This means that you will have to make these changes manually every time you convert a file.
You will not be able to convert multiple files at once as most online converters don't have the option of batch conversion. Also, don't expect the converted files to be of great quality.
One of the major issues with using an online file converter is the risk of malware and viruses. If you download an infected file, you may get your data stolen. Even if you don't download malware, your privacy could still be at risk—some file conversion websites sell their users' data to third parties.
Before choosing a certain file converter, make sure you read its Terms and Conditions and Privacy Policy to avoid any of the issues mentioned above. You should also read previous users' reviews.
Use DoNotPay To Convert Publisher to PDF Quickly and Safely!
With DoNotPay, converting PUB to PDF is a piece of cake! All you need to do is log in to your DoNotPay account and follow the instructions below:
Open the File Converter product
Upload your PUB file
Choose PDF as the file you want to convert it to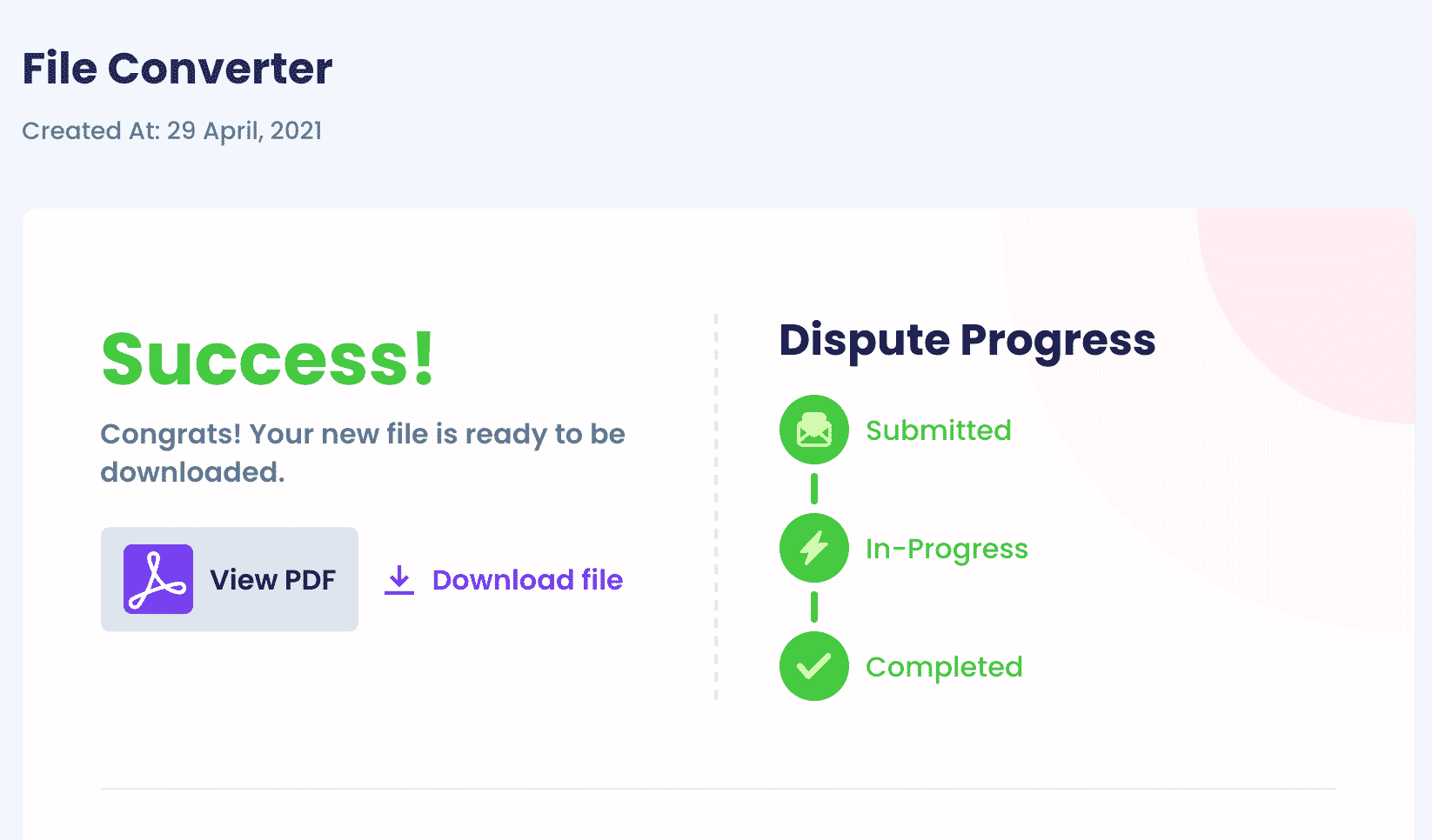 Your file will be ready in a few seconds, and you'll be able to download it from the My Disputes page.
Besides producing great-quality files in a short amount of time, one of our priorities is to protect your privacy. This is why we'll delete all your files from our database 24 hours after the conversion. Keep in mind that there is no limit to the number of files you can convert using our award-winning app.
What Other Files Can DoNotPay Convert?
By signing up for DoNotPay, you'll be able to convert 100+ file formats. Consult the table below to find out what these are:
Much More Than a Simple File Converter
When you're converting files, keep in mind you'll need hard disk space for both the original and the converted file. While the HDD space individual files take up is barely noticeable, if you're planning on converting multiple files, it can quickly add up.
Luckily, DoNotPay also lets you compress files to make them easier to store. You can also use our award-winning app to convert online videos to MP3s, as well as download videos from social media and the web and save them on your device.
DoNotPay Offers Unmatched Functionality
DoNotPay offers a lot more functionality than a regular file converter. On top of these file management features, you'll find hundreds of different products within the app that can facilitate, streamline, or automate a wide variety of tasks, saving you time, money, and nerves!
Here are just some of the areas in which you'll find DoNotPay's assistance invaluable:
| Legal | Time-Saving | Money-Saving |
| --- | --- | --- |
| | | |
The possibilities truly are endless with DoNotPay!