Convert PSD to Vector Without Breaking a Sweat
PSD (short for Photoshop Document) is an image format that allows several layers of graphics to be combined into a single file. PSD files are used to design two-dimensional images, while vector files are abstract shapes that can be scaled infinitely.
Converting a PSD file to vector will result in cleaner and smoother images. Since vector images can be resized without losing quality, this is practical for designers who need to work with multiple images of different sizes.
This article will take you through the process of converting your PSD file into vector without breaking a sweat. Make sure you sign up for our service if you're looking for a quick, safe, and reliable way to convert PSD to vector!
How To Convert a Photoshop File to Vector
There are numerous tools that can convert PSD files into vector files—you can choose between:
Third-party software that must be installed on your computer
Online converters
Online converters are faster but offer limited options. Offline converters like Adobe Illustrator CS3 come with more features but they are a bit more difficult to learn.
Downloading a PSD to vector converter doesn't make much sense if you don't plan on using it regularly. Instead, you could use one of the online file converters listed in the table below:
| Online PSD to Vector Converters | Description |
| --- | --- |
| Convertio | Convertio is a free online file converter that supports all the major formats like PDF, JPG, TXT, SVG, PNG, PSD, etc. |
| AConvert | AConvert can convert between over 20 different file formats, including PSD, SVG, PNG, JPG, PDF, and more |
| FreeConvert | FreeConvert supports a wide range of conversion options including audio, video, images, graphics, and text files |
What Are the Downsides of Using an Online PSD to Vector Converter?
While online converters can help you get the job done, you should be aware of all the potential drawbacks of these tools when weighing your options.
There are several downsides of using online PSD to vector converters:
Most of them can't convert multiple files at the same time—you will have to re-upload a file each time you want to convert a new one
They usually have limited features and commands which can affect the final result of your conversion—they can be problematic for designers who want to work with high-quality images
Some of them may not be able to convert complex layered PSD files—converting such files will cause errors, which will destroy all aspects of your design
The biggest issue with using online converters is definitely the risk of downloading viruses or malware from the sketchy sites these converters are hosted on.
How To Make Sure an Online PSD to Vector Converter Is Safe
The internet is full of online PSD to vector converters, so it can be rather difficult finding out which ones are safe and which ones you should stay away from.
Here are some steps you should take to ensure a converter you plan to use is safe:
Check user reviews—If the reviews aren't positive, or you can't find any, you should avoid using the converter
Check if the company has a privacy policy—If a company has a privacy policy they should have one listed on their website so you can check what information they collect from their clients and what they plan to do with it. If a company does not have a privacy policy, they likely collect or store your information
Check the website's connection type—Legitimate sites use SSL encryption, so their URLs will start with https instead of just http. While this isn't a surefire guarantee of safety, a website that doesn't care about SSL encryption is definitely one you should steer clear of
Whether an online converter is safe or not also depends on where it's hosted. For example, if the file converter is hosted overseas in a country with no laws protecting intellectual property rights, your original files may be at risk.
On the other hand, if the file converter is hosted in a country with strong intellectual property laws and it's protected by that country's government, then it should pose little or no risk to you.
It is best to use a converter that has been on the market for several years and is trusted by other users.
Convert Your Files With DoNotPay—The Most Reliable File Converter
Using our File Converter product, you won't have to worry about the safety of your data. To protect your privacy and ensure security, we will delete all your files after 24 hours.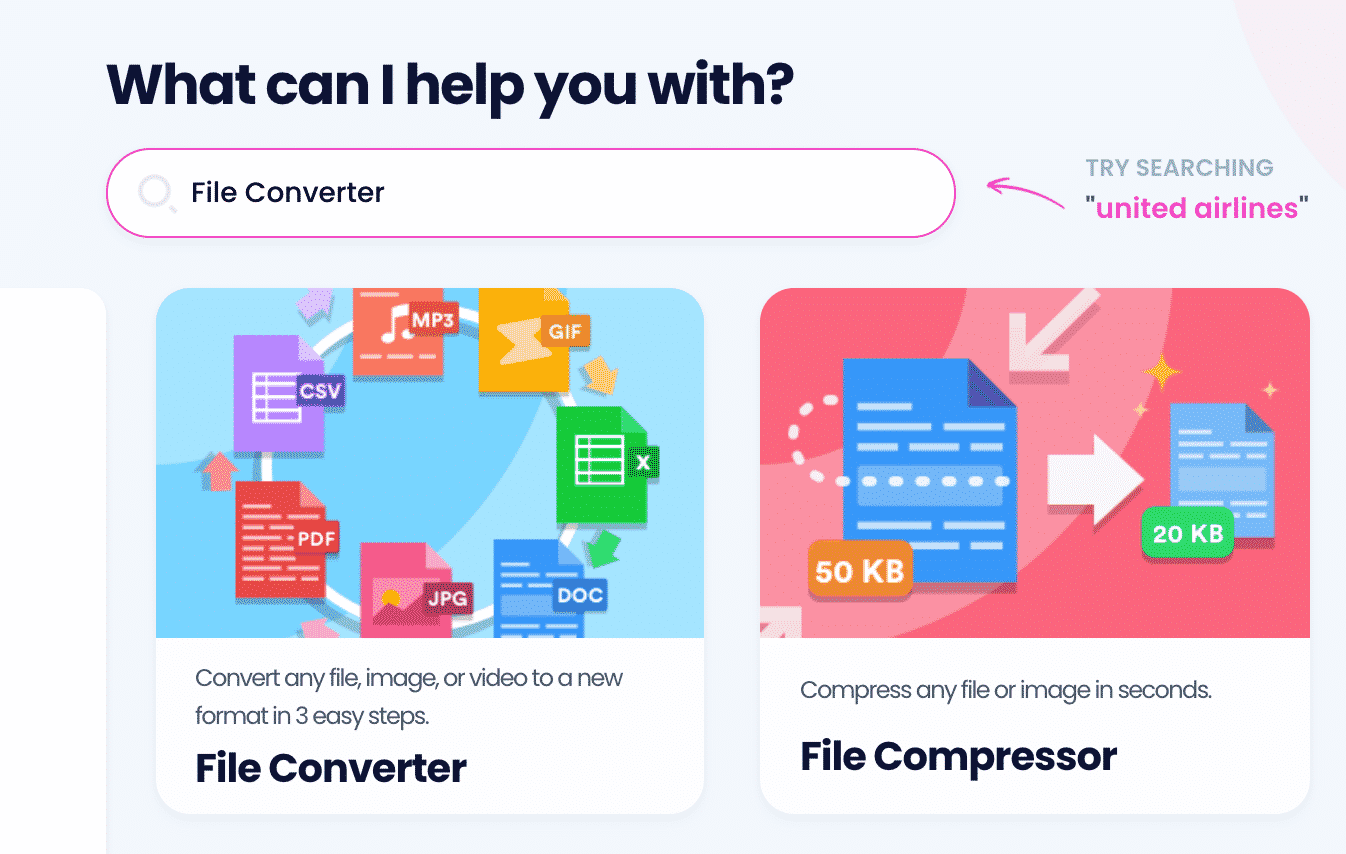 The conversion process is straightforward and quick. To initiate it, you'll need to log in to your DoNotPay account and take the following steps:
Access the File Converter feature
Upload your PSD file
Choose vector as the format you want to convert it to
Download your vector file from the My Disputes page
What Other Files Can DoNotPay Convert?
Other than PSD or vector, our file converter can convert files listed in the table below, and more:
Fast-Track Different Tasks With DoNotPay
Are you trying to get a refund from a company and can't reach its customer service? Was your flight canceled or delayed, and you want to get compensated? Is hiring a lawyer out of the question because they're too expensive, but you have to draft some legal documents? Once you register for DoNotPay, we'll be able to help you with all of the above and more!
Rely on our app to finally put an end to text spam, annoying robocalls, and spam emails.
Do you need help canceling your forgotten subscriptions? We'll help you detect all your active memberships or subscriptions and get rid of the ones you no longer want.
In case you're studying for your driving test, you can use our Government Tests Prep product and ace this and many other exams. We can also schedule an appointment with the DMV on your behalf.
If you have to claim your car or any other insurance or warranty, rely on DoNotPay. Use our app to also contest parking tickets in a jiffy!
Protecting Your Privacy Is Easy Using Our App!
While staying anonymous online can be difficult, we can turn it into a breeze. Get a temporary number when you sign up for various platforms. Do you want to keep other personal info to yourself? Use our virtual credit card and avoid hidden charges for free trials.
We'll also help you stay safe from stalkers and harassers, sex offenders, defamation, and workplace discrimination.