Easy Ways To Convert PSD to JPG Quickly
A JPG file is a simple format for storing images created by the Joint Photographic Experts Group. PSD, on the other hand, is created using Adobe Photoshop software. It's a popular and powerful image format that is primarily used by designers and professional photo editors.
If you're looking to transfer your PSD files to a more common format like JPG, you don't have to struggle to find an appropriate way to do it on your own! We'll lay out a simple step-by-step guide on how to convert PSD to JPG with ease.
DoNotPay can help you convert your PSD files to JPGs or Vectors in seconds, and you won't even have to worry about the safety of your files! Unlike free online converters, our app provides you with a 100% secure and simple way to convert your files at any time so sign up now!
How To Convert PSD to JPG
You can choose to convert your PSD files using different online converters, but you should be careful with the converter you pick. Not all of them are safe to use, so make sure to find as much info as possible before you decide to go with this method.
Some of the commonly used PSD to JPG converters are:
Zamzar
Convertio
CloudConvert
Zamzar
Zamzar is a website that allows you to convert a variety of different files, including PSD and JPG. It supports more than 80 file types, including images, audio, video, archives, and office documents.
Convertio
Convertio is a web-based tool that lets you convert your files to some of the most popular formats. You can convert to JPG, PDF, TXT, DOCX, HTML, and other formats, and it doesn't require installing an additional program on your computer.
CloudConvert
CloudConvert is a conversion platform that enables you to convert, upload, and share files of any format for free. The platform is compatible with several major desktop and mobile operating systems, including Microsoft Windows, Mac OS X, iOS, and Android.
The Major Disadvantages of Free Online PSD to JPG Converters
Although free PSD to JPG converters can be convenient, there are also many disadvantages that come with using them.
Firstly, because there is no human checking the quality of the output image, it is likely that it will be below your expectations. One of the most common disadvantages of free PSD converters is that you often end up with a low-quality file.
Additionally, you can never be sure of how much information and data will be lost or damaged during the conversion.
The biggest disadvantage, though, is the fact that these online converters don't provide enough protection. That means that your data can be compromised and shared with unauthorized parties, as well as that your computer can get infected with viruses.
How To Make Sure a PSD to JPG Converter You Choose Is Trustworthy
Finding the best website for converting files is not as easy as you may think. There are many companies that take advantage of people who don't know any better. That's why we offer you some tips on how to find a good and reliable online converter. Here's what you should pay attention to:
Terms and conditions—Look at what the company asks for and what info or personal details you may need to provide so that you get an idea of the potential risks before you sign up for the service
Privacy—Make sure you know what the company will do with your information, who will have access to it, and whether there is anything that the company will share with other parties
File quality—See what users think about the company's service and what they say about their experience. If you don't see positive reviews about the platform, don't use its services
You Can Convert PSD to JPG With DoNotPay Without Breaking a Sweat!
You don't have to use an online converter and risk your sensitive info getting leaked if you don't want to! We have a perfect alternative in store for you—DoNotPay. Our app's File Converter product can help you convert any number of files in a jiffy and without risking the safety of your sensitive data! We remove all of your info from our database 24 hours after the conversion, so you won't have to stress about a thing! All you need to do is sign up and follow the next steps to start converting your files like a pro:
Open the File Converter product
Upload your PSD file
Choose to convert it to JPG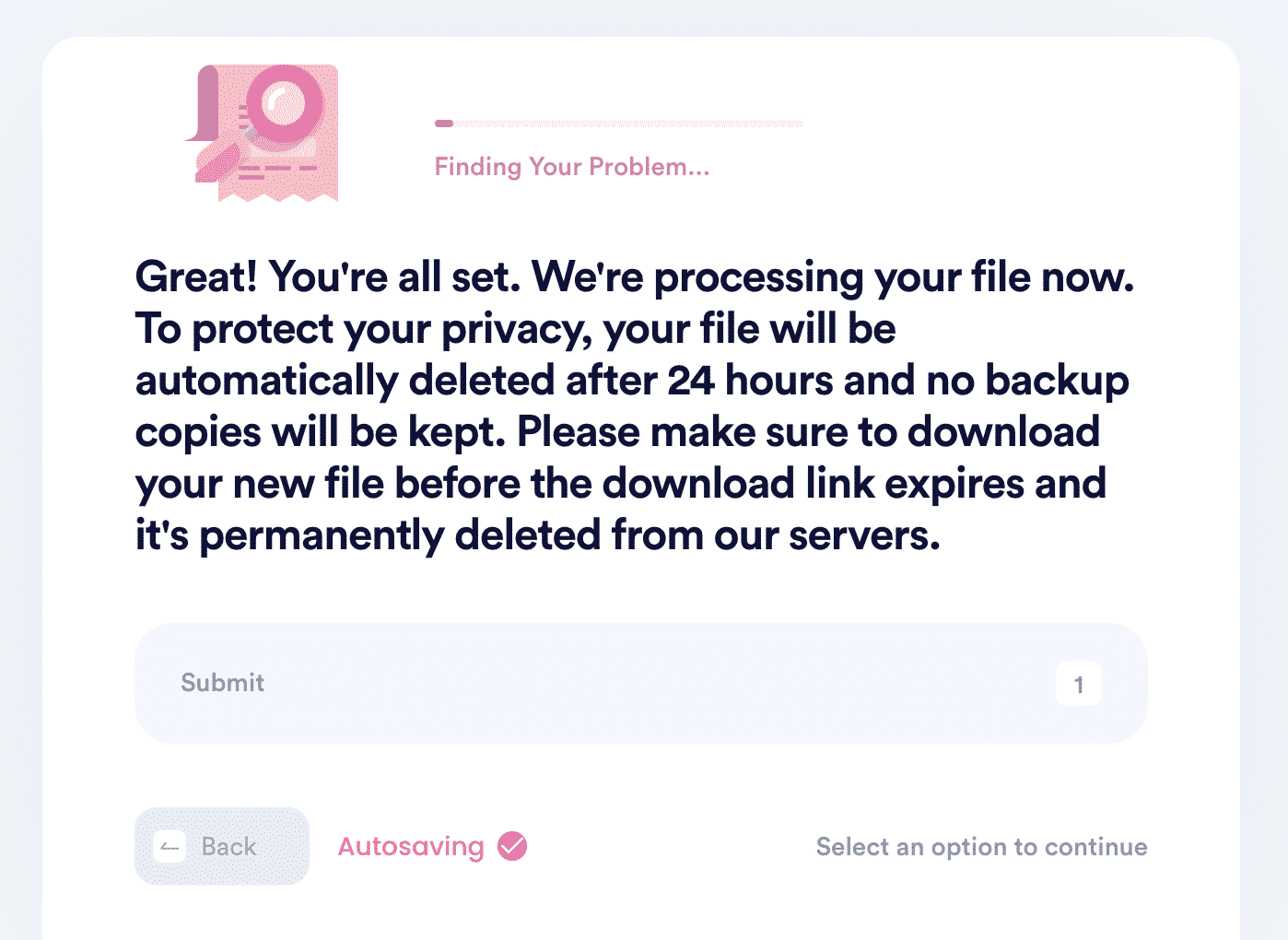 Once DoNotPay converts your file, you can go to the My Disputes page to download it instantly.
What Other Files Can DoNotPay Convert?
Want to convert more than your PSD files? We got you covered! Look at the table below to see what other file types DoNotPay can help you convert easy-peasy:
Solve Many Annoying Issues Using Our App
Nobody likes dealing with bureaucracy. This is where our app comes in! We can help you complete the following tasks:
As soon as you sign up for DoNotPay, you will be able to handle all these chores and many more with ease.
What Else Can You Use DoNotPay For?
Aside from streamlining numerous tasks for you, our app can be of more assistance. You can rely on DoNotPay when you need to:
With our help, you can also connect with a loved one in jail, send online faxes, or create passport photos in the blink of an eye. Explore our learning center, and you'll see that there's not much DoNotPay can't do!