Find Out How To Convert PPT to PDF Effortlessly!
Many users do not know how to turn PowerPoint presentations into PDF files. When you use PowerPoint for work, you may need to convert the file to avoid using it on your PC and send it as an attachment instead. There are multiple options for those who want to convert their PPT files into PDFs. This article will help you decide which option is best for your needs.
The PowerPoint presentation you spent hours creating can now be saved as a PDF (or PPTX) file. Saving your PowerPoint presentation as PDF is the best way to make sure your slideshow looks great no matter which device, platform, or operating system it's viewed on. You can also protect it to help prevent viewers from making changes to the slides.
The good news is that you don't have to bother finding ways to convert PPT to PDF—we'll do it for you! Once you sign up for DoNotPay, we'll convert any file type you need in a matter of seconds!
How To Convert PowerPoint to PDF
There are tons of free online converters that will help you convert your PowerPoint presentations to PDF. Here's a list of a couple of sites you can use for this process:
Ppt2Pdf—this converter requires no registration, so it's perfect for those who are looking for something quick and free to help convert PowerPoint presentations to PDF files. The interface is pretty straightforward, but the results can often be unsatisfactory, and the converted files can turn out to be low quality
Smallpdf—it works to convert both PPT files and PDF ones. The conversion does take a little while, so don't expect to have your files ready in a jiffy
Although both of these converters work and will convert your PPT to PDF, you should keep in mind that such websites aren't always the safest choice. They can be risky and unreliable, and you can face a number of issues when using them.
The Common Problems With the Free PPT to PDF Converters
You can find numerous converters on the web, but, unfortunately, most of them will cause certain issues when it comes to converting PowerPoint presentations.
Here is an overview of the most common problems you may encounter when using these tools:
Limitations—Many free online PowerPoint to PDF converters offer a range of conversion options that are sometimes more limited than you would expect from a commercial desktop program. If they do not provide all the features you need, it can be frustrating to have to download another tool just to get the job done
Quality—The quality of conversions can be inconsistent. Some online tools make conversions quick and good looking, while others provide PDFs with distorted text, images, or layouts
Features—PowerPoint presentations often contain complex layouts with embedded images, animations, and videos. Many free online PDF converters either don't support these features or can't convert all of them
Use—Some free online tools are difficult to navigate. For example, they don't always give you an overview of all available options or show what settings are applied to the current conversion process
Security—Most of these free online converters offer no protection and may cause your computer to get infected with viruses or share your sensitive data with other parties
How To Find a Safe PPT to PDF Converter Online
You'll find many different programs online that will convert PowerPoint files to PDFs, but not all of them are safe. Here are some tips for finding a reliable converter that will save you time:
Use a trusted directory for your downloads
Get an antivirus program for your computer
Make sure the company offers free trials or money-back guarantees in case the program isn't what you need or is flawed
Check out the company's website
Look up the company's privacy policy and terms and conditions
Convert PPT to PDF With DoNotPay in a Few Clicks Safely!
Why bother figuring out what website to use and whether an online converter is safe or not when you can use our app without worrying about a thing? We'll convert any file you want in a few seconds and delete your data after 24 hours! That way, you won't have to worry about the safety of your info, and you can save time and effort by letting us do most of the work!
Follow these instructions to initiate the process:
Upload the PPT file that you want to convert
Choose PDF as the format you need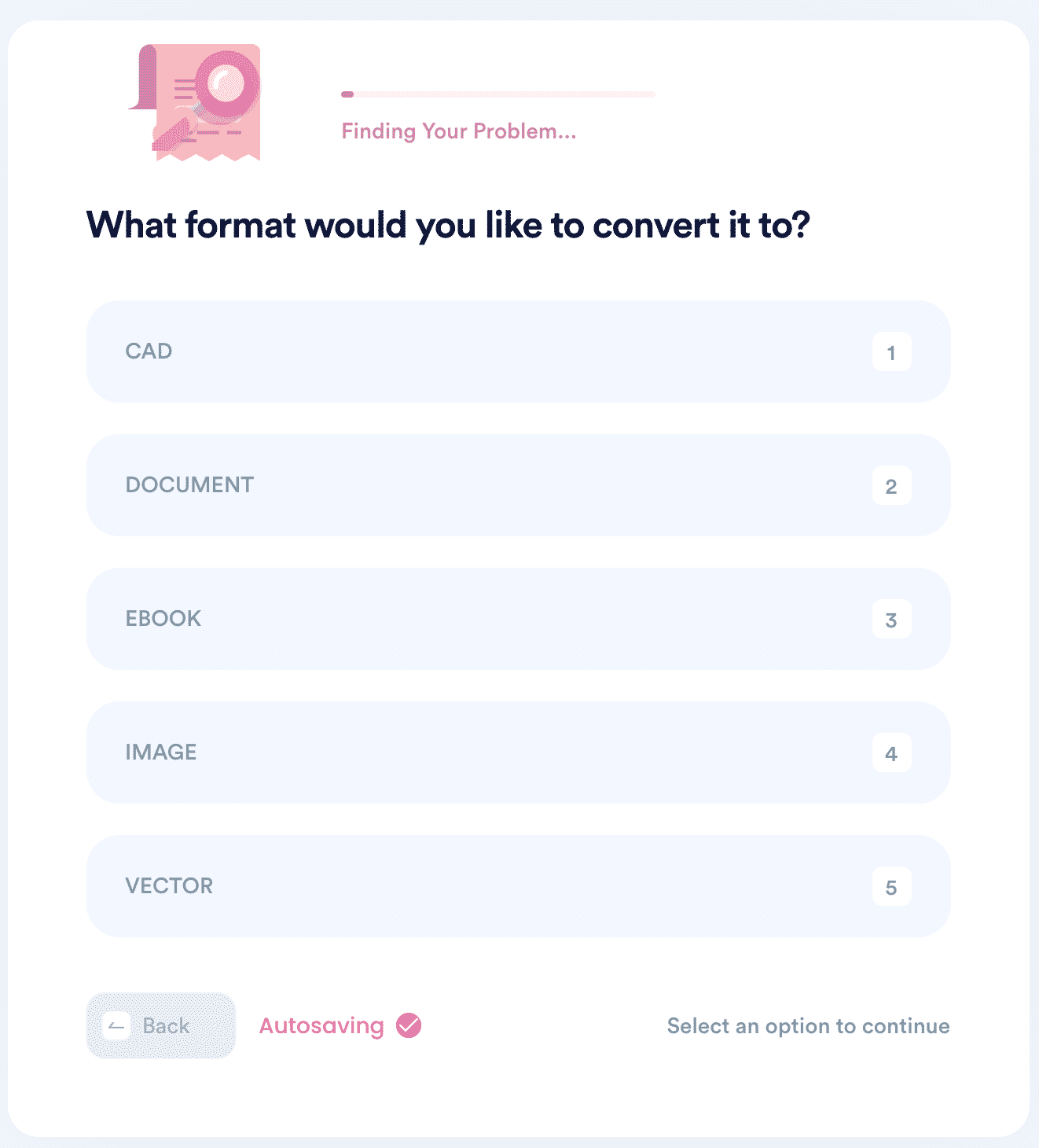 Once you're done, we'll convert your file and you'll be able to download it from the My Disputes page!
Check out how we can help you convert PPT to Word, video, and Google Slides and Google Slides to PPT!
What Other Files Can DoNotPay Convert?
Looking for a quick way to convert more than your PPT files? Look no further! With our app, you can convert a wide range of files. Check out the table below for more details:
DoNotPay Brings the Best Solution to Any Problem
If you want some help canceling subscriptions, requesting refunds, or signing up for free trials without being charged, our app is exactly what you need.
No task is too demanding for DoNotPay, and our product offer keeps on growing. With us, you can lower your property taxes, enter giveaways and sweepstakes, file insurance and warranty claims, and report copyright infringement. In case you also need to apply for scholarships, draft power of attorney documents, or appeal banned accounts, we'll come to the rescue.
In a few clicks, you'll get the assistance that you've been looking for!
Our App Helps You Protect Your Privacy
Keeping your privacy intact is no easy feat since more and more services request your email address, phone number, and other personal details. If you sign up for DoNotPay, that requirement will become a thing of the past!
With our Virtual Credit Card product, you'll get a randomly generated name, email address, and payment details and stay unknown. If a platform asks you to submit your phone number, you can select our Burner Phone feature and get a temporary number.
DoNotPay can also put a stop to spam emails, text messages, and bothersome robocalls. We can even help you conduct a sex offender search for your area, file anonymous HR complaints, generate child travel consent forms, and send demand letters to your noisy neighbors.