Learn How To Convert PNG to PDF Effortlessly!
The PNG file format is often used for storing graphics, artwork, and other images. It's one of the most popular file types because it saves all the information in an image, including transparency, without any loss of quality. The reasons behind converting PNG files to PDFs are various. If you are printing out a document or image for personal use, there may be no need for this process. If, however, you anticipate using the document for proofreading purposes or if others will need to view it, then converting the file is a good idea.
Many people wonder how to convert PNG to PDF and what the easiest way to do so is, so we're here to provide you with a step-by-step guide on how to do just that.
This article will cover the basics of PNG-to-PDF file conversions and show you how to save time and effort by letting DoNotPay cut your work in half. Once you sign up for our app, you will also learn how to convert your PNG to JPG (including converting it on Mac), GIF, ICO, Vector, and other file types.
How To Convert PNG to PDF
PNG files can be exported to PDF, but it does take some extra effort depending on the software you are using. Consult the table below to see some of the programs you can use to convert your PNG file to PDF:
| Converter | Description |
| --- | --- |
| SumatraPDF | SumatraPDF is a free open source program that supports both Windows and Linux platforms. It has an intuitive interface with various features, including one-click saving, built-in file viewer, zoom options, and text search |
| SodaPDF | SodaPDF lets you view, create, convert, edit, secure, and share PDF files |
Free Online PNG to PDF Converters—Common Issues
Although these converters may seem like an effective way to save time and money, they aren't always secure. You should always be cautious when using these converters because some may not be reliable. Here are some of the common issues you can encounter when using free online PNG to PDF converters:
They do not produce high-quality files. This is because the tools used to convert images and texts may be unable to do so without separating text from any fonts and background colors
Many of these converters are not secure because they can be used by criminals to commit identity theft or for other unlawful reasons
The security of these converters is often not guaranteed since they frequently use outdated software and can affect your computer negatively
Tips for Choosing a Safe PNG to PDF Converter Online
There are so many sites out there that it can be quite confusing figuring out which one is the best for you. We'll provide you with some useful tips on how to make sure the website you choose is safe.
You can ask your friends if they have used a particular online converter before. If they have, ask what their experience was like with it. If you do not know anyone who has used a particular website, you can generally find reviews of the site on the internet. If a website has been around for quite a while, it is generally considered to be safe. It is important to note, however, that this does not always mean that the site is completely safe to use. You should see what other people have said about the website before deciding whether it is trustworthy or not.
It is generally a good idea to avoid online converters that require you to install extra programs. The website you want to use may be a scam, and it could actually be malware.
How To Convert a PNG File to PDF Safely With DoNotPay
Forget about struggling to convert your files ever again! Not only can you save time and effort by letting DoNotPay convert your PNG file to PDF in your stead, but you can also rest assured the process is 100% secure and can be done regardless of which system you're using (Windows, Mac, or Linux).
The best part is that we don't store your files! We remove them from our app after 24 hours, so you don't have to worry about anything! All you have to do is complete our quick, three-step guide, and you're golden:
Upload the document you want to convert
Decide what format you want to convert it to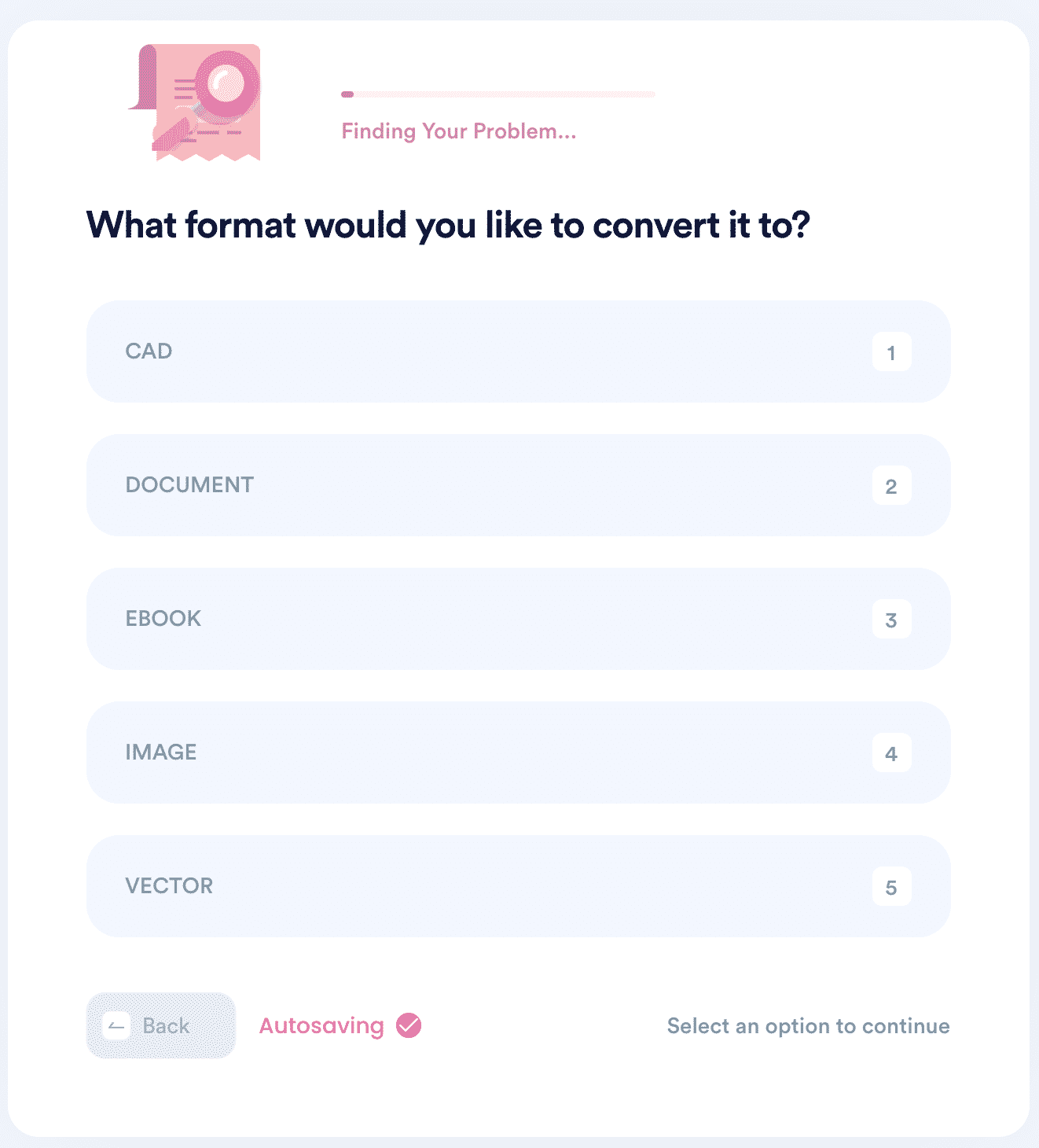 After we convert your file, you'll be able to download it from the My Disputes page!
What Other Files Can DoNotPay Convert?
If you think converting your PNG file is the only task we can complete for you, we're happy to tell you it's not! There are various other file types DoNotPay can help you convert besides PNG! Check out the table below for the specifics:
Solve Many Annoying Issues Using Our App
Nobody likes dealing with bureaucracy. This is where our app comes in! We can help you complete the following tasks:
As soon as you sign up for DoNotPay, you will be able to handle all these chores and many more with ease.
What Else Can You Use DoNotPay For?
Aside from streamlining numerous tasks for you, our app can be of more assistance. You can rely on DoNotPay when you need to:
With our help, you can also connect with a loved one in jail, send online faxes, or create passport photos in the blink of an eye. Explore our learning center, and you'll see that there's not much DoNotPay can't do!