Convert PDF to Word in a Few Clicks
PDF stands for a Portable Document Format, and the name says it all—this is a format that can be transferred from one computer to another or across the internet without losing any quality. Word is the most widely spread form of a text document, which has several variants, e.g., Word, OpenOffice, and LibreOffice. The ordinary Word document is also known as DOC or DOCX file.
The obvious advantage of converting a PDF to Word is that you can modify the content directly, which isn't feasible with a web-based PDF editor.
This article will explain how you can convert PDF to Word quickly and without any hassle. Don't risk the safety of your data by using a sketchy online converter. Instead, opt for DoNotPay!
How To Convert PDF to Word
There are two ways to convert PDF to Word. The first method is by using a program such as CutePDF Writer or AbiWord. These programs are free, but to use them, you must have some technical knowledge. If you're in a hurry to convert your files, this may not be the best option since you'll need to waste time downloading the program to your computer and installing it.
The second way is by using an online converter. This method is fast and easy because all you need to do is:
Upload the file you want to convert
Hit the Convert button
You can check out some commonly used online PDF to Word converters in the table below:
| Converters | Description |
| --- | --- |
| iLovePDF | iLovePDF is a file converter that offers a quick and simple way to convert different types of files. The conversion process is both hassle-free and secure |
| Smallpdf | Smallpdf is a free, online PDF converter that converts any document, image, or scanned page to an Adobe PDF file |
| Freepdfconvert | Freepdfconvert is a website that can convert your PDF files to other file formats and vice versa but is not limited just to converting PDFs |
| PDF2DOC | PDF2DOC is a website that can convert PDF files to Microsoft Word, Excel, and PowerPoint documents in a matter of seconds |
| Soda PDF | Using Soda PDF is an easy way to convert PDF documents to many different formats, like Word, HTML, EPUB, TXT, etc. |
What Are the Disadvantages of Using an Online PDF to Word Converter?
There are many disadvantages associated with online file conversion.
You will have to format your document from scratch. Since this is not an easy process, it will take more time to edit the text if you are not familiar with complex formatting. The second disadvantage is that the final product will not be clean, neat, or professional-looking. Lastly, you will have to be careful about the converter you choose because the chances that your computer will get infected with some sort of malware are high.
How To Make Sure a PDF to Word Doc Converter You Chose Is Safe
Although many online file converters are safe, it is still important that you check the reputation of any file converter you choose to use before initiating the conversion. The best way to check if an online PDF to Word converter is safe is by using one that is popular and reputable. Other steps you should consider taking are:
Double-checking the website's reputation by looking at reviews on the internet
Reading the website's Terms and Conditions and Privacy Policy to ensure it does not store your data after the conversion is finished
Checking whether the website is SSL encrypted
DoNotPay Can Convert Your PDF Files to Word in a Matter of Seconds!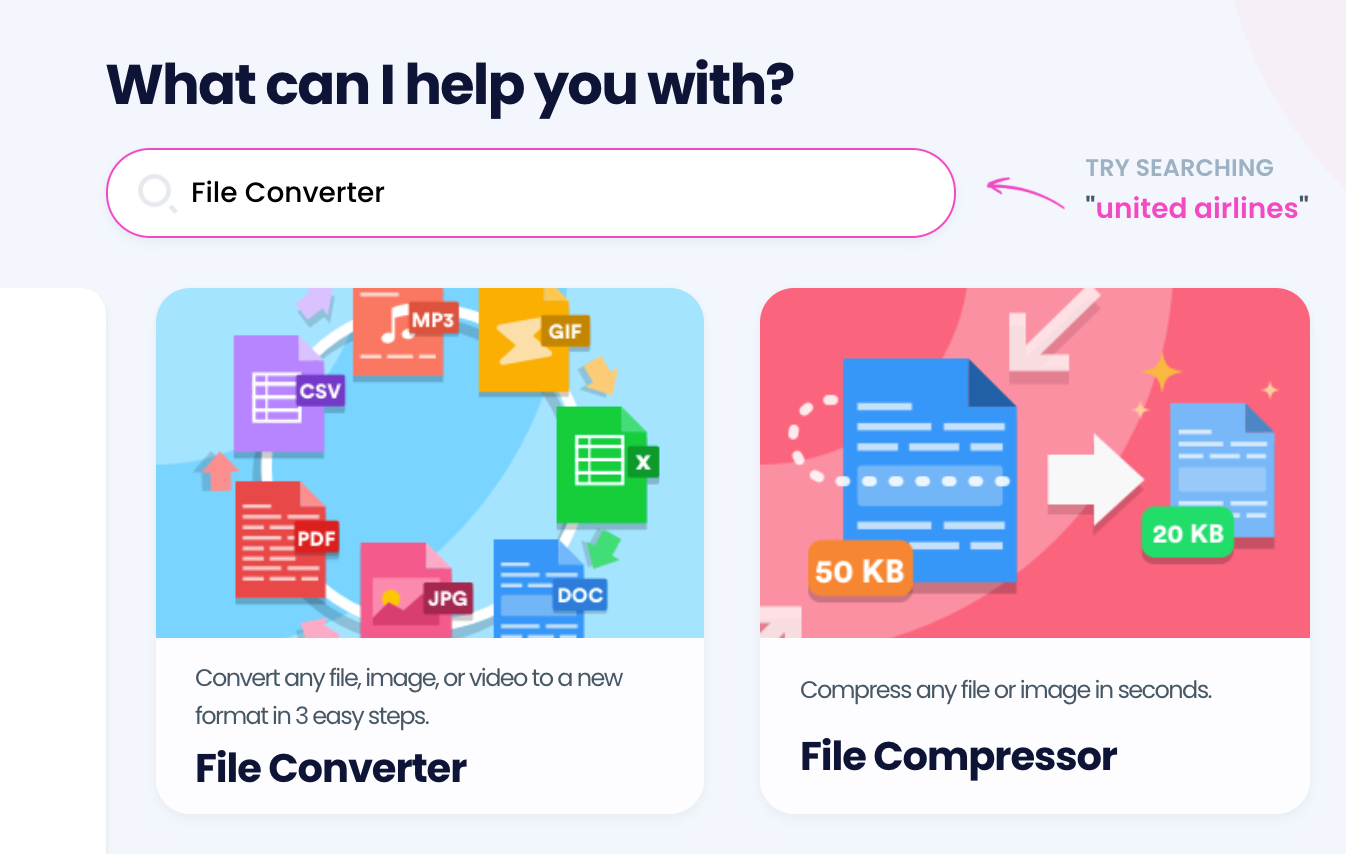 Finding a quick and reliable online file converter is a tedious and time-consuming task. Avoid all the hassle and opt for our File Converter product! You can convert an unlimited number of files quickly and safely with it.
Log in to your DoNotPay account to get started and take three simple steps:
Find the File Converter product
Upload your PDF file
Select Word as the format you want to convert it to
That looks like a piece of cake, doesn't it? All that's left for you to do is proceed to the My Disputes page and download your new Word file. Keep in mind that we will delete all your files 24 hours after the conversion to protect your privacy.
What Other Files Can You Convert Using DoNotPay?
Other than PDF and Word, our File Converter supports many other file formats. Not only can you use it for converting 100+ files, but you can also convert an unlimited number of them. DoNotPay is browser-based, so you don't have to worry about our app not being compatible with the system you're using.
Take a look at the table below to find out what other files you can convert with our award-winning app:
Hundreds of Useful Features at Your Fingertips
What makes DoNotPay stand out from regular file conversion tools is the array of other features you get access to once you start using our app.
On top of converting hundreds of file types, you can also use DoNotPay to:
Compress your files

so they don't take up too much space
Download videos from social media and the web

Convert all manner of online videos to MP3 files

with a click
DoNotPay isn't just a converter—it's an app designed to make your life easier by automating tedious and complicated tasks. You'll find hundreds of different products inside our award-winning app that will help you save time and money!
Create Legal Documents, Cancel Subscriptions, Appeal Parking Tickets—All With One App!
There's no shortage of tasks DoNotPay can assist you with. For example, the world's first robot lawyer can help you with all manner of legal processes, including:
You can also have DoNotPay handle tedious, time-consuming tasks, like filing complaints, requesting refunds and chargebacks, canceling subscriptions, contesting parking and seatbelt tickets, and fighting email spam for you.
DoNotPay can also save you hundreds of dollars each month by helping you reduce property taxes, lower your bills, and find unclaimed money in your name.