Need To Convert PDF to TIFF Instantly? We Got You!
PDF stands for Portable Document Format, and it's a file format that includes both text and images and allows people to create and distribute professional-looking documents across different types of computers and operating systems.
Although using the PDF file format is often convenient, you might at some point need to convert it to other file types or extract the images from it. One of the file types that people commonly convert PDF to, apart from JPG, PNG, and SVG, is TIFF.
TIFF is an image file format used by various applications to store color images with embedded tone data. Most people opt for TIFF because it preserves the quality of images.
When you have a PDF document, converting the images inside it into TIFF files is not always the simplest task. But with the help of our guide, you can convert PDF to TIFF in seconds! We'll walk you through the entire process and offer you some helpful tips on how to find a safe online converter. Additionally, we'll show you how to convert virtually any file through DoNotPay, so you don't have to waste time and energy on sketchy online converters.
How To Convert PDF to TIFF
There are countless online converters you can use to convert your PDF files to TIFF. You don't have to go through the trouble of trying to find one on your own!
Check out the table below to see a couple of the commonly used online converters:
| Converter | Description |
| --- | --- |
| Adobe | Adobe is an online converter that lets you open and convert PDFs into any file format for editing or printing. You can also add annotations and other text, such as fillable forms, using this software |
| SodaPDF | SodaPDF is an online service that lets you convert various types of files into other, including PDFs and TIFFs |
The Major Drawbacks of Using Free Online PDF to TIFF Converters
The number one problem with using the free options is the lack of information about what is actually happening with your data. When you use these converters, your understanding of what's going on during and after conversion to and from different formats might not always be clear, which means that any changes to your files could happen without you knowing anything about them.
There's also no guarantee that the quality of the images will be good, as different programs may have different settings or produce results of varying quality.
Some people have claimed that their files converted by some of these services ended up being corrupted. They were not able to open the files on their computer or the files were otherwise damaged.
The risk of getting your computer infected with viruses is also present, as well as your data being shared with third parties. To help you avoid encountering these risks, we'll offer you some tips on finding a secure and reliable online converter.
Tips on Finding a Safe PDF to TIFF Online Converter
There are a few different ways that you can find the best converter for your needs. First, it is important that you understand what features and characteristics your converter should have before searching for one. In order to find these, you can go through online reviews of different file converters in order to see which ones have the features and characteristics you need. You can also look at the features and the price tags of the most popular converters online.
The following are important things to look for when choosing a converter:
Security—This should be your number one priority. Check if the software allows you to change your file names, file size, or other aspects before converting and downloading your file. A good online converter should also have a secure server that allows you to download your files in an encrypted form
Quality—The quality of the output should be high. Find as much info about the quality that the online converter offers on its website. If you can't find such info, it's best not to use the converter and proceed to look for a different one that provides more details
Privacy—It's also important to visit the website and find the company's privacy policy. The policy should provide you with all the details about how your documents and sensitive data will be protected
DoNotPay Safely Converts PDF to TIFF in a Jiffy!
You can forget about spending hours looking for the best way to convert your PDF files to TIFF! Once you start using DoNotPay, you'll be able to convert any number of files to a variety of different formats—all without breaking a sweat and in no time! Sign up for our app, and complete the following steps to get started:
Open the File Converter product
Upload your PDF file
Select TIFF as the file type you want to convert it to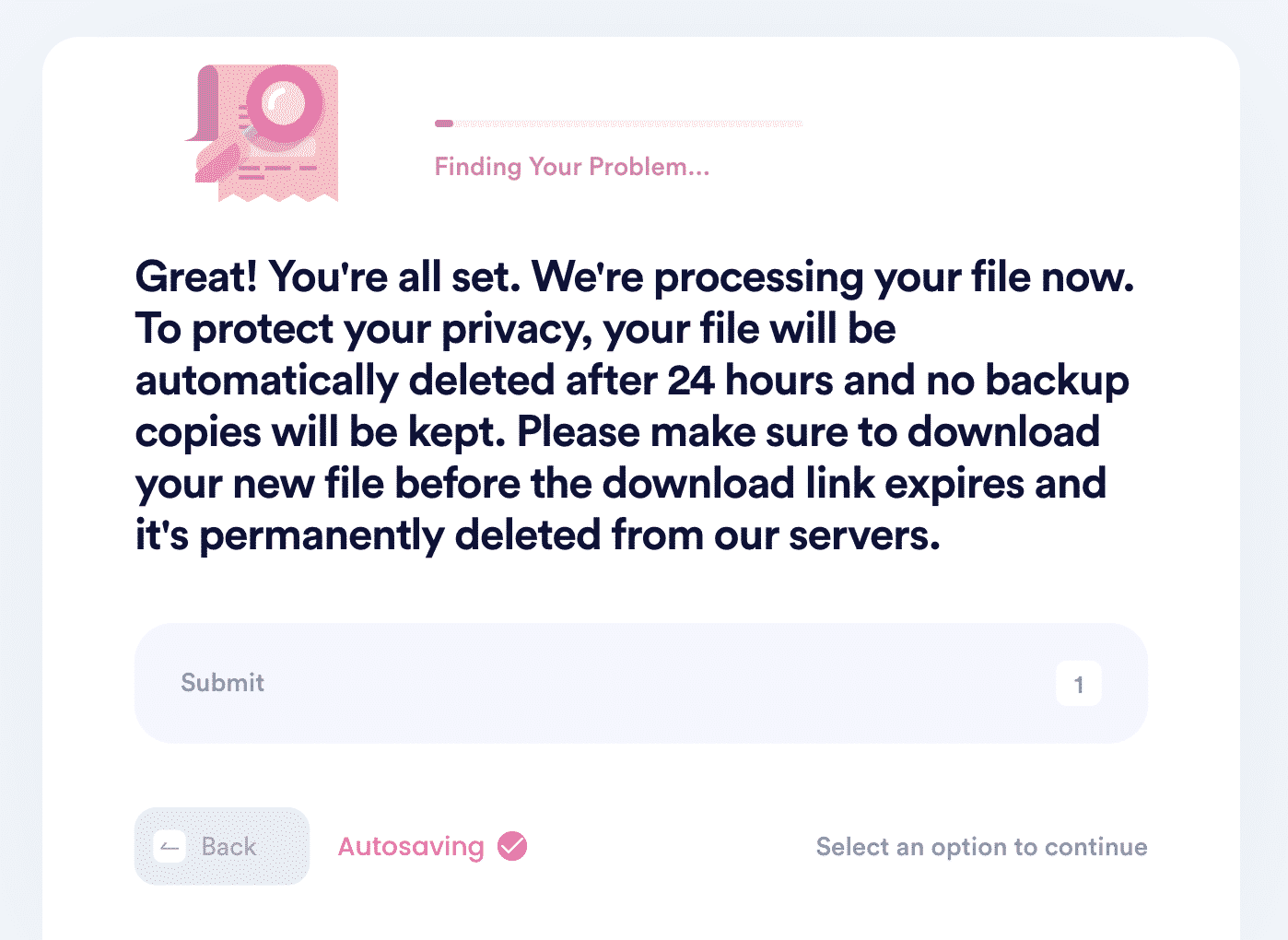 DoNotPay will convert your files promptly, and you'll be able to download them from the My Disputes page right away.
What Other Files Can DoNotPay Convert?
Need to convert more files? No problem! With our app, you can easily convert any of the file types mentioned below:
Save Money With the Help of DoNotPay
Are you tired of losing money on useless memberships and forgotten subscriptions? Our app can help you cancel subscriptions or memberships in a snap. Have some questions for the customer service? Use DoNotPay to jump the phone queue.
If you want to sign up for a free trial but don't want to risk being charged, get our virtual credit card. Thanks to this card, you'll enjoy any free trial stress-free. It will also save you from receiving spam emails.
In case you're also struggling to claim a warranty or insurance, we can assist you with this too. Rely on DoNotPay to solve any issue regarding purchased products—whether you need to return an item, file a chargeback request, or get a late delivery refund.
If you're dealing with a serious problem, don't bother wasting your money on lawyers—our AI-powered app can help you file a complaint, appeal a banned account, sue anyone in small claims court, and draw up various legal documents!
DoNotPay Also Helps You Earn Money
Our app is an expert at saving money, but we can also assist you in earning some. You can use DoNotPay to find unclaimed funds under your name, sign up for paid clinical trials, and get victims' compensation. If you want to redeem your gift cards for cash, enter numerous sweepstakes, and get compensated for a delayed flight, count on our help!