Convert PDF to Text the Easy Way
A PDF file is a universally recognized standard for publishing documents. It is a great format for storing and sharing information, and can serve a variety of purposes.
A text file can be any type of computer file that contains only plain-text characters, such as ASCII or Unicode that can be read by any word processing software. TXT files typically have little to no formatting, and are primarily used to for written instructions, manuscripts, and note-taking.
The main reason why people convert PDF to text is that text files are easier to edit or copy. They are also easier to search, allowing you to find whatever words you are looking for in your document much quicker.
Using DoNotPay's File Converter, you can convert PDF, text, and a variety of different file types in seconds. All you need to do is sign up for our service!
How To Convert PDF to TXT
There are several methods you can use to convert PDF to TXT. Choose the one that's most convenient for you:
Adobe Reader software
Other third-party PDF conversion tools, such as Nitro Pro, Soda PDF, and Wondershare PDFelement
Online file converters:

PDF2Go—a free file converter that converts PDFs online to popular formats such as Word, Excel, PowerPoint, and more in a few clicks
PDF to Text—a free utility for converting PDF files to text or word documents.
Smallpdf—a web-based application that enables you to easily convert PDF files to Microsoft Office documents, including Excel, Word, and PowerPoint
PDFConverter—an online converter that converts PDF files to a variety of formats, including TXT, DOC, HTML, JPEG, and PNG
Zamzar—a free online file conversion web service that uses various algorithms to convert different formats of media, such as videos, audios, images, or text files
Most people prefer using online file converters, especially if they're in a hurry or don't want to install additional software on their computers. Downloading, installing, and learning how to use a third-party tool is too big of a hassle, especially if you don't convert files on a regular basis.
Even though online file converters may be the most convenient, they also come with certain disadvantages you need to be aware of.
What Are the Disadvantages of Using an Online PDF to TXT Converter?
The most obvious disadvantage of using online file converters is the low quality of the converted files. Some online converters are poorly made and focus only on the conversion speed instead of quality.
A far more serious issue is the fact that these converters may store your sensitive information and even sell it to third parties. This is why you should avoid online converters that don't have a clear-cut Privacy Policy and rely on the latest encryption standards, especially if you plan on converting work-related documents.
You should also steer clear of shady websites that spam you with annoying ads, feature 15+ clickable links on the homepage, or ask for credit card information during sign-up. These sites are often filled with malware and viruses that could easily sneak their way into your device along with the converted file once you hit that download button.
You should also keep in mind that most online PDF converters will produce an error if your file is password protected or copyright protected with restricted viewing rights.
How To Make Sure a PDF to Text Converter Is Safe
There are a few different ways for you to ensure that it is safe to use an online resource without putting your data at risk:
Read the Terms of Service on the website before using —If there are no terms of service available, then you should think twice about using a certain file converter
Read the Privacy Policy to find out if there are any third parties involved in the conversion process, such as advertising companies
Check user reviews—There are many reviews posted online about different converters and they can help you decide which online converter is the best fit for you
Converting PDF to Text Is a Piece of Cake With DoNotPay!
You don't need to use unreliable online converters to convert PDF to text. If you're looking for a fast and easy way to convert your files without having to worry about the safety of your data, use DoNotPay! We will convert your files in a flash and delete them from our database 24 hours after the conversion to protect your privacy.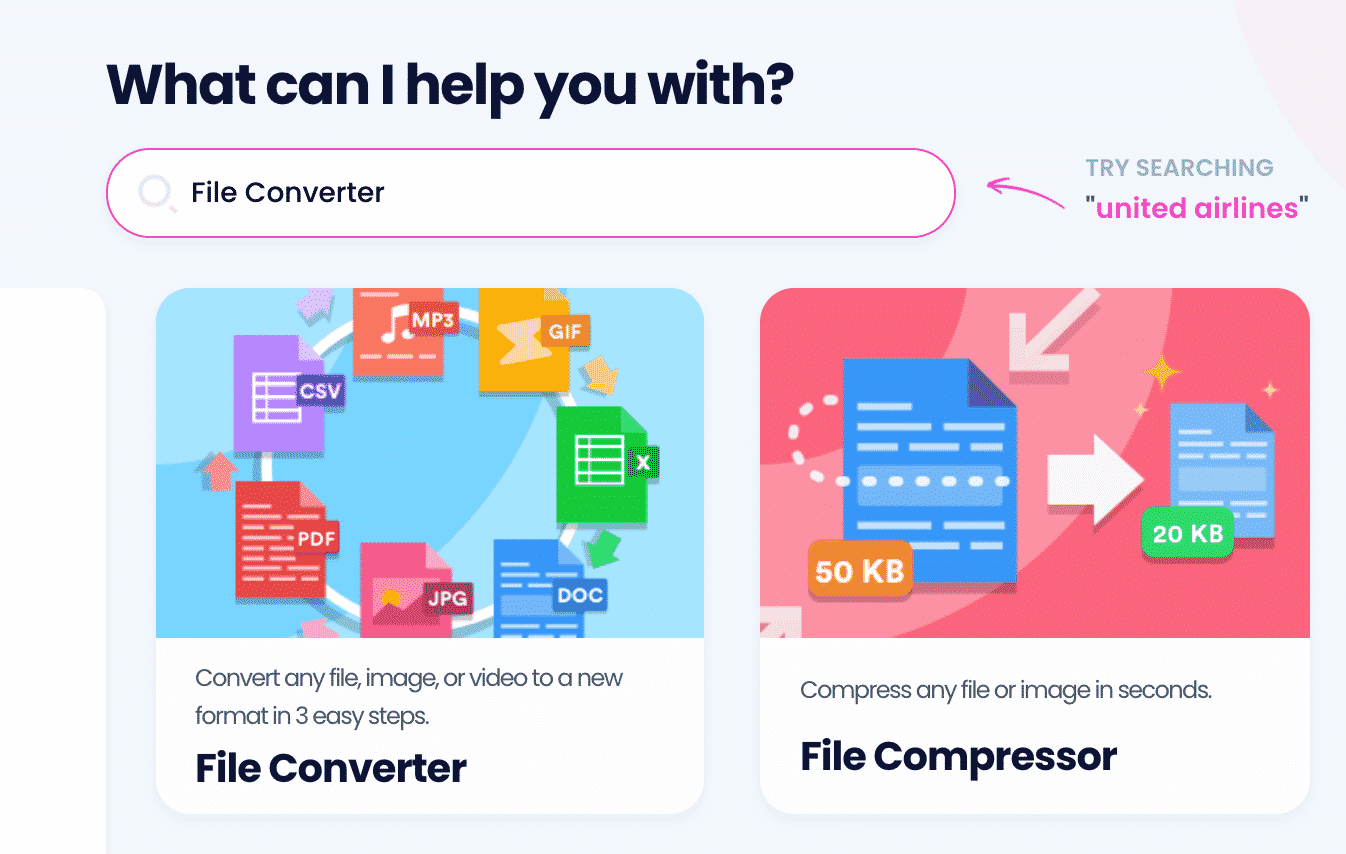 To be able to use our File Converter product, you'll need to log in to your DoNotPay account first. Once you do that, open the File Converter and complete these simple steps:
Upload your PDF file
Choose text as the format you want to convert it to
Go to My Disputes page and download your new text file
Using our award-winning app, you'll be able to convert an unlimited number of files in seconds!
What Other Files Can DoNotPay Convert?
Do you need assistance with converting more than just your PDF files? You can convert a number of different files in a snap with DoNotPay! For more info, consult the table below:
Download and Compress Anything With DoNotPay
Converting hundreds of different file types is just one of many DoNotPay's file-management capabilities. Once you start using our app, you'll also be able to compress files in seconds, convert online videos to mp3s so you can play your favorite tunes on your PC and phone, as well as download videos from the web with a single click.
Once you understand how convenient and easy-to-use DoNotPay is, and once you understand how much time and energy it saves you, you'll never do any of these tasks manually again!
What Else Can DoNotPay Do?
DoNotPay is an ever-expanding app. We're constantly adding new products and features that will save you time, money, and energy!
From simplifying complex legal processes like Creating a Power of Attorney or drafting a will, to suing companies in small claims court, DoNotPay does everything in its power to improve the quality of life of the average person.
Are you sick and tired of annoying robocalls and email spam? Let us take care of it and enjoy your peace of mind.
Don't want to spend hours waiting on hold or filling out dozens of forms? Use DoNotPay to jump the phone queue, schedule a DMV visit, or cancel an unwanted service or subscription in seconds.
This is just a fraction of what DoNotPay can do for you! Sign up today and see for yourself why over 150,000 people rely on our award-winning app each month.