Learn How To Convert PDF to SVG in Three Simple Steps!
A Portable Document Format (PDF) is an electronic document format that was designed within the Adobe Acrobat software package and was first released in 1993. As technology has evolved, this file format has become extremely popular among users because it can be viewed on computers and other devices without the need to install additional software or plug-ins. PDFs are a great way to share documents across many different devices and operating systems.
SVG is the abbreviation for Scalable Vector Graphics, an XML-based file format that defines vector graphics. The use of SVG allows for the resolution-independent display of two-dimensional and three-dimensional vector data, and it's supported by various web browsers, including Internet Explorer, Google Chrome, Opera, Mozilla Firefox, Microsoft Edge, and Safari.
If you need to convert PDF to SVG for whatever reason, we're here to simplify the process and show you what programs you can use to achieve that. Finding a file converter on your own can get confusing, so we'll provide you with a step-by-step guide on how to save time by converting your PDF to JPG, PNG, or TIFF with DoNotPay easily. Our app provides you with a 100% safe way to convert any number of files in a jiffy! Once you sign up, you can start converting your documents without breaking a sweat!
How To Convert PDF to SVG
You can convert your PDF files to SVG by using any of the online converters described in the table below:
| Converters | Description |
| --- | --- |
| CloudConvert | CloudConvert is a web-based tool that lets you convert files from one format to another. You can use CloudConvert to convert PDF files to SVG, JPG, PNG, and more |
| Convertio | Convertio is a free online converter that can be used to convert between different types of files and formats, including images, video, audio, text, PDFs, and more. The website enables you to open, save, and convert files for free |
| Zamzar | Zamzar is a free online file converter that converts files from one format to another. You can convert video, audio, and image formats to PDF, DOC, and XLS formats among others |
Understanding the Downsides of Using Free Online PDF to SVG Converters
There's no doubt that file converters can make a huge difference in your work and help you save time when converting your files. However, not all online converters are reliable and safe to use. They usually come with certain drawbacks, and you should get informed and learn all about them before you decide to use them.
The biggest downside is that most file converters open you up for security risks or can muck with the quality of your files. When it comes to security risks, here's what can happen:
Your computer can get infected with viruses or malware and result in malfunctioning
Your personal information and sensitive data may be sold, shared with, or stolen by third parties
As for the quality of your files, many of these online converters will downsize it and provide a low-quality converted file that you might not even be able to use afterward. Luckily, there are ways to avoid these risks and ensure the website you want to use is safe.
How To Make Sure a PDF to SVG Converter Is Safe
Finding a secure online file converter is not the easiest thing to do. There are many different tools out there, all with varying levels of security and features.
That said, here are a few things to consider when choosing an online converter:
Security—This is by far one of the most important things that you should be looking for when you want to find a secure online file converter. Look at what protection methods the website uses and if it offers encryption or not
Resolution capability—How well will the file converter handle the conversion of your file? Is it able to handle high-resolution files? Most are fine with normal resolution files, but it is always good to have a good understanding of what capabilities are available
Privacy protection—Find the privacy policy and terms and conditions to see how the website will protect your info and ensure it won't be shared with third parties
You Can Convert PDF to SVG With DoNotPay in Less Than a Minute!
DoNotPay can convert your PDF files to SVG—and other file types—safely and in record time! You won't have to bother researching different online converters and double-checking if they are safe. With our award-winning app, the process is completely secure and straightforward. Here's how it works:
Sign up for DoNotPay and open the File Converter product
Upload your PDF file
Choose SVG as the file type you want to convert it to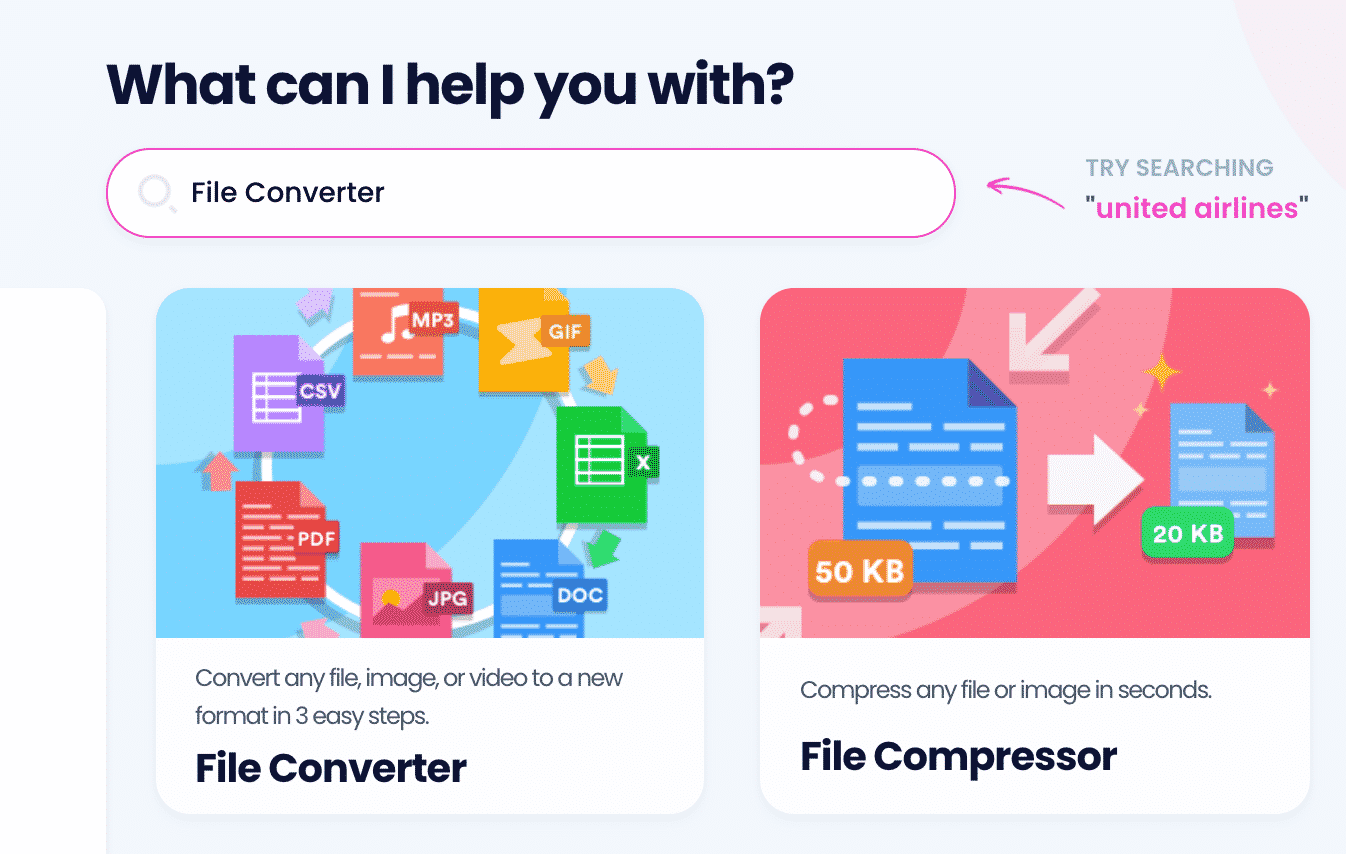 Once you complete the above-listed steps, we'll convert your files, and you can download them from the My Disputes page. We'll also delete your files after 24 hours to ensure the safety of your data!
What Other Files Can DoNotPay Convert?
Converting your PDF files isn't all we can help you with! There is a wide range of other files we can convert for you in no time. The table below provides you with specifics:
DoNotPay Brings the Best Solution to Any Problem
If you want some help canceling subscriptions, requesting refunds, or signing up for free trials without being charged, our app is exactly what you need.
No task is too demanding for DoNotPay, and our product offer keeps on growing. With us, you can lower your property taxes, enter giveaways and sweepstakes, file insurance and warranty claims, and report copyright infringement. In case you also need to apply for scholarships, draft power of attorney documents, or appeal banned accounts, we'll come to the rescue.
In a few clicks, you'll get the assistance that you've been looking for!
Our App Helps You Protect Your Privacy
Keeping your privacy intact is no easy feat since more and more services request your email address, phone number, and other personal details. If you sign up for DoNotPay, that requirement will become a thing of the past!
With our Virtual Credit Card product, you'll get a randomly generated name, email address, and payment details and stay unknown. If a platform asks you to submit your phone number, you can select our Burner Phone feature and get a temporary number.
DoNotPay can also put a stop to spam emails, text messages, and bothersome robocalls. We can even help you conduct a sex offender search for your area, file anonymous HR complaints, generate child travel consent forms, and send demand letters to your noisy neighbors.