Tips on How To Convert PDF to Searchable PDF Easily
Searchable PDFs are commonly used when you need to create documents that can be shared with multiple people. They are typically created using Microsoft Word or Adobe Acrobat Pro. Searchable PDF files are essentially PDF files that include text that can be searched upon using the standard Adobe Reader search functionality.
You can convert PDF to searchable PDF by using different online converters. The process is usually not too demanding and doesn't take much time, but there are certain issues that can arise and that you should be aware of. We'll walk you through the process of converting your PDF online but also show you how to convert files safely and easily by using DoNotPay. Our app's File Converter product is 100% secure and easy to use!
How To Convert PDF to Searchable PDF Online
You have a few options when it comes to free online PDF converters, including:
The above-listed converters are only a few of the commonly used ones, and you can find a lot more online. They are web-based, so installing other programs is not necessary, and the process is similar for all of them. Here's how it works:
Go to the website you want to use
Upload the file you need to be converted
Choose the output format
Click on Convert
Download your converted file once ready
Another way to convert your PDF files is by using free downloadable converters, but it usually requires paying a certain fee and putting in much more effort.
Before you decide to go with this conversion method, you should get acquainted with the common issues that can arise when using it. We're here to break down all the drawbacks for you.
Free Searchable PDF Converters—Major Drawbacks
No matter what type of file you are working with, there is a good chance you will be able to convert it to a different type. However, this convenience comes at a cost.
File converters are notorious for doing more harm than good when it comes to preserving original files while converting them to other file types. They often blur or remove important information that cannot be easily restored after the conversion.
A particularly dangerous aspect of free online file converters is that they don't have reliable privacy policies. Their usefulness allows you to forget that they are not necessarily safe with your most important files and that your files can easily be shared with unauthorized third parties when using these converters.
Online file converters do not typically provide the highest-quality results. This is because they do not offer customization options or allow users to select optimal settings for particular files.
DoNotPay Can Convert Various Files for You the Safe Way
You can keep your data secure by avoiding unreliable online converters and using DoNotPay instead. We ensure all of your files and sensitive info are completely protected and remove your files from our database after 24 hours.
You can also count on our app to provide you with high-quality converted files, and you can use our product on every operating system because DoNotPay is web-based. To get started, access our AI-powered app and complete the following steps:
Open the File Converter product
Upload your file
Select the output format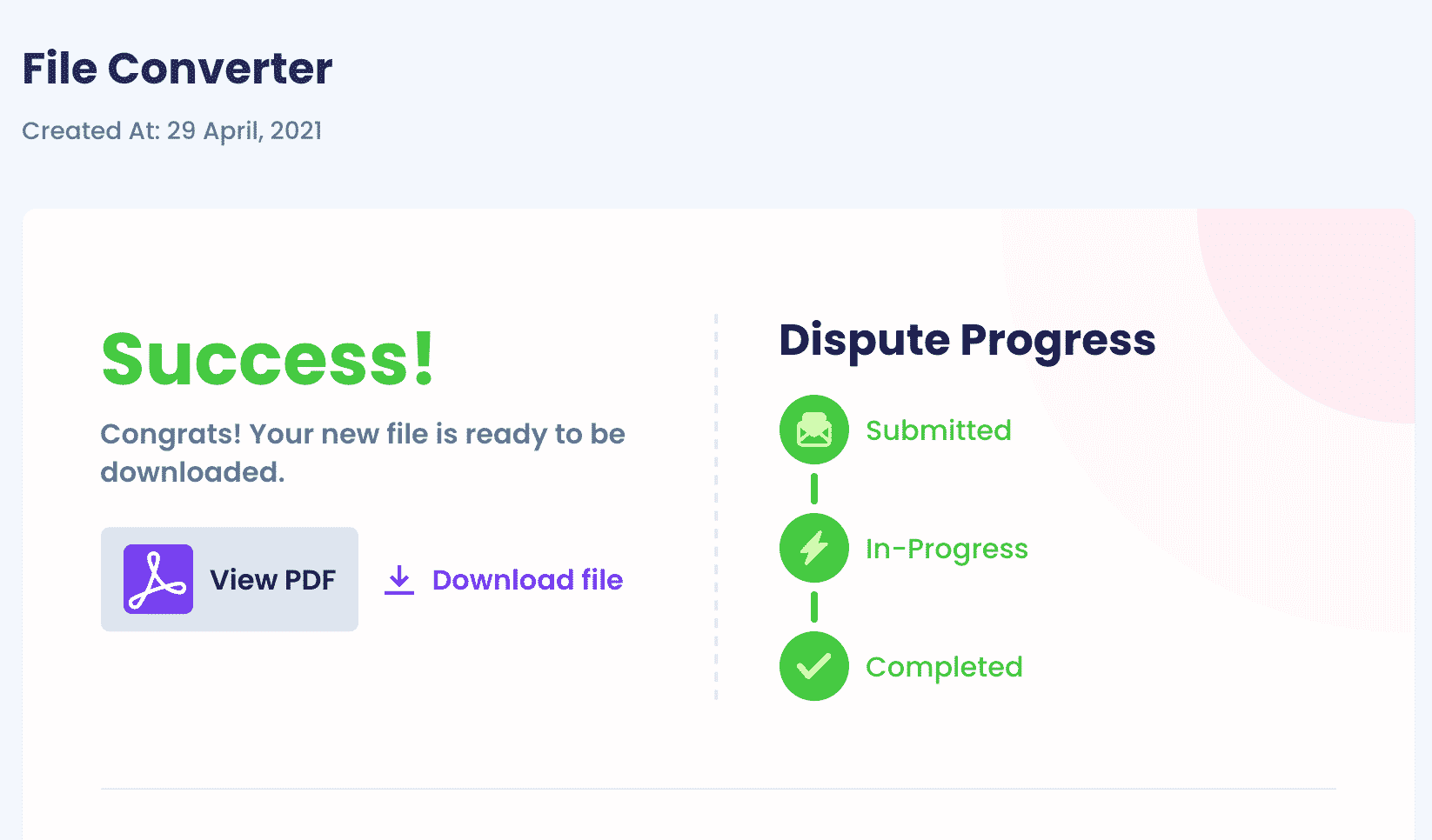 After we convert your file, you can find it on the My Disputes page and download it right away.
What Other File Types Can DoNotPay Convert?
Looking for a quick way to convert more files? Use DoNotPay to convert a wide range of different files, including the ones listed in the table below and more:
Convert, Compress, and Download Anything With DoNotPay
Technology is advancing at a rapid pace, and it can be rather difficult to keep up. But there's no need to worry if you're not particularly tech-savvy—DoNotPay got you covered!
With our easy-to-use app, you can compress any file, download videos from the web, and convert online videos to MP3 files, all with a few clicks. There's absolutely no experience needed. Your files are 100% safe, and your privacy is ensured because we delete the converted and compressed files after 24 hours.
Save Time and Money With DoNotPay
On top of file conversion, DoNotPay has hundreds of different products that automate boring tasks and streamline complex processes. And the best part is—you get access to all of them, so you can use our award-winning app to save a ton of time and money.
Here are just a few examples of what DoNotPay can help you with: