How To Convert PDF to PowerPoint in a Jiffy
PDF stands for Portable Document Format, which is a file type that stores information for printing or viewing on computers, tablets, and other electronic devices. PDFs are great for displaying information in a clean and readable format, but they lack that interactive factor.
PowerPoint is the ideal format to showcase your work. It is part of the Microsoft Office suite and can be downloaded online.
Whatever your reasons for converting PDF to PowerPoint may be, this guide will show you how to do it in the simplest way possible! Sign up for DoNotPay to get access to our nifty File Converter and convert PDF to PowerPoint without any hassle. With our app, you can choose between 100+ file types and there's no limit to the number of files you can convert.
How To Convert PDF to PowerPoint
There are several online converters available on the internet you may use to convert PDF to PowerPoint. We've compiled a list of the commonly used ones so you don't have to waste time doing it on your own:
| PDF to PowerPoint Online Converters | Description |
| --- | --- |
| Smallpdf | Smallpdf is a free online PDF converter that can be used to easily convert PDF documents to just about any file format |
| iLovePDF | iLovePDF is a free file conversion site that can help you quickly convert your PDFs, Microsoft Word Documents, and many other file formats |
| Freepdfconvert | Freepdfconvert.com is an online tool that converts over 200 different file types to PDF. You can also use it to convert PDFs to PPTX, DOC, JPG, PNG, and more |
Converting your files using online converters isn't too difficult. What you'll need to do is:
Upload your file
Select the file format
Click on the Convert button
If you don't want to sacrifice the quality of the converted files—which is almost always the case with online converters—opt for downloadable programs, such as:
Nitro Pro—a free conversion software that can convert any file to PDF. It is fast, reliable and has a simple interface that can be used by all types of users
CutePDF—a powerful yet simple tool for batch converting PDF files to other types of files, be it images, documents, videos, or text
Adobe Acrobat—one of the most popular document converters, which comes in three different versions: Standard, Professional, and Advanced
What Are Some Common Drawbacks of Using an Online PDF to PPTX Converter
Online conversion services can be slow and unreliable so you should be prepared to wait for a long time to get your files converted—especially if your files are large and your internet connection is slow. Other disadvantages to using online file converters are:
Privacy Issues—Although this is not the case with every online converter, you should still be careful when it comes to choosing one. Some converters will ask for registration information and email address to sell this information to advertising companies
Poor quality—Online conversion services are not the most reliable. You might end up with a corrupt file or missing data in your presentation
Malware and viruses—If you're using a converter that's hosted on a shady website, you might end up downloading all kinds of malicious software with your converted file, that might hamper your device's performance or even put your data at risk
How To Know if an Online PDF to PPT Converter Is Safe
If the PDF converter has been around for some time and has received good reviews from other customers, there is at least some reason to believe they would not try to take advantage of their users by selling their personal information.
Overall, to avoid any potential problems when using an online PDF to PPTX converter make sure you:
Go through reviews and feedback from other customers who have used this service before
Read the Terms and Conditions and Privacy Policy of the company to make sure they will not take advantage of you in any way
Check if the converter has an SSL certificate
Convert PDF to PowerPoint in Seconds With DoNotPay
DoNotPay' File Converter is the safest and fastest tool for converting your files online. The conversion process is simple and it only takes a few seconds.
There are no intrusive advertisements, and your privacy fully protected. We will delete all your files from our database 24 hours after the conversion, and no copies will be kept!
To start converting your files with DoNotPay, you need to log in to your account and follow the instructions below:
Open the File Converter product
Upload the PDF file you want to convert
Select PowerPoint as the format you want to convert your PDF file to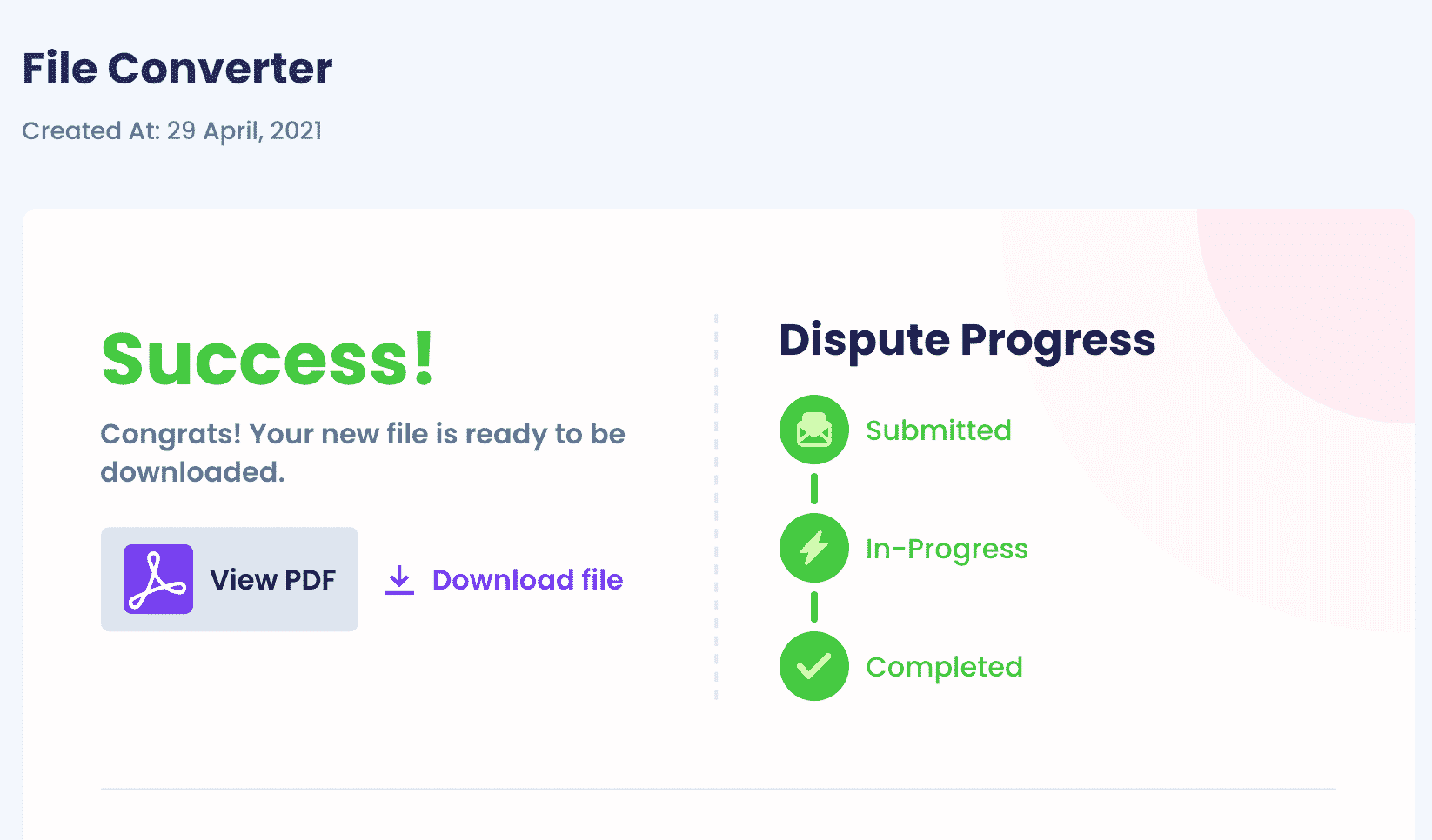 Once you've completed all the steps, proceed to the My Disputes page and download your newly converted file!
If you need to convert a presentation to another file type, DoNotPay can help you with that as well. Use our File Converter to:
Convert PowerPoint to Word

Convert PowerPoint to Google Slides

Convert Google Slides to Powerpoint
What Other Files Can DoNotPay Convert?
DoNotPay's File Converter is browser-based, so you can convert any file regardless of which system you're using (Windows, Mac, or Linux). Files other than PDF and PPTX you can convert with our File Converter are shown in the table below:
What To Do if You Get Scammed by a Free File Converter Platform
If you get scammed by a free file converter platform, you can sue it in small claims court with the help of DoNotPay. Here's what our award-winning app can do for you:
Write a demand letter
Fill out all the required court forms
Gather the paperwork needed for the lawsuit
File the complaint
Create a script with argumentation you should use in court
Hundreds of Useful Features At Your Fingertips
What makes DoNotPay stand out from regular file conversion tools is the array of other features you get access to once you start using our app.
On top of converting hundreds of file types, you can also use DoNotPay to:
Compress your files

so they don't take up too much space
Download videos from social media and the web

Convert all manner of online videos into mp3 files

with a click
DoNotPay isn't just a converter, it's an app designed to make your life easier by automating tedious and complicated tasks. You'll find hundreds of different products inside our award-winning app that will help you save valuable time and money!
Create Legal Documents, Cancel Subscriptions, Appeal Parking Tickets—All With One App!
There's no shortage of tasks DoNotPay can assist you with. For example, the world's first robot lawyer can help you with all manner of legal processes, including:
You can also have DoNotPay handle tedious, time-consuming tasks like filing complaints, requesting refunds and chargebacks, canceling subscriptions, contesting parking tickets and seatbelt tickets, and fighting email spam for you.
DoNotPay can also save you hundreds of dollars each month by helping you reduce property taxes, lower your bills, and find unclaimed money in your name.