Learn How To Convert PDF to PNG Safely in Seconds!
The Portable Document Format (PDF) was created by Adobe in 1993 for the purpose of distributing documents to multiple computers with different types of software. The resulting file contains all fonts used in the original document, can be searched easily, and can be viewed by most computer operating systems that are currently in use.
If you want to convert PDF to PNG, JPG (even on Windows 10), SVG, or TIFF, we're happy to show you how to do it in seconds!
Although there are several different ways you can convert a PDF file to PNG, not every method is safe. Before you decide on how you want to convert your files, you should get informed about the available methods and learn how to discern if they're safe or not.
We'll walk you through the process of converting your files in a snap by using DoNotPay. The best part is that you don't have to worry about protecting your sensitive data and that you can convert any number of files you want!
How To Convert PDF to PNG
Consult the table below to see some of the programs you can use to convert your PDF file to PNG:
| Programs | Description |
| --- | --- |
| TalkHelper PDF Converter | TalkHelper PDF Converter has a graphical interface that can come in handy when you need to convert different types of documents. This program also has an integrated feature that allows you to preview the changes that are being done when you are converting your files |
| PDF2PNG | PDF2PNG is an online service that allows you to convert a PDF file into a PNG one from anywhere. This means that you don't need a specific web browser or a specific email client to use this service. You can also use the application from within another operating system |
| ImagePrinter Pro | ImagePrinter Pro is an app for Windows that offers the ability to convert and save files as PNG images. This process does not change the original font, size, or color of the document |
What Issues Can I Run Into With Free Online PDF to PNG Converters?
Although using free online converters is convenient, there are many problems you may not be aware of at first.
Unfortunately, these services often produce low-quality images and sometimes also include malware in the files. That makes the files dangerous to send to others and use for many purposes.
The second issue is that, since they don't always offer high-quality images, you might end up with text that's hard or impossible to read.
The third problem is that they often convert PDFs to PNGs on their servers, which can have a negative effect on the size and quality of the file.
How To Make Sure the PDF to PNG Converter You Chose Is Safe
There are so many free converters out there that choosing the right one can be quite challenging. You shouldn't risk converting your files without knowing if a converter is safe, so here are three simple steps you can take to ensure you don't fall victim to online converter scams:
Search for a converter that's trustworthy—The first step towards trusting a converter is finding one that has been around for a while and has an established reputation
Check out the company's privacy policy and terms of service—Privacy policies are meant to inform the public of how the data gets collected, how it's used, and how much access users have to that data. A converter should have a privacy policy that is easy enough for you to understand. You want the converter to be transparent about what type of data is collected. If there are any requirements, find out what they are
Check out the reviews—With the first two steps complete, you should have a good idea of whether or not a converter will work for you. If you need additional assurance, look up the reviews online. If you find a converter with positive reviews, it is probably a good one. A Google search on one of those reviews will provide you with more information from reputable sources
Use DoNotPay for the Safest Way To Convert PDF to PNG!
If you want to avoid wasting time trying to find a safe and easy-to-use PDF to PNG converter, opt for DoNotPay. Some of the benefits we provide include 100% safe and secure service, high-quality documents, no annoying ads, and no limits on the number of files you can download! We'll also delete your files after 24 hours, so you don't have to worry about the safety of your data at all. All you need to do is complete the following instructions to get started:
Upload your PDF file
Choose PNG as the file type you want to convert it to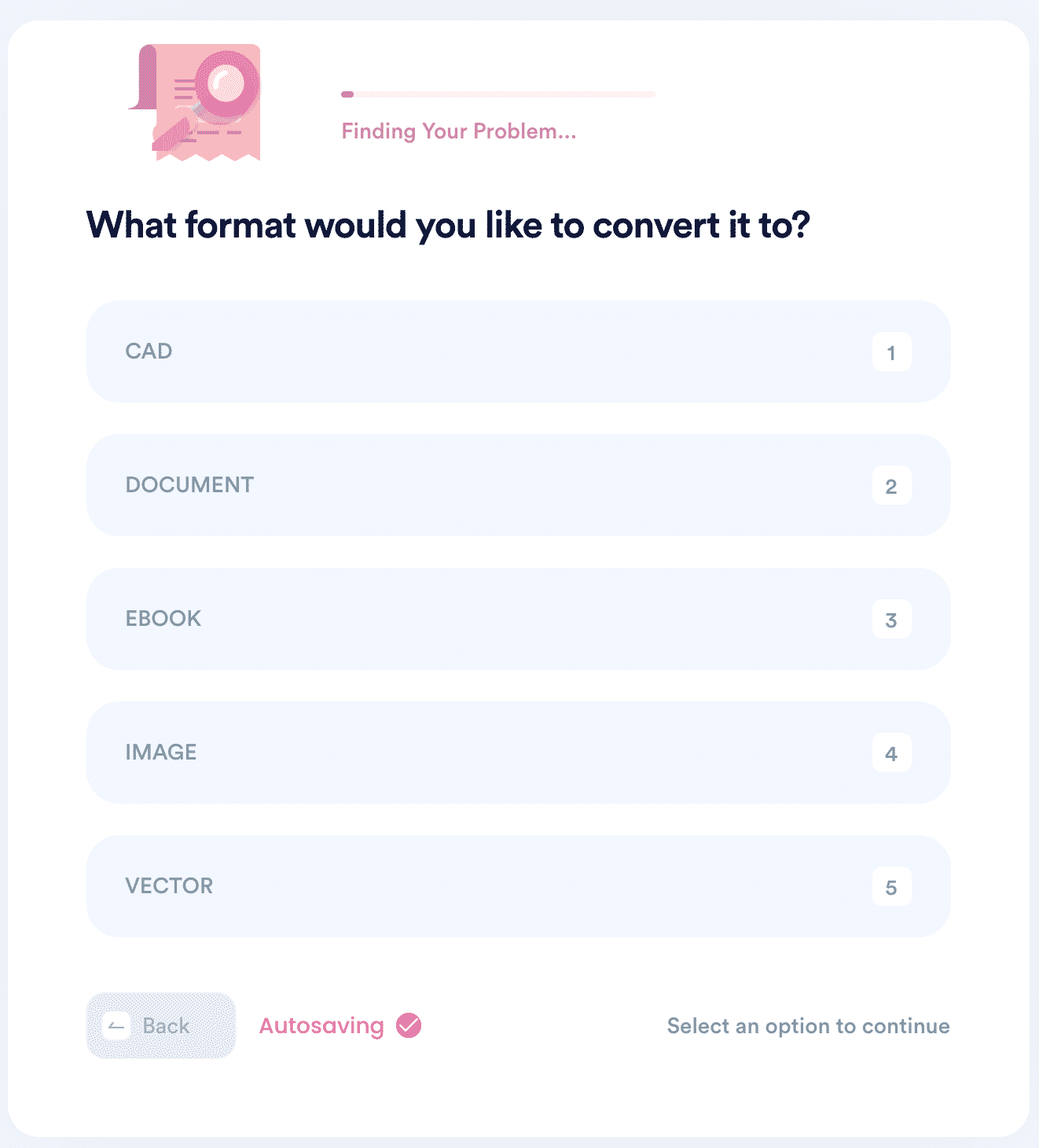 That's it! We'll convert your files right away, and you can download them from the My Disputes page easily.
What Other Files Can DoNotPay Convert?
DoNotPay helps you convert a variety of other files! Check out the table below for details:
Save Money With the Help of DoNotPay
Are you tired of losing money on useless memberships and forgotten subscriptions? Our app can help you cancel subscriptions or memberships in a snap. Have some questions for the customer service? Use DoNotPay to jump the phone queue.
If you want to sign up for a free trial but don't want to risk being charged, get our virtual credit card. Thanks to this card, you'll enjoy any free trial stress-free. It will also save you from receiving spam emails.
In case you're also struggling to claim a warranty or insurance, we can assist you with this too. Rely on DoNotPay to solve any issue regarding purchased products—whether you need to return an item, file a chargeback request, or get a late delivery refund.
If you're dealing with a serious problem, don't bother wasting your money on lawyers—our AI-powered app can help you file a complaint, appeal a banned account, sue anyone in small claims court, and draw up various legal documents!
DoNotPay Also Helps You Earn Money
Our app is an expert at saving money, but we can also assist you in earning some. You can use DoNotPay to find unclaimed funds under your name, sign up for paid clinical trials, and get victims' compensation. If you want to redeem your gift cards for cash, enter numerous sweepstakes, and get compensated for a delayed flight, count on our help!