Convert PDF to MOBI With Minimum Effort
PDF is a highly efficient storage format for publishing and distributing digital content, while MOBI is the universal file format for ebooks. It is used by most digital publishing tools because it can be easily converted to almost all popular formats, including PDF.
In terms of size, MOBI files are a better option when it comes to sharing files. They are much smaller compared to PDFs. If you are looking to reduce the overall size of your document, MOBI is the preferred option.
If you are searching for a reliable tool to convert PDF to MOBI—which will also preserve the quality of your PDF files—sign up for DoNotPay. Our File Converter product is fast and 100% secure, and it can be used for converting 100+ file types with minimum effort!
How To Convert PDF to MOBI
There are two ways to convert PDF to MOBI. You can use:
Specialized desktop software
Free online software
Using Specialized Desktop Software To Convert PDF to MOBI
Unlike online ones, offline ebook converters allow you to upload many PDF files at once rather than one at a time. Their main advantage is that they make the conversion fast and smooth. The quality of the converted files is generally much higher than with online converters.
Using Free Online Software To Convert PDF to MOBI
If you do not have a lot of time at your disposal, you can use an online PDF to MOBI converter. There is a number of online services that will help you to convert your PDF to MOBI, and they are convenient since you won't have to install additional software on your computer. Even if you don't have experience with file conversion, you will find online converters easy to use. You'll only need to upload your file or drag and drop it and hit the Convert button.
You can check some commonly used PDF to MOBI online converters in the table below:
| Converters | Description |
| --- | --- |
| Pdf2mobi | Pdf2mobi is a tool that lets you convert PDF files to the MOBI format for your Amazon Kindle |
| Convertio | Convertio is a free online conversion service for converting any type of file, has a simple interface, and does not require installing software on your computer |
| CloudConvert | CloudConvert is a free online tool you can use to convert files. The site's interface is simple and intuitive, and the file conversion services are both speedy and accurate |
What Are the Common Drawbacks of Using an Online PDF to MOBI Converter?
Even though online converters are more popular due to their convenience, there are a few drawbacks you should be aware of before opting for one:
No customization options—Unlike desktop converters, online ones don't give you the option to edit your converted files
The risk of viruses and malware—It is risky to download converted MOBI files from unknown websites because they may be infected with viruses and malware
No customer support—You won't be able to ask questions or get any help from the online services, which can be frustrating
Inability to convert large files or convert multiple files in one go
No preview feature—You won't be able to see how your file will look after the conversion
How Can I Know Whether an Online PDF to MOBI Converter Is Safe To Use or Not?
Making sure an online converter is safe is crucial, especially if you value your privacy above anything else. To protect your data from being stolen or sold to third parties, you should find a reliable file converter. You can do it by taking the following steps:
Check if the website is SSL encrypted so you can be sure that your information will remain confidential
Read the Privacy Policy—It can help you understand how the converter operates and what kind of information it collects about you or stores after you use it
Check the website's reputation and the number of people using it
Read reviews from previous users
How To Convert PDF to MOBI in Seconds Using DoNotPay
You don't have to worry about the safety of your data if you opt for DoNotPay. Using our File Converter, you can be certain that your information will be erased after 24 hours! Your data will not be shared with anyone else, and you won't have to deal with annoying ads.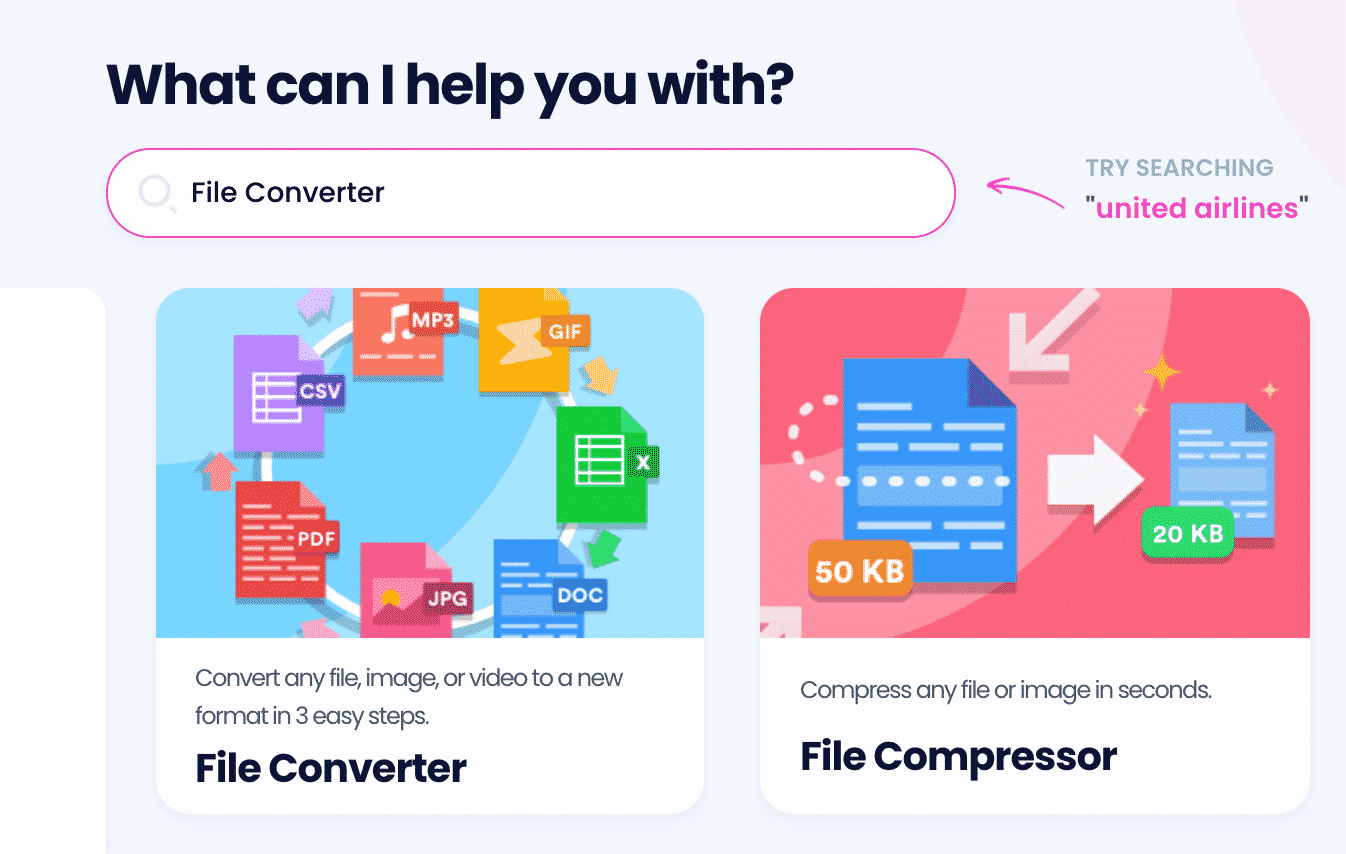 The conversion procedure is straightforward—after logging in to your DoNotPay account, all you'll need to do is:
Open the File Converter product
Upload your PDF file
Choose MOBI as the format you want to convert it to
What's left for you to do is to go to the My Disputes page and download your new file.
What Other Files Can DoNotPay Convert?
Converting your PDF files to MOBI is just one of the many tasks DoNotPay can help you with! You can also convert MOBI, ebook, and CBR to PDF, among many other files. Take a look at the table below to read our other file conversion guides:
Download and Compress Anything With DoNotPay
Converting hundreds of different file types is just one of many DoNotPay's file-management capabilities. Once you start using our app, you'll also be able to compress files in seconds, convert online videos to MP3s so you can play your favorite tunes on your PC and phone, as well as download videos from the web with a single click.
Once you understand how convenient and easy to use DoNotPay is, and once you understand how much time and energy it saves you, you'll never do any of these tasks manually again!
What Else Can DoNotPay Do?
DoNotPay is an ever-expanding app. We're constantly adding new products and features that will save you time, money, and energy!
From simplifying complex legal processes like creating a power of attorney and drafting a will to suing companies in small claims court, DoNotPay does everything in its power to improve the quality of life of the average person.
Are you sick and tired of annoying robocalls and email spam? Let us take care of it and enjoy your peace of mind.
Don't want to spend hours waiting on hold or filling out dozens of forms? Use DoNotPay to jump the phone queue, schedule a DMV visit, or cancel an unwanted service or subscription in seconds.
This is just a fraction of what DoNotPay can do for you! Sign up today and see for yourself why over 150,000 people rely on our award-winning app each month.